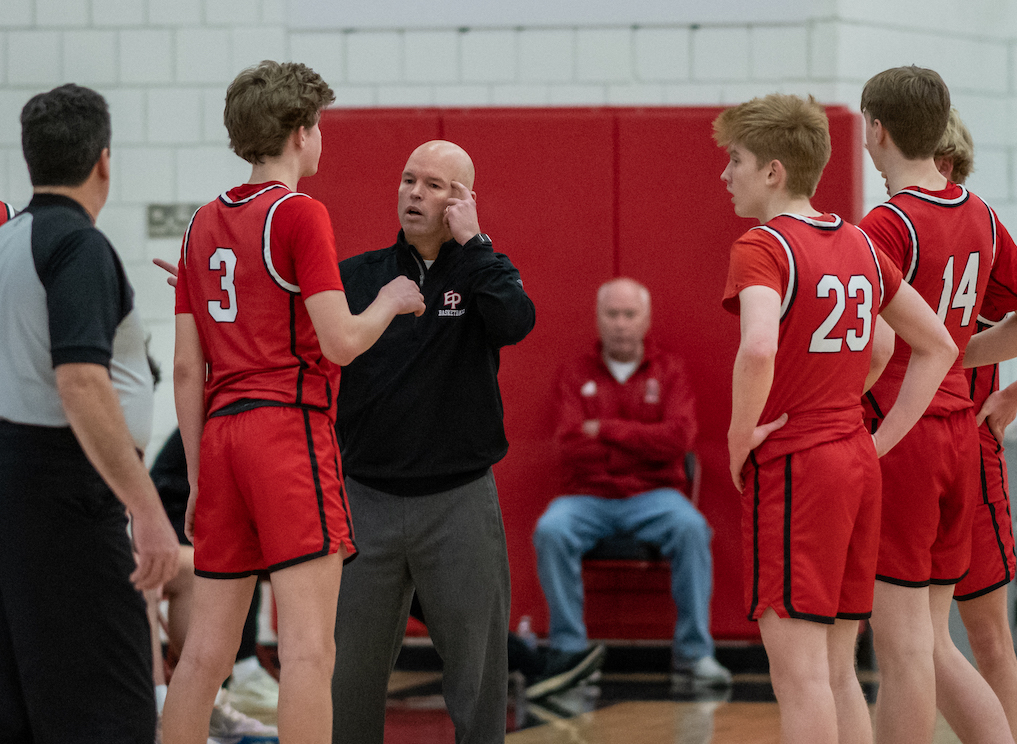 In an email to players and families of the Eden Prairie boys basketball team Wednesday evening, Eden Prairie High School (EPHS) associate principal of student activities Russ Reetz shared news that the boys basketball games with North High School in North St. Paul, scheduled for Friday at EPHS, had been canceled.
"North St. Paul high school notified me earlier this evening that they are no longer planning to play Friday's basketball games," Reetz wrote in his email.
He went on to say that gyms were reserved for Friday practices for 9A and 9B teams as well 10th grade, JV and varsity teams.
In an email to Eden Prairie Local News, Josh Anderson, director of communications and technology at North High School, confirmed the games have been canceled.
Anderson shared the contents of an email from North High School boys basketball head coach Cornelius Gilleylen to families of the North basketball team.
In his email, Gilleylen said a team meeting was held with players, coaches, Principal Kevin Woolf, Assistant Principal Drummond Deron, and Activities Director Jed Helwig.
"The purpose of the meeting was to hear from our student-athletes about the recent events that have taken place at Eden Prairie High School and how they have been impacted," Gilleylen said in the statement. "After an in-depth discussion, the players unanimously decided not to participate in our boy's basketball game this upcoming Friday at Eden Prairie High School."
The decision comes in the wake of the reinstatement of EPHS boys basketball head coach David Flom.
Flom was reinstated on Monday after a suspension by the school district concerning a complaint of a racial slur read out loud by Flom during a classroom session with the team on Dec. 7.
Flom was suspended for six weeks while the district conducted a lengthy investigation into the incident.
Gilleylen went on to say, "The coaching staff, our school leadership, and district administration fully support the decision your sons made tonight. We will communicate details about any schedule changes or adjustments in the near future."
Flom coached in his first game back with the boys basketball team on Tuesday, a 112-71 loss to sixth-ranked Wayzata.
After the game, Flom said, "I'm just very appreciative of all the support that we've had. And I'm happy to be back."
Flom also released a statement upon his return, saying, "I could not possibly be more sorry for all the harm that I have caused."
He added in the statement, "We are trying to focus our attention and energies on helping the players, school and community to move forward with the lessons learned. I am amazed by the support we have received and continue to receive."
Parents and community members of the EPHS boys basketball team have taken to social media in recent days, speaking out both in support of and opposition to Flom's reinstatement.
During Tuesday's game, Reetz indicated that while he's pleased the investigation into the incident which led to Flom's suspension is over, the entire basketball program – players and families included – have much to learn and a long way to go before they find resolution.
"I hear from both sides," Reetz said. "And whenever you're dealing with race or a social injustice, it's difficult. Nobody wins, right? I don't feel like there's a winner in this situation.
"It's nice to be through the investigation. But there's lots of work left to do."
Comments
We offer several ways for our readers to provide feedback. Your comments are welcome on our social media posts (Facebook, X, Instagram, Threads, and LinkedIn). We also encourage Letters to the Editor; submission guidelines can be found on our Contact Us page. If you believe this story has an error or you would like to get in touch with the author, please connect with us.