Eden Prairie High School's (EPHS) girls and boys JV Nordic ski teams finished their season on a high at the Lake Conference JV Championships, with JV1 girls placing first overall, and JV1 boys, JV2 girls, and JV2 boys each second overall.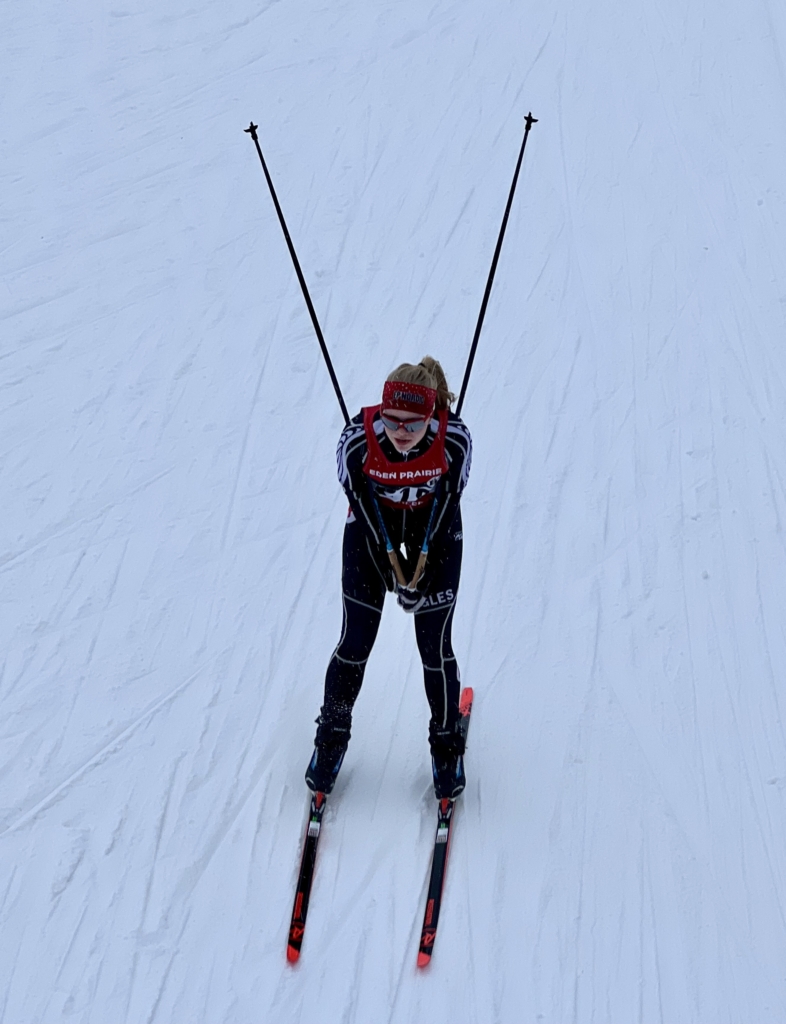 Freshman Leah Bakken led the JV1 girls to first place overall on Wednesday night as the event's top finisher, with a time of 12:37.4. Bakken said that while she was skiing, "Coach Melissa [Berman] told me to take the W and I did."
Sophomore Gabriella Lainhart pulled off second for JV1 girls with a time of 12:48.0 at the event, which was held on Jan. 25 at Elm Creek Park Reserve.
Seventh grader Freya Dahl was fifth in 13:07.0, freshman Kotono Kazama was sixth in 13:13.0, sophomore Mandy Trnka was seventh in 13:23.1, and freshman Paili Rice was 9th with 13:24.1. Full results are here.
JV1 boys were led by senior Will Manning in 3rd with a time of 11.22.8, freshman Aaron Claver in 4th with 11.25.3, junior Jackson Butikofer 5th with 11.30.0, and senior Tyler Little with 11.39.4. Full results are here.
JV2 boys were led by junior Jacob Gahlon, who finished first in 12:51.1. Sophomore Derek Reinhardt was fourth in 13:11.5, CMS 8th grader Johnathan Ly was sixth in 13:32.5, eighth grader Charlie Foster seventh in 13:34.4, and freshman Ben Roach was eighth in 13:37.4. Full results are here.
JV2 girls were led by freshman Elizabeth Scheid, who was 11th with a time of 16:42.5. Full results are here.
Strong start to championship season
It's been a successful season so far for EP Nordic, with top results in multiple meets including varsity girls placing first and boys second at the Lake Conference Sprint Relay at Elm Creek Park Reserve on Jan. 18.
"We did well there," said head coach Doug Boonstra. "The girls won the event in our conference — they beat Wayzata by one point. Wayzata is one of the highest-ranked teams in the state, so that was great."
EP girls relay team Courtney Fussy and Eleanor Thomas finished second out of 30 teams in their event with a time of 11:36.570. Nolan Bakken and Benon Brattebo were EP's top boys team, taking first overall out of 29 teams with a time of 10:14.0.
Boys co-captain Bakken said he has been pleased with the team's performances, especially since there were some gaps to fill on the varsity squad coming into this year.
"We've had quite a few younger guys on the team step up their effort in practice and workouts, especially on the two training trips we took," he said. "We are really seeing this hard work pay off in recent races."
Bakken noted that the boys placed second out of 16 teams at the Loppet High School Invite on Jan. 14, just 10 points behind Wayzata, one of the best teams in the state.
The girls finished fourth in the highly competitive Loppet field. Thomas, girls co-captain, said, "There were a lot of competitors from really good schools, so it was fun that we got to place so high."
Boonstra said he was happy with how his skiers performed. "Our two best individual skates were boys No. 2 finisher Benon Brattebo and girls No. 2 finisher Courtney Fussy. For Classic, the top EP finisher was Nolan Bakken, with 4th overall, and the top girl was Mila Finch in 6th.
"Both our top boys and top girls teams were fourth place in the sprint relay, so that was good too," he said.
Bakken said he believes the team has the potential to win the Lake Conference. "In our conference races, we have been placing second fairly consistently behind the Wayzata team, but I really think that coming into championship season here, if we race well, we have a shot at conference champs.
"Looking beyond that to sections we are in a little murkier waters because we'll be racing some teams for the first time, but our goal there will be the same as conferences," he said.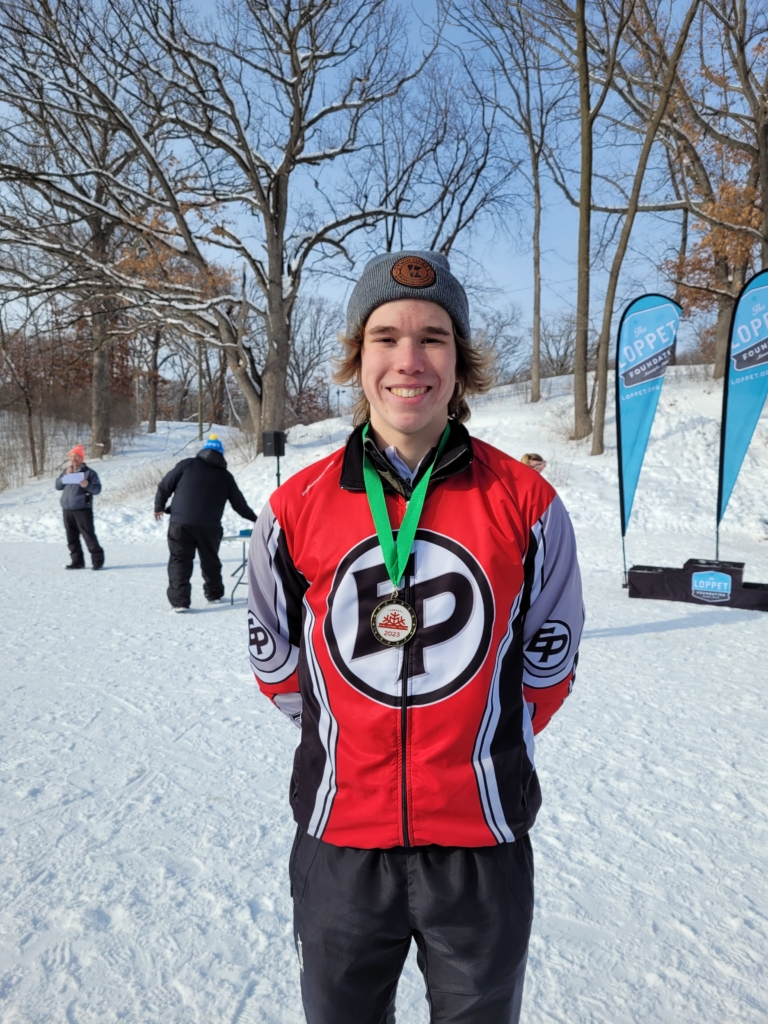 'Confident' EP team has both depth and variety
Boonstra said the girls and boys teams have different makeups that make them successful in different ways.
"Girls have a lot of senior depth with a lot of experience," he said. "The boys side has decent depth but more variety of ages. Benon Brattebo, who is highly ranked top talent, will probably be 1 or 2 at the section meet."
The team has 100 students, mostly in grades 7 to 12, with about 70 of those at EPHS.
"We have some sixth graders that have siblings on the team or ski backgrounds," Boonstra said. "Otherwise, it's grades 7-12, and grade 7 and up can race."
No experience is needed to join the team. Thomas said she would encourage young skiers, or kids who have never skied but think they might be interested, to try Nordic out in middle or high school. She said she first learned to cross-country ski in seventh grade.
"It was really cool that we had the opportunity at [Central Middle School] to ski with the high schoolers," she said. "It was really nice to start high school knowing people already. It's never to late to start, and the team really does feel like a family."
While the JV season is over, varsity Eagles have three more meets ahead, including a varsity skate meet at Baker on Thursday, Jan. 26, Lake Conference Championships on Tuesday, Jan. 31, and sectionals. Then hopefully, they will be heading to state.
Comments
We offer several ways for our readers to provide feedback. Your comments are welcome on our social media posts (Facebook, X, Instagram, Threads, and LinkedIn). We also encourage Letters to the Editor; submission guidelines can be found on our Contact Us page. If you believe this story has an error or you would like to get in touch with the author, please connect with us.