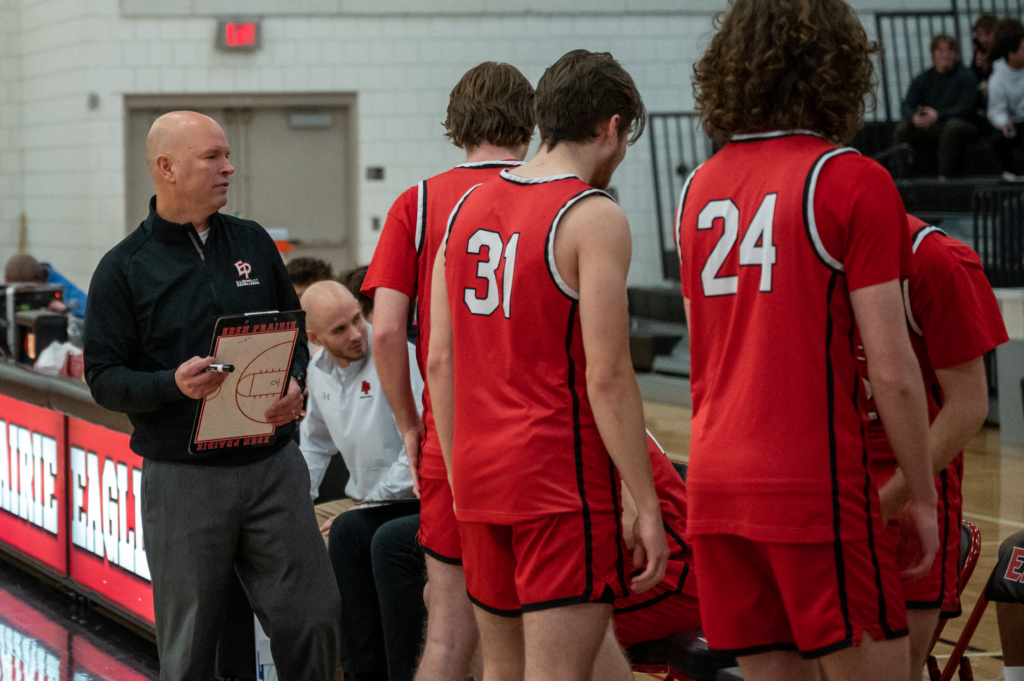 Eden Prairie boys basketball head coach David Flom stood in the quiet corridor outside the boys locker room in the lower level of Eden Prairie High School Tuesday night.
He had just finished coaching his first game since being suspended by the school district on Dec. 8 over a complaint of him reading a racial slur out loud during a classroom session with the team the day before.
After a lengthy investigation, Flom was reinstated Monday as head coach.
Twenty-four hours later, he was coaching his team for the first time in over six weeks, court-side for their matchup against sixth-ranked Wayzata.
When asked after the game if he thought the day would ever come, Flom offered a demonstrative shrug, outstretching his arms and raising his hands in the air before saying, "No comment."
Earlier in the evening, during pregame introductions, Flom had received a standing ovation from the Eden Prairie side of the gymnasium.
"I'm just very appreciative of all the support that we've had. And I'm happy to be back." Flom said.
The basketball game, a one-sided 112-71 loss to sixth-ranked Wayzata, seemed almost secondary; an afterthought overshadowed by the magnitude of the coach's return.
"It's been the toughest six weeks that I can remember," Dennis Flom said before the game. "The bottom line is, it's been resolved. He's been reinstated. And the 17 years of speaking in a young man's life can go on, and that's what he's all about."
Dennis Flom is the head coach's father, and coach of the ninth-grade boys basketball team. The elder Flom said he felt "mixed emotions" to finally see his son back coaching again.
"David loves these kids, I do the same because I had these kids in the lower level," he said. "And so it actually feels good. A little strange, but it feels good."
In a statement sent to KARE-11 Wednesday, Flom offered an apology, which read, "I could not possibly be more sorry for all the harm that I have caused."
Flom added in the statement, "We are trying to focus our attention and energies on helping the players, school and community to move forward with the lessons learned. I am amazed by the support we have received and continue to receive."
Flom's return marks the end of more than a half-season of uncertainty for the program, but according to EPHS associate principal of student activities Russ Reetz, there is still more work to be done.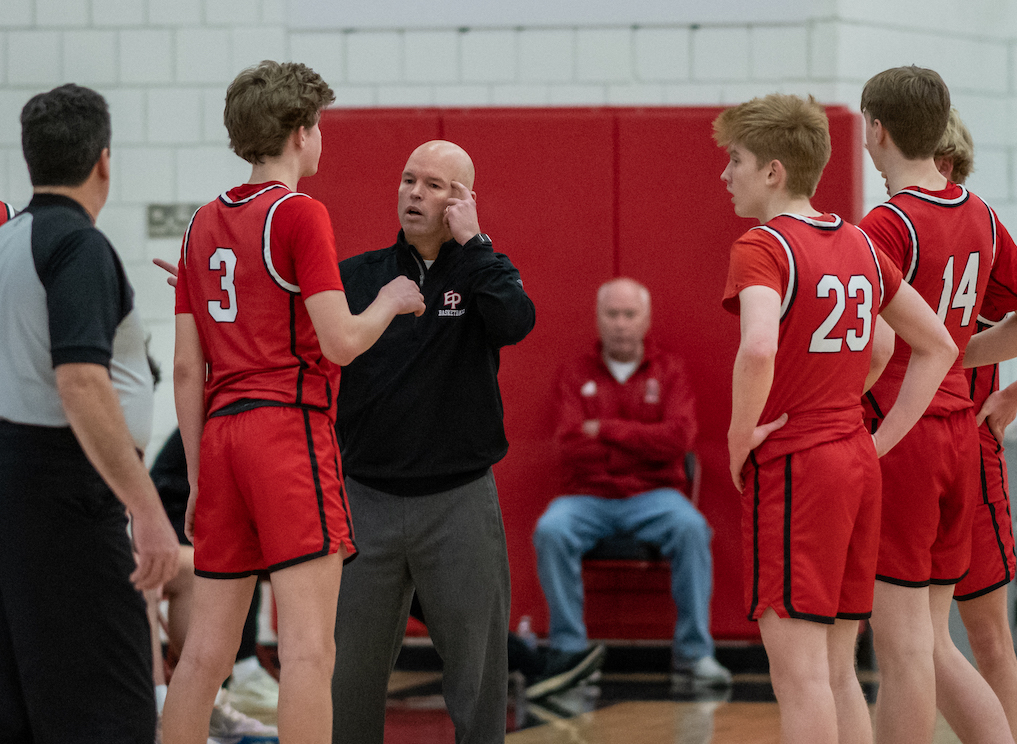 "Obviously, getting Coach back is the first step," Reetz said. "I think repairing some of the harm that happened with the comment and now we have an opportunity to try to mend relationships and I think with every conversation and every decision we make, if we have empathy at the center of it, I think we can learn from what happened and turn a negative into a positive."
Reetz recognizes the reality that there will be hardships in the wake of the decision to reinstate Flom. Believing it's critical to validate those feelings moving forward, he is determined to address challenges as they come.
"I think it's important to give grace," he said. "I always say that humility is defined by your ability to authentically apologize and then obviously the ability to then receive someone's apology. And I know we're all sorry for what happened and now it's time to try to make things better for everybody that's involved in our basketball program."
For the players, the season was upended before it began.
The Eagles (8-6) played one game under Flom before the suspension. They went 7-5 under the direction of Trevor Mbakwe, EPHS assistant activities director and assistant basketball coach, who served as interim head coach.
"Obviously, it's odd with a lot of changes left and right," senior wing Quincy Oriwa said. "But we're trying to enjoy the season and have a good time and glad to have (Flom) back."
Flom's son Joey Flom, a senior who left the team during Flom's suspension, was back with the squad on Tuesday, but was not dressed for the game. He will be back in action for Friday's matchup with North St. Paul.
Meanwhile, the rest of the Eagles' lineup has grown thinner over the past few days.
The Eagles were also without the services of their leading scorer, senior point guard Luke Rapp, who suffered a high ankle sprain in a loss to St. Michael-Albertville on Friday.
Rapp is expected to be back next week, but senior wing Adam Mertens left Tuesday's game with an injury and did not return, depleting an already lean roster.
"We've got some depth issues," Flom said.
With the suspension behind him, Flom appears eager to get back to the daily rhythm of coaching. After leading Eden Prairie to five state tournament appearances in the past six seasons, he believes his team can make another run, despite the recent attrition.
"We build everything towards March. We've got five weeks to get ready for postseason, which is always our goal," he said. "And there's plenty of talent here. And we'll just keep on working hard here and we'll hopefully be at our best here in five weeks."
For the program as a whole, Reetz hopes to shift the attention toward the players, who have been turned upside-down by a tumultuous season, which still has 11 games left to be played before the section playoffs.
"My focus is going to be mainly on our athletes and figuring out what it is that they need; what are their 'felt' needs?" Reetz said. "And then, how do we help them reach their full potential and this team, this year, reach its full potential?
"They've dealt with a lot and so that needs to continue to be recognized. We need to continue to work with our kids, try to make the best of what we have left this season."
Comments
We offer several ways for our readers to provide feedback. Your comments are welcome on our social media posts (Facebook, X, Instagram, Threads, and LinkedIn). We also encourage Letters to the Editor; submission guidelines can be found on our Contact Us page. If you believe this story has an error or you would like to get in touch with the author, please connect with us.