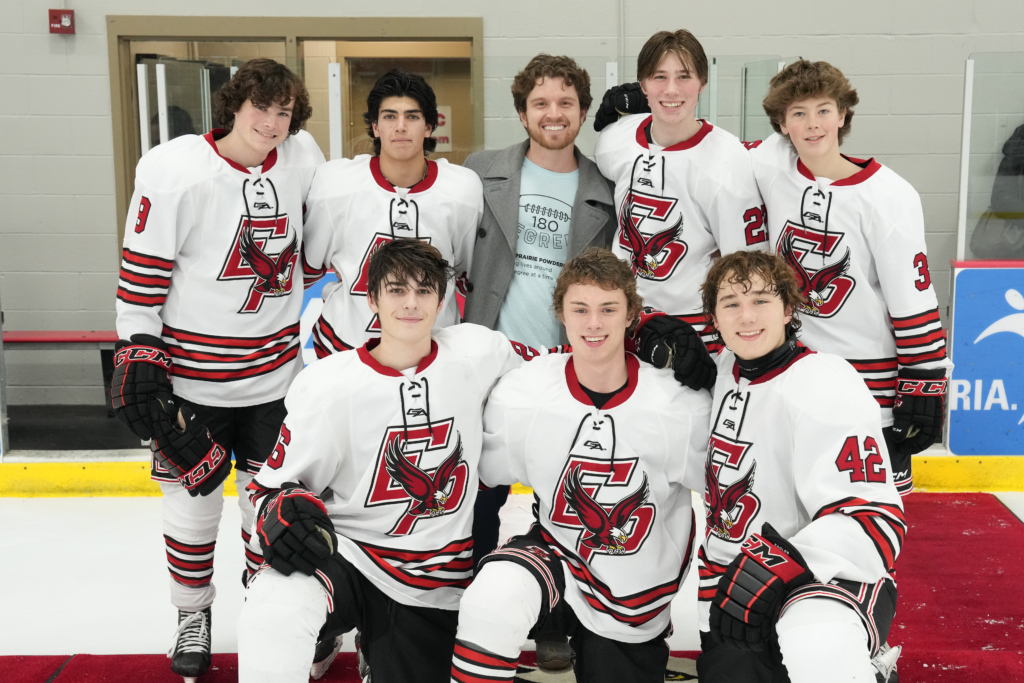 It was Teacher Appreciation Night for the Eden Prairie boys hockey team, ahead of their home game with Mahtomedi on Wednesday.
Before the puck dropped, each player on the team had an opportunity to honor the teacher they most admire for the occasion.
The large representation of teachers – 21 in total for Wednesday's ceremony – is a testament to the offering of outstanding instructors at Eden Prairie High School (EPHS).
In most teacher appreciation ceremonies, teachers are asked by one or perhaps two students to join them to be recognized and have their photo taken to mark the moment.
Amid the ceremony, one teacher at EPHS walked out to the red carpet covering the ice by the Eagles bench and caused quite a reaction from parents, students and spectators watching from across the rink.
Business Education teacher Scott Sayles was accompanied by not one, not two, nor by even three student/athletes.
Sayles stood surrounded by seven young men in skates and EP hockey uniforms.
Is there something about business education that draws a significant number of hockey players?
"We have a lot of hockey players who take business courses," Sayles said. "I teach Business Introduction and Marketing Strategies, and those are the two typical classes that I have. And they're all project-based. So I give kids a lot of freedom and creativity around how they show learning."
Sayles believes the latitude he provides his students to choose projects that interest them might be one of the draws of his classes. If interested, a student who plays hockey would have the option to select a project related to the sport, like owning a hockey store, for example.
"I really liked Mr. Sayles as a teacher and he's a great guy. He just made class fun," said Eagles forward Connor Crowley.
Crowley, a junior, is one of Sayles's students in Marketing Strategies, and one of the seven players who wanted to honor him on Teacher Appreciation Night.
"I try to take a lot of business classes. It is one of my interests," Crowley added. "I've learned a lot about marketing and how the market works and things like that."
Sayles said that many of the players in the hockey program were in one of his classes during their freshman or sophomore years. But he's quick to add his courses aren't just for athletes.
"I hope every student gets something out of it," he said. "But I like kids to be themselves. And I think that's a big thing – why do they enjoy it? I don't put pressure on any kid, so I think that's a big reason why."
Eagles sophomore forward Alex Hall, another player who invited Sayles to Wednesday's ceremony, was drawn to the business course by the environment Sayles has created in the classroom.
"He is just always able to connect to the students and make a business class fun," he said. "And I just love being in his class.
"He's just an overall great guy. And I think everyone just enjoys being around him. So that's why he has a lot of guys from the team."
Sayles, along the rest of the EPHS faculty honored on Wednesday at Eden Prairie Community Center, may have been a good luck charm for the Eagles. Later in the evening, Eden Prairie won their first home game – and first overtime game of the season – with a 3-2 victory over Mahtomedi.
Comments
We offer several ways for our readers to provide feedback. Your comments are welcome on our social media posts (Facebook, X, Instagram, Threads, and LinkedIn). We also encourage Letters to the Editor; submission guidelines can be found on our Contact Us page. If you believe this story has an error or you would like to get in touch with the author, please connect with us.