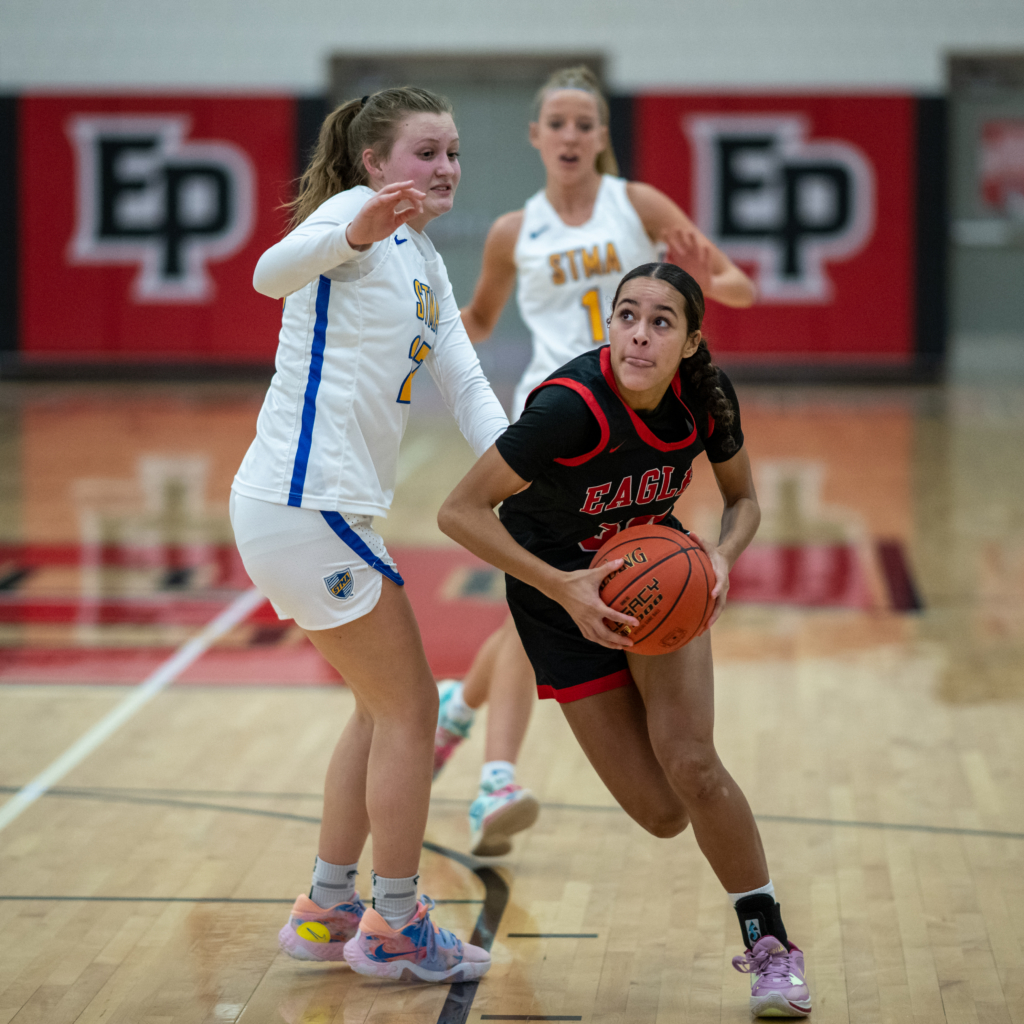 "That was a great game," Eden Prairie girls basketball coach Ellen Wiese said, as she looked at an iPad containing stats from her sixth-ranked Eagles showdown with second-ranked and undefeated St. Michael-Albertville Friday.
"That should have meant more than one conference game, that's for sure," she added. "I don't care what you see at the state tournament, it's gonna be hard pressed to be that good."
It was the Eagles' fourth game in the past five days.
They began the week with a victory over Mahtomedi on Monday at the MLK Classic, played at St. Catherine University; followed by wins at Buffalo on Tuesday and Lakeville North on Wednesday.
Over the course of three days, getting to and from their three games, the Eagles logged over 164 miles, picking up three straight victories.
Thursday gave the team a moment to catch their breath and prepare for the No. 2 team in the state and their first home game since Dec. 14.
"Oh, it felt really good," sophomore guard Vanessa Jordan said. "I don't like away games that much. It's way better to play at home and we have all the fans."
If you look up "grind" in the dictionary you'll find the Eagles' schedule for the past week.
"It was hard," Wiese said. "If you would have told me you're gonna win three in a row on the road. And then you're gonna come home and score 92 points and lose, I would have said, 'all right, that's OK.'
"I have to be pleased with the whole week looking at it. I'm very proud of them."
The coach had reason to be proud of her team. Playing without the services of leading rebounder and key defender, senior captain Kylie Bamlett, the Eagles outplayed one of the state's top teams, leading most of the game until St. Michael-Albertville pulled away in the final 1:30 to steal a 97-92 victory.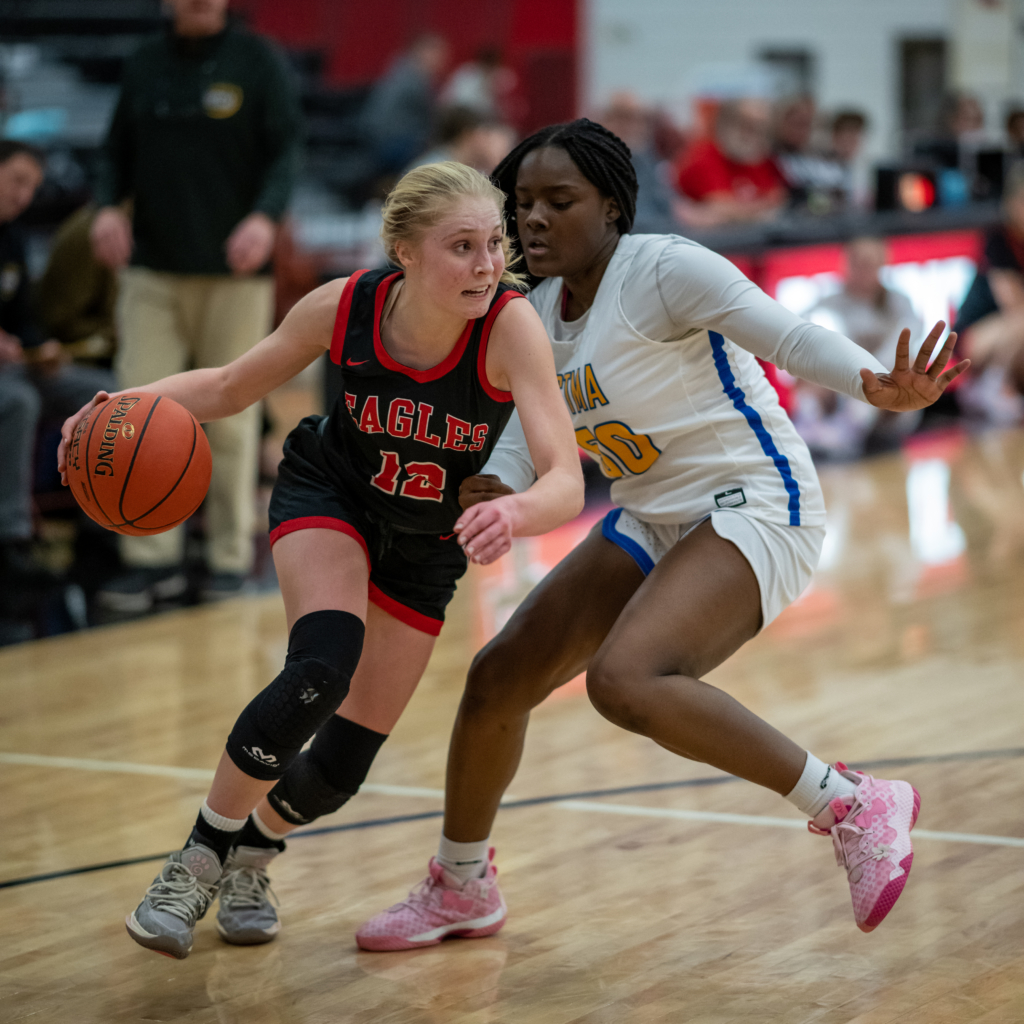 "Their defensive pressure really got to us," captain Molly Lenz said. "It's just experience. We had a lot of young players on the floor, so we'll take it as a learning experience. Hopefully it won't happen the next time."
Lenz led the Eagles out of the gate with two three-point field goals in the first four minutes of the game. The senior point guard finished with 16 points in the game, a team-high along with sophomore Tori Schlagel, who drained four three-pointers in the second half.
"I think that was an incredible game," sophomore guard Ella Hardwick said afterward. "Especially to score 92 points and lose, but still that was a really good game."
Eden Prairie led by as much as 12 in the early going. Hardwick took a pass from Jordan and put it away to give the Eagles a 28-16 advantage with 8:57 to play in the first half.
Hardwick, Jordan and fellow sophomore Rea Erhman were effective in supporting roles, delivering points at critical moments throughout the game.
"I thought we got great contributions from the bench," Wiese said. "Ella Hardwick, obviously, Rea. I just thought our kids played really, really well."
Erhman added to her string of recent three-point success, hitting two first-half threes; while Jordan continually ignited the Eagles in transition, with speed and elusiveness in getting to the basket.
"We've all been playing really well," Jordan said. "Especially because this is our first year on varsity. And I think with all the time that we get, we just bring everything that we can and it contributes to the team."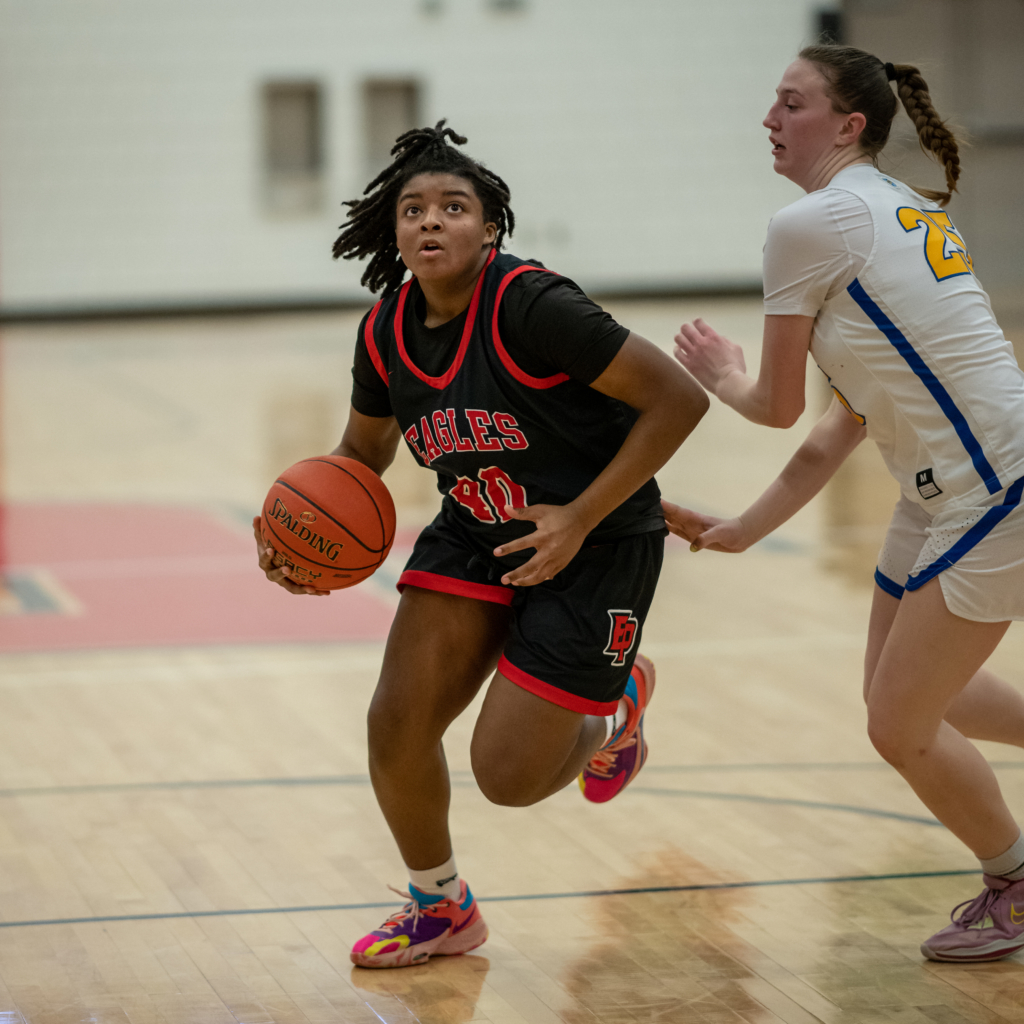 At halftime, the game was dead even at 44 apiece.
Eden Prairie held a lead through the majority of the second half. The Eagles appeared unstoppable at one point, taking their biggest lead of the half when Lenz drove to the hoop, switching hands in the midst of a dazzling layup.
The play gave Eden Prairie an 84-72 advantage with 5:57 remaining.
The Eagles maintained their characteristic balance in point distribution, with six players in double figures.
"We did a really good job with everyone sharing the ball, everyone making shots and that was really good," Jordan said.
Lenz and Schlagel led with 16 points each; Hardwick and senior Ashley Fritz had 13 apiece; senior Annika Anderson had 15, including three field goals from three-point range, while Jordan put up 10.
"It was a very balanced attack," Wiese said. "I'll take what we do any day with the balanced scoring we have, and the toughness we have and I've got young kids playing that are coming through."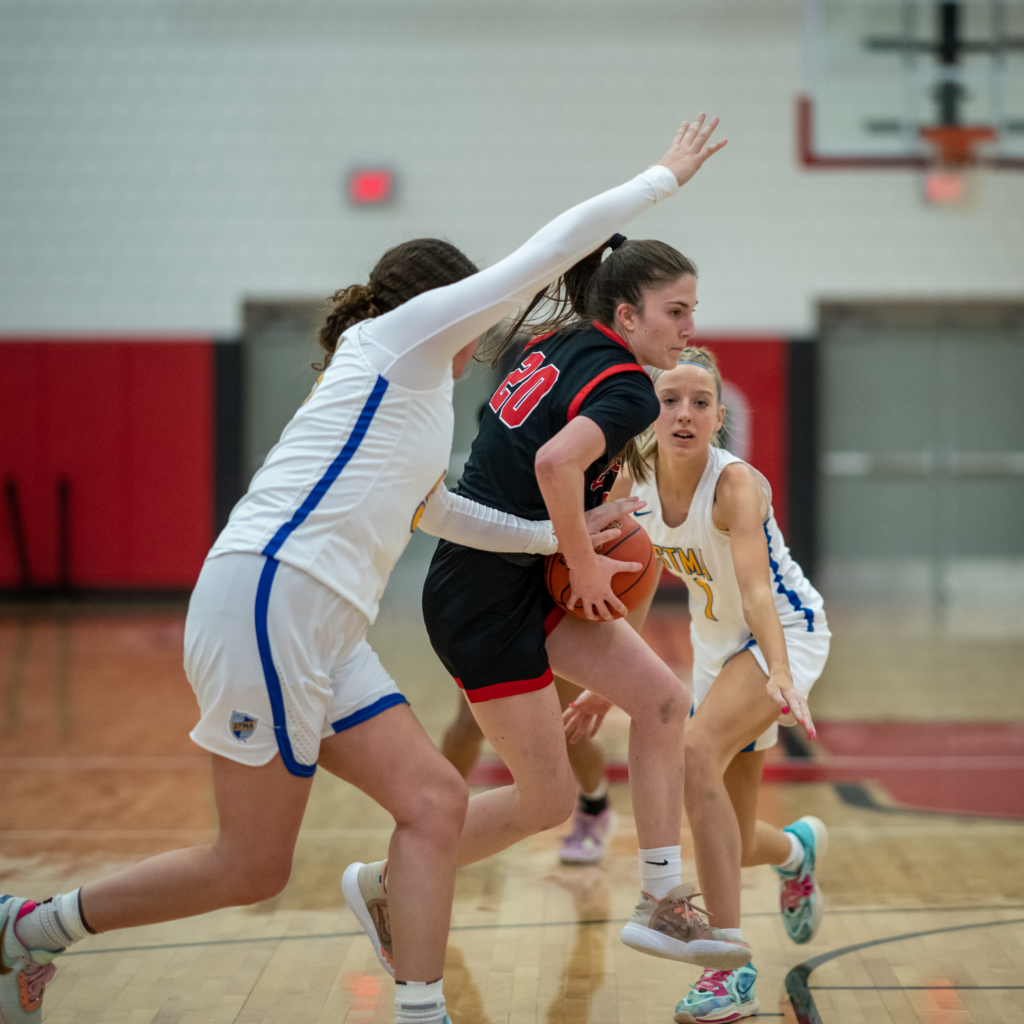 If the Eagles had balance, St. Michael-Albertville had – Tessa Johnson.
The 5-foot-11-inch, senior guard was a one-player wrecking crew for the Knights, scoring 41 points and leading their late, second-half comeback.
"Tessa is really an impossible guard," Wiese said. "I mean, there's a reason she's going to South Carolina. Yeah, she's good."
Johnson scored 12 of the Knights final 25 points, including eight straight points that featured: a steal, leading to a layup to draw within four; a WNBA-like move, setting up her layup to draw within two; two free-throws to tie the game and a drive to the hoop to take over the lead with 1:30 left, which the Knights never relinquished.
"At the end, they got into the zone and we kind of just lost it," Hardwick said. "We just panicked a little bit and threw bad passes. But overall, that was a really good game."
The Eagles had possession with 15 seconds remaining and a chance to tie the game with a three with the score 95-92. They couldn't convert, and STMA got the rebound. The Eagles fouled, and the Knights buried their two free throws to seal the victory.
"It was fun. I thought we had a great crowd. They brought a great crowd," Wiese said. "I think the whole night was very good for Minnesota girls basketball."
After spending the past five weeks on the road, the Eagles were happy to be wearing their home black uniforms and play amid familiar surroundings.
"It felt great to be home," Lenz said. "We haven't been home in so long, so it was nice just like having fans. We had a pretty good crowd tonight. So that was nice. I think it helped us and then just being back on the court that we practiced on."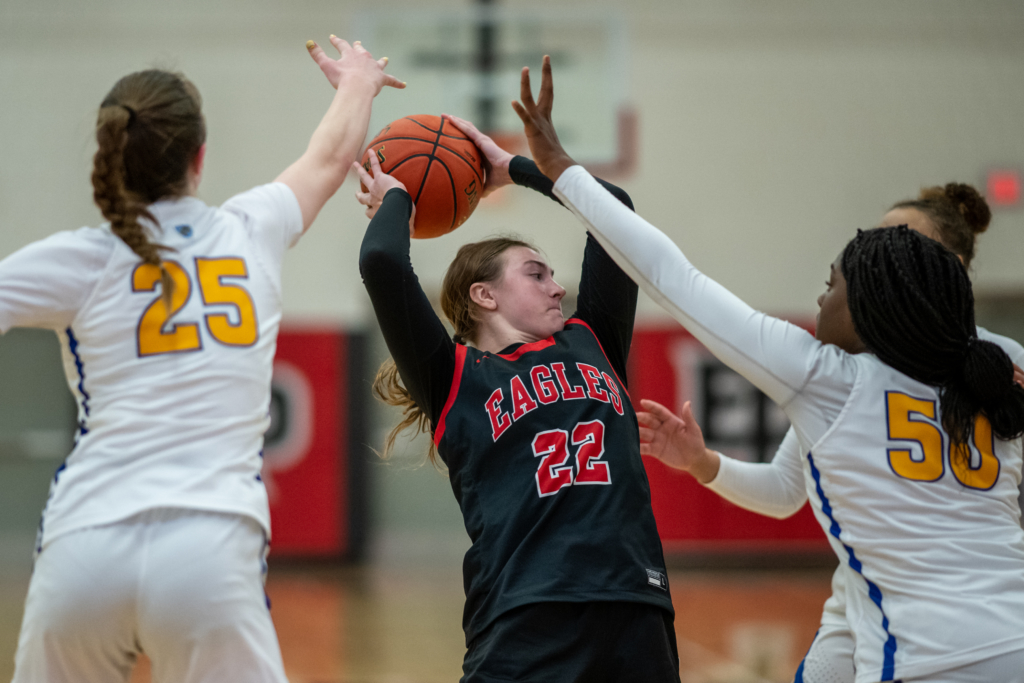 More challenges ahead
Their marathon schedule now complete, the Eagles have just one game next week. Unfortunately, their opponent on Tuesday is fourth-ranked Wayzata, a team that defeated St. Michael-Albertville earlier this month.
"You learn and move on because it's not gonna get any easier," Wiese said. "We've got Wayzata on Tuesday. So we've got our work cut out, but that's the Lake Conference. It's just a killer."
Comments
We offer several ways for our readers to provide feedback. Your comments are welcome on our social media posts (Facebook, X, Instagram, Threads, and LinkedIn). We also encourage Letters to the Editor; submission guidelines can be found on our Contact Us page. If you believe this story has an error or you would like to get in touch with the author, please connect with us.