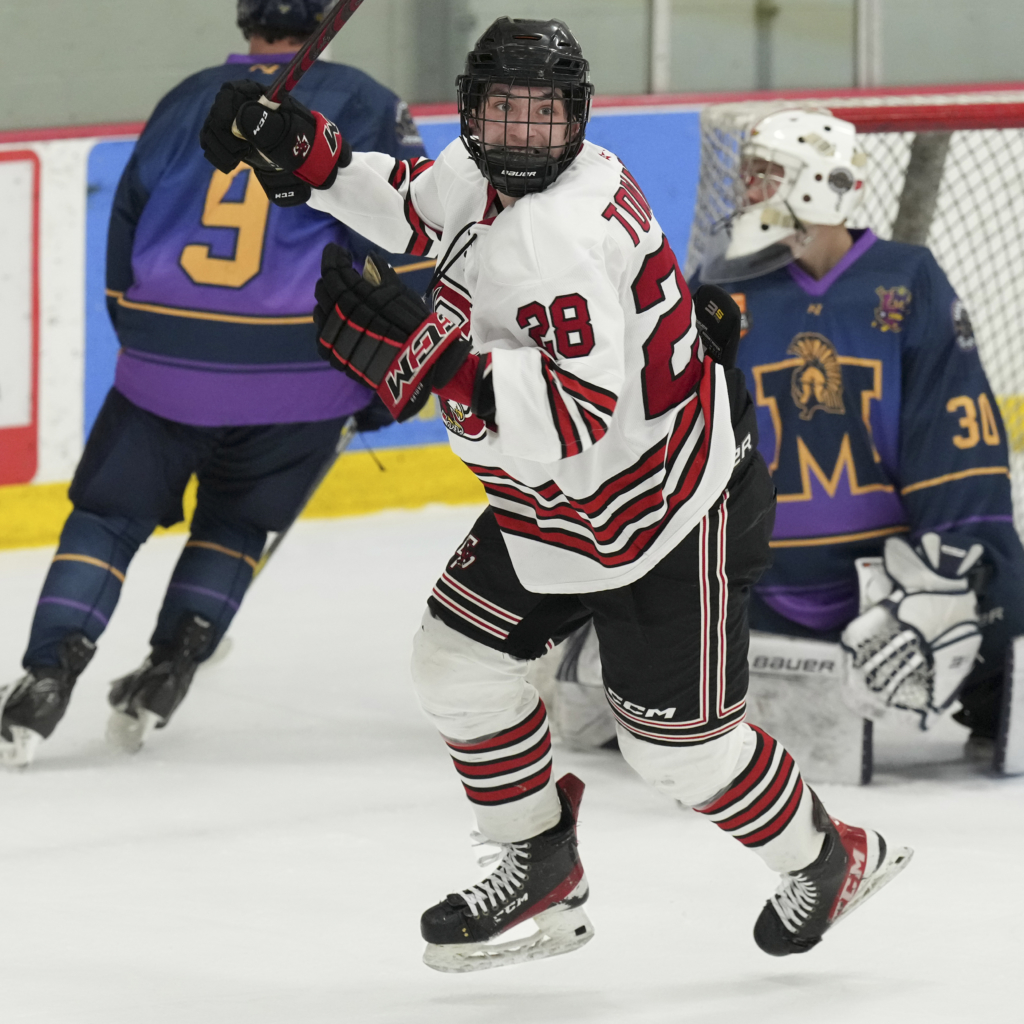 Before their Wednesday game with Mahtomedi, the Eden Prairie boys hockey team entered their locker room to see the day's message on the whiteboard:
"Grit over skill."
There is no mistaking the skill that resides up and down the Eagles' young lineup. But in recent weeks, the team has struggled to get out to quick starts and has had a difficult time finishing games.
Coming into Wednesday's showdown with the Zephyrs at Eden Prairie Community Center, Eden Prairie had two season hurdles to overcome: they had been in four overtime games without picking up a victory, and they had yet to win on their home ice.
That was all about to change.
"The coaches were telling us before the game how all of us need to play a little grittier, which I think we definitely did tonight," junior forward Connor Crowley said. "Because if you just play gritty, the skill will come."
Mahtomedi, ranked fourth in Class A with a 10-3 record coming into the game, had dispatched formidable opponents St. Thomas Academy and Benilde-St. Margaret's earlier this month.
"It was probably our best effort of the year; this or Wayzata," Eagles head coach Mike Terwilliger said, referring to the Eagles 2-1 overtime loss to top-ranked Wayzata in December.
"Just from a grit standpoint and a work standpoint, we liked our effort a lot," he added.
There was no concern about a slow start against Mahtomedi. The Eagles came out fast and aggressive, taking more shots than they typically have and creating numerous scoring chances with strong forechecking.
After a scoreless first period, the Eagles outshot the Zephyrs 13-7 while getting quality scoring opportunities.
"The boys were just pumped up," sophomore forward Alex Hall said. "We were due for a night like this."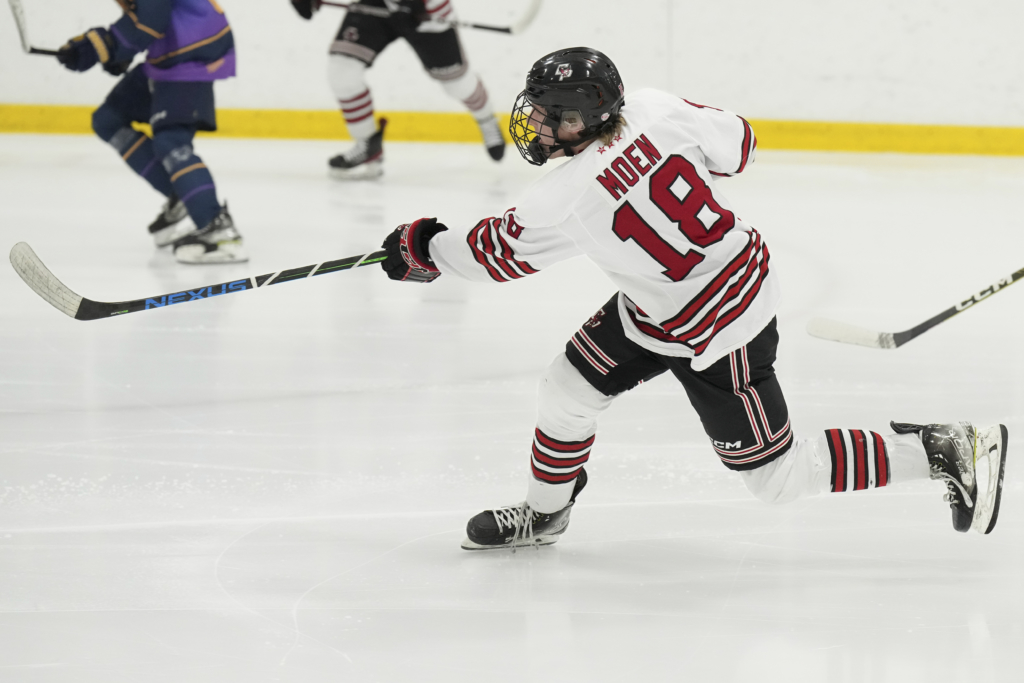 Eden Prairie struck first in the second period. Just seconds after killing a penalty carried over from the first period, junior defenseman Tommy Moen released a blast from the slot past Zephyrs goalie Charlie Brandt.
"We've had three games in a row where our starts have been better," Terwilliger said. "So we want to keep that going."
Mahtomedi was called for a roughing penalty at 9:02 of the second period, giving the Eagles a chance to build their lead on the power play.
Senior captain Ryan Koering brought the puck up ice and saw junior forward Andy Earl breaking by a Zephyr defenseman.
"I trust my guy to win that battle, so I bounced it," Koering said.
After years of hockey at Eden Prairie Community Center, Koering knows every detail of the boards on his home ice. He shot the puck behind the Mahtomedi net, squarely hitting the boards between the Coca-Cola and Bonfe billboard signs. The puck bounced straight out to Earl.
"Andy picked it out," Koering recalls. "He kind of put it back to Teddy and Teddy found a way to score."
Teddy Townsend gave the Eagles a 2-0 lead with his eighth goal of the season. The Eagles' co-captain wasn't surprised by Koering's play off the boards.
"We try to work on it in practice," he said. "It was a great look by Ryan. He kind of started the whole play."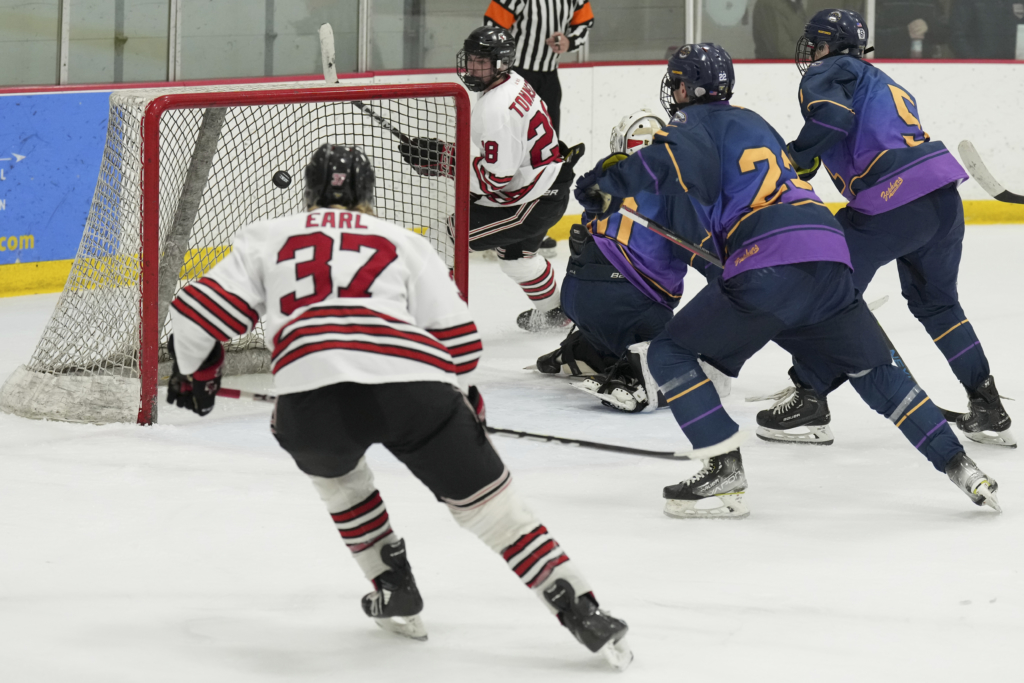 Eden Prairie took their 2-0 lead into the locker room for the second intermission and entered the final period determined to protect the shutout with outstanding defensive play.
Junior forward Chase Klute brought the hammer, delivering crushing checks on Mahtomedi skaters. Meanwhile, Koering broke up a two-on-one break with a brilliant diving block of a cross-ice pass.
Despite the effort, Mahtomedi picked up a pair of third-period goals. Their second came on the power play with just 1:53 to play in regulation, tying the game at two.
"It's like, what, our fifth overtime game?" Terwilliger said afterwards. "We're bound to get a break one of these times. We're telling them to try to keep working and keep doing the little things."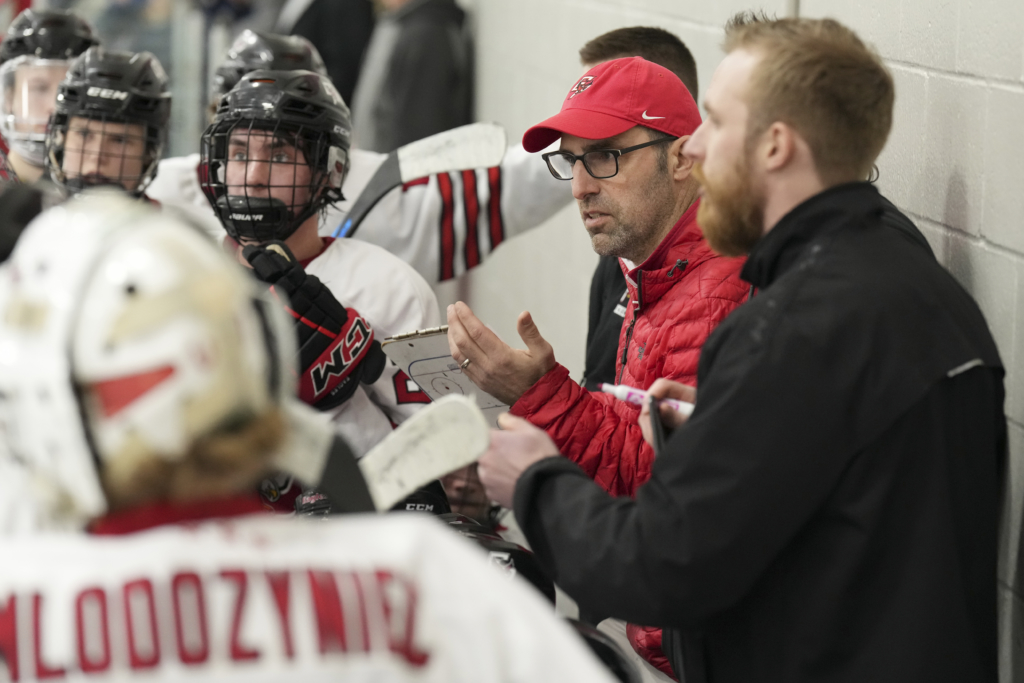 Eden Prairie started the eight-minute overtime with a minor tripping penalty just 32 seconds into the period.
"Coach Twigs just kept telling us, 'Don't hang your heads. This is our game,'" Crowley said.
The Eagles killed off the penalty and wasted no time going for the win.
At the 3:10 mark of overtime, Townsend got the puck to Earl, who blasted a shot from the right side on Mahtomedi's net. Townsend was there for the rebound, left of the goal crease, and put the puck under the arm of Brandt for the game-winner.
"I gave it to Earlsie there on the rush and he shot it and got a good bounce and I saw an opening and put it away," a smiling Townsend said.
The shot heard 'round Eden Prairie brought the crowd to its feet, celebrating the Eagles' first home win of the season as well as their first overtime victory.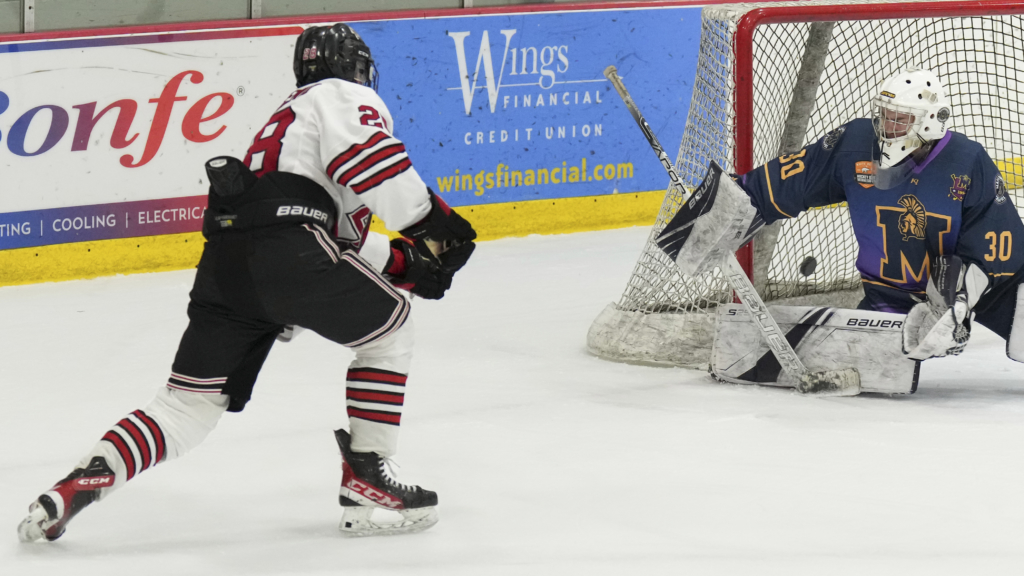 "Oh man, there's no better feeling honestly," Townsend said when asked about getting the game-winner in overtime. "But it feels good to get a team win. We're on a two-game heater now so it feels good."
The Eagles had started fast and finished strong. And more significantly, they showed the grit their coaches asked for by overcoming a setback brought on by Mahtomedi's two third-period goals.
"Just a good gut check. Good character," Terwilliger said. "So it's fun to get the big penalty kill and a couple of big saves by (Isaiah) Paulnock and then finally get a bounce and Teddy made it play."
As victory music blared from behind the locker room door for the very first time since a major remodel this off-season, Koering emerged with an enormous smile, looking like a player who'd just shed the weight of the world from his shoulders.
"This is unreal," he said. "We can finally pump in some tunes. We get to use the speaker after a home win."
For a team that has appeared poised to put together a complete hockey game against a quality opponent, the overtime victory on home ice came at just the right time.
"I feel like this is like the spark we needed to turn our season around," Hall said. "I see ourselves carrying this on to Saturday against Tonka."
The Eagles will try to make it two-in-a-row at home – as well as win their third straight game – when they take on second-ranked Skippers Saturday at Eden Prairie Community Center. Puck drop is set for 7 p.m.
"That one's been circled. We're looking forward to it," Koering said.
When asked how long the game had been circled, he replied, "Since the schedule came out."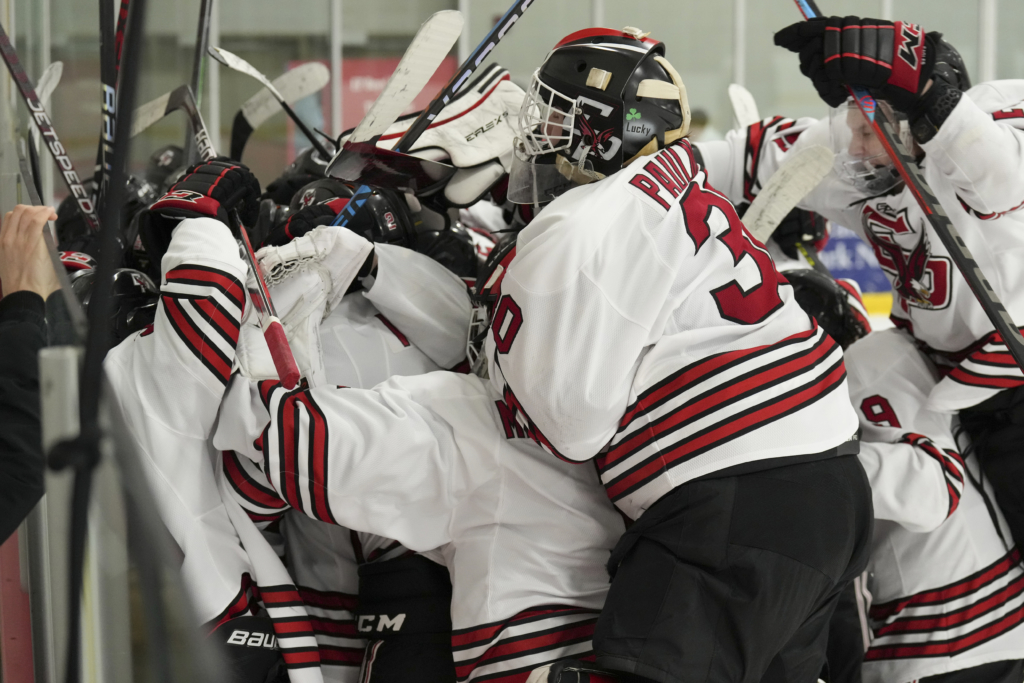 Comments
We offer several ways for our readers to provide feedback. Your comments are welcome on our social media posts (Facebook, X, Instagram, Threads, and LinkedIn). We also encourage Letters to the Editor; submission guidelines can be found on our Contact Us page. If you believe this story has an error or you would like to get in touch with the author, please connect with us.