By the time Caroline Larsen goes back to school this fall, she will have traveled more than 17,000 miles – 50 meters at a time.
Larsen, Eden Prairie's elite swimmer, specializes in sprints – typically 50 and 100 meters – and has established herself among the best as she continues her quest to eventually swim for her country in the Olympics.
In the past couple of months, she has traveled to Indiana, California, and soon to Israel in pursuit of high-level competition and faster times.
Her performance at the Phillips 66 National Championships in Indiana in late June qualified Larsen for the Team USA World Junior Championship Team, which also earned her a spot on Team USA's World Aquatics Junior Championship roster.
Larsen posted personal best times at nationals in the 50 and 100 freestyle events, and the 50 and 100 butterfly. Her 50 free time was 25.19 seconds, almost four-tenths of a second faster than the time that qualified her in March for the 2024 Olympic Trials.
Four-tenths of a second was the difference between Gold and Bronze medals in the 50-meter freestyle at the 2020 Olympics in Tokyo. To qualify for the trials, swimmers must record a time of 25.51 or faster.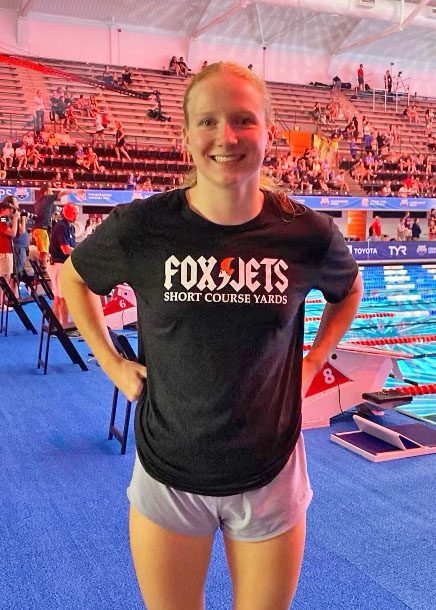 All of this means that she will compete in the World Junior Championships to be held in Netanya, Israel, from Sept. 4 to 9. She will swim in the 50 free and possibly participate in a relay event.
Since school starts on Sept. 6, she will maintain contact with her Eden Prairie High School (EPHS) teachers via email. "I'm definitely sending out emails to my teachers telling them I'm going to be (missing) week one," she said. "Time zones will make it a little different."
But she says everyone has been understanding.
"All of my teachers at Eden Prairie, and for sure my counselors, have been really supportive," she said. "Eden Prairie is not new to have athletes travel for competitions. I'm lucky to be in a place where they've done it before, and they know how to handle it."
Junior nationals
Her most recent meet was the summer junior nationals in Irvine, California. More than 1,200 athletes compete in the meet, Larsen said, and it is the biggest meet of the year for junior swimmers.
A handful of swimmers at the meet, including Larsen, tapered their training for the more competitive Phillips 66 National Championships, and competed in this meet for the additional races.
Closer to home, Larsen competed with her Foxjet teammates in the Minnesota Senior State Swim Meet in late July. She competed individually as well as on some relay teams.
"Our team set the 200 freestyle senior state record," she said. "It was the fastest 200 free relay ever swam in Minnesota by Minnesota athletes, which is exciting."
Olympic Trials
Larsen said that when she competes in the 2024 Olympic Trials next summer, it likely will be more a learning experience than a realistic chance to make the U.S. Olympic Team.
"Like my dad (Lloyd, her coach) likes to say, 'If you have a lane, you have a chance,' but only the top two in every event make it," she said. "At nationals this summer in the 50 (free), which is my best event, I had a best time that was 14th, so I'm still quite a bit behind the top of the top."
She also said her sprint specialty and her youth don't play in her favor at this point in her career.
"I do the 50 and 100 and those are events that definitely develop as you go through college and you get more fully grown," she said. "So, it's definitely a tough (event) to try when you are young. But obviously I will do my very best over the next year and not put too much pressure on myself because I am still, you know, very young and I'll have more opportunities."
EPHS senior, then Louisville
Larsen has committed to attend and swim for the University of Louisville in 2024. She will be joining a Cardinals women's swim and dive team that placed fourth in the nation in 2023, their seventh top-10 national finish in the past eight years.
This year, she will officially be an EPHS senior, with the bulk of her classes online PSEO (post-secondary enrollment options) college classes through the University of Minnesota.
Comments
We offer several ways for our readers to provide feedback. Your comments are welcome on our social media posts (Facebook, X, Instagram, Threads, and LinkedIn). We also encourage Letters to the Editor; submission guidelines can be found on our Contact Us page. If you believe this story has an error or you would like to get in touch with the author, please connect with us.