Tensions were running high last Friday even before Eden Prairie High School's (EPHS) boys swim and dive team arrived for its meet against Minnetonka High School.
There was more at stake than the outcome of just one meet. With both teams undefeated in the Lake Conference — and only one additional dual meet apiece left in the season — the winner of the Feb. 3 match-up would be strongly positioned to clinch the Lake Conference title the following week.
Senior Brian Hu. Photos by Juliana Allen unless otherwise noted

Senior Eric Howard, senior Matthew Lillejord, and junior Abhi Madireddy start the varsity 100 free.

Junior Brian Shi in the varsity 100 breaststroke.

200 free starts (L-R) Charlie Folks, Drew Ploof, and Mark Derouin.

Senior Ben Ploof.

Senior Charlie Folks. Photo by John Folks

Senior diver Alex Oestreich. Photo by John Folks

Brian Hu, Luke Logue, and Erik Peterson starting the 100 back.
The meet started at 5:30 p.m. to loud cheers from the crowd of Minnetonka Skippers home supporters and Eagles visitors.
EP took first blood with a thrilling win in the 200 medley relay, courtesy of senior Luke Logue, junior Brian Shi, sophomore Drew Ploof, and senior Eric Howard.
Ploof and senior Charlie Folks then went 1-2 in the 200 free with junior Mark Derouin in fifth, before Logue, Shi, and senior John McMahon went 1-3-4 in the 200 IM. In the 50 free, Matthew Lillejord and Howard clawed their way to 2-3 in a tight race.
It was time to break for diving, and EP divers Alex Oestreich and Yash Dagade delivered, securing first and third as the Eagles watched breathlessly, then cheered loudly.
Back in the pool, Ploof scored first in 100 butterfly with senior Brian Hu in fifth, then Lillejord seized second and Howard fourth in a thrilling 100 free. The 500 free was next, with Folks first, Derouin third, and senior Erik Peterson fourth. In the 200 free relay, Shi, Lillejord, Oestreich, and Howard claimed second.
Next was 100 back, with Logue, Hu, and Peterson 1-3-5 for EP. In the 100 breaststroke, Shi, junior Luke Anderson, and McMahon were 3-4-5.
The score was EP 90, Minnetonka 82. To win the meet, a score of 94 points was needed. First place finishes in relays counted for 8 points, second place for 4 points, and third place for 2.
This meant the entire meet had come down to the final event — the 400 free relay. The Eagles only needed 4 points from a second-place finish to clinch the meet.
But true to form, the Eagles overdelivered. As cheering teammates chanted, "Sink that ship!," Folks, Lillejord, Ploof, and Logue served up a dominating first-place triumph to bring home the meet win for EP.
Watch a video of the 400 free relay here.
Varsity 'leadership and experience' was key
"I could not be more proud of my athletes and staff," said Kelly Boston, EP's head coach.
"This team has come a long way in 10 weeks," she said. "We put a priority into training and keeping our sights set on our goals. One of those goals was beating the other top teams in the state, who just happen to be in the same conference, in dual meet competition: Wayzata, Edina, Minnetonka.
"I told the boys on Thursday that it was going to take the leadership and experience of our top varsity athletes to beat Minnetonka. The guys who came into the season prepared and who have been our go-to varsity guys all season are Luke Logue, Drew Ploof, Charlie Folks, Matthew Lillejord, Alex Oestreich, Brian Shi, Brian Hu and Eric Howard.
"All but Alex had been in tight team battles against Minnetonka in the past and were up to the task of leading the team to another win against them," Boston continued. "As a staff, we knew the boys were ready for a meet like this. Getting past Minnetonka served as our biggest challenge and brought out the best in each athlete on our team."
Logue after winning the 100 back. Photo by John Folks

Senior Abdijibar Guled's swimming the 500 free. Photo by John Folks

Vincent Schulze, Lucas Johnson, Caleb Singewald, and Charlie Strehl in the 100 free.

Junior Luke Anderson in the 100 breaststroke.

Mark Derouin, Charlie Folks, and Erik Peterson preparing to start the 500 free.

Junior diver Yash Dagade. Photo by John Folks

(L-R) Freshman Eshaan Salunke, junior Abhi Madireddy, and sophomore Huijae Kim in the 100 breaststroke.

Senior John McMahon.
Boston also noted these outstanding varsity performances that made the win possible:
Luke Anderson: Medley relay and 100 breaststroke.
Mark Derouin: 500 free.
Erik Peterson: 500 free and 100 back.
John McMahon: 200 IM and 100 breaststroke.
Yash Dagade: diving.
Boston also called out other notable swims:
Eshaan Salunke: 200 IM and 100 breaststroke.
Abhi Madireddy: 100 free.
Vincent Schulze: 50 and 100 free.
Abdijabar Guled: 500 free.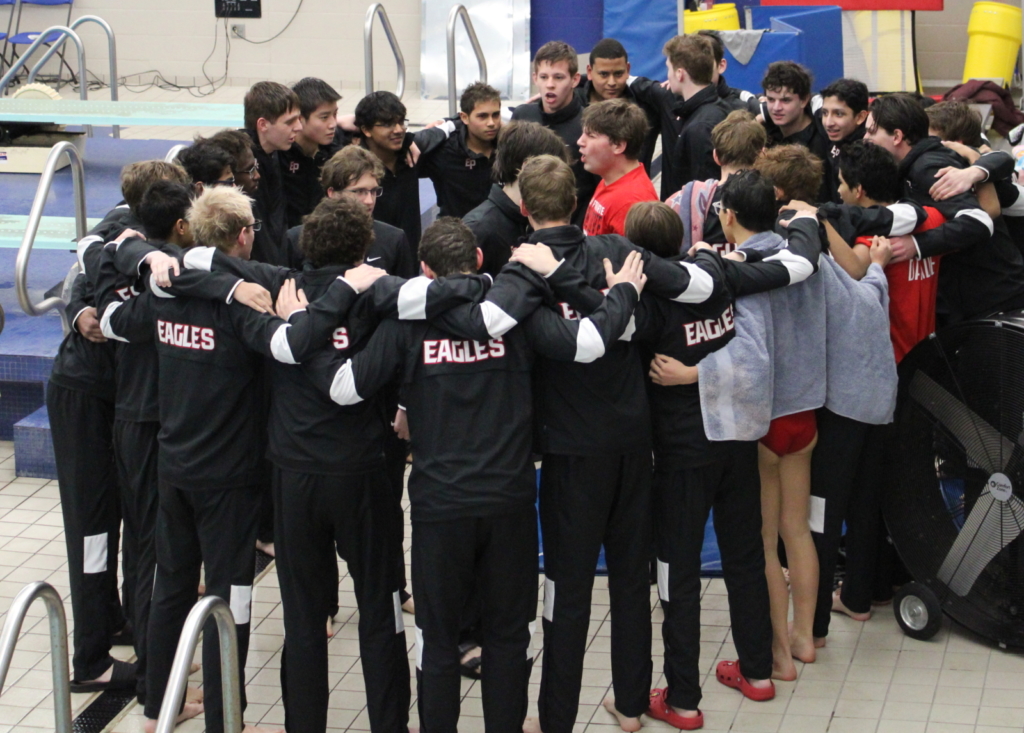 Co-captain Lillejord said, "Minnetonka always brings the best out of us. They're a good group of guys. I've got a lot of friends on that team, so it's always fun to have that competition.
He added, "It felt absolutely amazing to beat them. It's always a big thing every year. We beat them last year by 3 points, and the year prior by 1 point. So it was huge to win by 10."
Of the meet's winner being determined by the final race, Lillejord said, "That's kind of how it is every year. We know they're an amazing team and we know we're going to have to do everything in our power to try to get it down to the last race. It was a lot of fun just to get that atmosphere — it was huge."
Oestreich, who is one of EP's two divers and also swam in the 200 free relay, said, "Beating Minnetonka was such a special moment for our team. Everyone did their part with outstanding swims and dives to carry our team to success. It was exciting from start to end."
Due to the design of Minnetonka's aquatic center, EP's swimmers were able to cluster more closely by the diving boards to watch and cheer than at most meets. Oestreich credited this support with inspiring him and junior diver Yash Dagade.
"Having the team so engaged in diving truly motivated Yash and I to dive our best," Oestreich said. "This team's amazing cheer section brought both Yash and I a new 6-dive personal record."
Final dual meet at STMA on Feb. 9, then championships
The final meet of the season will be away at 5.30 p.m. Thursday, Feb. 9, against St. Michael-Albertville (STMA) High School at the STMA Middle School pool.
"We are excited to finish up our dual meet season this week against STMA," Boston said. "We also start our JV taper this week as well as prepare to taper our varsity athletes the following week."
Lillejord said he's looking forward to the remainder of the season. "I'm really excited to see how we're going to do," he said. "We've worked so incredibly hard throughout all of this, and it's fun to see it pay off.
"Speaking from a team standpoint, we're on a big high right now for sure, but I think we can bring it down a little bit and take it week by week," he said. "Hopefully, we can come out conference champions, but we're not going to put it past STMA. We're not conference champions until we do it.
"And conference champions doesn't mean that you win JV Finals, Sections, or State," Lillejord continued. "You've got to celebrate your victory and focus on the next one."
Lake Conference JV Finals will be at 1 p.m. Saturday, Feb. 18, and sections on Feb. 22-24, hosted by the Eagles at Eden Prairie's Aquatics Center.
Lillejord added, "My favorite part of the entire season is JV Finals day. You get to hang out with your team the whole day. We make signs after practice, go home for like 30 minutes and shower, then come back and drive with the team to finals."
Praise for the team and coaches
Lillejord said he was proud of the team's strong character, hard work, and supportive nature. "It's a really good team atmosphere," he said. "I've played other sports, and it wasn't something I'd ever been a part of before. Nothing comes even close to swimming.
"I'm proud of how we all work hard in and out of the pool, and come in with an open mind every day," he continued. "It turns into a feeling that you're not even working hard, you're just having fun. We have such a good group of guys and I'm really thankful for that."
Lillejord said as a captain, he works hard to inspire, motivate, and support the younger members.
"As a freshman I looked up so much to the captains and I always try to be that guy who can be there for them," he said.
Oestreich and Lillejord also had high praise for their coaches.
Oestreich joined the EPHS team this fall after moving from Hutchinson.
"The team gave me such a warm welcome, and I was able to meet with the captains and coaches before starting the season," Oestreich said. "Having Kelly Derouin as my diving coach is such a blessing. She is very educated about the sport from her experiences and is always motivating Yash and I."
Lillejord credited Boston for her leadership and for helping him grow as an athlete and a person over the past four years she has coached him.
"Kelly has absolutely changed my entire life with swimming and just sports in general," he said. "She's brilliant, and she knows more about swimming than anybody I've ever met.
"Above all that, she's a personable person who will give it to you straight, which is what I need as a swimmer. She is the perfect fit for a coach for me and the guys on the team. She's always there for you. She has just always been a great, great coach."
Lillejord also praised Boston's skills as a tactician, a compliment echoed by several other swimmers on the team.
"She scored out the whole Minnetonka meet ahead of time, and the final score was exactly as she predicted," he said.
Comments
We offer several ways for our readers to provide feedback. Your comments are welcome on our social media posts (Facebook, X, Instagram, Threads, and LinkedIn). We also encourage Letters to the Editor; submission guidelines can be found on our Contact Us page. If you believe this story has an error or you would like to get in touch with the author, please connect with us.