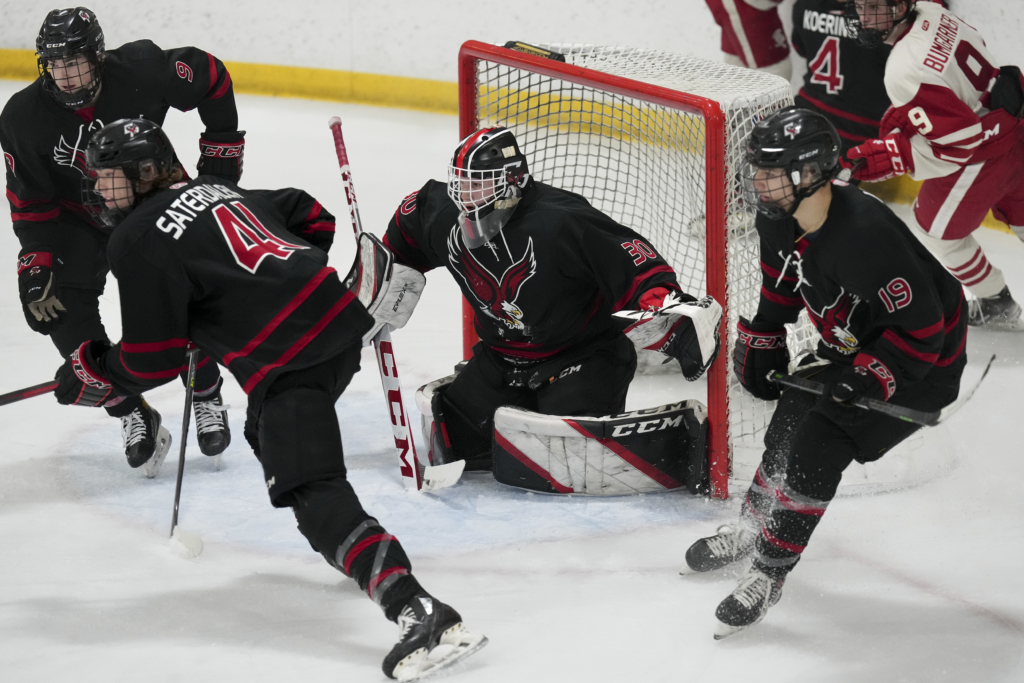 The color had finally returned to Dylan Vornwald's face.
"He was about that color gray at the end of the game last Tuesday," Eden Prairie boys hockey head coach Mike Terwilliger said, equating Vornwald's pallor after Tuesday's game in Stillwater to a carbon fiber hockey stick leaning against the wall.
The junior defenseman had been out with an illness for several games before returning to the lineup in the Eagles' 6-4 win over the Ponies.
Fast-forward to Saturday night, when Vornwald and the Eagles put together their second win in a row, making the long climb back to .500 for the first time since Dec. 16 with an impressive 2-0 win over fifth-ranked Benilde-St. Margaret's.
"Tonight, he had a little more pep," Terwilliger said. "Just having him back, he makes a big difference because he's a big strong righty and he's kind of mean down low, so it helps us a lot."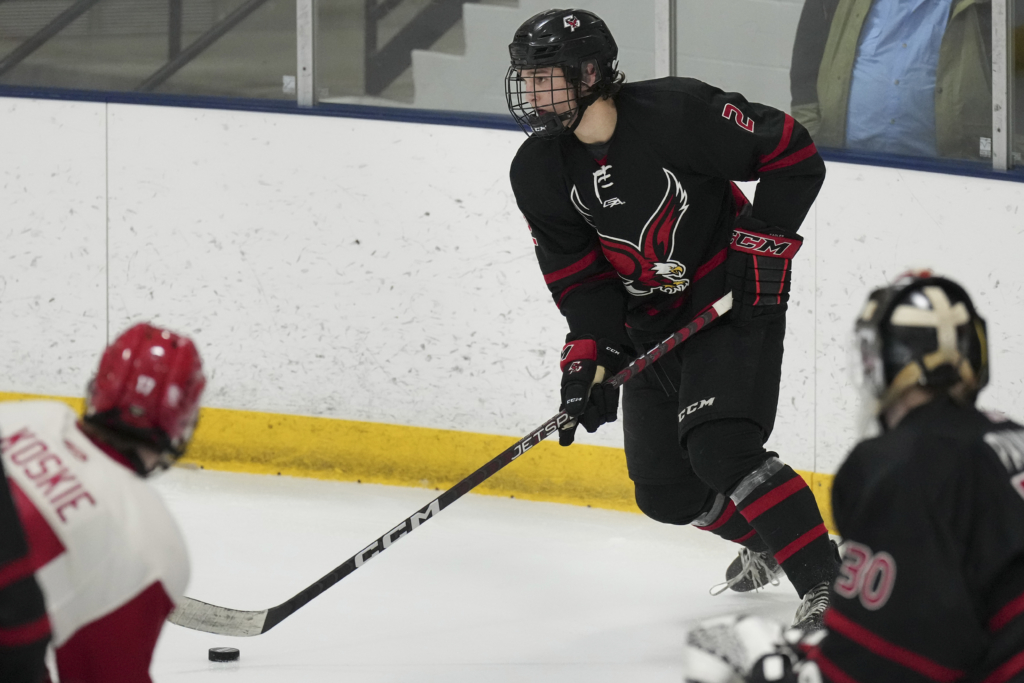 Vornwald was happy to be back with his team, feeling healthy and leaving the St. Louis Park Community Center with a win over the Red Knights.
"Yeah, it was kind of rough, but I'm better," he said. "I feel like I'm almost back at 100%, so it's good."
Senior captain Ryan Koering was pleased to have his defensive partner return to the lineup after he had missed games against Buffalo and No. 2 Edina.
"He completes the team," Koering said. "It's great having him back."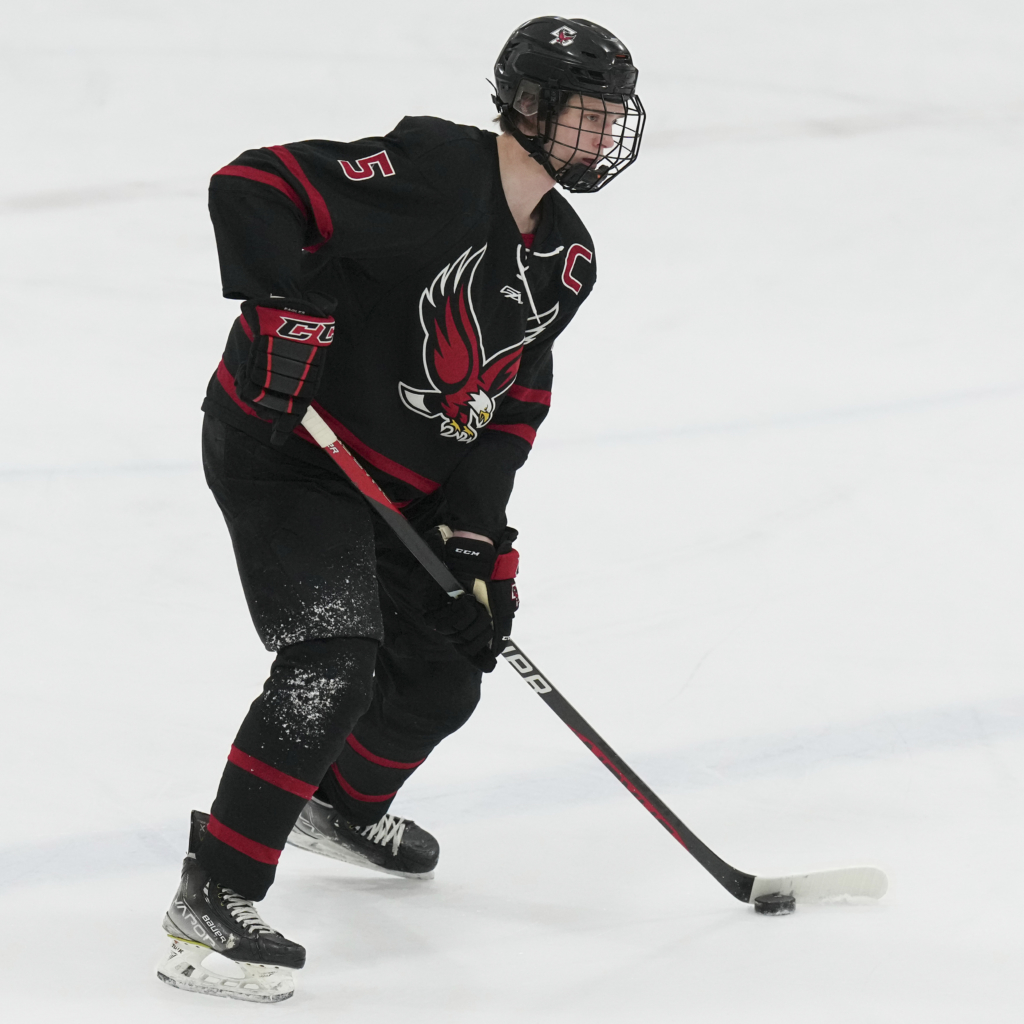 The Eagles needed their entire roster intact to turn in an outstanding defensive performance against high-powered Benilde-St. Margaret's, holding the Red Knights to just 20 shots with a comprehensive effort from all six positions.
"The big difference, to be honest, was our forwards helped us more on the defensive end," Eagles assistant coach Tom Gerdes said. "And that's what we've been working on. Instead of leaving our two D by themselves, they came back and we sealed really well and it worked out."
Gerdes said by "keeping the third guy high" in the offensive zone, the Eagles were able to slow down BSM and get back quickly in transition. It's a tactic they especially like to employ against potent offensive teams.
"We know high fliers like Edina and Benilde and Minnetonka, they love to stretch it and race," he said. "And as long as we have that third guy in the middle, we're pretty solid."
The strategy worked on Saturday. The Red Knights were unable to register a second-period shot on goal until 7:26 remained on the clock.
"They're a fast team with a lot of skill guys," Koering said. "So tight gaps, try to take body on them, make them uncomfortable, and then forwards coming back and supporting. It was a good team effort tonight on the defensive end."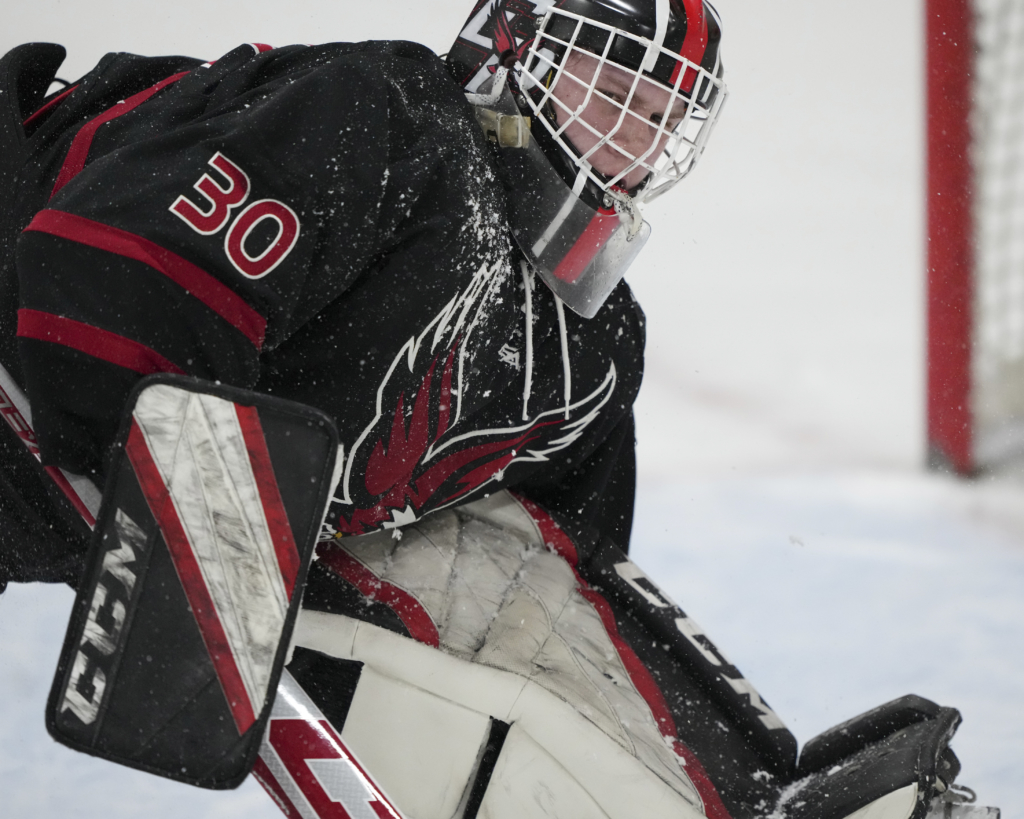 Behind the sound defensive performance, Eagles goaltender Isiah Paulnock posted 20 saves in his third shutout of the season.
"All five of our players played great in the defensive zone," Paulnock said. "With our forwards, that was probably the best defensive game as a whole that we've seen all year so it was really good. They have a lot of high-skilled players so it's nice to keep them shut down."
The junior goalie brings a Zen-like approach between the pipes, keeping his mind clear to better focus on the play in front of him.
"I just felt good, I wasn't thinking which is always a positive," he said. "I just played my game and we came out with the W."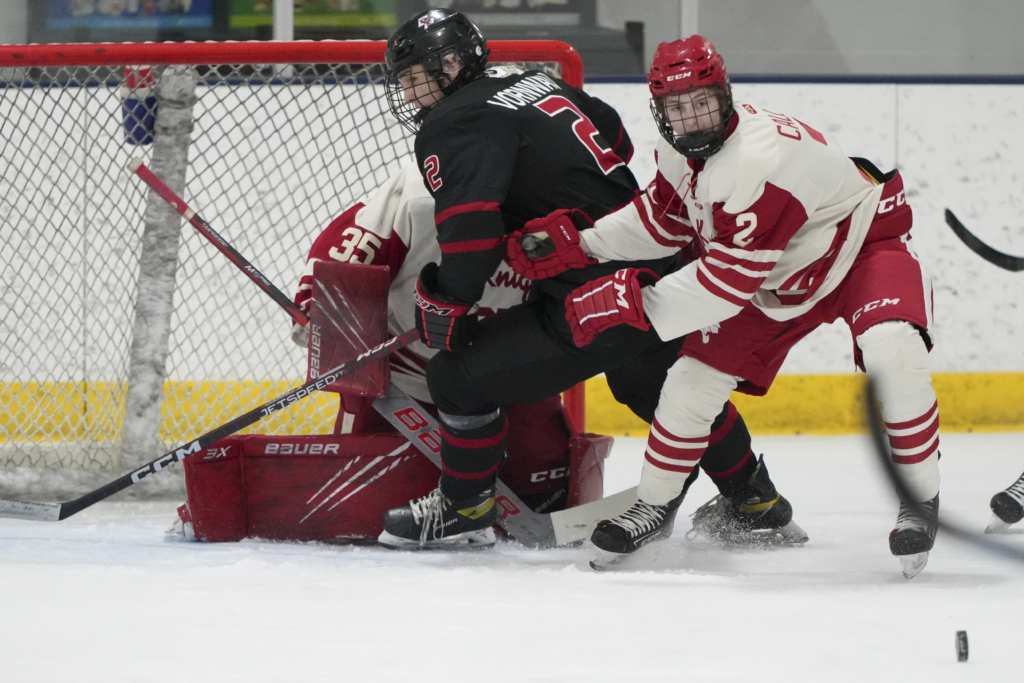 The contest was scoreless at the first intermission. Eden Prairie broke through at 7:49 of the second period when senior captain Teddy Townsend blasted a rebound through the five-hole of Red Knights goalie Mason McElroy.
"We had a couple good shifts previous to that, so we're excited to get out there," Townsend recalled. "There was a shot on net that went off a pad and then came out right to the middle and then I put it away."
The goal, which proved to be the game-winner for Eden Prairie, was aided by a screen from Vornwald, who, after making his way deep into the offensive zone, jumped in front of McElroy as Townsend took his shot.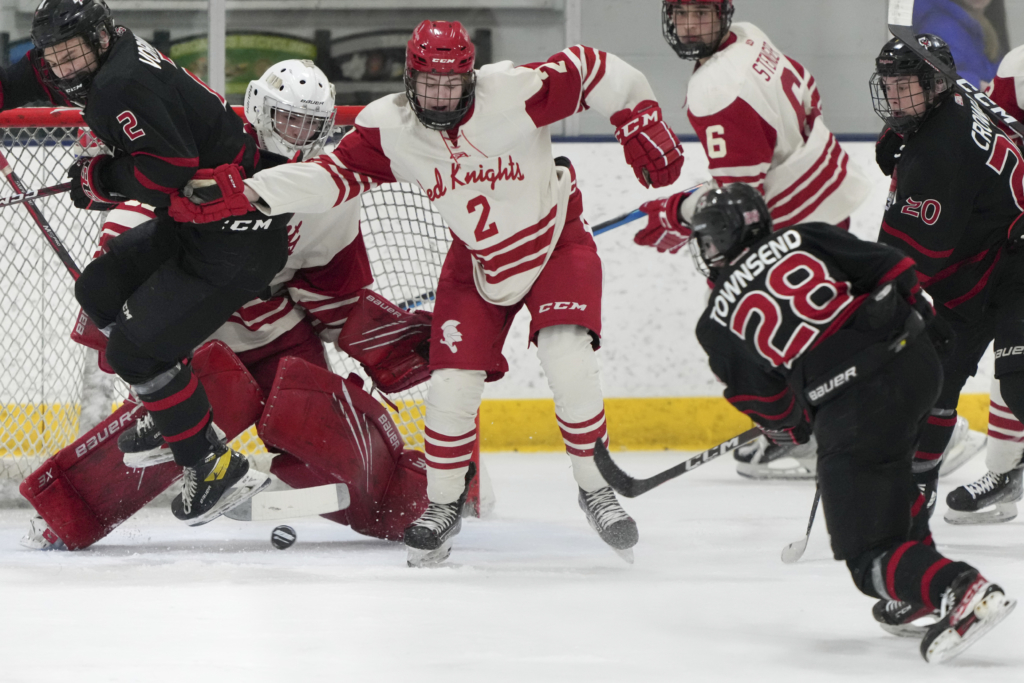 "I didn't notice it was Dylan but I saw a black jersey in the middle there," Townsend said. "He's a big guy, blocking up the net there. So it was a good play by him."
Another solid defensive effort in the third period was rewarded by an open-net goal from junior Cole Saterdalen with 1:02 remaining.
The 2-0 victory is the Eagles' fifth win in their last seven games. And with four games remaining in the regular season, they like the momentum building with the postseason on the horizon.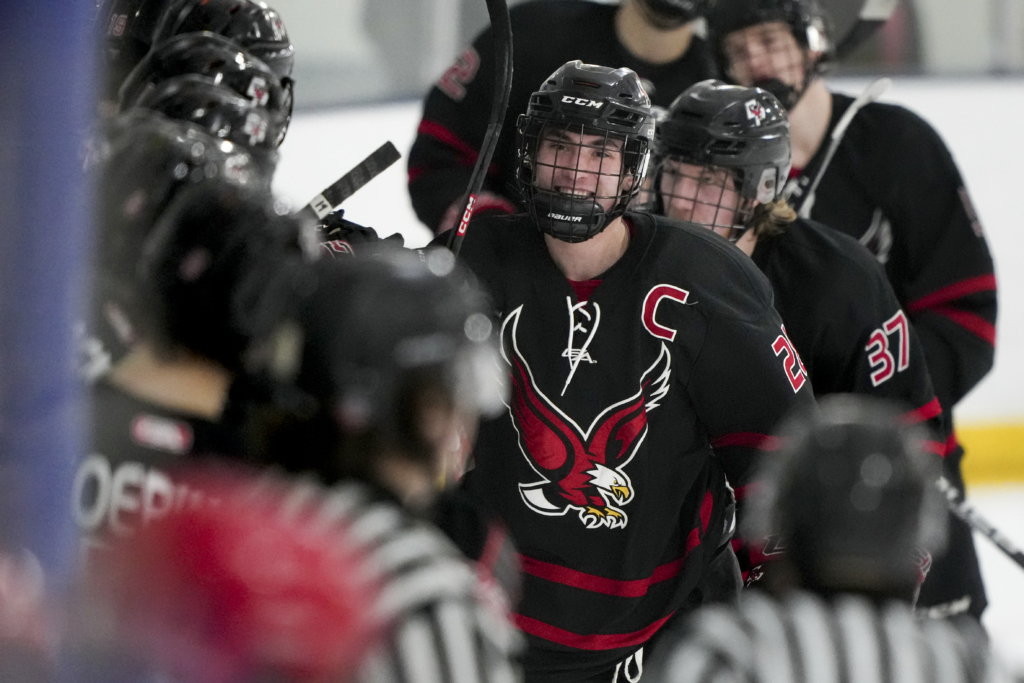 "We're getting down to the homestretch here with games and we don't want to be done playing with this group," Koering said. "We figured let's start winning now and carry that momentum into the playoffs. So we're trying to treat these games like playoff games so that when the playoffs come, we're ready to go."
The Eagles next game is Thursday when they host St. Michael-Albertville, a team they beat handily on Jan. 14, but Terwilliger cautions the Knights were short-handed in the first meeting.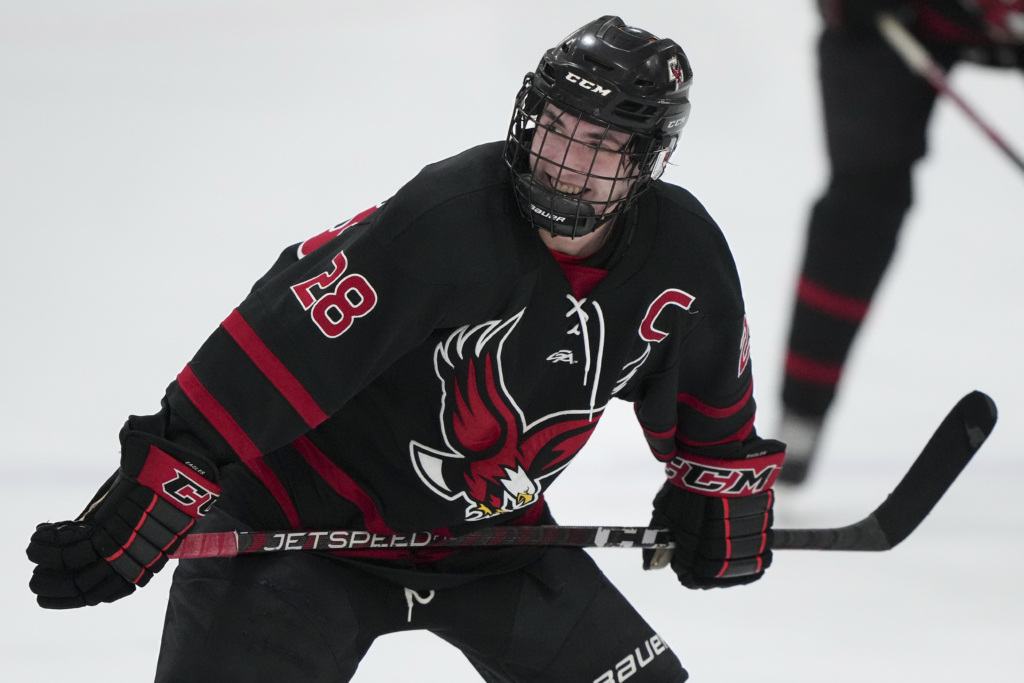 "They had five guys out with injury," he recalled. "They've got most of them back and they just tied Buffalo. So it's not gonna be a 9-3 game like the first one. We've got to be ready."
Eden Prairie's final stretch holds a gauntlet of opponents. The Eagles will host No. 3 Wayzata, go on the road to play top-ranked Minnetonka, and then cap off the regular season against a 10-8-2 Buffalo team that they narrowly defeated on Jan. 26.
But with a healthy lineup playing their best hockey of the season, the challenge is accepted.
"I think we're just going up," Vornwald said. "Hopefully we'll keep winning games and keep going up from there into the playoffs."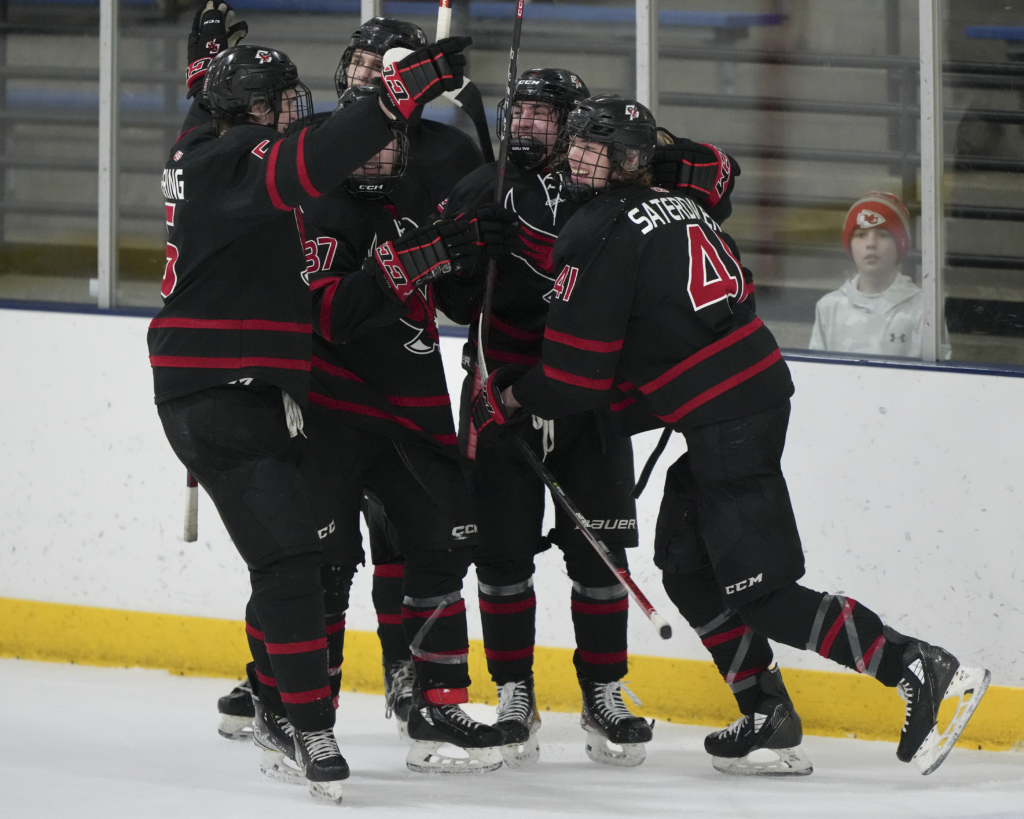 Comments
We offer several ways for our readers to provide feedback. Your comments are welcome on our social media posts (Facebook, X, Instagram, Threads, and LinkedIn). We also encourage Letters to the Editor; submission guidelines can be found on our Contact Us page. If you believe this story has an error or you would like to get in touch with the author, please connect with us.