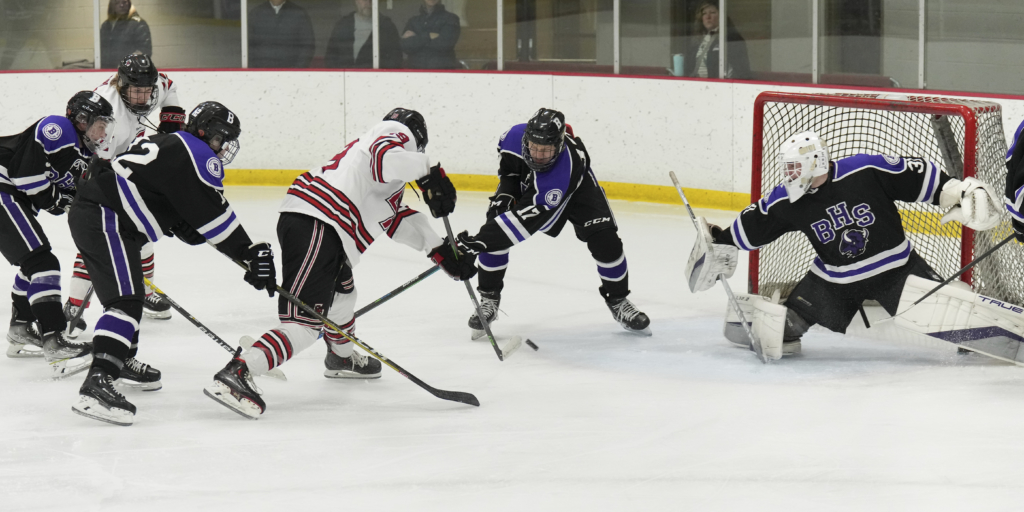 Cole Saterdalen was still in his skates outside the locker room of the EPHS boys hockey team after the Eagles' 3-2 win over Buffalo Thursday night.
The junior forward was without a shirt, however, and pointing down toward his abdomen.
"I have three scars," he said, directing attention to the area where doctors had made incisions during an emergency appendectomy in the early morning hours of Jan. 14.
Thursday's win over Buffalo marked Saterdalen's first game back on the ice since the procedure.
"I'm feeling great, so glad to be back," he said. "The doctor said I'm back to normal and to just do whatever I want."
Saterdalen wasn't cleared by doctors until just before Wednesday's practice, and he admitted his legs were a bit sore after being idle for nearly two weeks. 
"We made sure he bumped and battled in practice yesterday and felt pretty good," Eagles head coach Mike Terwilliger said. "And then as the game went on, he felt really good. So there was no worry that there was going to be some type of injury from it. But he played really well for being off for two weeks."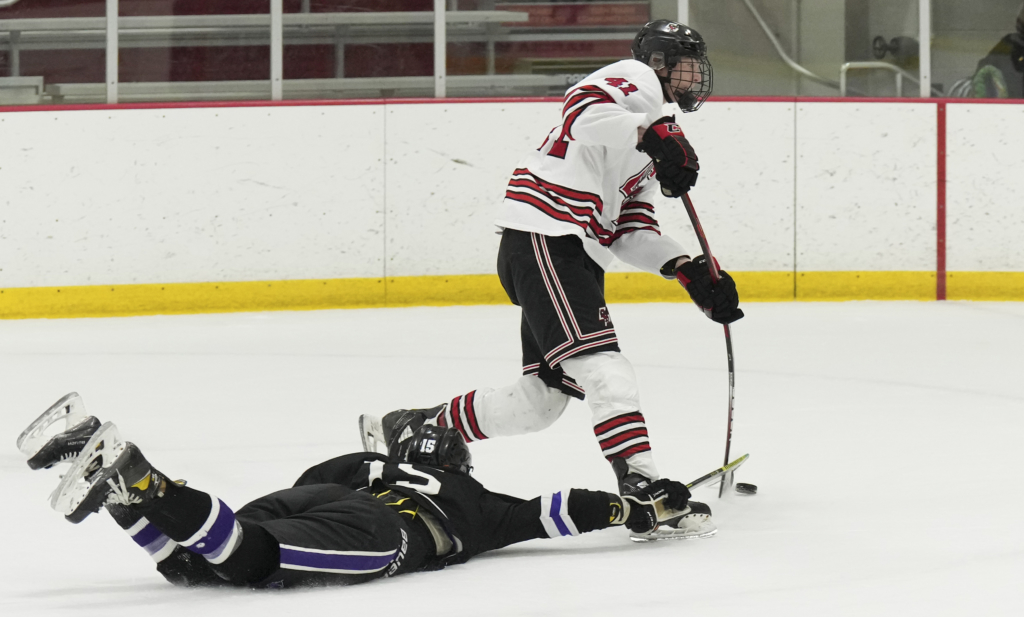 It's fortunate the Eagles had "Sats" back in the lineup. With a 2-1 lead late in the third period, Buffalo pulled goalie Max Varner for an extra skater. Saterdalen intercepted a pass near the Bison's blue line and buried the puck into the open net, giving the Eagles a 3-1 cushion.
"I missed an open-netter earlier this year," he said. "I hit a post."
Saterdalen found the mark this time, with just 32 seconds remaining in regulation. The goal turned out to be the game-winner as the result of a Bison goal with just 3.9 seconds remaining. The Eagles held on after the ensuing faceoff for the one-goal victory.
"I feel we got a good effort but we definitely could have done better, there's a lot of areas for improvement," Saterdalen said. "But I'm proud our team came up with the win and that's all you can ask for."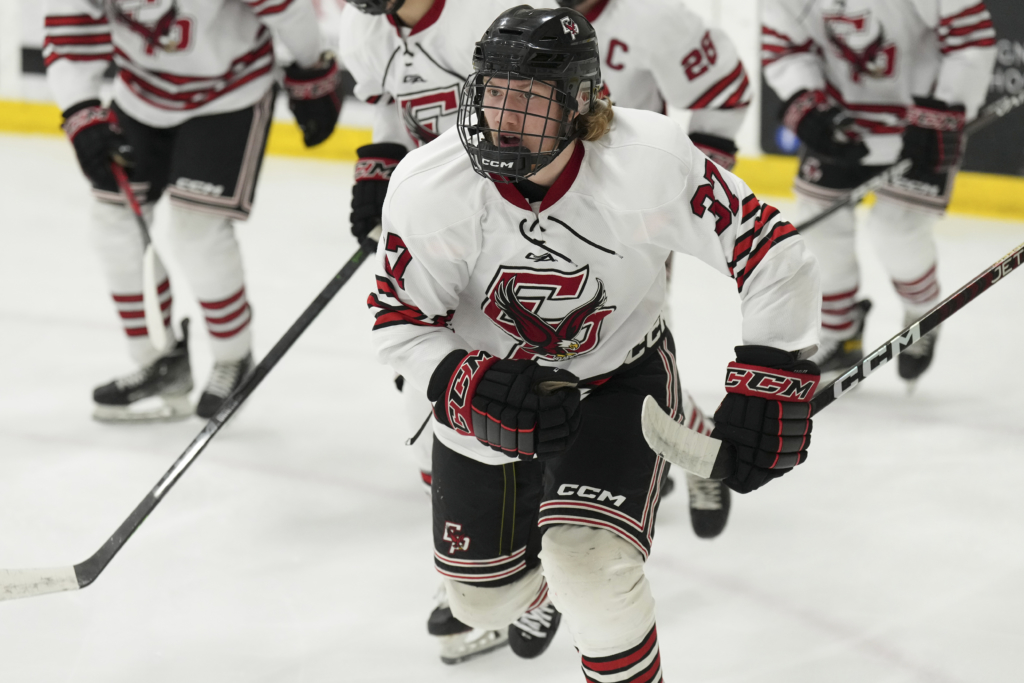 The Eagles scored first with junior Andy Earl's rebound off a shot by freshman Mason Moe at 3:18 of the first period. Buffalo countered three minutes later to tie the game at one.
The score remained even as the teams left the ice for the first intermission.
"We weren't real happy with how our defense played as a unit in the first," Terwilliger said. "So Coach (Tom) Gerdes had some pretty straightforward advice after the first period and they followed it, so it was good."
The Eagles responded by allowing Buffalo just three shots in the second period. The solid play in the defensive zone, coupled with a goal from Moe, his 13th of the season with assists to Earl and senior captain Teddy Townsend, gave the Eagles a 2-1 lead after two periods.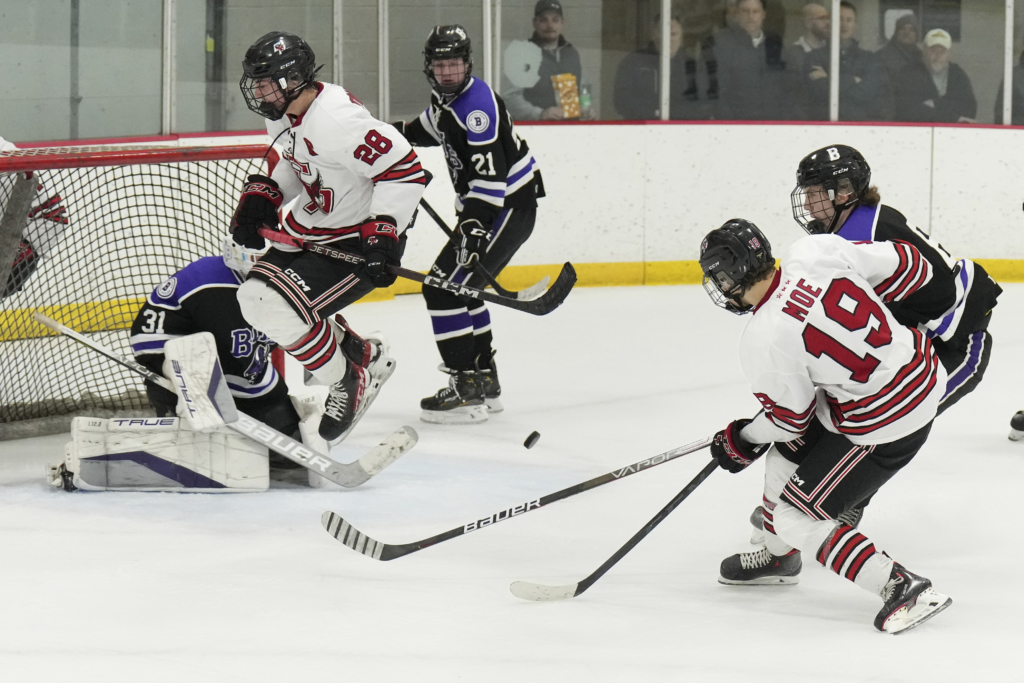 The advice from Gerdes in the locker room had been heard – and later applied – by the Eden Prairie defensive core.
"We didn't have our best first period," sophomore defenseman Nick Koering said.
Koering said Gerdes had instructed the defense to be more physical in the corners and to "start gapping up better" to eliminate areas where the Buffalo forwards could move.
"Once we did that, we took away space and made them dump it and then we controlled the game from there on out." Koering said. "And once we settled back in again, I think our second and third periods were a lot better."
The Eagles were without junior defenseman Dylan Vornwald, who was out sick. Koering was paired with his older brother, Ryan, the Eagles' senior captain. The Koerings, along with juniors Tommy Moen, Carter Peltier and Tate Bloch, came through to shut down the Bison.
"Tate played terrific, especially the last two periods," Terwilliger said. "He had a lot of jump in his step tonight and we needed it because we didn't have Dylan. He logs a lot of minutes for us and he's one of our leaders back there, so Tate was one of the guys that picked up the slack."
Bloch applauded his defensive unit for stepping up in Vornwald's absence.
"Our D was super good in the second period," he said. "I've been having a couple of rough games lately. So today I just told myself to work hard, play hard and that's exactly what I did."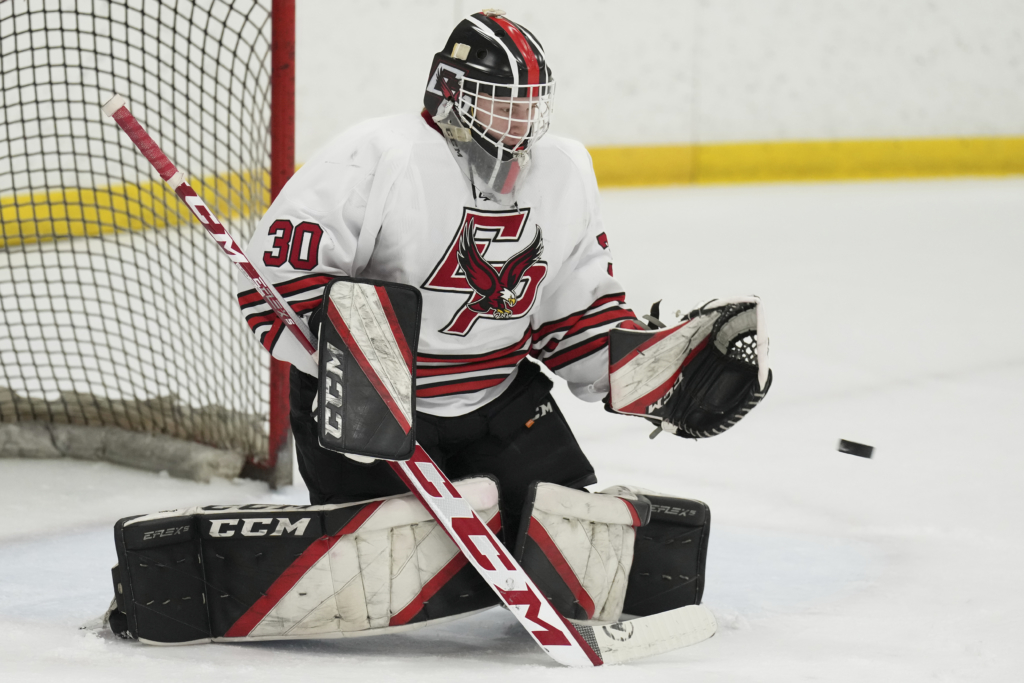 Goalie Isaiah Paulnock had 32 saves in another solid performance. Meanwhile, the line of Townsend, Earl and Moe created numerous chances, producing two goals and collecting six points on the night.
"They've been good the last few weeks," Terwilliger said. "They've been producing quite a bit. Some of the other lines are showing some real good glimpses of offensive output, but we just need them to finish. So we've got to figure out a way to get those lines going too."
Rematch with Edina
With their victory over Buffalo, the Eagles are one win away from .500 on the season with a record of 8-9-1.
They have the opportunity to reach that mark when they host perennial power Edina on Saturday night.
"We try to treat it like any other game," Koering said. "But in the back of our minds, we know this is a big game and we've got to be ready to roll. Have a good practice tomorrow and then go into Saturday."
The young Eagles' team has played a lot of hockey since they dropped a 5-1 decision to the Hornets on Dec. 17 at Braemar Arena. And they're looking forward to gauging their progress on Saturday.
"Oh, we can't wait," Terwilliger said. "It's gonna be a really tough test. They waxed us pretty good the last half of the game at their barn in December. So we were excited to see how we do against them this time. We feel like we're better and we're working hard, so it'll be a tough game."
Every date on the schedule is important, but there is always something special about lining up against the Hornets, who currently hold an 11-4-1 record and are ranked fifth in the state.
"I think mental preparation is the biggest thing," Saterdalen said. "We've got to use our points, get shots to the net and have grit over skill; pound pucks home.
"Edina versus EP is the biggest rivalry in the state. So, we're all gonna bring it."
Puck drop for the Eagles and the Hornets is set for 7:15 p.m. on Saturday at Eden Prairie Community Center.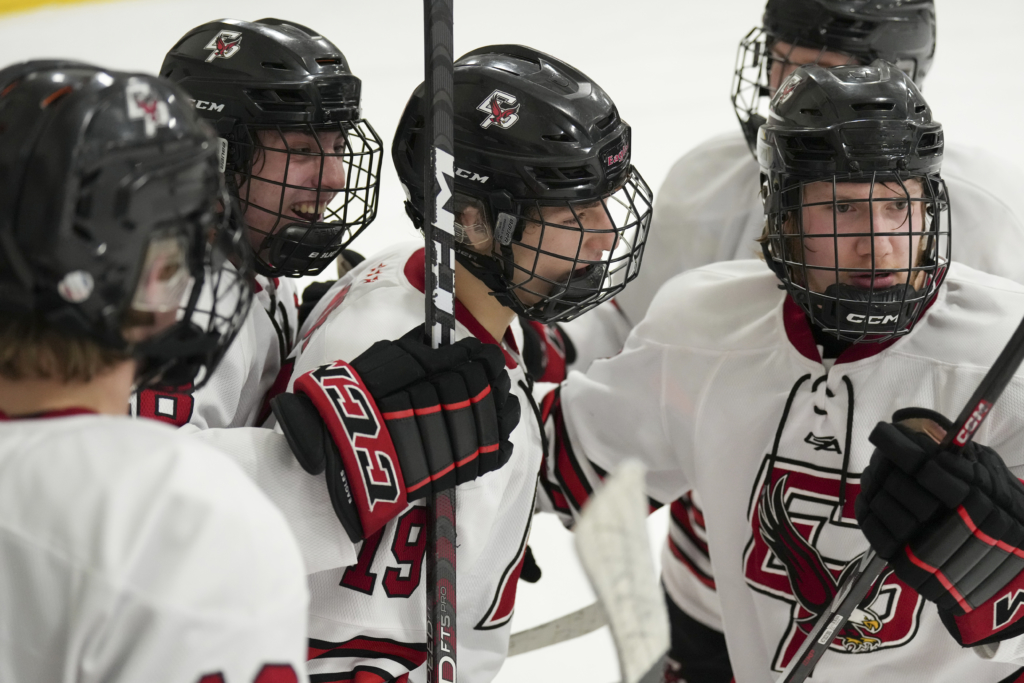 Comments
We offer several ways for our readers to provide feedback. Your comments are welcome on our social media posts (Facebook, X, Instagram, Threads, and LinkedIn). We also encourage Letters to the Editor; submission guidelines can be found on our Contact Us page. If you believe this story has an error or you would like to get in touch with the author, please connect with us.