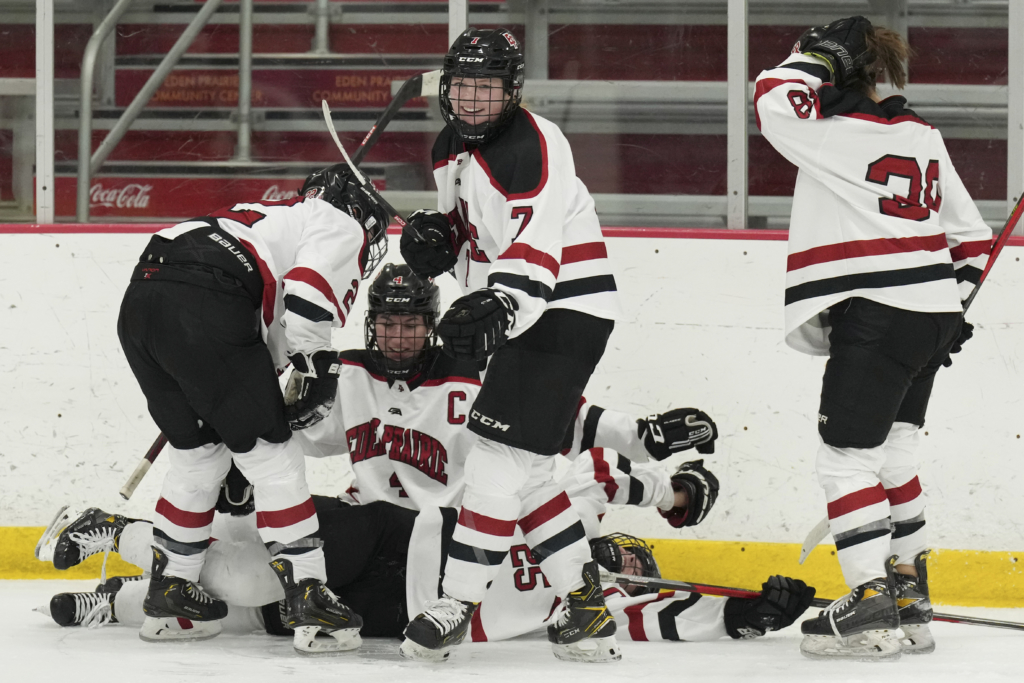 The Eden Prairie girls hockey team was trailing North Wright County 1-0 with 3:30 remaining in the second period on Saturday when senior captain Paige Holt lost her stick.
Holt was forechecking behind the River Hawks' net when she made a move toward the puck. Her stick was caught between a defender and the boards, and fell to the ice.
Undaunted, Holt used her skate blade to kick the puck out to Ella Pinnow, the Eagles' lone eighth-grader, positioned at the point, 60 feet away.
"Nice little soccer action," Pinnow recalled afterward.
Pinnow took a shot on net. A save was made by River Hawks goaltender Jadyn Weiser just before Eagles senior captain Jordan Hirsch buried the rebound to tie the game at one.
"It's not coachable," Eagles head coach Steve Persian said about Holt's improvisational play. "It's a kid that basically sees the game, sees what's going on and makes a great hockey play that results in a goal.
"Pretty fun to watch too," he added with a laugh.
The Eagles provided a lot of fun for those watching Saturday at Eden Prairie Community Center. They scored two more unanswered goals to pick up their second straight win with a 3-1 victory over the River Hawks.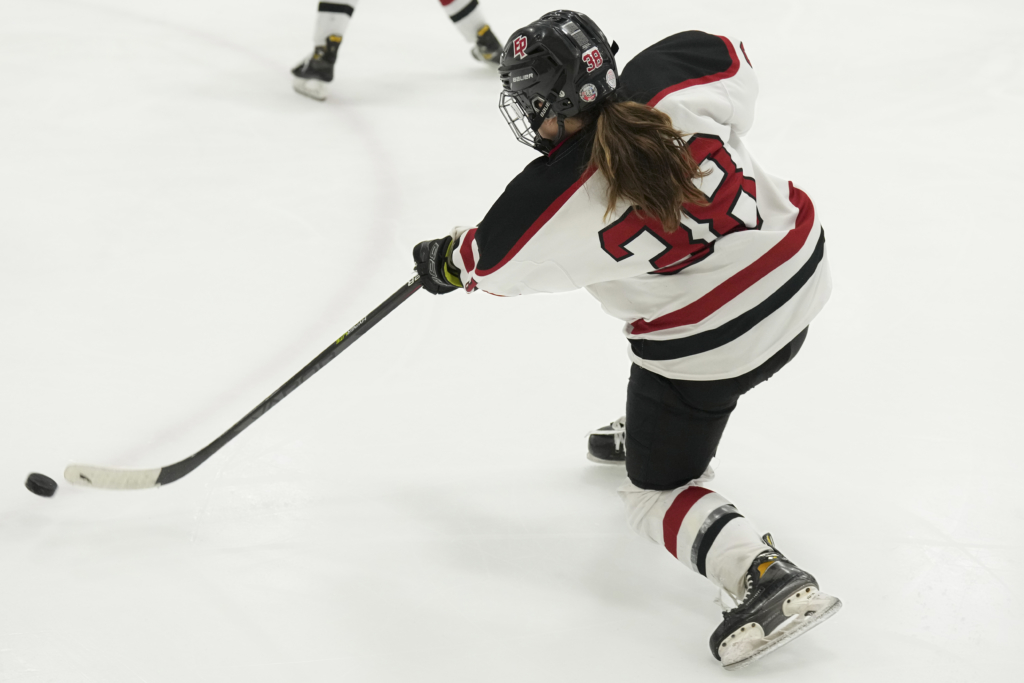 "Today, we moved the puck a lot better, especially the second and third period," Persian said. "One of the things that we've been talking a lot about is maintaining possession of the puck and being comfortable getting pressured and still working through the pressure.
"They are getting more and more comfortable in tight situations and still creating good opportunities as a result of just good puck possession."
Eden Prairie had lost to North Wright County 3-0 in a road game on Dec. 17. The Eagles have made considerable progress not only in the last month, but in the past week.
The Eagles kept pace with Minnetonka, the No. 1 team in the state, coming up short in a narrow 1-0 decision on Tuesday. That gritty performance carried over to a 6-1 win at Pine City on Thursday as well as Saturday's victory.
"When our energy is moving in the right direction, we build each other up," senior captain Jenna Fryar said. "We start to see that on the ice and we start moving more as a group rather than individually."
The confidence was evident throughout the final two periods on Saturday. Late in the second period, Pinnow found herself with possession at the point once again. Her shot was redirected by sophomore Lauren Pottinger and into the net.
Pottinger's sixth goal of the season, with a second assist to Adrianna Mitchell, gave the Eagles a 2-1 lead at the second intermission.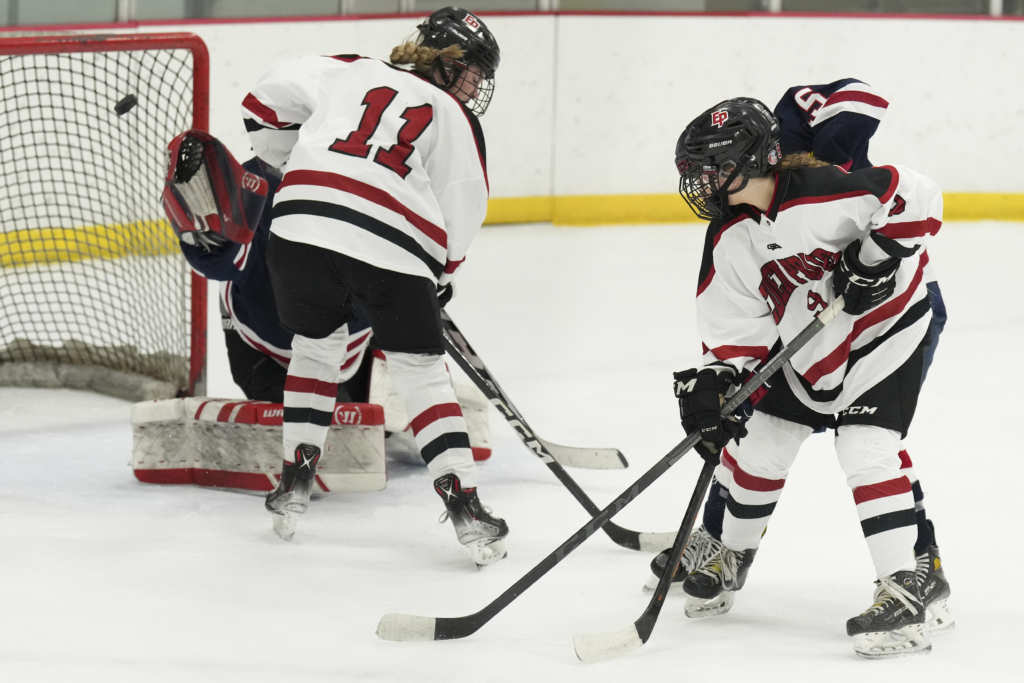 For Pinnow, it was her fifth point in the past four periods of play. She scored two goals and picked up an assist in the final two periods of the Eagles' win over Pine City on Thursday.
"When 38 gets the puck up top, she has a tendency to always be able to get past that first person," Persian said, referring to Pinnow's jersey number. "And in this case, we generated two goals out of it."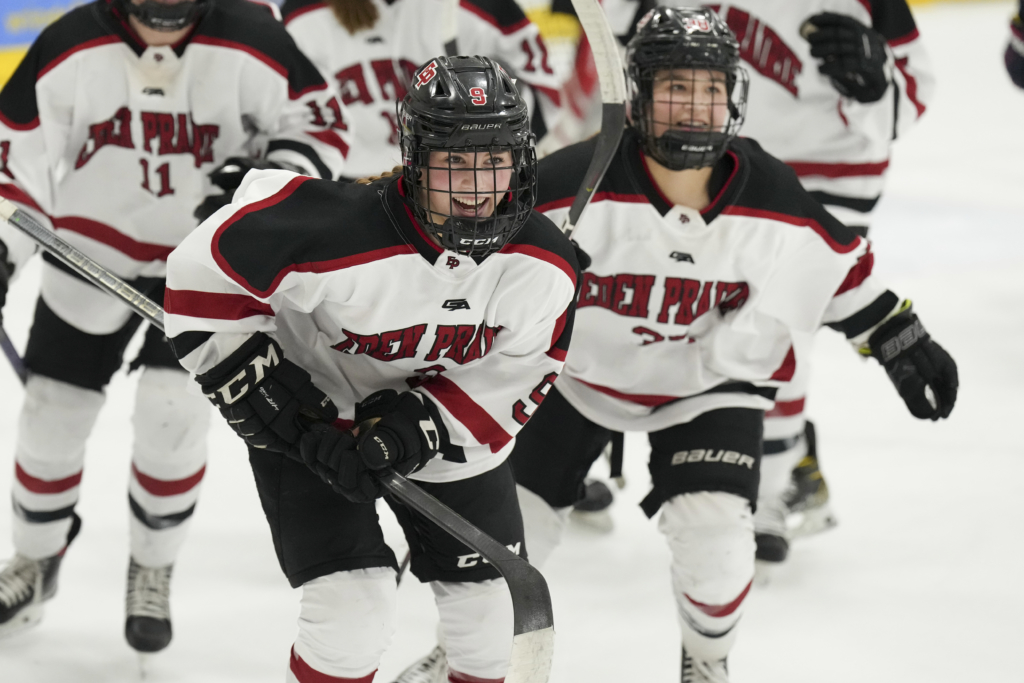 Her first year of playing varsity hockey has been an adjustment for the eighth-grader, but her contributions this season leave strong evidence the transition is complete.
"I've gotten used to it. It's definitely a lot faster. The girls are bigger," Pinnow said. "I'm also not the tallest. So it's a bit harder, but I think I'm keeping up and I'm getting used to it."
The Eagles picked up another goal from their defensive core in the third period when sophomore Natalie McNeil buried a shot from the point – with assists to sophomore Lizzie Swartout and Fryar – for a 3-1 Eden Prairie lead.
"Lizzie and Paige (Holt) were working it down low and the puck kicked out," McNeil said. "I was calling for it and Lizzie saw me and I just was able to get that shot off and it went in."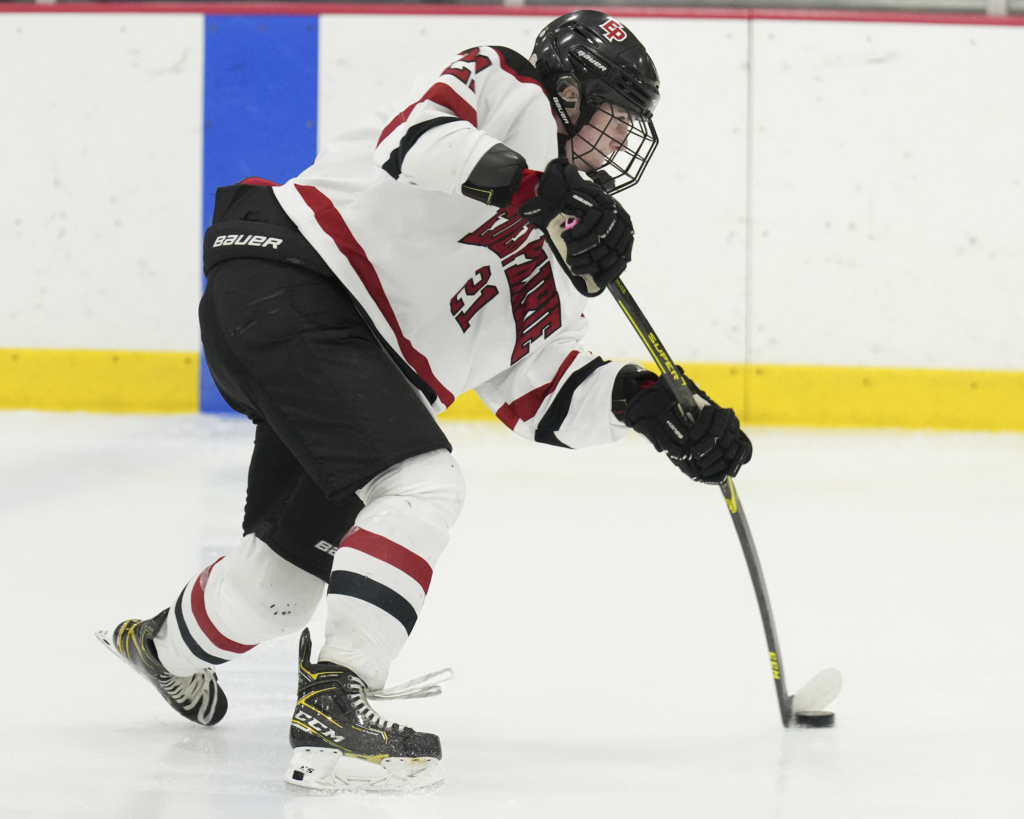 The passing and puck control preceding McNeil's goal demonstrated just how far the Eagles have come in their ability to move the puck and work through situations.
"We are passing a lot better and we have developed together," McNeil said. "We use our points because we practice that. And our practices have been going over into our games and you can see that it's been working."
Persian was pleased to see his forwards recognize opportunities at the points, based on the way North Wright County was running its defensive coverage.
"The forwards did a good job of feeding it up and then creating traffic in front," he said. "And the truth is, our JV team did a really good job of that too today. So it was fun to see them use the points."
The Eagles got a solid performance between the pipes from freshman goaltender Rylee Lorton, who finished the game with 27 saves, including a big stop on a River Hawks breakaway with 8 minutes remaining in the third period.
With their second straight win, the Eagles improve their record to 8-13 on the season.
"We're all happy with how the last two periods went," Fryar said. "And a revenge game, so instead of losing 0-3, we beat them 3-1 this time."
Next game
The Eagles will hit the road for their next game, a matchup with Proctor/Hermantown on Thursday.
The Mirage are ranked third in Class A with a 10-4-2 record.
"They're pretty good; they won state two years ago. So it's gonna be a challenge," McNeil said. "Obviously coming off of a long road trip, we're gonna have to get ready to play the first period and get into the game."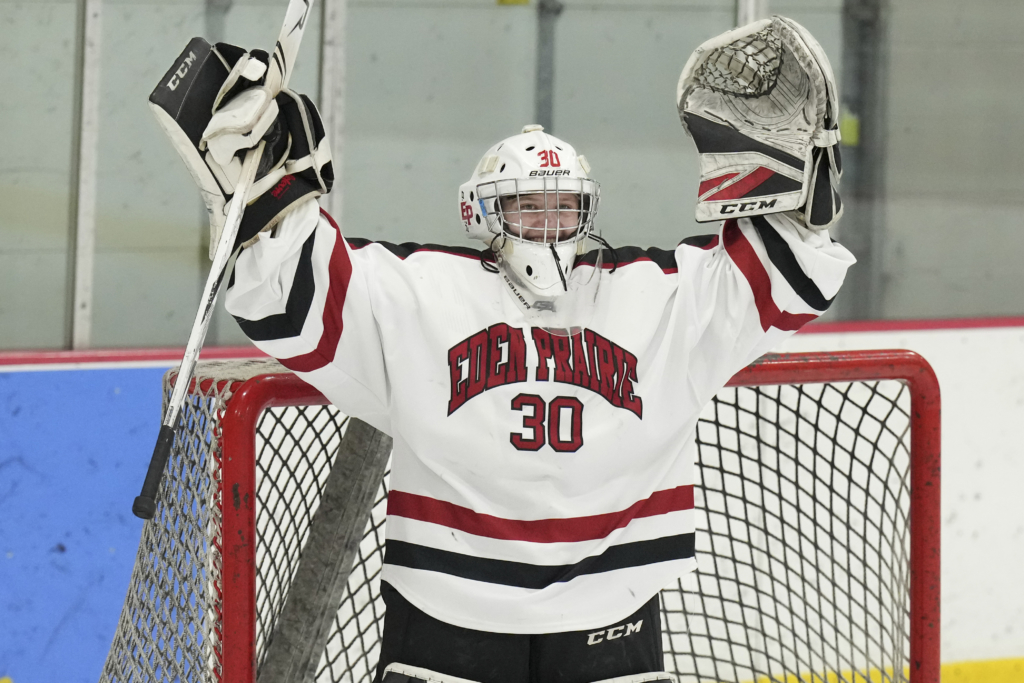 Comments
We offer several ways for our readers to provide feedback. Your comments are welcome on our social media posts (Facebook, X, Instagram, Threads, and LinkedIn). We also encourage Letters to the Editor; submission guidelines can be found on our Contact Us page. If you believe this story has an error or you would like to get in touch with the author, please connect with us.