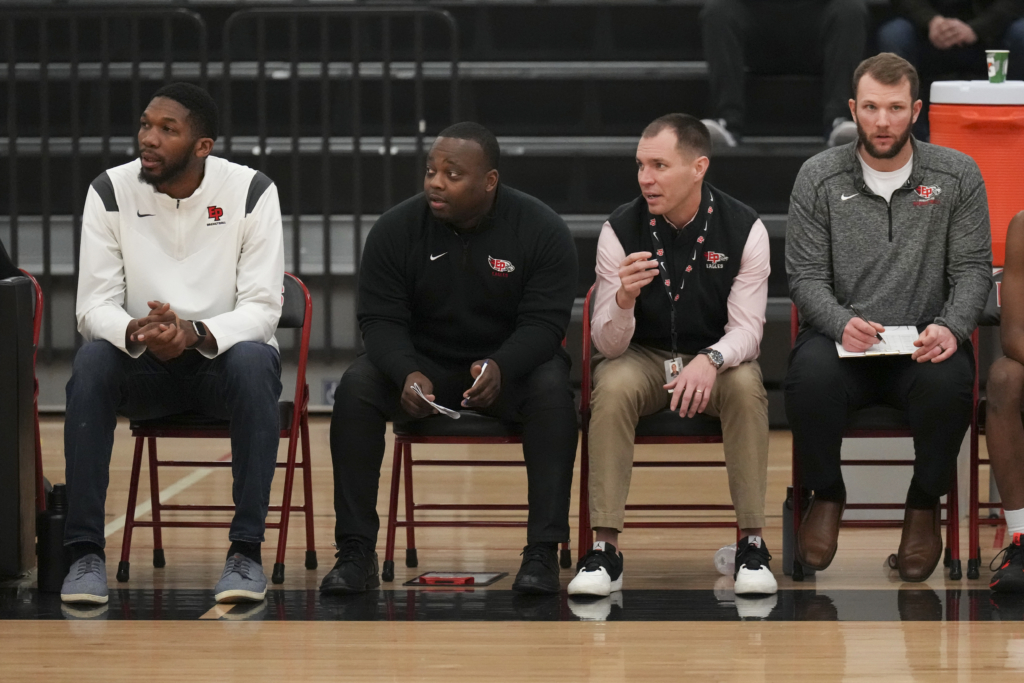 A cloud of uncertainty has followed the Eden Prairie High School (EPHS) boys basketball team since their head coach, David Flom, was suspended on Dec. 8.
The school district suspended Flom pending an investigation into a complaint about his use of inappropriate language during a classroom session with the team on Dec. 7.
Flom, who was honored as "Coach of the Year" by the National High School Basketball Coaches' Association in 2020, had been at the helm of the boys basketball program since 2010.
The situation remains unresolved, leading individuals close to the program to speculate on Flom's future as head coach of the team.
One theory posits the school district will delay any action on the matter until after the season ends, at which time his contract will have lapsed and not be renewed.
"Technically every high school league coach is on a one-year contract," said EPHS associate principal of student activities Russ Reetz.
According to Reetz, all Minnesota State High School League (MSHSL) coaches are under contract from a start date, when organized practices begin, to the last day of the state tournament for that particular sport. For boys basketball, the state tournament concludes on March 25.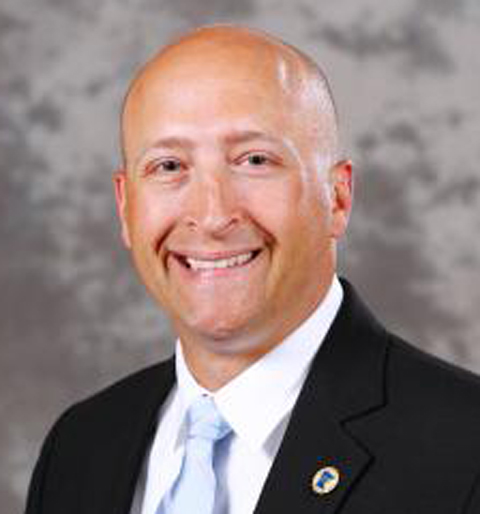 "The decision to renew or non-renew always takes place in between the end of one season and before the beginning of another," Reetz said.
When questioned Friday about the speculation that Flom's contract would not be renewed, Reetz refrained from commenting and said, "I'd like to share more."
A recent Star Tribune article brought the Eden Prairie coaching situation back into the news cycle with a headline that read: "Eden Prairie boys basketball players depart team as coach David Flom is investigated."
The story's headline and sub-headline seemed to suggest that senior Chiddi Obiazor, a standout football and basketball player at Eden Prairie, left the basketball team because of the crisis surrounding the coaching situation.
Obiazor graduated early and decided to attend winter and spring classes at Kansas State, where he received a scholarship to play football this fall.
"I think they're reaching a little bit here," Reetz said of the Star Tribune article. "The story with Coach Flom has nothing to do with Chiddi graduating early. I'm really proud of Chiddi for the work that he put in and I'm excited to see what he does at Kansas State."
Reetz called it "unfortunate" that Obiazor's early graduation and the coaching situation were "somehow connected in the article."
"It's worth celebrating that Chiddi is leaving and people should know that he worked really hard to graduate a semester early," Reetz added. "Teachers really did a lot to help him accomplish that. And we can celebrate the fact that he's going to do great things at Kansas State now."
The Star Tribune article accurately indicated that Flom's son, senior Joey Flom, has left the team.
With regard to the players who are still on the court playing basketball, Reetz is heartened by the way they have supported one another through adversity.
"Our kids have responded really well and they're a tight knit group that care a lot about each other," he said. "And they've played really good basketball, they play team basketball, they seem to enjoy being around each other."
The Eagles suffered their first defeat of the season, an 85-60 loss to Farmington on Dec. 16, in the first game after Flom's suspension. They won five straight after that defeat, but have gone 1-4 in their last five games, including a 73-57 loss to St. Michael-Albertville on Friday.
Despite the ups and downs of a challenging season, Reetz is grateful to the current coaches for stepping into a difficult situation to keep the team committed to staying together.
"It's easy to focus on things you can't control. We all do it as adults, too," he said. "I'm super proud of how the kids have responded to the coaches that are here working with kids every day."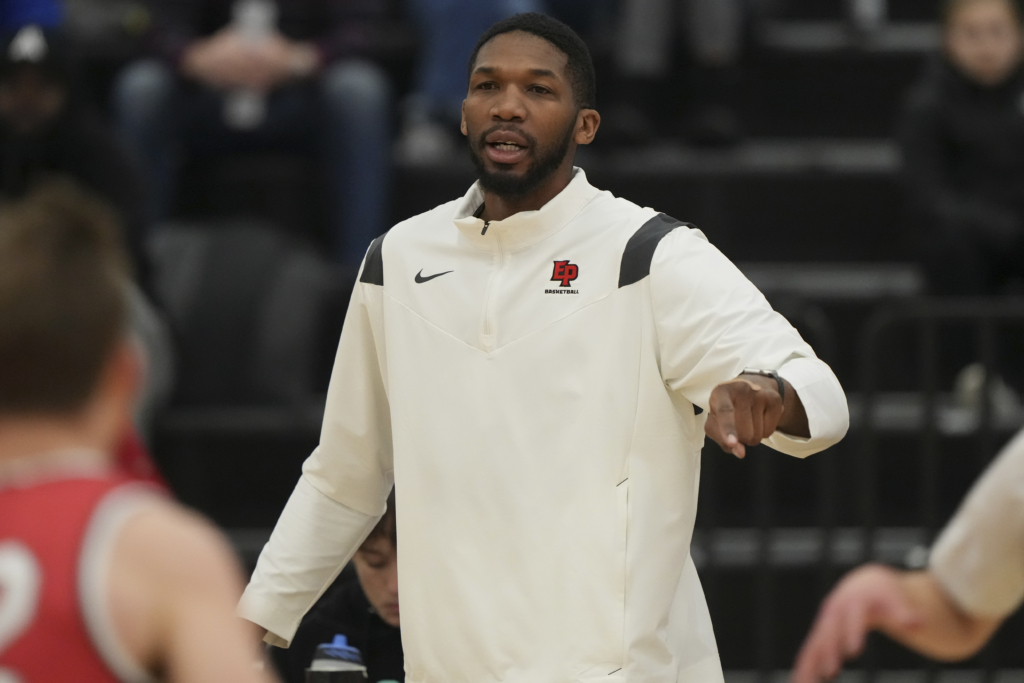 Trevor Mbakwe, assistant activities director and assistant basketball coach, has served as interim head coach since Flom's suspension. While Reetz says having Mbakwe fill the void at the head spot has been reassuring, it has hasn't been easy maintaining business as usual.
"I've certainly missed his leadership, day to day in the athletics office," Reetz said.
Reetz believes the qualities that make Mbakwe effective in his role as associate A.D. are also what make him a valued leader for young athletes.
"He's in charge of athletics for a reason," Reetz said. "He's very charismatic. Kids seek him out. He's got a great relationship with kids. He's very trusting. And so yes, to be able to have him step into that role was comforting for me, but it's been a challenge.
"He's had to sacrifice a lot. And this isn't what he had signed up for initially. But of course, I'm proud of him and how he's responded in the way he's led the team."
When asked recently about the coaching situation, Mbakwe declined comment, but added, "I wish I could. We're still waiting to see what happens ourselves."
Mbakwe, who played basketball for the Minnesota Gophers from 2010-13, is clearly dedicated to ensuring his players remain cohesive as a team, regardless of whose coaching them.
"I'm gonna be here and keep trying to keep these guys together as much as possible," he said after the Eagles' 90-82 win over Brainerd on Jan. 10. "But hopefully we'll get some information soon. I think it'll make a lot of guys so happy either way."
As the coaching leadership remains in doubt for the foreseeable future – and with school officials unable to comment on the matter – Reetz and Mbakwe are left with the task at hand, providing EPHS student/athletes with the opportunity to play and compete.
"We hope to provide a positive experience," Reetz said. "We hope the kids are getting better along the way. I still think the boys team has a really strong chance of earning a number one seed and going back to the state tournament."
Comments
We offer several ways for our readers to provide feedback. Your comments are welcome on our social media posts (Facebook, X, Instagram, Threads, and LinkedIn). We also encourage Letters to the Editor; submission guidelines can be found on our Contact Us page. If you believe this story has an error or you would like to get in touch with the author, please connect with us.