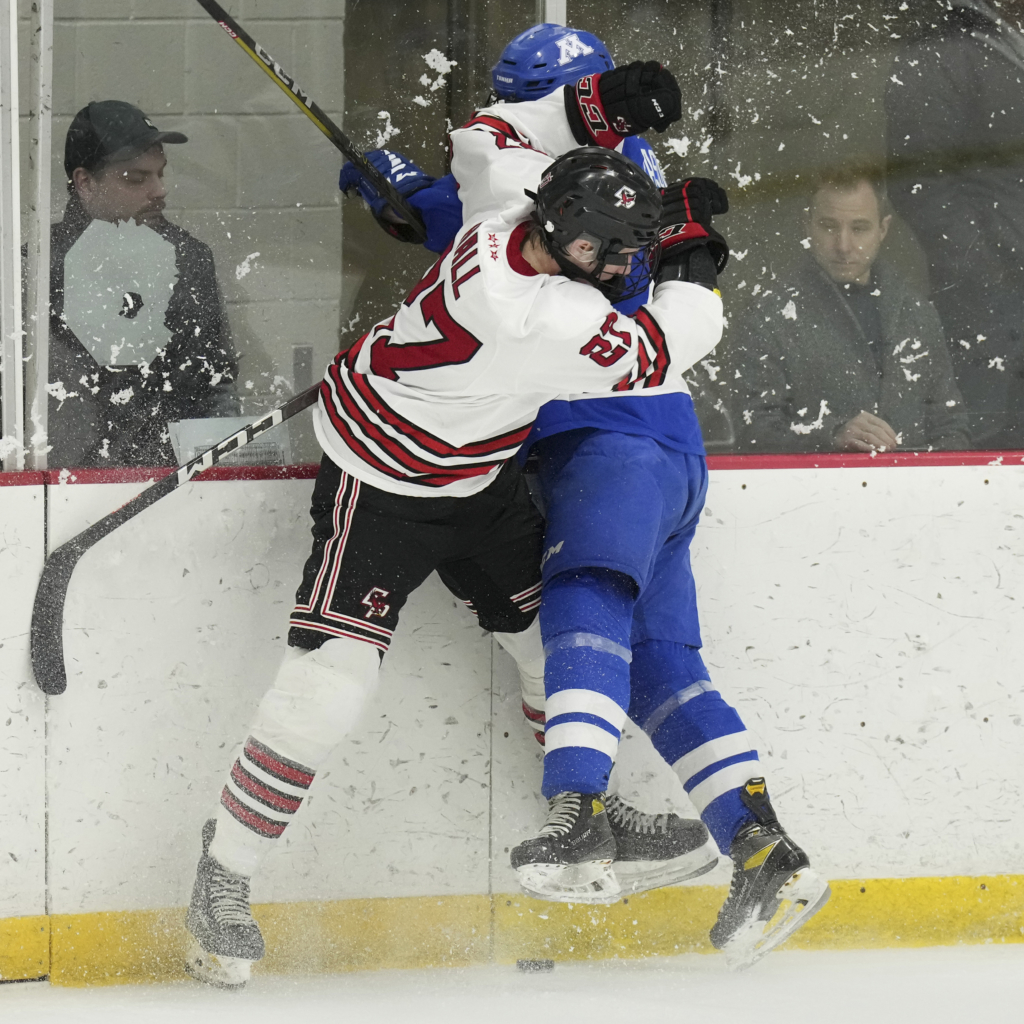 Eagles senior captain Teddy Townsend and junior forward Billie Jacobson-Couch stood behind the glass, ritualistically taping their sticks while watching the Eden Prairie girls hockey team skate to a 3-1 win over North Wright County on Saturday.
The opening faceoff between the Eagles boys team and second-ranked Minnetonka was still a few hours away, but Townsend had a smile that could power the lights at Eden Prairie Community Center.
"I'm so pumped," he said in anticipation of the showdown looming.
Both were asked what it would take to beat the high-flying Skippers, who were 14-2 entering the game. Jacobson-Couch responded with a one-word answer:
"Body," he said.
He wasn't wrong. Player height and weight were not listed in the gameday programs. Had they been, Minnetonka's roster may have more closely resembled a football team. Combine their speed to the mix, and it was clear the Eagles had a challenge in front of them.
"Their first line, all of them are big guys and they're super fast. Super good with their sticks," senior captain Ryan Koering said after the game. "They're so deep, their top two lines are probably the best in the state. It was a good battle out there and I liked the challenge."
The challenge began from the first drop of the puck. The Eagles had to adjust quickly to a team whose size and speed they hadn't yet seen this season.
"It's big boy hockey," Eagles head coach Mike Terwilliger said. "And if you turn the puck over at your blue line or make certain mistakes, they make you pay for it. That's what a good team does."
Minnetonka struck first at 11:11 of the first period. Skippers forward Hagen Burrows picked up his 19th goal of the season with a backdoor one-timer.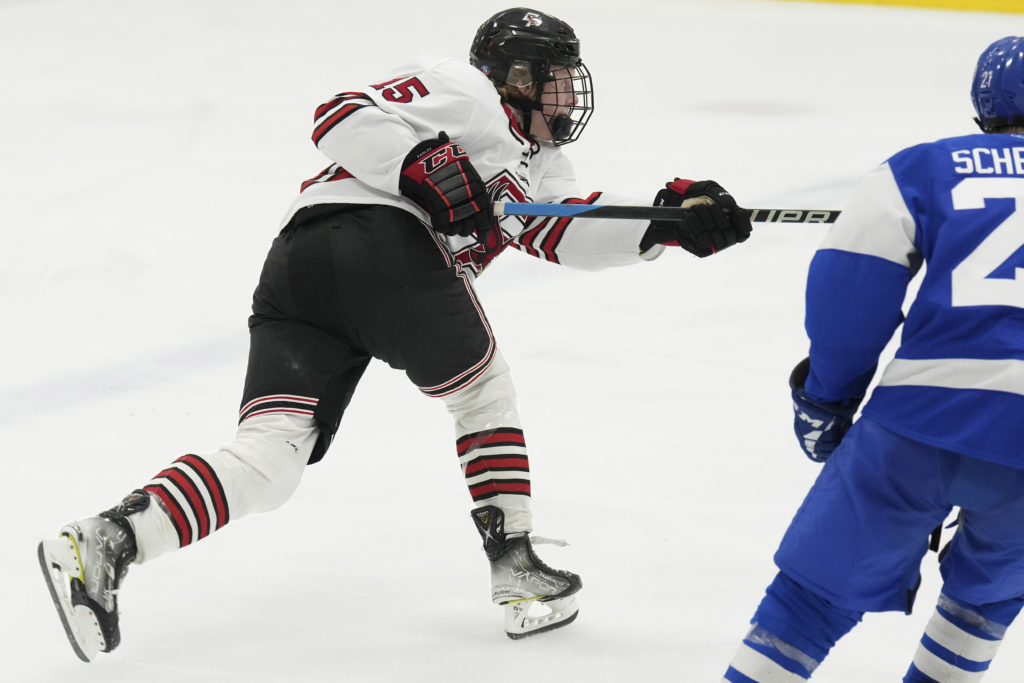 "We knew their game coming into it," Eagles sophomore forward Chase Klute said. "We knew that we needed to play a grit game over skill and just try to maneuver in that way."
"Grit over skill" has been a mantra for the Eagles in recent games. They put together a gritty, workman-like effort to earn their first overtime win of the season – and first home win – with a 3-2 victory over Mahtomedi on Wednesday.
"We really try to stop their quickness by getting hits and trying to get the pucks in their zone," Klute said.
Klute, who's not shy about throwing his weight around the ice, led an aggressive forecheck for Eden Prairie as the game progressed.
"I just try to throw them off their game a little bit to gain some momentum and give our guys more opportunities," he said.
Minnetonka scored again at 6:36 of the second period, taking a 2-0 advantage. But the Eagles kept working.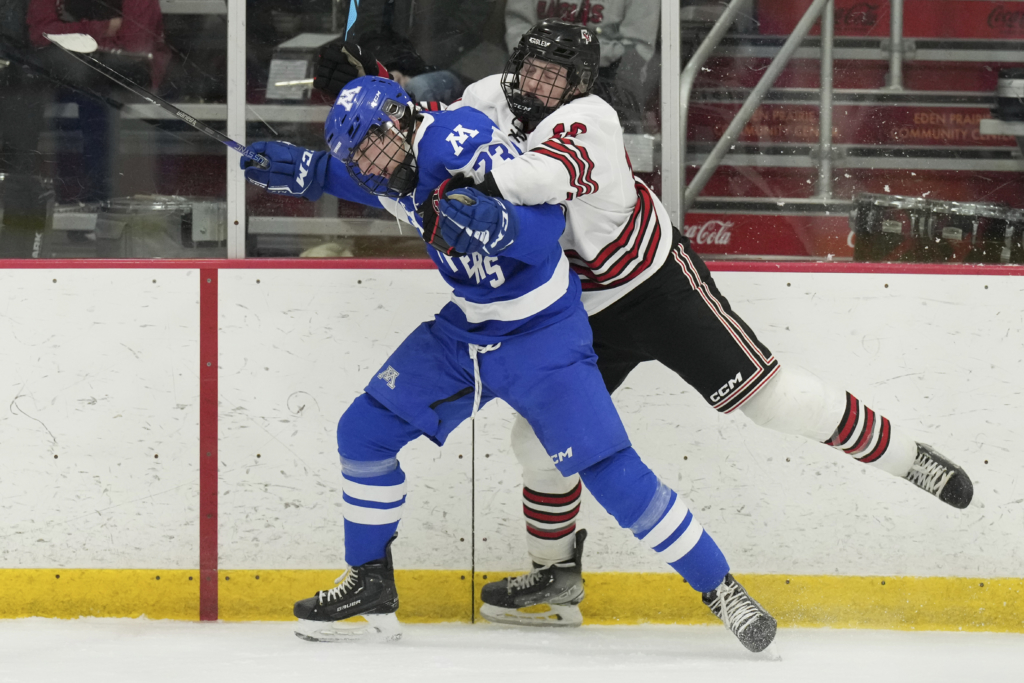 When a holding penalty sent sophomore forward John Kleis to the box with four minutes remaining in the second, fellow sophomore Alex Hall took his forechecking deep into the Skippers' zone.
"I went in the corner looking for a chance, and it just popped out right there," Hall said. "I was kind of shocked that I was all alone."
After taking the puck out of the corner, Hall found himself in front of the Tonka net with no one near him. His shot made its way between the legs of Tonka goalie Kaiser Nelson, but stopped short of crossing the line.
"I tried to slip it through the five hole," he said. "It hit the back of his skate. So I think I got it through the goalie, just not in the back of the net."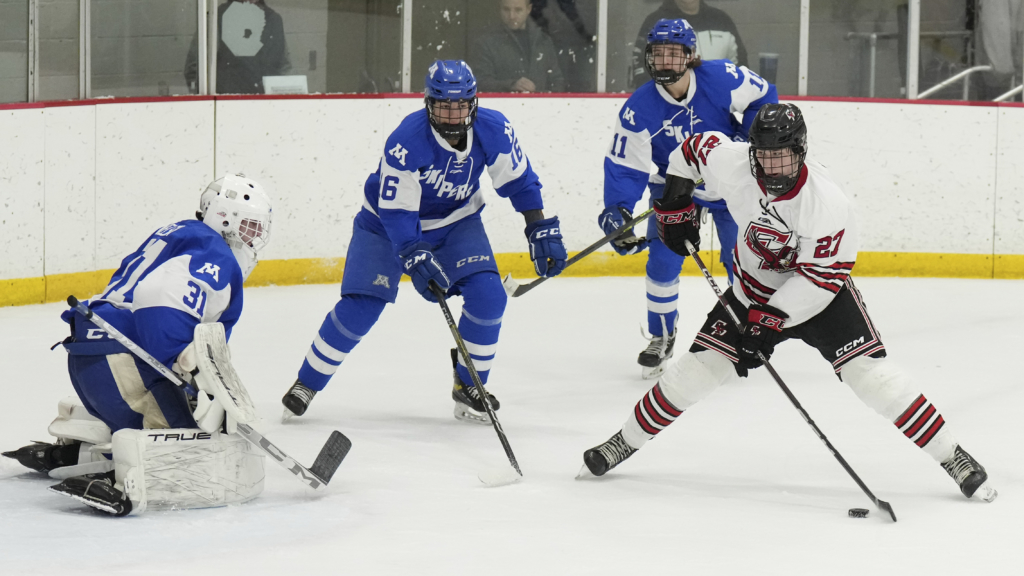 In the final 1:30 of the second period, Townsend broke loose on a breakaway. His shot fell short, but he drew a slashing penalty on Minnetonka.
The penalty carried over to the third period with just enough time remaining for Koering to put the Eagles on the board with his fourth goal of the season.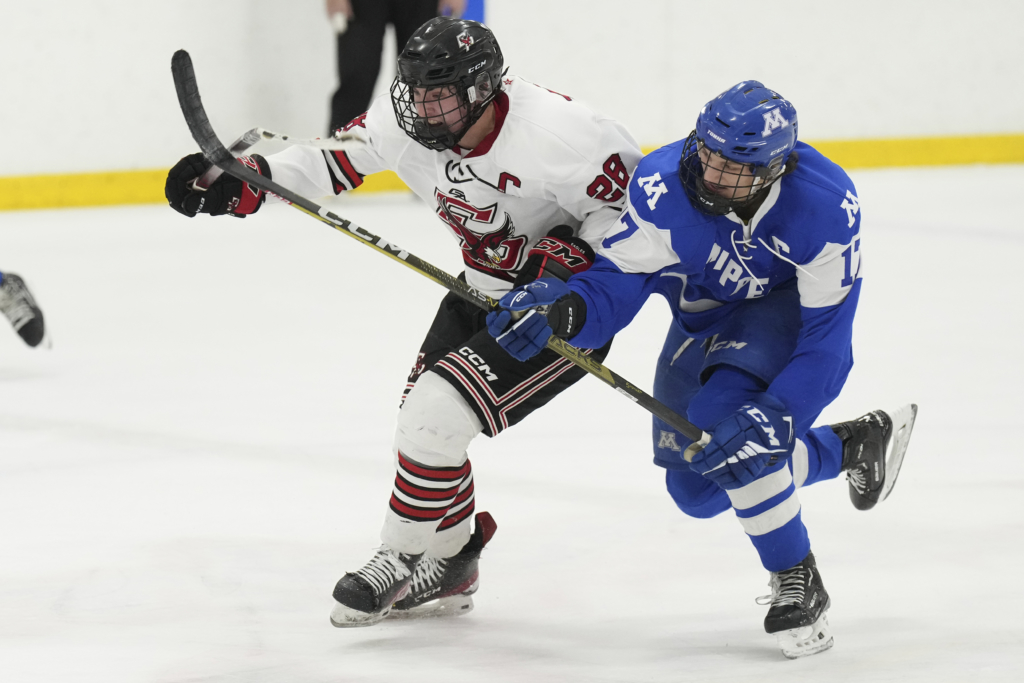 "Their forwards were staying back a bit so I had room to skate," Koering said. "I faked a drop pass and then pulled it around a guy and faked a shot, pulled it wide and then I just saw an opening top corner and I hit it."
Two minutes later, freshman Mason Moe fired another blast up high from the slot past Nelson. Moe's 12th goal of the season tied the game at two.
"We loved our response being down two-zip," Terwilliger said. "We got one right away when Ryan Koering made a great play. So I was pleased that we played really well in the third."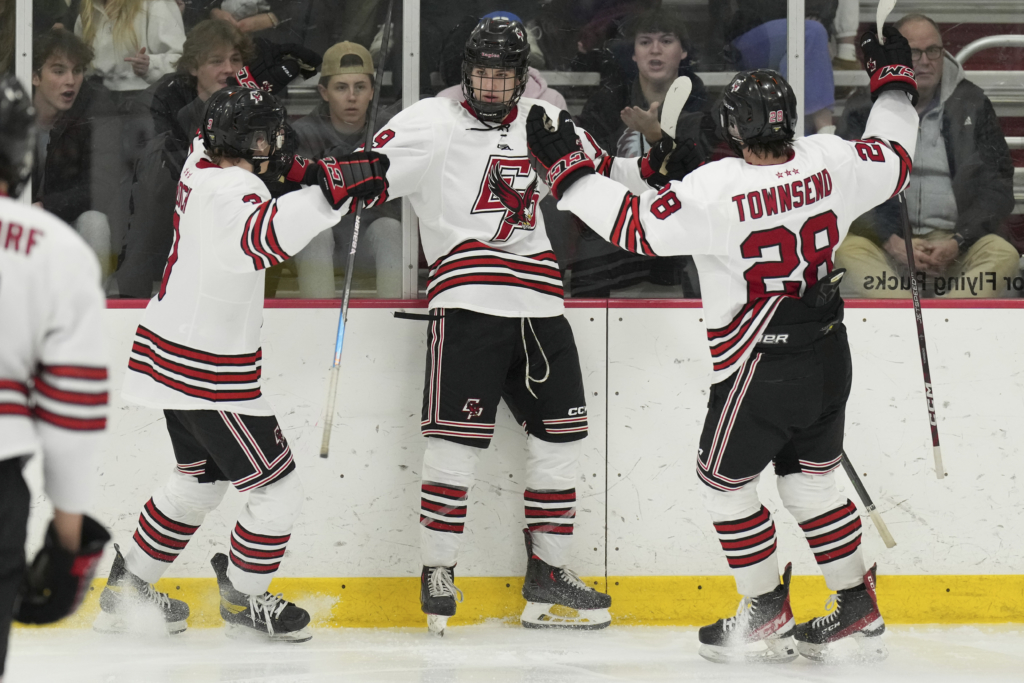 Koering had another chance on the power play following a Tonka slashing penalty at 10:47 of the third period. His blast narrowly missed, hitting the post.
"We had a bunch of other scoring chances that we've just got to capitalize on. Maybe it's a 3-2 game or a 4-2 game." Koering said. "So a couple of posts in there, Teddy had a breakaway. So capitalize on a couple more chances and we're not even in a tie game there."
With the score tied at two, Townsend was called for a holding penalty with 2:03 remaining in the third period.
Minnetonka wasted no time to take full advantage, scoring the game-winner with 38 seconds left to play in regulation and escape with a 3-2 victory.
"It was tough to lose one like that," Terwilliger said. "But I think it shows our guys that if we work hard and do a lot of the things we're talking about and working on, we can play with anybody."
The loss drops the Eagles to 7-9-1 on the season. Despite the defeat, a solid performance against high-powered Minnetonka has left them hungry for more opportunities to challenge the state's top programs.
"We're feeling frustrated, but at the same time, we feel a little hope," Hall said. "Everyone calls Tonka the best team in the state and we prove that we can fight with them. So there's a little bit of optimism in the locker room."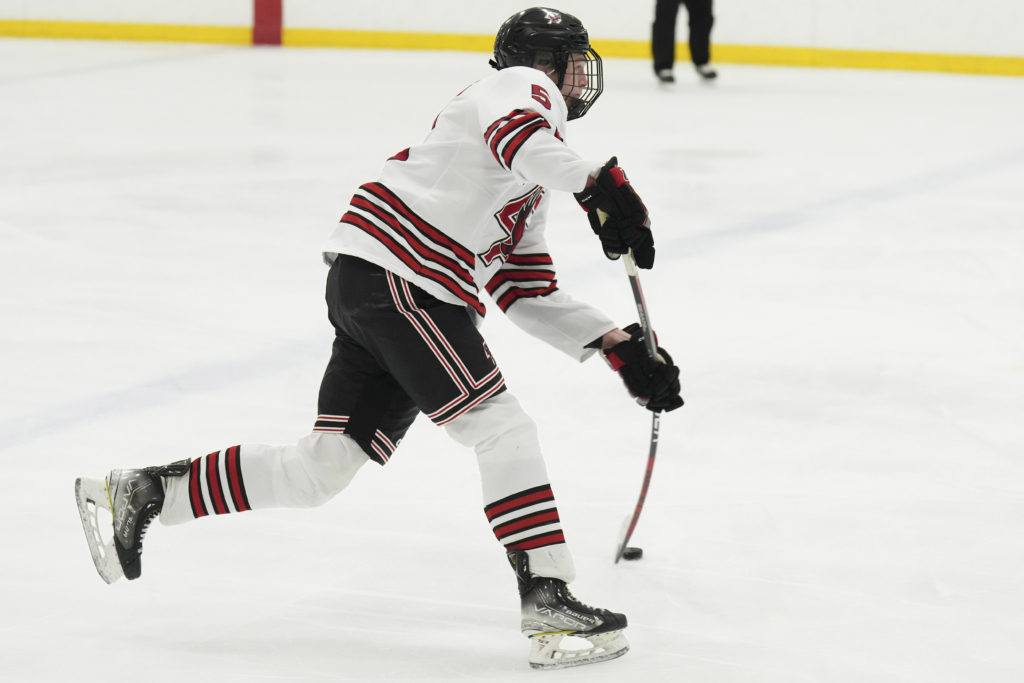 Looking ahead
The Eagles have a big week upcoming, with games against Buffalo (8-6-2) on Thursday and fifth-ranked Edina on Saturday.
"We've got to focus on one game at a time, one practice at a time for sure," Klute said. "We have to come out hard and get a win on Thursday and carry it on to Saturday."
Both games will be played on the Eagles' home ice at Eden Prairie Community Center at 7 p.m.
Saterdalen sidelined
The Eagles have been without Cole Saterdalen for the past week.
The junior forward underwent an emergency appendectomy on Jan. 14.
Saterdalen was at the Eagles game against Minnetonka on Saturday and said he's hopeful to return to the ice in the coming week.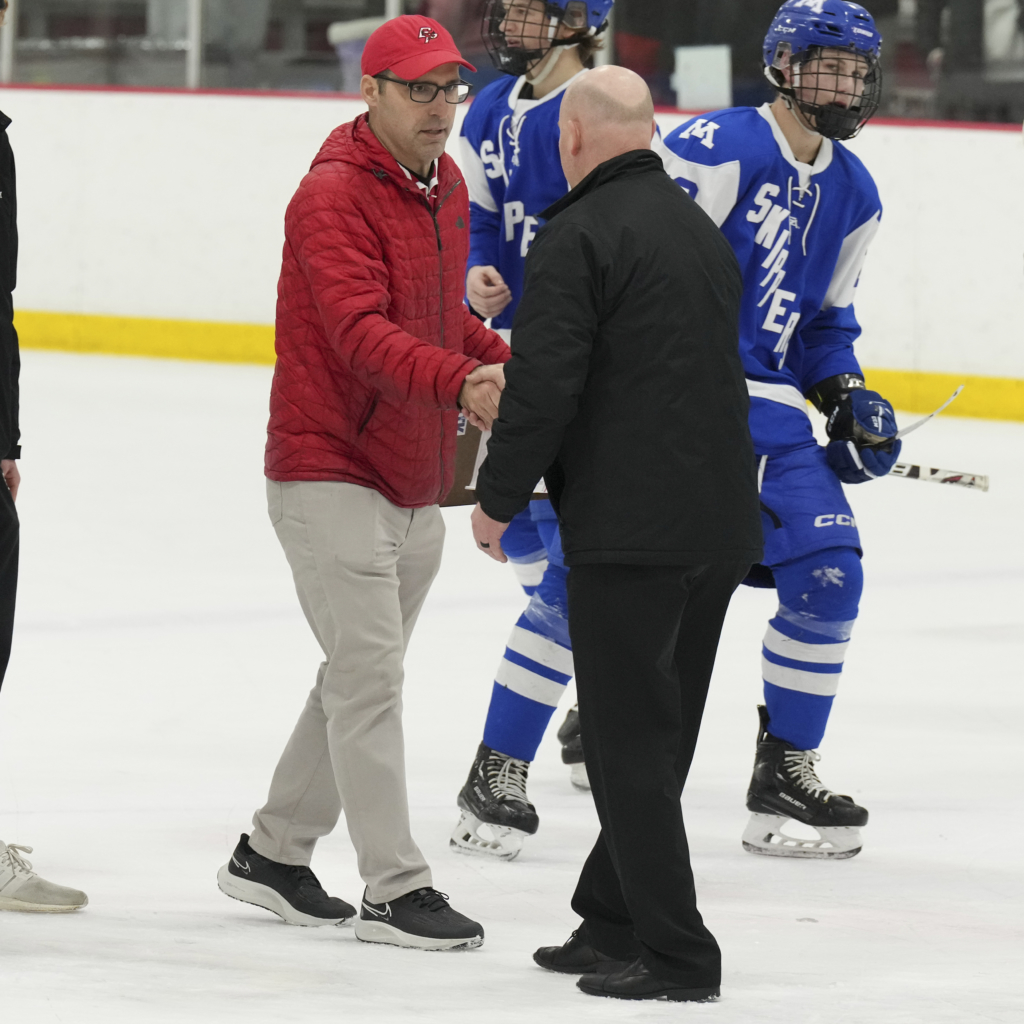 Comments
We offer several ways for our readers to provide feedback. Your comments are welcome on our social media posts (Facebook, X, Instagram, Threads, and LinkedIn). We also encourage Letters to the Editor; submission guidelines can be found on our Contact Us page. If you believe this story has an error or you would like to get in touch with the author, please connect with us.