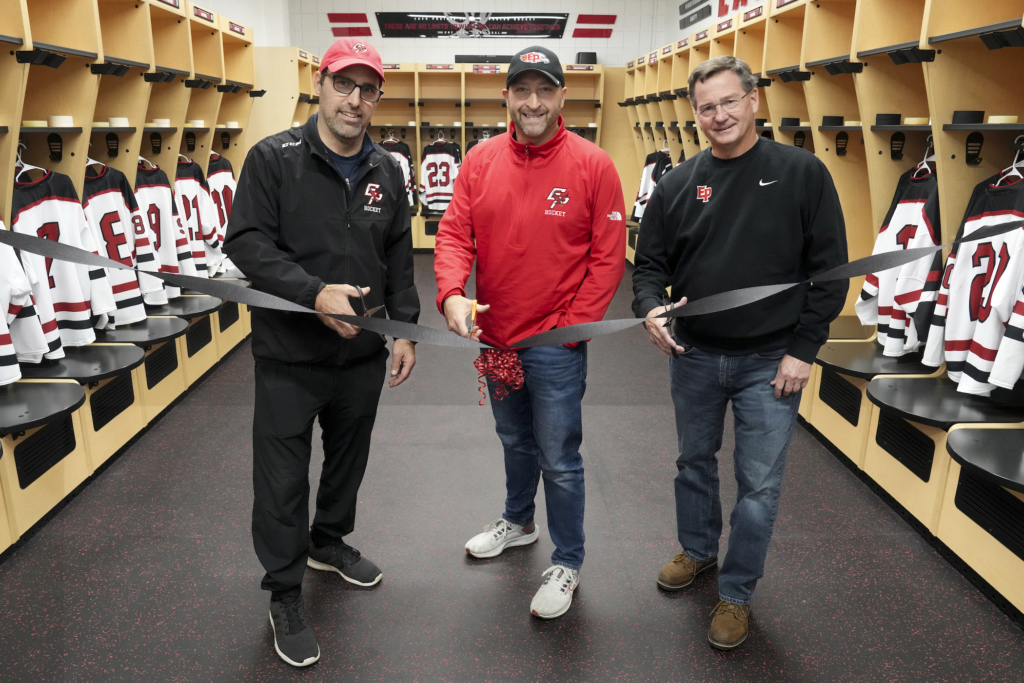 On the day after Thanksgiving, a red ribbon was draped across the entrance to the boys' and girls' varsity hockey locker rooms at the Eden Prairie Community Center, as members of both teams crowded in the corridor outside.
Not unlike Black Friday shoppers eager to gain entrance, players waited in great anticipation for the ribbon cutting to commence.
They were about to see their newly refurbished "hockey homes" for the very first time.
Exactly 150 days earlier, the effort to upgrade the boys' and girls' locker rooms was put in motion. The goal was to not only update the facilities with improved HVAC, lighting, lockers and amenities, but to create a space that honored the tradition of Eden Prairie hockey, both at the youth and high school levels.
"There was a lot of time put into the planning process," EPHS girls varsity head coach Steve Persian said. "There were so many moving parts that without the collaboration of our smaller locker room group and the broader Legacy group, it probably would have stalled out."
The Legacy group, or more specifically, the Eden Prairie Hockey Legacy Campaign is a collaborative effort between the Eden Prairie Hockey Association, Eden Prairie High School boys and girls hockey programs, and the Eden Prairie Community Center.
According to the Legacy campaign's website, the three groups have joined forces to "create Legacy spaces within the Community Center showcasing our championship teams and former players who have made the leap to college and professional hockey."
"The partnership that took place was remarkable," Persian said. "It's what made it basically come together."
The renovation of the varsity locker rooms is one of the group's major initiatives, and all the hard work came to fruition last Friday afternoon at the community center.
Once the ribbon was cut, varsity players from both the boys' and girls' teams rushed inside to get a first glimpse of their newly remodeled digs.
"It's insane," beamed Eagles junior Gianna Kowalkoski. "I had really high hopes for the locker room but this is beyond what I expected. It's crazy."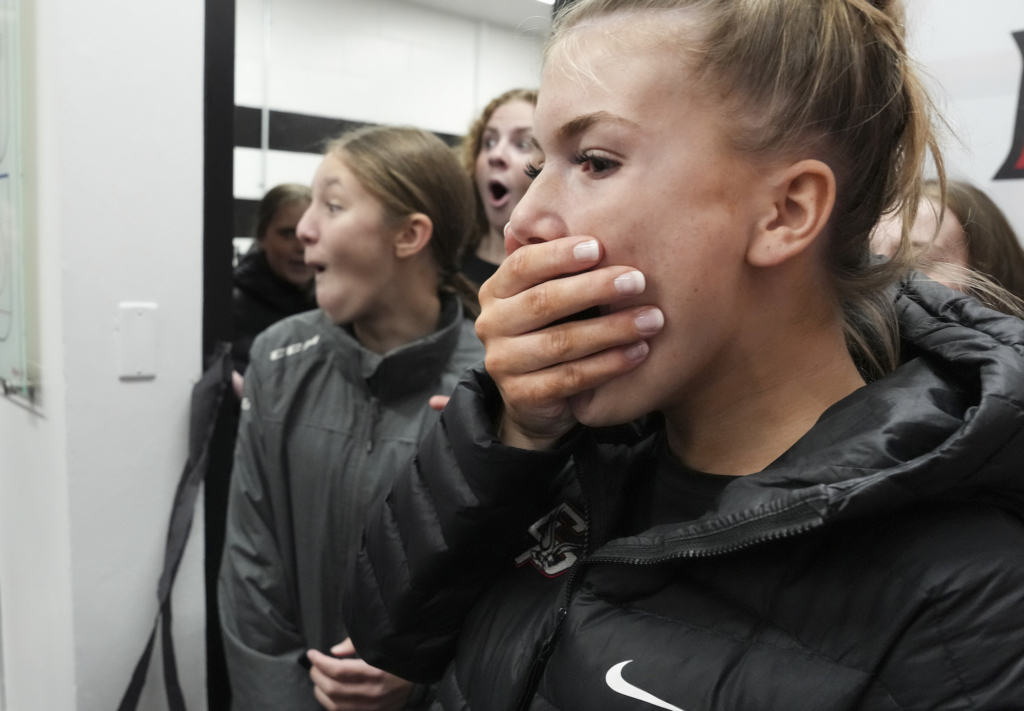 The rooms have been completely transformed. In spaces that previously had old metal lockers from the Minnesota North Stars dressing room at the long-departed Met Center, the new locker rooms now offer something much more – and it's not just comfort.
"It will reinvent the program," said Persian, in his first season as the EPHS girls' coach after leading Breck to back-to-back state titles. "In the past, my impression was this was a place to change and leave. And now it's going to be a place to create culture. And that's what makes it special."
The locker rooms are now complete with individual finished wood locker spaces, personalized nameplates, a new sound system, a refrigerator, and even a lighted EP logo on the ceiling.
They resemble a smaller sampling of what you might see at 3M Arena at Mariucci or the Xcel Energy Center.
"My favorite feature is the fridge," said Ryan Koering, senior captain of the boys' team, who joked, "we'll have some of the younger players assigned to bring in drinks and Gatorade."
Hockey locker rooms are more than a place to tape sticks and lace up skates. With as much time as teams spend at the rink, locker rooms are a refuge for players to bond and create chemistry.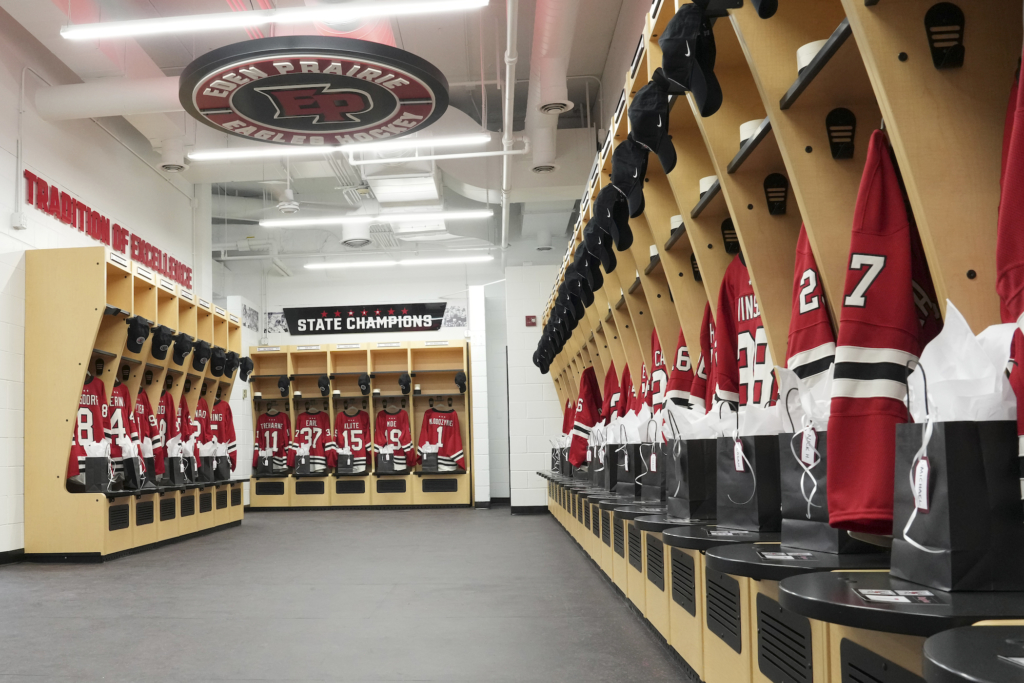 "It's a place for the boys to get together," Koering said. "It's a great place to hang out and spend a lot more time at the rink."
Many programs across the metro area have gone to considerable expense to update their facilities with creature comforts that resemble new condos. The effort is made to create a better experience for players – as well as an environment that cultivates success on the ice.
But perhaps most important to those committed to the Legacy campaign, the locker rooms have been designed to celebrate the history of Eden Prairie hockey. The rooms are adorned in red, white and black – and feature bold, colorful graphics and photographic murals of standout Eagles players and teams through the years.
"We honor the success of our programs by providing our players with something that they're going to feel proud of," EPHS associate principal of student activities Russ Reetz said. "I hope the kids feel not just a sense of pride but that they can be themselves here. That this is a safe place for them and that they make some lifelong memories in this room that they'll talk about 20 years from now."
Planning for the rooms began back in June. With demolition taking place in August, the site has seen a flurry of activity since the end of the summer.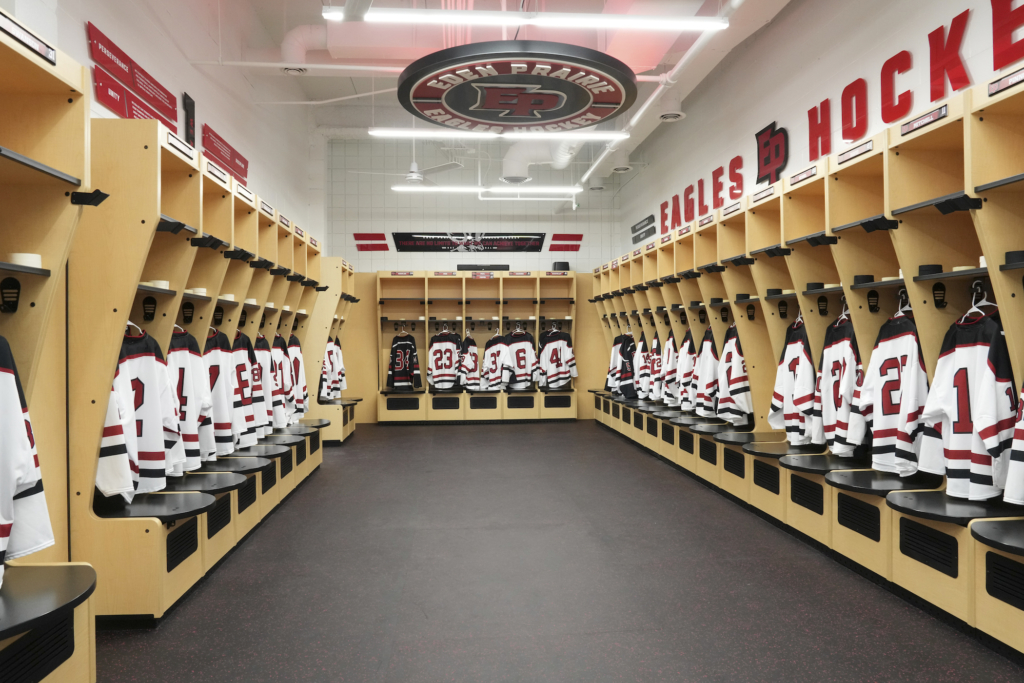 "Coach Persian was relentless in pursuit of this project. He made sure that everything was done to the highest of standards," said Reetz, who also credited local alliances for making the venture come together on schedule.
"The community center was a great partner. The city has been just amazing through this process," he said. "And many of our vendors are local. Eden Prairie Electric did an amazing job on a really difficult timeline. Our painters, the HVAC folks, we had sprinklers redone in here. It almost feels like a home and garden television show. We're like, 'How are we ever gonna get this done?' And then the final reveal was pretty special."
The Legacy campaign set a goal of raising $500,000 for the project. As of Nov. 30, the fund had collected $350,000 in donations, according to the campaign website.
"We've received contributions through donors, through alumni, through parents," said Adam Koering, father of varsity players Ryan and Nick Koering, and one of the leaders of the volunteer committee.
"And none of this gets done without volunteer time," he added. "Joel Klute, Mike Fryar, Heather Koering, Jen Britton, Jason Poulnack. Russ Reetz, we don't get anywhere without the AD support. And then I think the two coaches just coming in and being leaders, Steve Persian and Mike Terwilliger, all help drive to make it happen."
Koering said the group is still trying to raise about $50,000 in additional funds to put the finishing touches on the locker rooms and to create a legacy space in the arena at the community center to showcase photos and memorabilia of Eden Prairie hockey.
"It's a huge jolt of positive energy to the program and the community," EPHS boys varsity head coach Mike Terwilliger said. "We're going to get the youth teams in here to see it and we'll give them a tour of it."
Terwilliger, in his first year as head coach after a number of years as an assistant coach at EPHS, hopes the upgrades motivate players at the youth level to raise their expectations as they move through the program.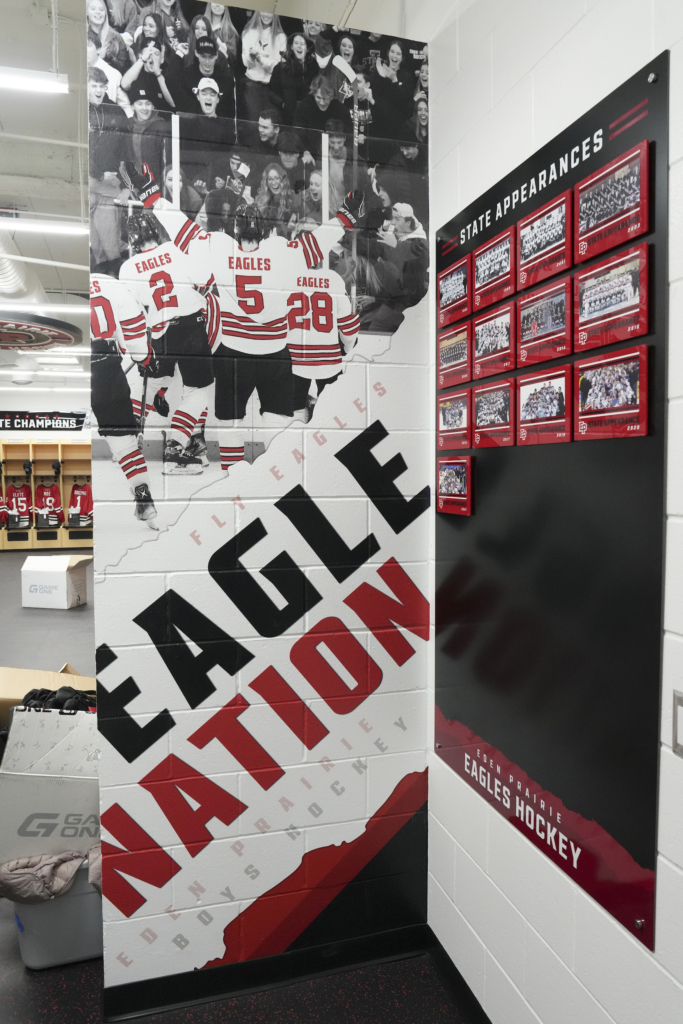 "It's something that you aspire to," he said. "That just rejuvenates not only our current players but our future players too."
On the girls' side of the facility, senior Jordan Hirsch was amazed by the transformation and recalled the first time she entered the old locker room as an eighth grader playing on varsity.
"Coming in here just blows my mind," she said. "For the younger girls, it makes me so happy that they can grow up in here and just have a really good experience."
As the afternoon progressed, members of the boys' varsity team ventured across the hall to get a glimpse of the girls' new home. Music played over the new sound system, and someone turned down the house lights to reveal the EP logo, glowing red from the ceiling.
"I'm super excited," junior Ella Konrad said. "I can't wait to come back tomorrow."
Mission accomplished.
For information on donations, contact EPHockeylegacycampaign@gmail.com. Some ways to donate include sponsoring a locker, honoring someone, or participating in a team donation.
Comments
We offer several ways for our readers to provide feedback. Your comments are welcome on our social media posts (Facebook, X, Instagram, Threads, and LinkedIn). We also encourage Letters to the Editor; submission guidelines can be found on our Contact Us page. If you believe this story has an error or you would like to get in touch with the author, please connect with us.