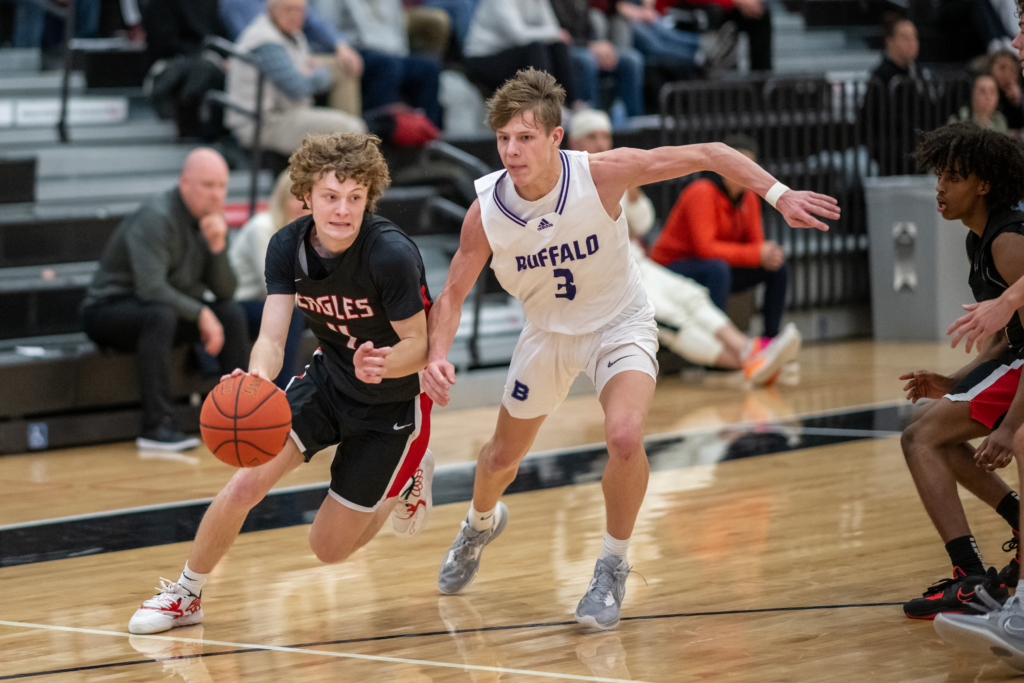 Coming off a pair of disappointing losses to No. 3 Hopkins on Friday and No. 2 Lakeville North on Saturday, the fourth-ranked Eden Prairie boys basketball team was hoping to get back on track against Lake Conference foe Buffalo Tuesday night.
Unfortunately, the Bison had other plans.
"It was a tough one, a tough loss," Eagles interim head coach Trevor Mbakwe said. "You never want to lose a home game especially against a conference opponent, but Buffalo, my hat's off to them. They came ready to play."
Buffalo has been off the radar to this point in the season. Despite their 10-1 record, the Bison are ranked in neither the Class 4A poll nor the Star Tribune Metro poll.
The Bison do, however, hold the nine spot in the Class 4A QRF (Quality Results Formula), an analytics equation used to compare teams and determine rankings.
Regardless of polls, Buffalo made their case on the court Tuesday night in the Eden Prairie High School gym. After the Eagles jumped out to a quick 7-2 lead, the Bison went on an 11-0 run, holding a 13-7 advantage they never relinquished.
"We started out good, but then we just let them back into it," sophomore guard Max Lorenson said. "We started falling apart on the defensive plan that we had.
Lorenson called out the Eagles' inability to neutralize the Bison's ability to run, switch, and screen.
"We had a lot of uncharacteristic turnovers," he added. "Just little things like that and it led to the lead that we couldn't really come back from."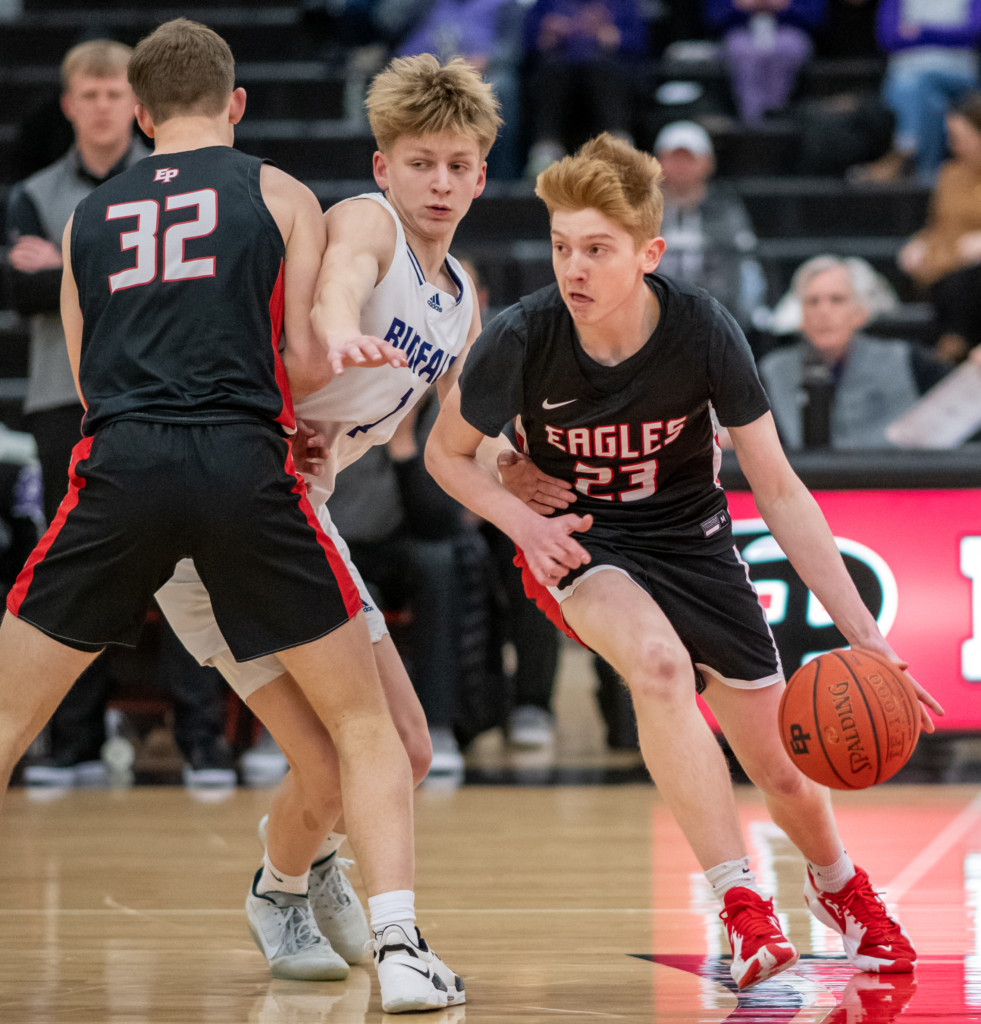 The Eagles have lost three in a row after a 7-1 start to the season. Senior wing Adam Mertens points to shortcomings in the defensive zone as a major obstacle to overcome.
"We're getting beat on back cuts and just not playing hard to get rebounds or anything," Mertens said. "So we've got to really clean that up for our game tomorrow [against Prior Lake]."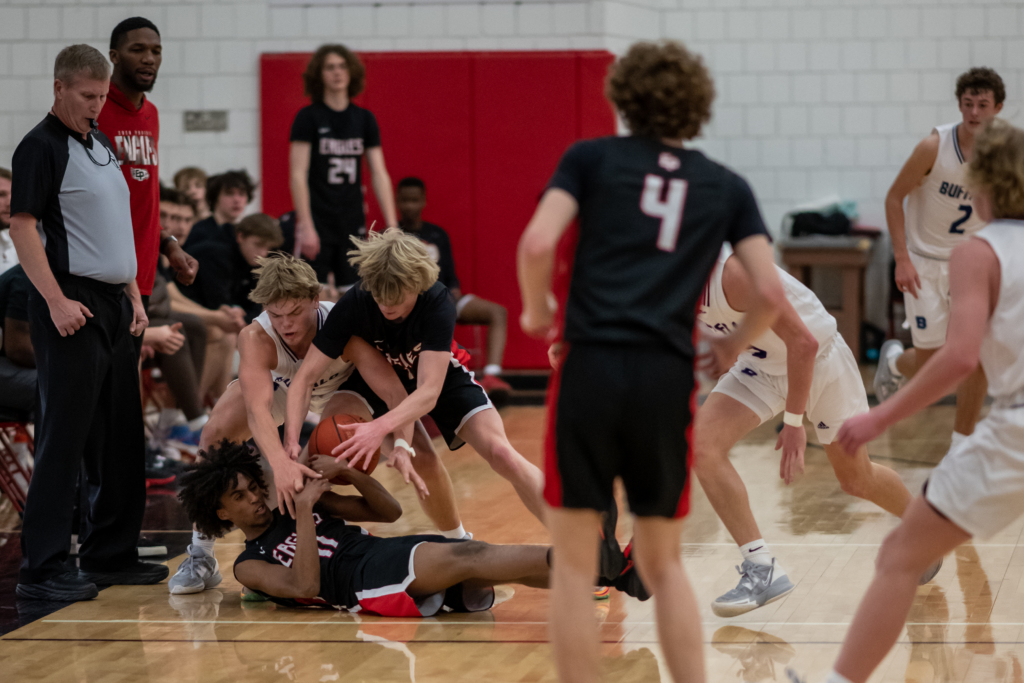 The Bison, led by senior guard Nate Dahl, who was the game's high scorer with 20 points, were good on five three-point shots in the first half and held a 36-26 lead at halftime.
"I think Buffalo did a great job today," Mbakwe said. "Also, I don't think we showed enough of who we are."
Mbakwe and his staff called timeout with 11:31 to play in the second half and provided some spirited direction for the Eagles, who at that point trailed by 15.
"We're just telling them to stay together, stick together, find a way to rally and create momentum," Mbakwe said. "Any chance we can get to get our guys playing the way we know and expect them to play we're gonna try."
Senior guard Luke Rapp led Eden Prairie with 14 points, and Lorenson added 12. Freshman guard Nolen Anderson came off the bench to provide 8 points for the Eagles, who scored well below their season average of 78.9 points per game.
"We've just got to play a full game, play hard the whole way through," Mertens said. "That's when we're successful."
Buffalo finished with a 75-50 win, tying the largest margin of loss this season for Eden Prairie. The Eagles dropped an 85-60 decision to Farmington for their first loss on Dec. 16.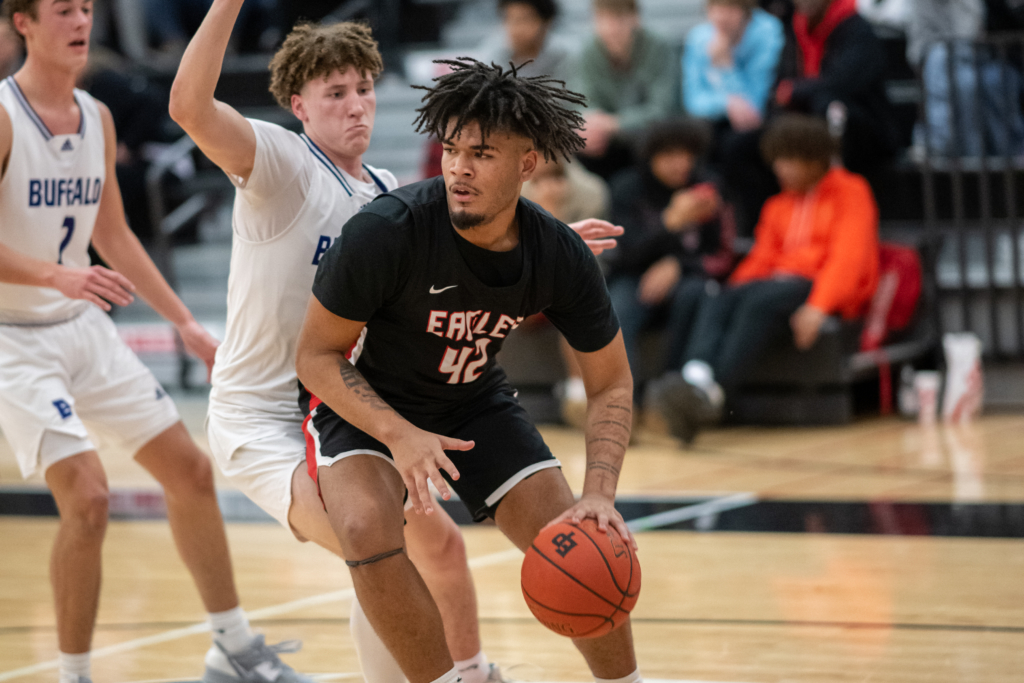 Next game
There's no rest for the Eagles (7-4), who travel to Prior Lake on Wednesday to face the Lakers (6-5).
"It's another tough one. It's a long week, tough week," Mbakwe said. "But the beauty about the game is that you always have another opportunity. And tomorrow hopefully we have to have short-term memory."
The Eagles hope to not only break their three-game skid, but are also striving to pick up a victory against a section opponent ahead of the playoff pairings.
"These are the games that play a big part in seeding and your opportunity to make it to state," Mbakwe said. "I'm looking forward to it. It's gonna be a great environment and we're excited to play."
Opening tip for the Eagles and Lakers is set for 7 p.m. at Prior Lake High School.