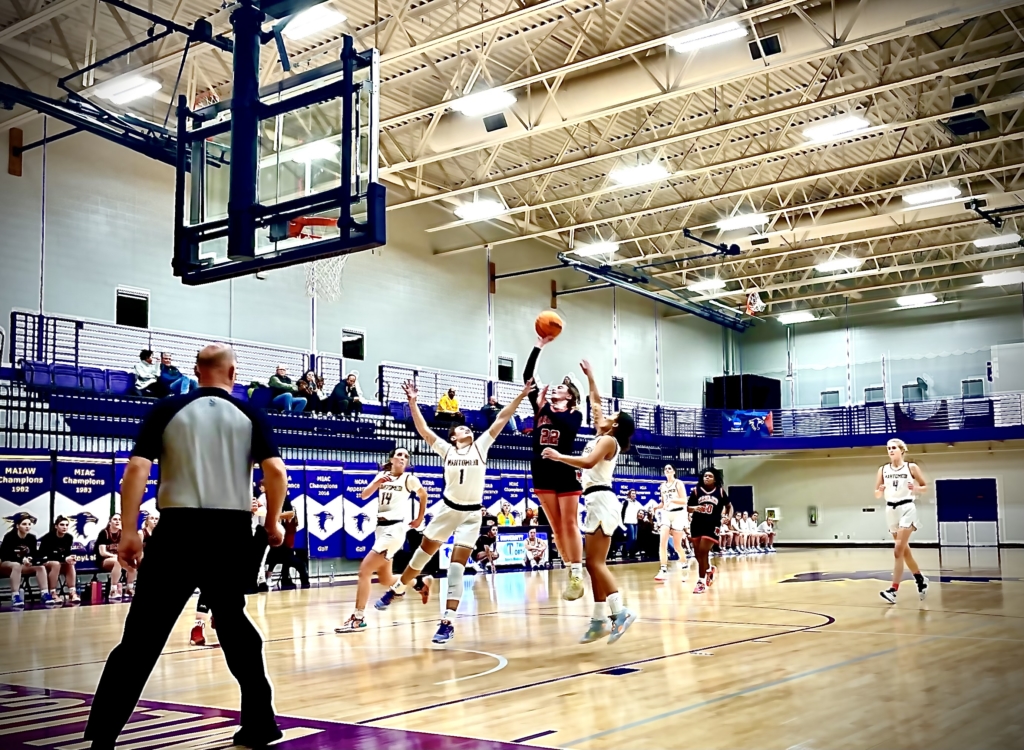 Eleven days before Christmas, Ellen Wiese was busy tying up loose ends after her Eden Prairie girls basketball team defeated Roseville 63-59 on the Eagles' home court.
After she checked the game stats and spoke to her team, she bid goodnight to the dedicated folks at the scorers table.
"I remember because our table people were like, "We'll see you on January 20," and I'm like, "'Oh my gosh, yeah,'" the head coach recalls. "We have definitely been the road warriors."
Jump ahead to Monday night, when the Eagles began their busiest week of the season with their first of four games in five days. They will finish the hectic stretch hosting St. Michael-Albertville this Friday, in their first home game since Dec. 14.
Monday's game, an 85-48 win over Mahtomedi in the MLK Classic at St. Catherine University, could have been jettisoned from the schedule, but Wiese was happy they kept the date, despite the grind in the week ahead.
"I like the concept of this on Martin Luther King Day. I like to play in a college gym," Wiese said. "We could have made it an easier week, but what the heck? Just go for it. So it's good."
It was good for the sixth-ranked Eagles to shed the remnants of Friday night's 86-51 loss to the state's top-rated team.
"We got hammered by Hopkins and we felt it." Wiese said. "Our egos were hurt; everything was hurt. So we needed to come back and play together and play strong and push the ball and we did exactly that."
The Eagles took advantage of the larger playing surface at Butler Center to play fast and aggressive from the opening tip.
Wiese regretted her team's shooting efficiency, which has fallen off in recent games. But their effectiveness in the defensive zone, highlighted by blocks and deflections of Zephyr shots, made for a briskly-paced first half and a 39-18 lead at the intermission.
"Our defense has to lead the offense for us," she said. "I don't know how many fast break points we had, but it was a lot."
Sophomore guards Tori Schlagel and Rea Ehrman led the Eagles in scoring, both with 16 points in the game.
Senior captain Molly Lenz added 15. Senior guards Ashley Fritz and Annika Anderson both had 11, while sophomore guard Ella Hardwick had eight in an evenly distributed point column.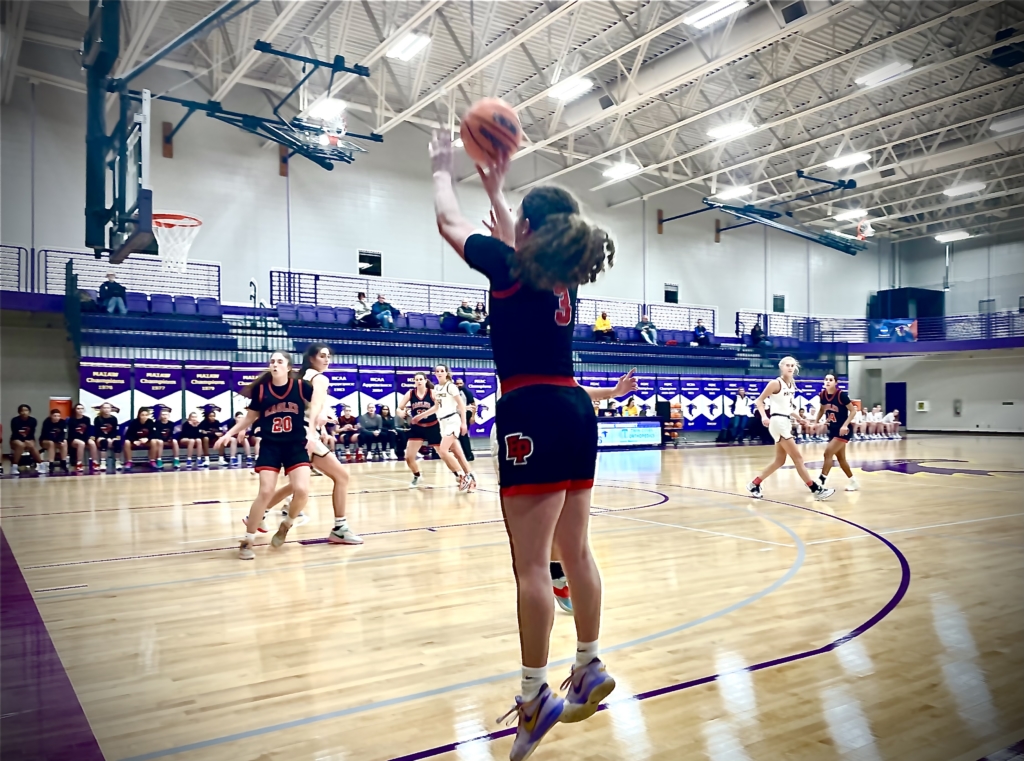 "That's exactly what we need," Wiese said of the scoring balance. "We're not going to ever be a team of 'clear out, isolation, one kid gets all the glory.' We've got to play like a team and [the balance]is evidence of it, for sure."
Ehrman was a bright spot for the Eagles against Hopkins on Friday, hitting three straight three-point shots. Monday against Mahtomedi she went two-for-three from beyond the arc and was six-for-six at the free-throw line.
"I think my teammates are really good at getting the ball," Ehrman said. "I just have to shoot when I'm open because we might not get a better shot."
As a team, the Eagles were 21-for-25 from the line, with Anderson hitting three-of-three and Lenz shooting seven-of-eight.
Eden Prairie led 54-36 with 12 minutes remaining in the second half before going on a 15-3 run that took them to the seven-minute mark with a 69-39 lead. Lenz, Schlagel, Hardwick, and sophomore Camryn Dennin all had points before Mahtomedi called timeout with 6:53 to play.
The wide margin made room for junior varsity players to take the floor for the final three minutes. Freshmen Talia Baune, Jazmyn Hooks, Emerson Johnson, Addison Dvoracek and Marley Minikon all saw action for Eden Prairie.
"That's always fun," Wiese said. "And it just always touches me so much that I don't have to say a word and the varsity are cheering louder than anybody when the JV goes in.
"And that's what we're about. The culture at Eden Prairie and girls basketball is just so good. And that has to come first and then the wins come.
"It was a fun night."
Bamlett still sidelined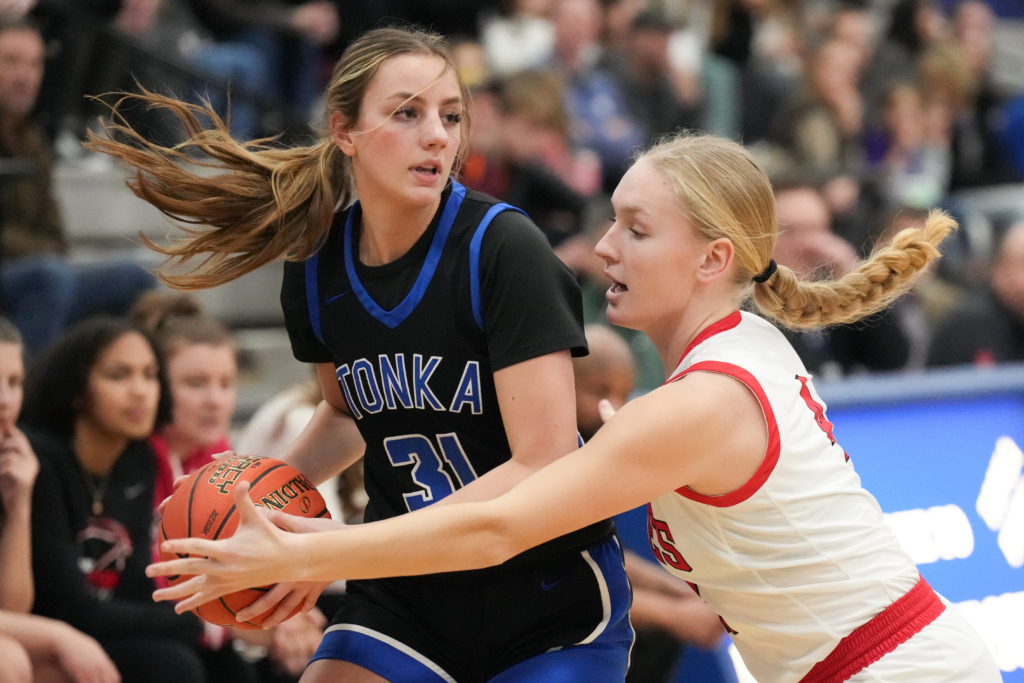 Eagles captain Kylie Bamlett, the heart of the team's defense, is still out with an ankle injury.
Bamlett suffered what was determined to be a microfracture and has been fitted with a custom foot support that has provided her with better mobility.
The senior forward was injured in a loss to eighth-ranked Minnetonka on Jan. 6 and was forced to sit out in the showdown last Friday with Hopkins.
"It's pretty tough [watching from the bench], especially through the Hopkins game," she said Monday. "You just want to do everything you can to help the team in any way possible. So with that, just being on the bench, cheering my teammates and supporting them, knowing that I'm here for them and just filling that role."
Bamlett hopes to return to the court in the next few weeks.
Rest of the week
With one game down and three to go, the Eagles will play at Buffalo on Tuesday, at Lakeville North on Wednesday, and close out the week hosting St. Michael-Albertville on Friday.
"It's gonna be hard, there's no doubt about it," Wiese said. "But the more contributions we get from more people, obviously, the better off we'll be."
Comments
We offer several ways for our readers to provide feedback. Your comments are welcome on our social media posts (Facebook, X, Instagram, Threads, and LinkedIn). We also encourage Letters to the Editor; submission guidelines can be found on our Contact Us page. If you believe this story has an error or you would like to get in touch with the author, please connect with us.