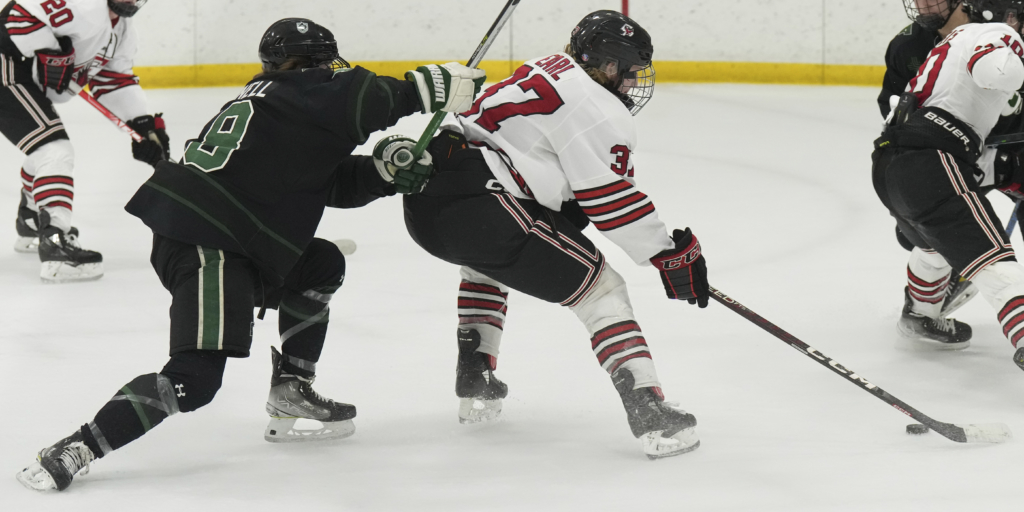 Ryan Koering is the captain of the Eden Prairie boys hockey team – and their lone senior.
Thursday night after the Eagles 3-2 loss to Holy Family, Koering was limping out of the locker room when he was asked what happened.
"I took a shot in the ankle," he replied.
The senior had been on the ice the entire game. When asked if the injury had occurred late in the third period, he responded, "No, in the first."
Koering was aided by longtime team trainer Gary Smith, who helped him make it through the game.
"Gary put some freeze spray on it," Koering said. "Between periods, I just put my leg up to stop the swelling but it'll be fine."
It was that kind of night for the Eagles, who seemed to take one step forward and then take one shot in the ankle with a puck traveling 120 mph.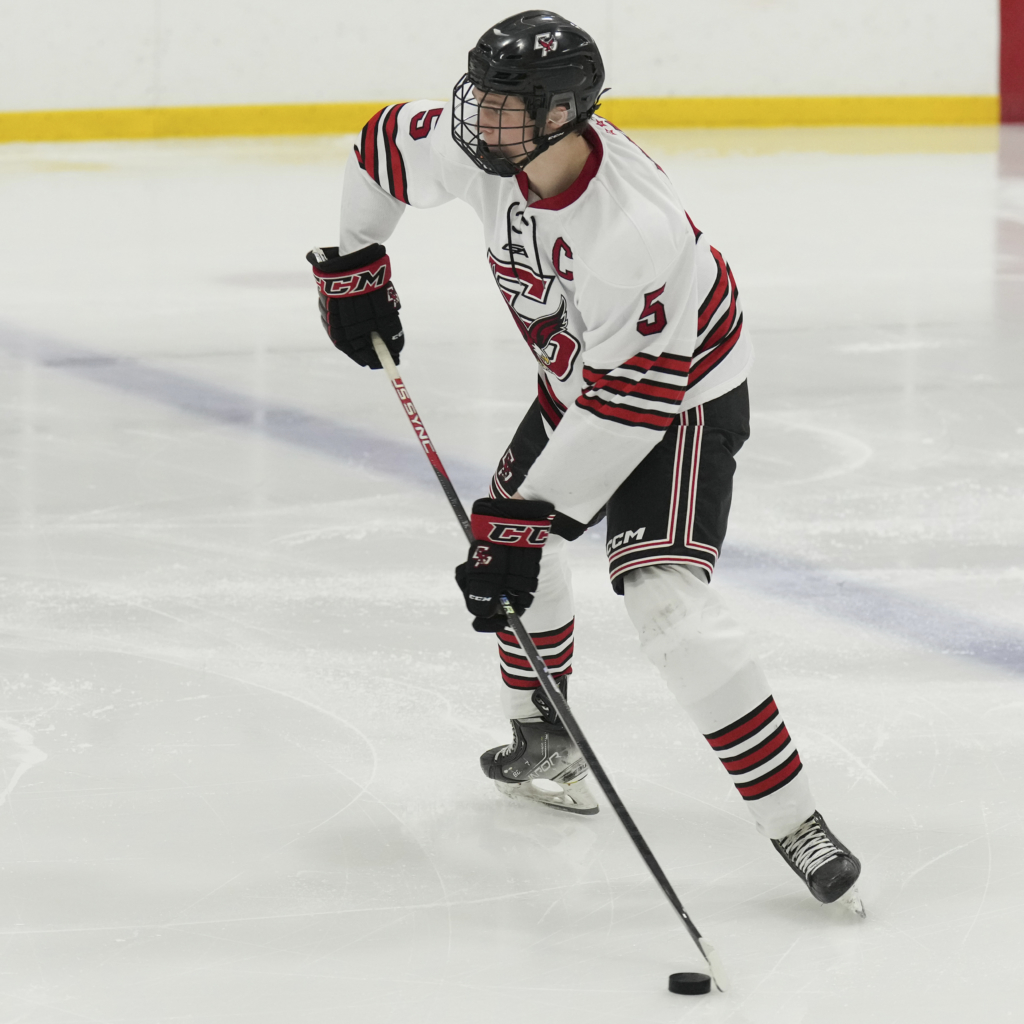 Eden Prairie has been plagued by slow starts in recent weeks, including in their previous game with Hermantown last Saturday, when the Eagles' lackluster first period put them in a hole that cost them the game.
That wasn't the case tonight.
"We worked on coming out hard. That was a goal," junior defenseman Tate Bloch said. "During the second and third period is when we usually shine, but today it was the opposite. And so we'll have to figure out a way to do both, start and finish strong."
The Eagles roared out to a 2-0 lead in the first six minutes.
Bloch opened the scoring with a blast from the point just 53 seconds after the opening puck drop, picking up his second goal of the season, with an assist to sophomore John Klute.
"The first shift, it went right to me so I shot it and scored a nice goal," Bloch said. "I thought it got us going."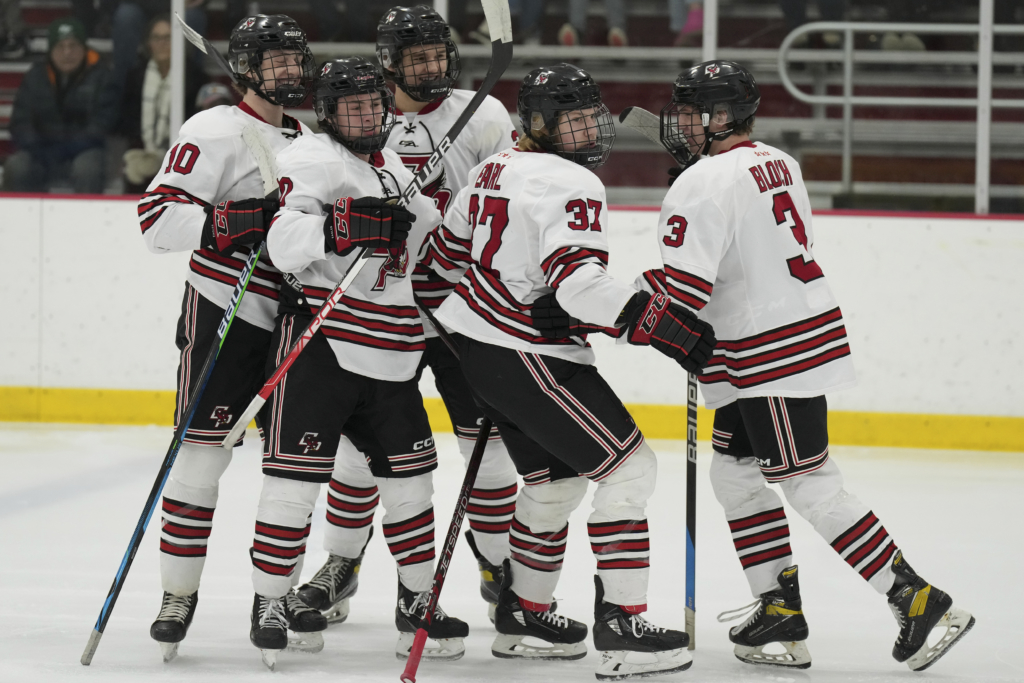 It did. And the Eagles kept it going behind junior co-captain Teddy Townsend, who raced up the right boards, taking advantage of some hesitation by a Holy Family defenseman.
Townsend, a left-hander, took a shot from the right circle, which deflected off a defender and past Fire goaltender Bennett Reinhard.
"I got pretty lucky, honestly," Townsend said of his fifth goal of the season. "I wasn't going for that spot but [the defenseman]got a stick on mine, so I guess I got pretty lucky with that shot."
From that point forward, luck wasn't on the side of the Eagles.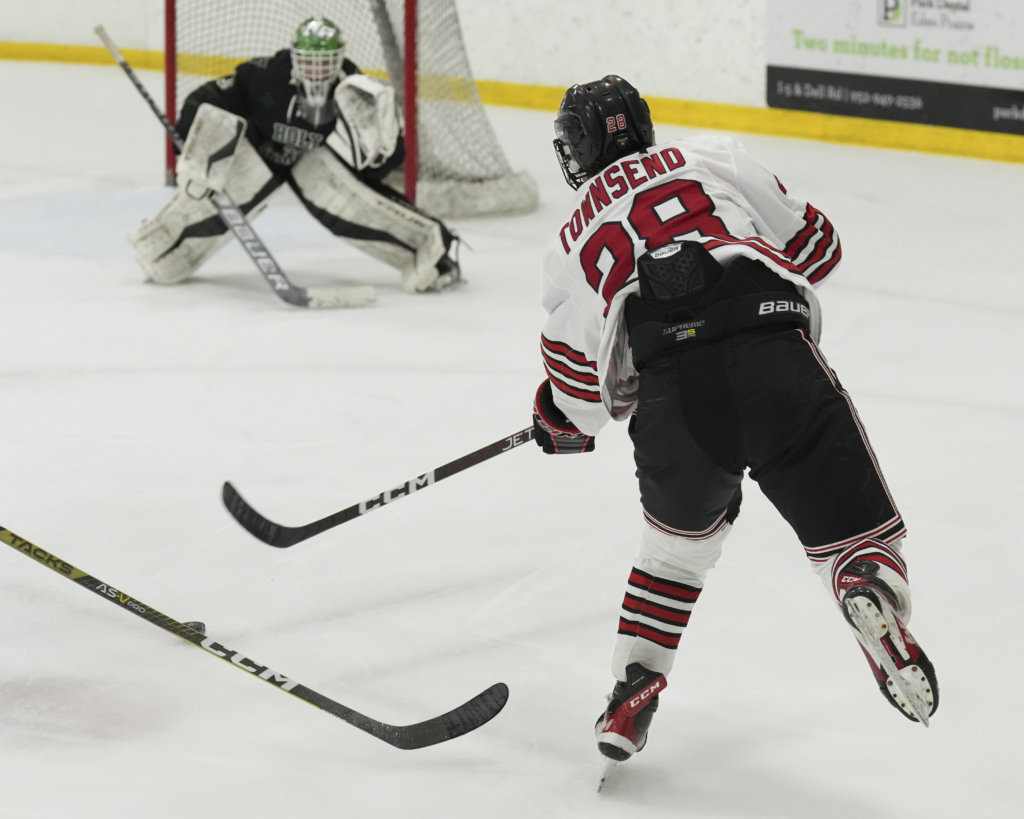 Holy Family scored at 9:21 of the first period along with two more unanswered goals in the second period to take a 3-2 lead.
"I thought we had a good first. A good couple shifts," Koering said of the first period. "But it's not just one period. It's three periods in hockey and we had a bad second period."
Koering seems to be shouldering the disappointment for the entire squad and but stands determined to will his teammates into playing a complete game.
"We've just got to clean those things up," he said. "And I'm sick of saying it but we've got to play 51 minutes."
Head coach Mike Terwilliger underscored what his captain has kept repeating, saying the team needs "to play a full game."
Adding, "We jumped out to a strong start but had some lapses, so we will work on those issues in practice."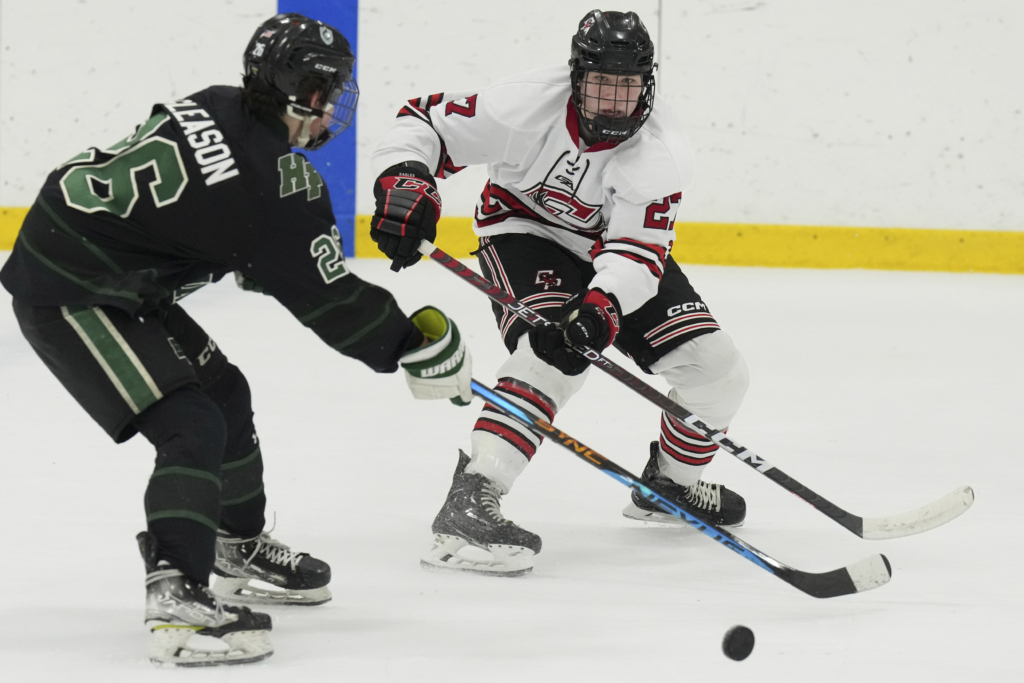 With the win, Holy Family improves to 9-5 on the year. The Eagles drop to 5-8-1.
The Eagles will practice Friday and hit the road on Saturday to face St. Michael-Albertville.
"They're usually a pretty gritty team," Townsend said, assessing the next opponent. "They usually like to play physical and fast."
Koering hopes his team can "bear down in front the net" and bury chances like they saw against Holy Family. In the meantime, as the team leader, he's intent on keeping everyone in the lineup focused on the opportunity in front of them.
"You just gotta try to stay positive," Koering said. "We're halfway through the season, but there's lots of games left to play.
"What really matters is section time, but we've just got to clean things up before then. And hopefully get a streak going here."
Puck drop on Saturday for the Eagles vs. the Knights is set for 7 p.m. at St. Michael-Albertville Arena.
Count on Koering to be on the opening shift; iced ankle and all.