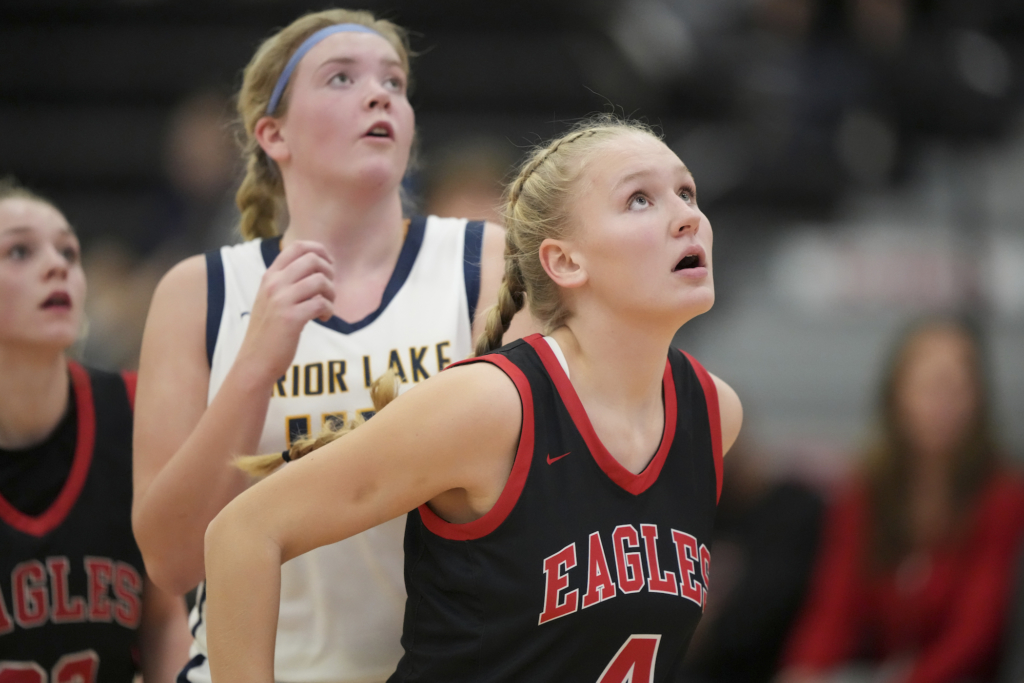 You don't have to look closely along the bench of the Eden Prairie girls basketball team to get the message.
On the backs of the Eagles' warm-up gear worn by every player, it's there – in big, bold letters:
"BE THE LIGHT"
"It's easy when you're not making shots to be negative about it," explains Eden Prairie head coach Ellen Wiese who, in her sixth season at Eden Prairie, decided to emphasize the positive on the Eagles' gameday apparel.
"If you're not playing and say, 'Why isn't the coach playing me?' you can either take that route, or you can take the other one," she continued. "You can be your own light, and you can be everybody else's, and you can be uplifting and encouraging to everybody. And I think we've played like that."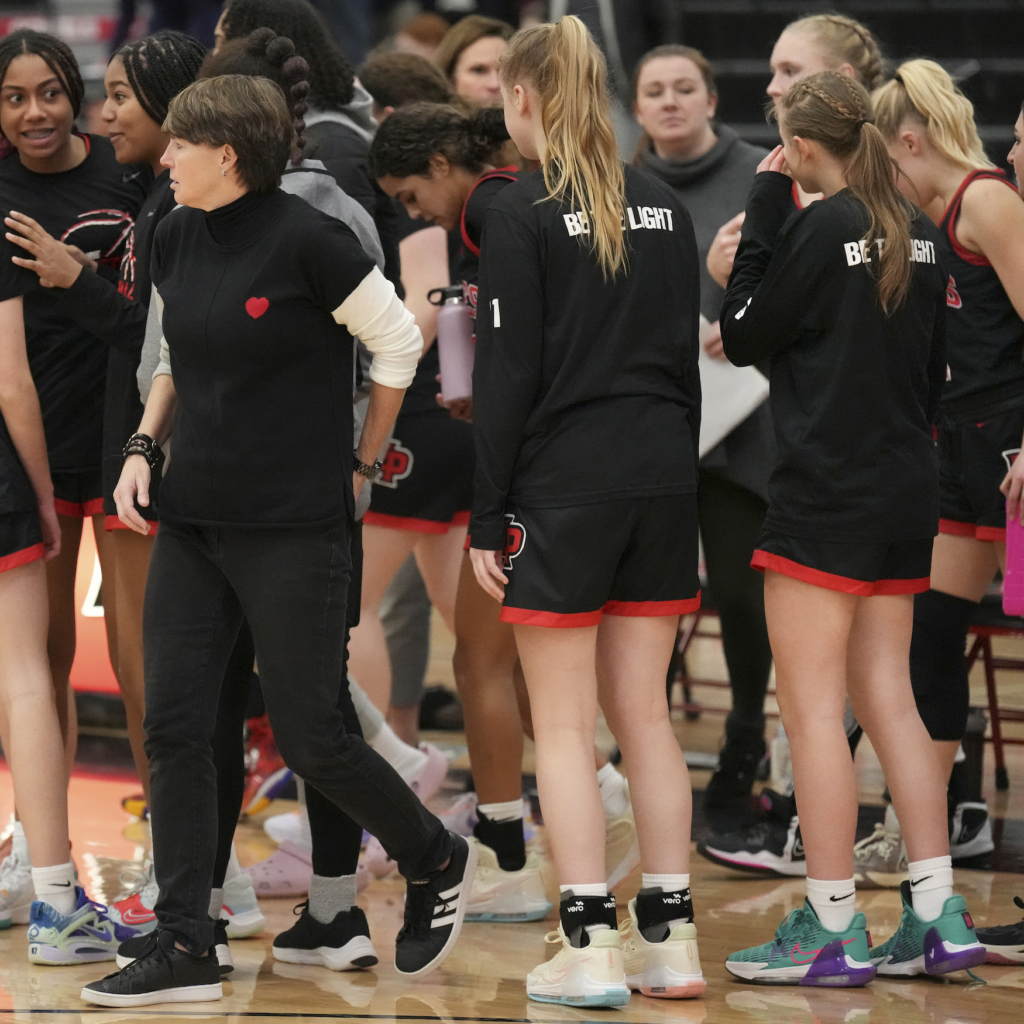 The Eagles certainly saw the light Wednesday night in the gym at Eden Prairie High School, improving their record to 3-0 with an 81-55 victory over Prior Lake.
After a slow start in a first half that went back and forth, the Eagles held an 11-point lead at halftime behind 10 first-half points from sophomore guard Vanessa Jordan and nine points from senior guard and captain Molly Lenz.
"I thought we were disjointed on offense in the first half and I didn't understand why," Weise said. "I just thought we were rushing things."
The contest marked the very first time the Eagles have played with a shot clock, which is required in all Lake Conference games beginning this season.
The Eagles had not yet used the clock because all games have been against non-conference opponents. Prior Lake is in the South Suburban Conference, which won't use a shot clock this year. But before the game, the Lakers were given the option to have the clock in play, and they agreed.
The new presence of the shot clock led Wiese to wonder if it may have had an effect on her team's performance in the early going.
"We were just frazzled in the first half and I'm just gonna guess that might have had something to do with it," she said. "And then in the second half, we realized we weren't coming close to having a shot clock violation and we could just run our stuff and wait for a good look. So the adjustments were good."
When asked about the new wrinkle, senior forward and captain Kylie Bamlett felt the clock didn't have much of an impact on her play.
"Honestly, I kind of forgot about it, especially in the first half," she said. "We love to play fast, whether it's a fast break, getting shots up quick. And I think most of the time we were pretty controlled and not even really thinking about the shot clock."
Lenz, who led all scorers with 20 points in the game, liked the way she and her teammates used the clock to their advantage in the defensive zone.
"I think there was only one time where we actually got to the end of it," Lenz said. "But it was nice on defense and we were able to press them a little bit to try to take some time off of their offense."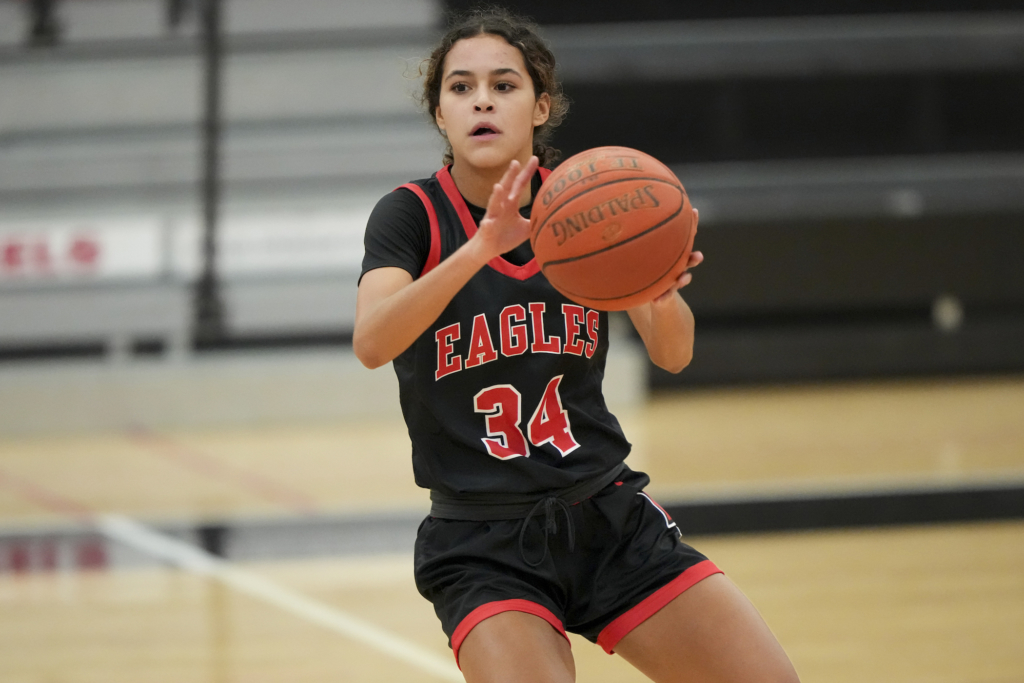 Jordan finished with 16 points. Senior guard Ashley Fritz and sophomore guard Remington Ehrman each added nine, as the Eagles opened up their perimeter shooting in the second half, which included five 3-point shots.
"We got much better looks because they weren't rushed," Wiese said. "We were using a little more clock and we were much more in control in the second half."
Eden Prairie was also efficient at the free throw line, hitting on 20 of 23 attempts. They outscored the Lakers 45-30 in the second half en route to the win which keeps them undefeated in the young season.
"We're feeling good right now," Lenz said. "Especially with the way we started 3-and-0 and hopefully we can keep that going in non-conference play and then take that into conference."
The Eagles, ranked fourth in the Star Tribune's preseason poll, will compete in non-conference games for the rest of December, including an invitational tournament at Park Center right before the new year.
"We're a very good defensive team and I think we'll only get better," Wiese said. "And then I've got so many options on offense, that's super encouraging. We just have to figure out how to get everybody looks and keep everybody happy."
Eden Prairie opens Lake Conference play on Jan. 6 at Minnetonka. In the meantime, the Eagles next game is against Benilde-St. Margaret's on Friday night in St. Louis Park.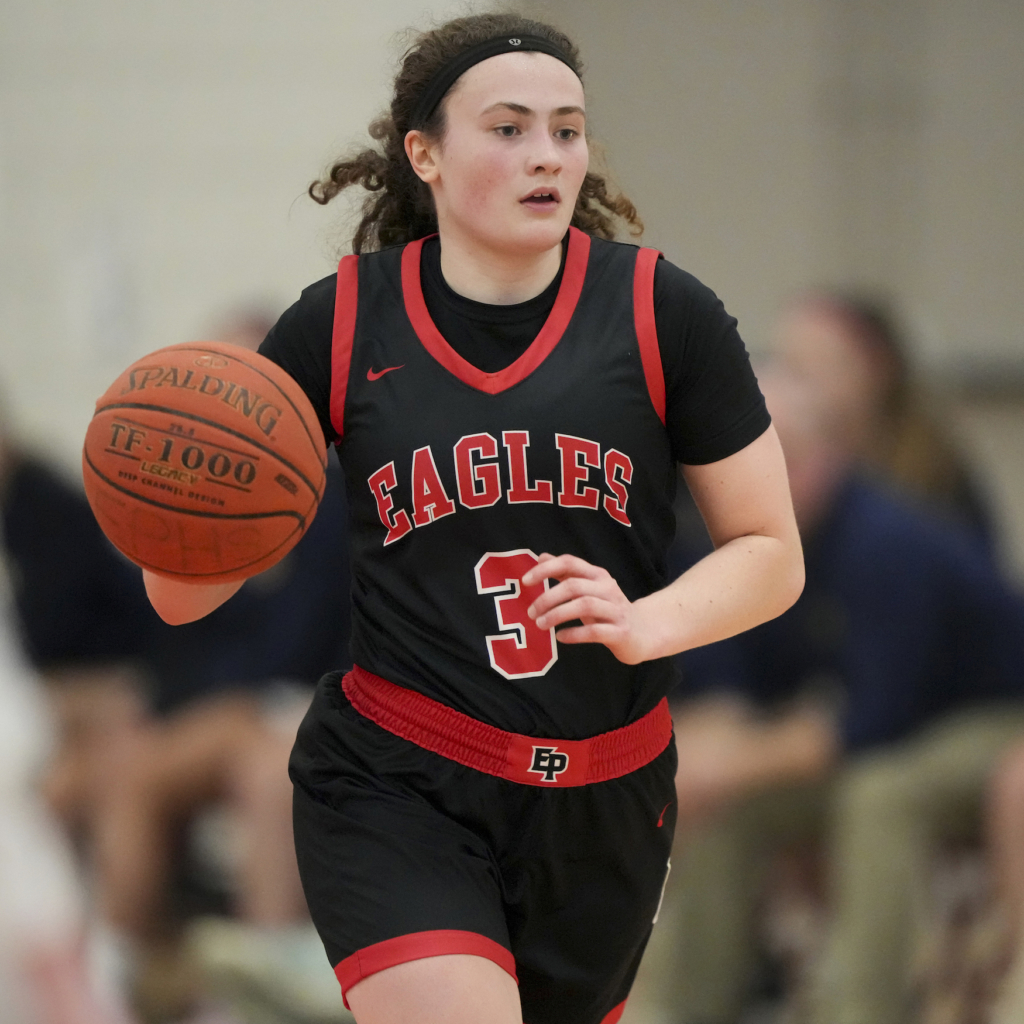 "We've improved a lot even since a week ago at our first game," Bamlett said. "I think we've gotten a lot more cohesive and a lot deeper with our bench. A lot more girls are able to contribute in all sorts of ways, whether it's rebounds, steals, putting up points, everyone's contributing, and I think that's great."
It sounds as though the Eagles may have seen the light.
"We have great sportsmanship," Wiese said. "We're a very respectful group of young women, and so 'be the light' is about lifting everybody else up when they need it."
Comments
We offer several ways for our readers to provide feedback. Your comments are welcome on our social media posts (Facebook, X, Instagram, Threads, and LinkedIn). We also encourage Letters to the Editor; submission guidelines can be found on our Contact Us page. If you believe this story has an error or you would like to get in touch with the author, please connect with us.