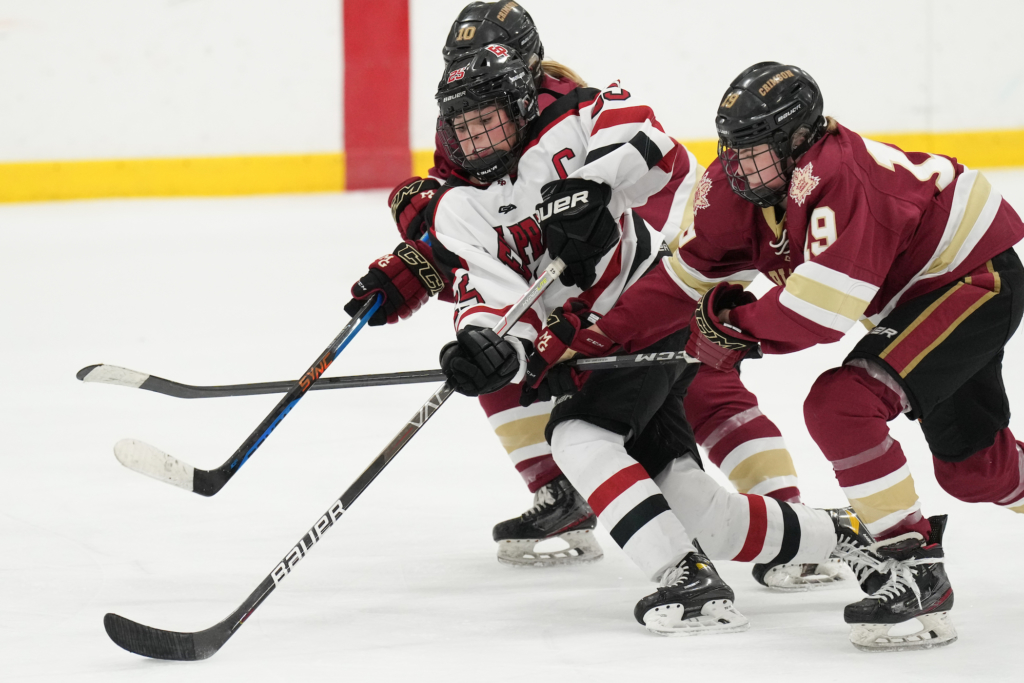 The Eden Prairie Eagles girls hockey team found themselves in their second overtime in as many games when they squared off against fifth-ranked and undefeated Maple Grove Thursday night at Eden Prairie Community Center. 
After a scoreless first period, the Eagles took the lead at 10:44 of the second period. Freshman forward Sara David scored, with assists going to sophomore Macey Haase and sophomore Adriana Mitchell.
Maple Grove scored in the final minute of the second period to tie the game at one. The Crimson took the lead 5:59 into the third period and held the advantage until the final minute of regulation.
With just 44.6 seconds in the third period, sophomore Adrianna Mitchell won the face-off in the offensive zone and got the puck to senior captain Paige Holt, who slipped a shot past Crimson goalie Elie Hancock to send the game into overtime.
The Eagles dominated the first six minutes of the extra period, but Crimson leading scorer Stella Retrum put the puck by Eagles junior goalie Tegan Swanson for the game-winner with just 50.5 seconds left in overtime.
Swanson played brilliantly in goal for Eden Prairie, facing 43 shots and making numerous point-blank range saves.
Maple Grove wins 3-2 in overtime. The Eagles next game is at home Tuesday night against Minnetonka to open Lake Conference play. 
Check back in with eplocalnews.org for complete coverage. EPLN will soon post an in-depth game story of Maple Grove vs. Eden Prairie.