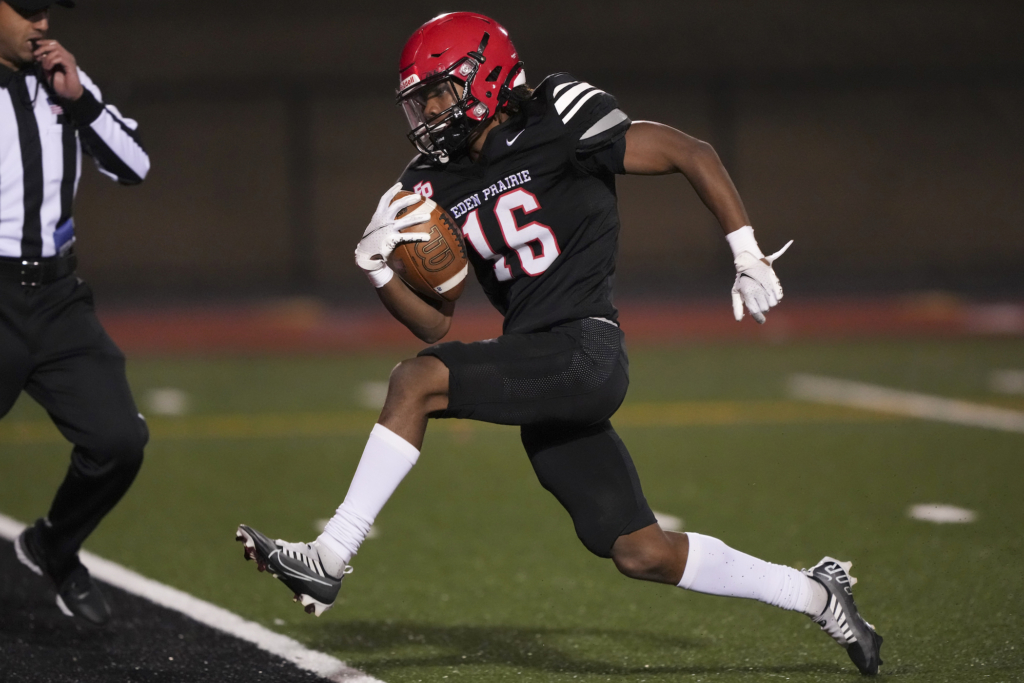 In the football postseason, the Eden Prairie Eagles begin thinking – and playing – in multiples of four.
"Now we're down to the end. You've got to play 16 quarters," Eagles head coach Mike Grant said. "I thought we played four great quarters. That's what we're hoping to do."
Friday night at Aerie Stadium in Eden Prairie, the top-seeded Eagles spent their four quarters putting up multiples of seven on the scoreboard – in a 35-3 win over No. 8 seed Eastview.
That's four quarters down, with four more coming next Friday night when they square off with Woodbury on their home field. The simple mathematics of the playoffs allow the Eagles to keep their focus on the task in front of them.
"We think of the postseason as quarters," senior defensive back Jacory Bates said. "We've got 16 more quarters of playing great football and we're going to be champions."
Eden Prairie has been playing championship football for the past several weeks. With dominating wins over Edina and then undefeated Stillwater to close out the regular season, the Eagles rolled over the Lightning in the first round of the Class 6A section playoffs.
"I think we're starting to peak at the right time," junior center Will Sather said. "We're starting to play complete games, playing four quarters. And I like the trajectory we're on as we get deeper into the postseason."
Upward trajectory would be a good way to describe the first half Friday evening. The Eagles, playing without starting quarterback Nick Fazi, put together a punishing rushing attack to generate 388 total yards for the game.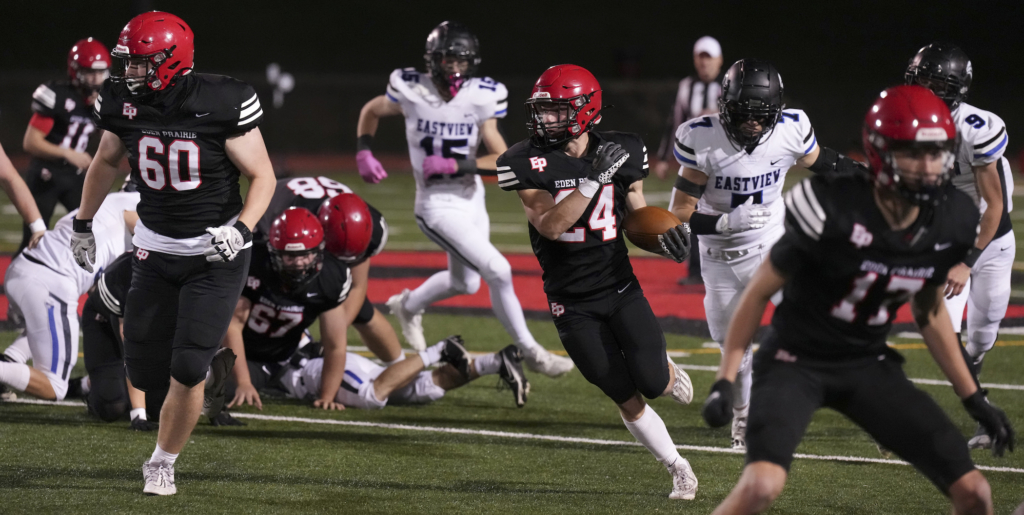 The offense spread the wealth to produce those yards and put up points. Juniors Terae Dunn and Liam Berndt both had first-half rushing touchdowns, as did junior quarterback David Ivey, playing for the injured Fazi.
"The offensive line played a heck of a game," said Berndt, who led all rushers with 97 yards. "They blocked everything, all my credit goes to them. Every play I got eight yards before I saw anyone."
Dunn, who transferred to Eden Prairie midseason from Green Valley High School in Las Vegas, has been a welcome addition to the Eagles backfield. His family lived in Eden Prairie when he was younger, so he's familiar with the surroundings – and he's happy to be back.
"I love it," Dunn said. "I mean, that's what I came here for. I came back to play with these guys."
Under center, Ivey had few pass attempts but showed a nice touch on his throws. The elusive QB uses his speed to his advantage, tallying 72 rushing yards against the Eastview defense.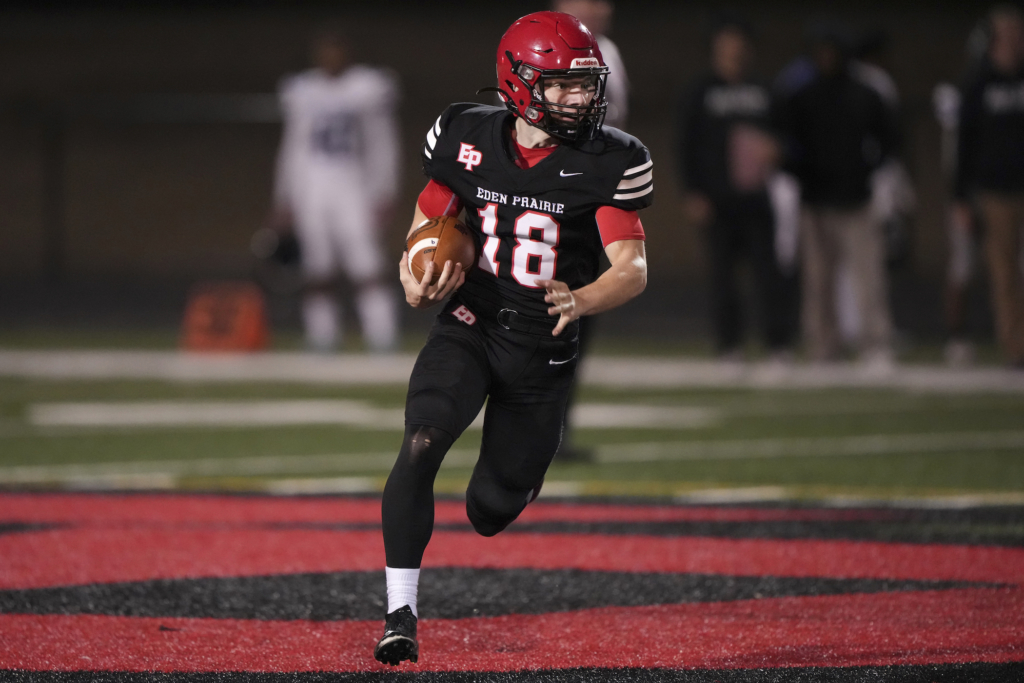 "With Nick being hurt, David can really use his legs," Sather said. "He's got speed and we saw that tonight. So we knew we were going to have to step up as an O-line again like we did last week in the second half (against Stillwater) and move the ball well."
The Eagles built on their 21-3 halftime lead with second-half touchdowns from senior running back Tyler Walden and sophomore running back Jeremiah Fredericks.
Junior kicker Luca Ratkovich – who's been rock solid kicking extra points – was perfect again, booting his 25th PAT of the season.
"I thought our kids played hard through the whole game, and that was good," Grant said. "And we came out with other injuries. And that's great. We move on."
The Eden Prairie defense delivered a superb performance, allowing Eastview just 92 yards of total offense. Senior Chiddi Obiazor and junior Dennis Rahouski provided pressure from the edge on Eastview quarterback Ezra Formaneck.
Junior linebacker Dominic Heim, along with Bates and senior Will Schrieber, led defenders in shutting down the Lightning running game as the Eagles held Eastview scoreless in the second half.
"I feel like we played great," Bates said. "We were all hustling to the ball, going full speed every single play, just full effort. When we're giving full effort, we're pretty tough to beat."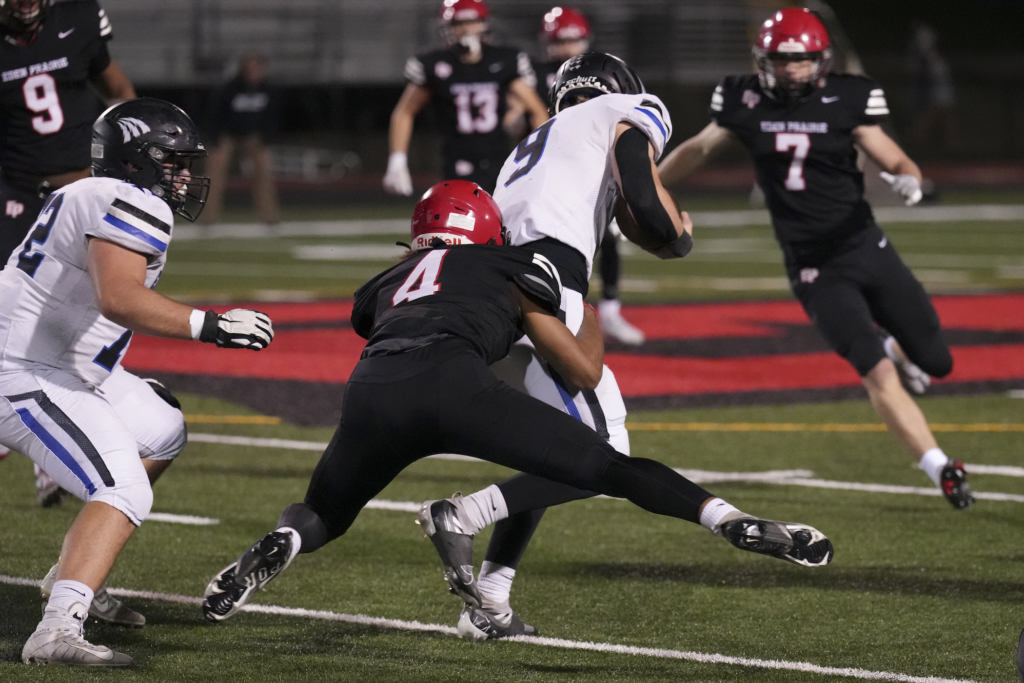 The Eagles move on to face No. 4 seed Woodbury in the section semifinals. The Royals finished the regular season with a 6-2 record and ranked 10th in the AP poll. They defeated No. 5 seed Osseo 24-14 in their first-round matchup.
As his team looks ahead to the semis, Grant said he's hopeful his starting quarterback will return to the lineup for the game against Woodbury. Fazi, who was watching from the sideline Friday night, indicated he will start practicing again on Monday.
In the meantime, the Eagles will begin focusing on the next four quarters.
"It's the playoffs, so everyone is dialed in." Berndt said. "Everyone is just making sure they're ready to go."