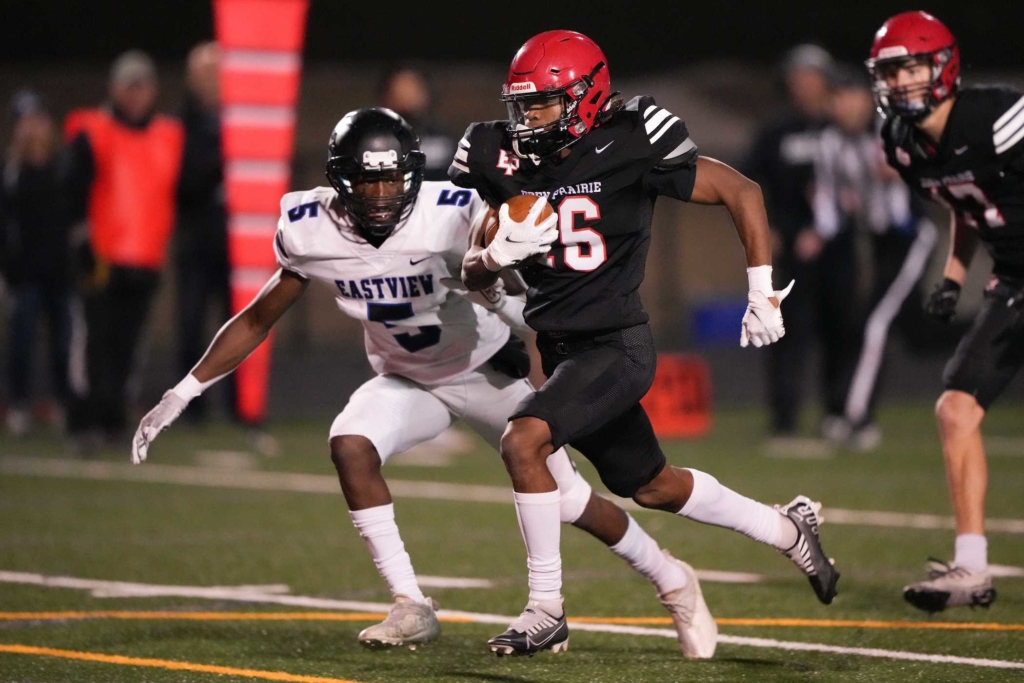 The No. 1 seeded Eden Prairie Eagles scored three first-half touchdowns and never looked back in their 35-3 win on Friday night over No. 8 seed Eastview to open the Class 6A Section playoffs.
Playing without starting senior quarterback Nick Fazi, who is out with a knee injury, the Eagles looked to juniors on the roster to put points on the board.
Junior running backs Terae Dunn and Liam Berndt both ran for touchdowns of 35 and 20 yards, respectively. Junior quarterback David Ivey, who started for the injured Fazi, also found the end zone with his run from 15 yards out.
The Eagles rolled to a 21-3 lead at halftime. The Eagles defense was unyielding, holding the Lightning to just 92 total yards for the game and a scoreless second half.
Senior running back Tyler Walden, who had four touchdowns last week against Stillwater, scored from two yards out in the third quarter. Sophomore running back Jeremiah Fredericks added another. The Eagles offense generated 388 total yards in a resounding 35-3 win.
Eden Prairie moves on to play the winner of Woodbury vs. Osseo in the semifinal round of the section playoffs next Friday night.
Check back with eplocalnews.org for complete coverage of the Class 6A section quarterfinal playoffs. EPLN will soon post an in-depth game story of Eastview vs. Eden Prairie.