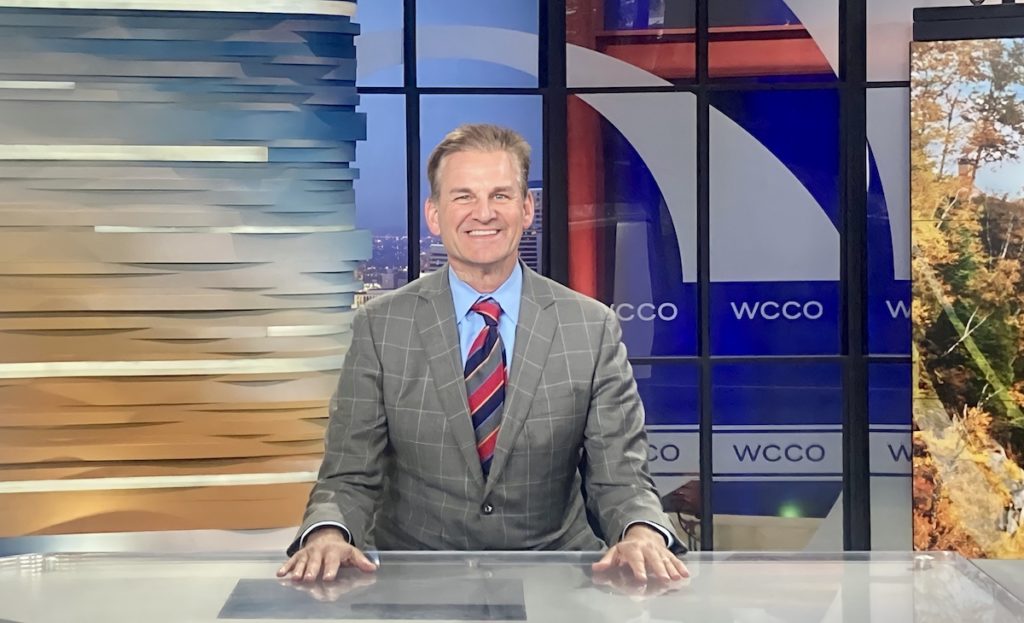 It's midday in downtown Minneapolis, and Mike Max's curiosity is on full display.
Listen to him conversing with people on the sidewalks, people he sees every day — the curiosity is there. Watch him taking in the answers as he talks with members of an organization hired by the city of Minneapolis to help curb violent crime in the area — the curiosity is there. Try to keep up with him as he strides to the next corner, to the next person, the next story — the curiosity is there.
"I am really innately curious about everybody, you know," said Max, sports director at WCCO-TV.
To further illustrate this, Max, an Eden Prairie resident, then grabs his phone to show photos and tell a story about a morning of goose hunting where he did not know the other people hunting with him. That changed as he chatted with them about their lives and careers.
"I find that to be just as interesting as anybody else I meet during the day," Max said.
In the wake of George Floyd's murder
Max has worked in Twin Cities sports media for more than three decades. But it was his 2020 coverage of the protests and riots in the wake of George Floyd's murder that garnered him notoriety outside the world of sports.
After seeing the first night of unrest, he told Kari Patey, WCCO-TV's news director, that he would help if anything else happened.
When protesters shut down Interstate 35W, Max and a cameraman went out, following them as they made their way around Minneapolis. Along the way, he climbed a fence, got tear-gassed, and had to avoid rubber bullets. He also made sure to talk with the protesters, his adrenaline and curiosity driving him.
His post-arrest interview with a protester named Patrick Etim was just one example of the insightful reporting that earned him praise during that period of unrest and uncertainty. With Etim's arresting officer in the camera shot, Max asked Etim about the goals of the protest and about the bond he observed between the protesters and arresting officers.
More than two years after those events, Max can see how they affected him.
"The older you get especially, because you get more set in your ways, there aren't that many things where you really change the way you think fundamentally for the rest of your life," Max said. "And this changed absolutely everything."
Max, 57, said that before the 2020 events, he used to think of a group of protesters as a singular mob. Now, he sees protesters as individuals with their own stories and reasons for protesting. He's cognizant of that — and curious about how people came to be who they are.
Beginnings
Max's own story begins in Gaylord, Minnesota — population 2,273 — a city about an hour southwest of Eden Prairie. He grew up on Titlow Lake with his mom, dad, and two brothers, hunting and playing sports. He was a team captain in football, basketball, and baseball.
"I didn't know how lucky I was," Max said. "I loved my teachers, my friends. My friends are still my best friends."
After graduating, Max attended Hamline University, where he played four years of baseball and one year of basketball. He began as a business and psychology double major, but a video production class changed his path.
"Once I took that, I thought, 'God, this seems more appealing to me,'" he said. "It was one of those aha moments."
He was allowed to write his own major in telecommunications, and a professor suggested he try to get an internship. He went out, "knocking on every door in the Twin Cities." WCCO-TV was the only one who gave him a chance. His internship turned into a job as a producer and reporter at the station after his graduation in 1987.
Max left the station when he was hired to host the show Sports Connection on the now-defunct Midwest Sports Channel in 1994. He returned to WCCO-TV in 2005 as a reporter and anchor.
Max also hosted a show on WCCO Radio from 1998 until August of this year, when his show, Sports to the Max, was eliminated due to budget cuts.
Memorable story
Over the years, he's covered thousands of stories and talked to thousands of people. He's interviewed Michael Jordan three times.
But Max's favorite story is one with a personal connection.
Brody Rodning was a pitcher at Minnesota State University, Mankato. His father, Brian, grew up with Max. Brody's mom, Tiffany, was diagnosed with stage 4 colon cancer in August 2016. By March 2017, the baseball season had started, and Tiffany's health was failing. She died on March 23. Brody was scheduled to be the starting pitcher in a game the next night. He decided to pitch.
He threw a complete-game shutout, his team winning 1-0.
Max gets choked up as he recounts the story.
"Because it was so personal and I knew him, that was the most impactful story that I've ever done," Max said.
It's clear that those deep connections mean a great deal to Max.
Those bonds can be formed, with a city, too. Max and his wife moved to Eden Prairie in the early 2000s. They loved it and have stayed, raising their daughter and son in the city.
"I love that there's massive opportunities for kids," he said. "If you want to do something, you can do it."
Sid Hartman's influence
Another important relationship to Max was the one he had with the late Sid Hartman, the legendary Star Tribune columnist. They worked together for decades on TV and radio.
"Sid was such an influential part of my life," Max said. "Every time I feel sorry for myself, I think about him. And I think, 'Here's a kid that didn't graduate from high school.' So how did he get to the top of the field, right? He just doggedly outworked people."
Max has taken to heart that emphasis on hard work.
"To be a great reporter is just fundamental; it's not fancy, you know," he said. "It's fundamental. Show up, show up, show up."
And so Max will continue to do just that, his curiosity leading the way on the sidelines, in the gyms, and on the streets.
Comments
We offer several ways for our readers to provide feedback. Your comments are welcome on our social media posts (Facebook, X, Instagram, Threads, and LinkedIn). We also encourage Letters to the Editor; submission guidelines can be found on our Contact Us page. If you believe this story has an error or you would like to get in touch with the author, please connect with us.