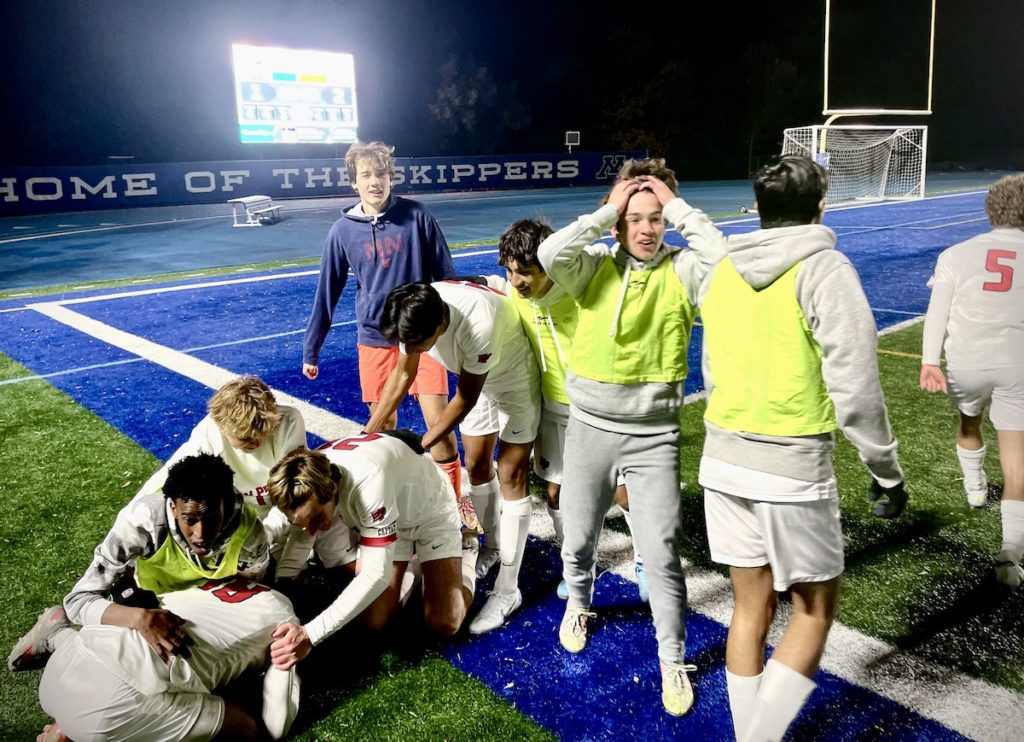 When Eden Prairie defender Zach Fier faced Minnetonka goalkeeper Peyton Olson in the sudden-death penalty shootout at the Section 2AAA boys soccer semifinals on Thursday night, he knew exactly where he would send the ball.
"I picked my spot before I walked up and put it where I wanted it," said the senior, who didn't allow himself to be overwhelmed by the moment. For that, he credits his teammates.
"My keeper (junior Zach Diermeier) put me in a spot where the pressure wasn't there. I could step up confidently," Fier said. "It's more than just me there. It was eight other guys on our team who made (their shots). Without them, we wouldn't be here."
It was that kind of night on a frigid field at Einer Anderson Stadium in Minnetonka. Temperatures dipped to 39 degrees, with winds gusting to 15 mph. Both teams battled the elements – and each other – in a hard-fought contest. When it was over, it was the underdog Eagles advancing to the section finals with a 2-1 shootout victory over their Lake Conference rivals.
The Skippers finished their regular season ranked 7th in the state and were the No. 2 seed coming into the playoffs. The Eagles, seeded third in Section 2AAA, had lost twice to Minnetonka during the regular season. But this night would tell a different story.
"There's so much pressure on those kids to do what they do in those big moments, I don't know how they do it." Eagles co-head coach Rob St. Clair said. "But we've had high pressure moments all year. That's our seventh overtime game. So we're kind of used to it and I'm just really proud of our effort."
The Eagles ventured into overtime in the section quarterfinals on Tuesday night, defeating Chanhassen on senior forward Sebastian Bocanegra-Lima's goal with just five seconds remaining in the first overtime period. Thursday night, they took the proceedings to the next level by winning in a shootout.
But the Eagles have grown familiar with putting in the extra time to earn their wins.
"We're so used to that mental grind, where you understand you have to live moment by moment," Eagles co-head coach Jim Williams said. "I can't say enough about all these kids."
The game was held scoreless through the first half. Both teams created opportunities, but shots were at a premium. The Eagles broke the deadlock when Bocanegra-Lima's ball slipped by Tonka's Olson for a 1-0 lead with 33:41 remaining in the second half.
Minnetonka evened the score with junior Jake Hennen's goal with 6:31 remaining. The game remained tied 1-1 at the end of regulation.
The match went to a penalty shootout, in which five players from each team are selected to make alternating penalty kicks. Spectators from both sides crowded to the south end zone, where the players lined up for the shootout. By the end of the first session, the teams had booted their way to an even draw. Each team scored three goals in five attempts, moving the contest into a sudden-death shootout.
Seniors Erick Molina Montoya and Kristian Princ both scored for the Eagles in sudden death, matching Minnetonka's two goals. Then came Diermeier's turn to shine. The Eagles keeper came up with an enormous save on Minnetonka's Ethan Skistad.
"Our whole team played great. It's about grit," said Diermeier. "I think I got pretty lucky to miss three of them (in the first round of the shootout). I'll take it though. Hey, we move on. That's all that matters."
Diermeier's save set the stage for Fier, who blasted his kick in the back of the Tonka net to seal an Eagles victory.
"Another 'meat grinder' as our coach would say. We've been here all season," Fier said. "We didn't get the result in overtime, but we got the results in the PK shootout. So that's what matters the most."
The team celebrated with a strong turnout of hearty Eden Prairie fans, who braved the elements to see the Eagles advance to the section finals.
"It was just the most amazing game I've ever experienced in my life," said junior forward Ryan Donohue, who made a "make it or go home" goal in the first shootout period. "My heart's pounding so fast right now. I don't even know what to think, to be honest."
The win puts the Eagles on the doorstep of the state tournament. On Tuesday, they will face No. 1 seed Edina in the Section 2AAA finals at 5:30 p.m. The Hornets defeated Shakopee 4-1 in the other semifinal. By MSHSL rules, the section final game will be played on a neutral site at Prior Lake High School. The winner will advance to state.
Comments
We offer several ways for our readers to provide feedback. Your comments are welcome on our social media posts (Facebook, X, Instagram, Threads, and LinkedIn). We also encourage Letters to the Editor; submission guidelines can be found on our Contact Us page. If you believe this story has an error or you would like to get in touch with the author, please connect with us.