SoCal Showdown winner raising funds to compete in world-rankings tournament
A friend's text sent Eden Prairie's Rachel Withers to her computer.
There it was; confirmation.
The email welcomed Withers to United States Archery's Junior National Team. Withers, a high school senior taking online classes through Brigham Young University, competes in the women's compound division, ages 15-19.
While her inclusion on the 5-member team came as somewhat of a surprise, it shouldn't have.
"I won the SoCal Showdown a couple months ago," said Withers, "and then placed fairly high (12th) at the Indoor Nationals in Cincinnati."
Withers also counts top-10 finishes at the 4-H Shooting Sports National Championships, Vegas Shoot (largest indoor archery tournament in the world), First Dakota Classic, NFAA Field and Target Nationals and JOAD Nationals.
"They (USAT) use combined scores from all your tournaments to pick their National teams," she added.
Withers said she's been shooting for 5-6 years.
"I started shooting in elementary school," she said, "but never thought I'd get to this level."
The next level is participating in an international shoot.
"I get invites as a member of the USAT National Team," said Withers.
In March, she'll travel to Colombia, South America, to compete in her first-ever world-ranking tournament.
The opportunity comes with a price.
"As a self-funded member of the team, I have to raise funds to pay for travel, equipment and accommodations," she said. "I'm working at Scheels in the Archery Department and my mom set up a fundraiser."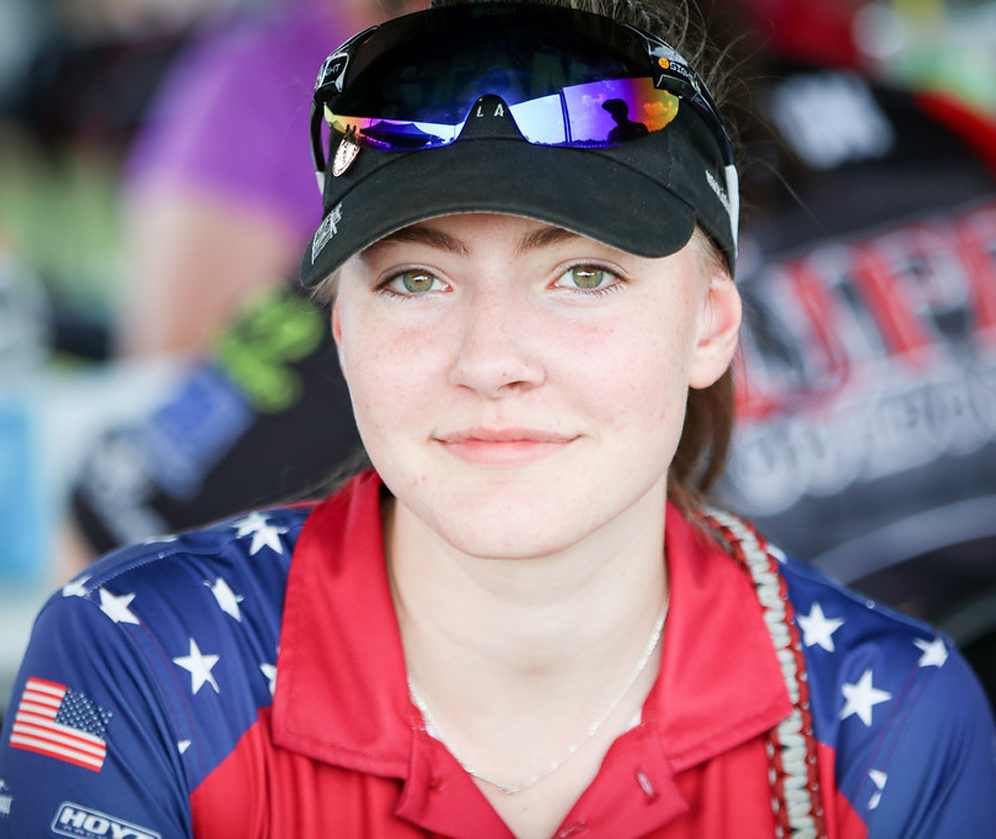 In addition to international-shoot invitations, benefits to being named to the national team include coaching.
Targets consistency
A tournament's qualifying round typically counts 72 scoring-arrows.
"Once you're placed in bracket," said Withers, "you shoot five ends of three arrows each."
Withers shoots a Hoyt compound set at 43 pounds. The limit is 60 pounds.
"There's a fine line between wanting more power and not straining yourself," she said.
Keys to shooting targets include consistency, consistency and then more consistency.
"How you hold the bow has to be the same," she said. "Your release has to be the same and your shot process has to be the same."
This sameness starts the minute she gets to the field.
"You have to stay positive and be cool under pressure," she added.
When asked about adding a Team USA uniform to the mix, Withers said she's been there and done that.
"I wore a USA shirt when I was on the JO (Junior Olympics) Dream Team," she said. "It was definitely nerve wracking."
Her mental game is stronger now.
"It comes with practice," she said.
Withers has been nursing a shoulder issue, which has limited her practice time.
"Right now, I'm shooting a couple times per week," she said. "Before the tournament, I'll spend a week in Texas shooting with my coach, Jesse Johnson."
Quiver with excitement
Having never ventured outside of the United States before, the chance to travel to South America for an archery tournament is beyond exciting.
It goes without saying that traveling to another country to shoot in a tournament wasn't on her radar when she started shooting back in elementary school.
"I'm nervous, but excited," she said.
Goals?
"I don't have a place where I want to finish," she said. "I just want to train the best I can and shoot the best I can.
"If I can do those things," she added, "I'll see where it takes me."
Competing as a self-funded member of the US Archery Compound Junior Women's National Team, Rachel Withers is raising funds to travel to Columbia, South America, to compete in her first world rankings event. To donate, go to makeachamp.com/rachelwithersarchery. Donations will defray costs for entry fees, equipment, travel and accommodations.
Comments
We offer several ways for our readers to provide feedback. Your comments are welcome on our social media posts (Facebook, X, Instagram, Threads, and LinkedIn). We also encourage Letters to the Editor; submission guidelines can be found on our Contact Us page. If you believe this story has an error or you would like to get in touch with the author, please connect with us.