The 58th Annual Metro Invitational Cross Country Meet was hosted by Eden Prairie High School (EPHS) on Saturday, Sept. 16, at Flying Cloud Fields. For the first time, this event was held in the evening, with a tagline of "Under the Lights."
Portable lights and a beautiful sunset lit up the runners as athletes from elementary up through varsity raced around the perimeter and main thoroughfare of the fields traditionally used for soccer and baseball. Food trucks and music, along with scores of cheering fans, made for a fun, festive and energetic event.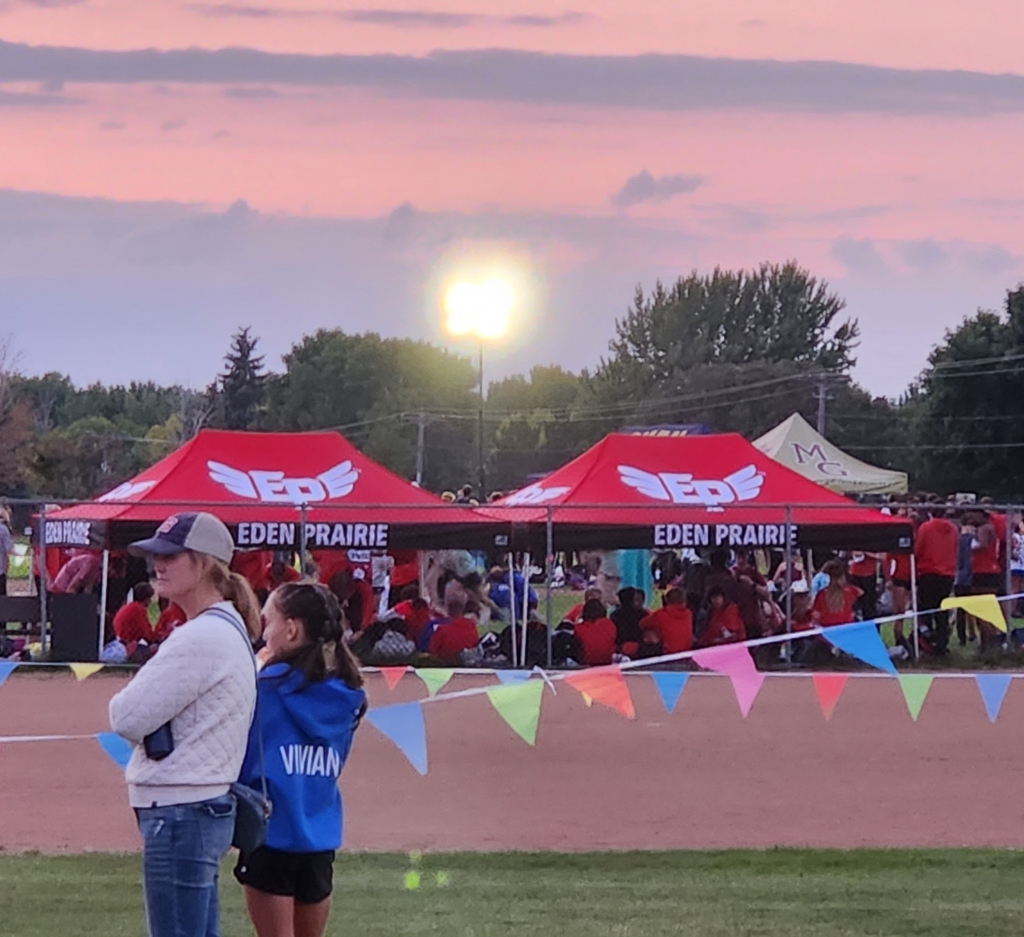 Eden Prairie's assistant cross-country and track coach Molly Malone said, "Coach [Courtney] Brandon worked incredibly hard to pull this off, and we're grateful for the support of the city and TC Running, a local running store company owned by EP cross-country and track '99 alum, Adam Lindahl."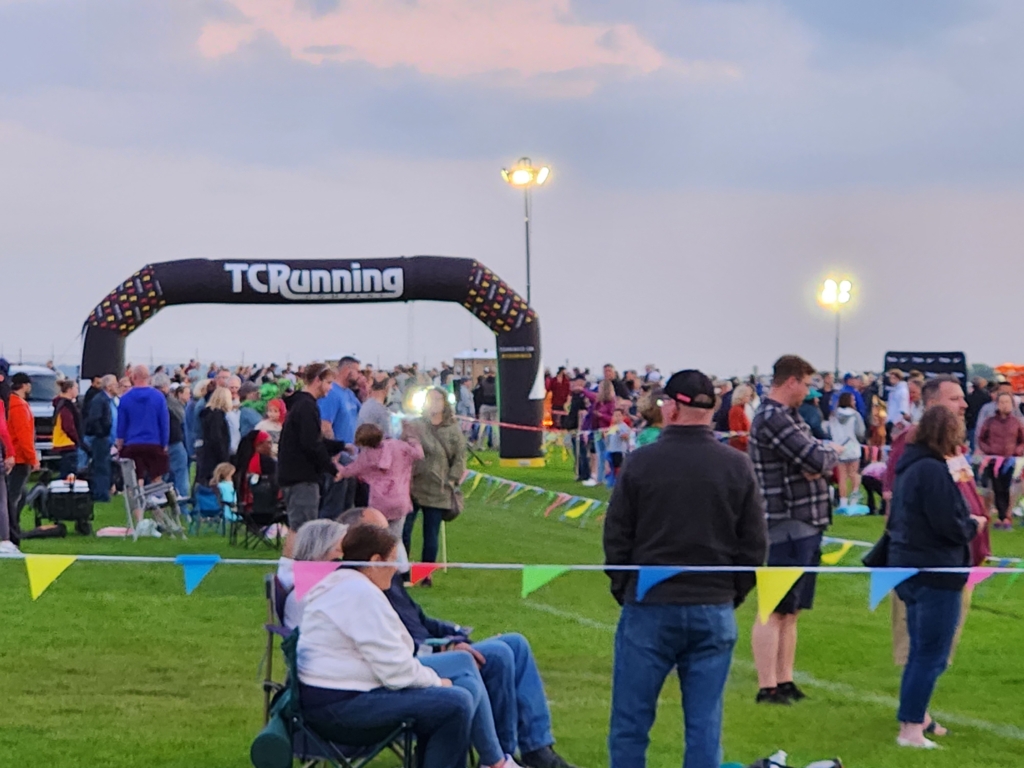 Prior to the Metro Invitational, EPHS head cross-country and track coach Courtney Brandon said, "Our teams did well racing their first 5k of the season at Gale Woods Farm in Minnetrista. Both our girls and boys teams have raced well with their pack running mentality, which very much helps them in the overall team standings. A lot of what we are practicing in workouts is translating to races, and we are excited to see what this team can accomplish the rest of this season."
At Saturday's event, Eden Prairie elementary boys Nash Nienhuis, Will Gardner, Ryan Malone, Bram Hoffman, and Rob Sorensen placed in the top five, while EP elementary girls took the top nine spots: Sophia Patil, Adella Rudberg, Willow Thompson, Lillian Weiler, Eva Klug, Iona Sykes, Cece Moen, Ella Post, and Hannah Zhang.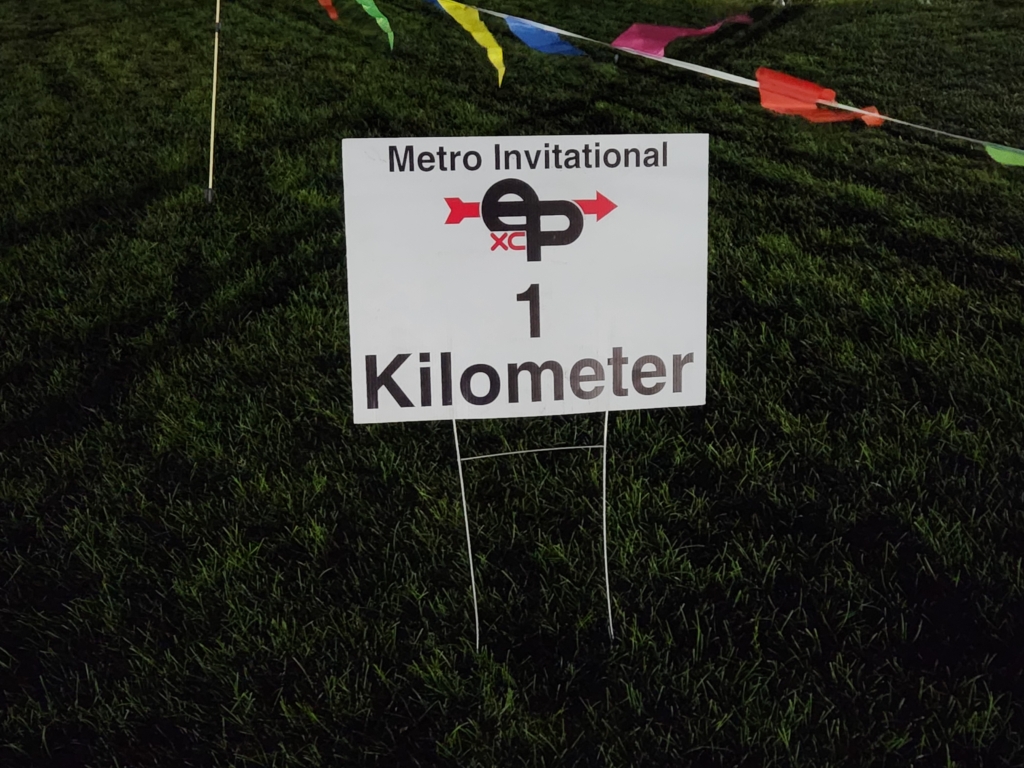 Central Middle School (CMS) boys Ben Donaldson, Benson Farm, and Charlie Fosmer were top ten finishers in the middle school boys race.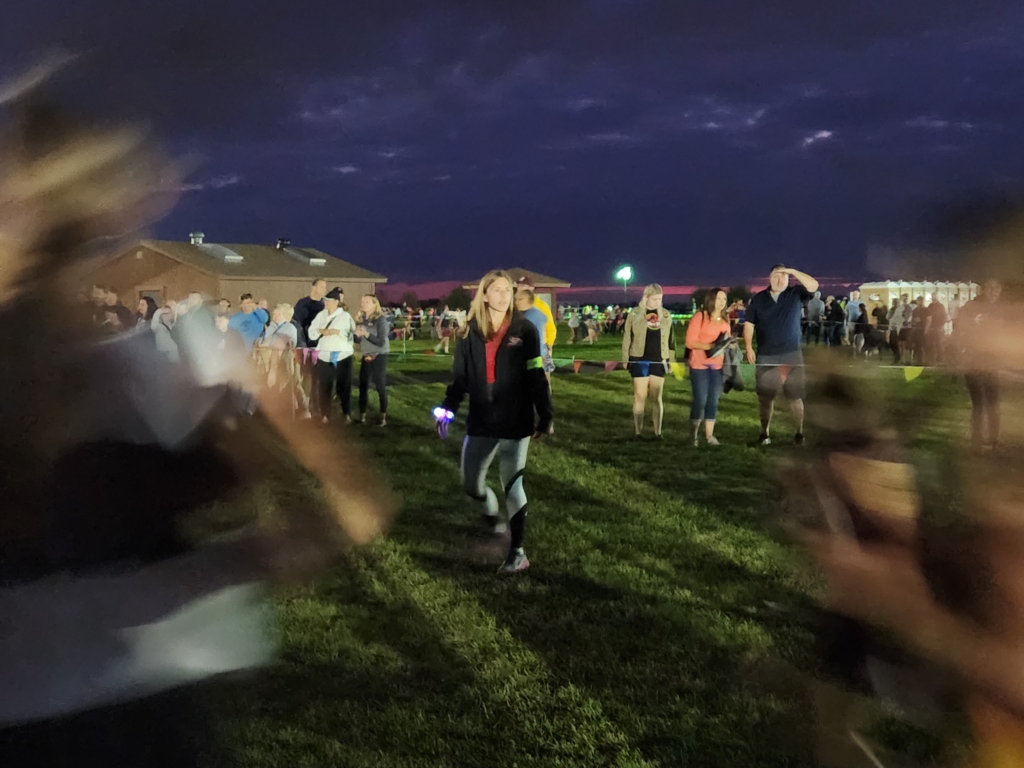 Brianna Peterson came in first place for CMS, with Eden Prairie's Winona Nelson, Raelyn Stuckey, Avery Cooper, Frey Dahl, and Elizabeth Drieslen also finishing in the top ten for middle school girls.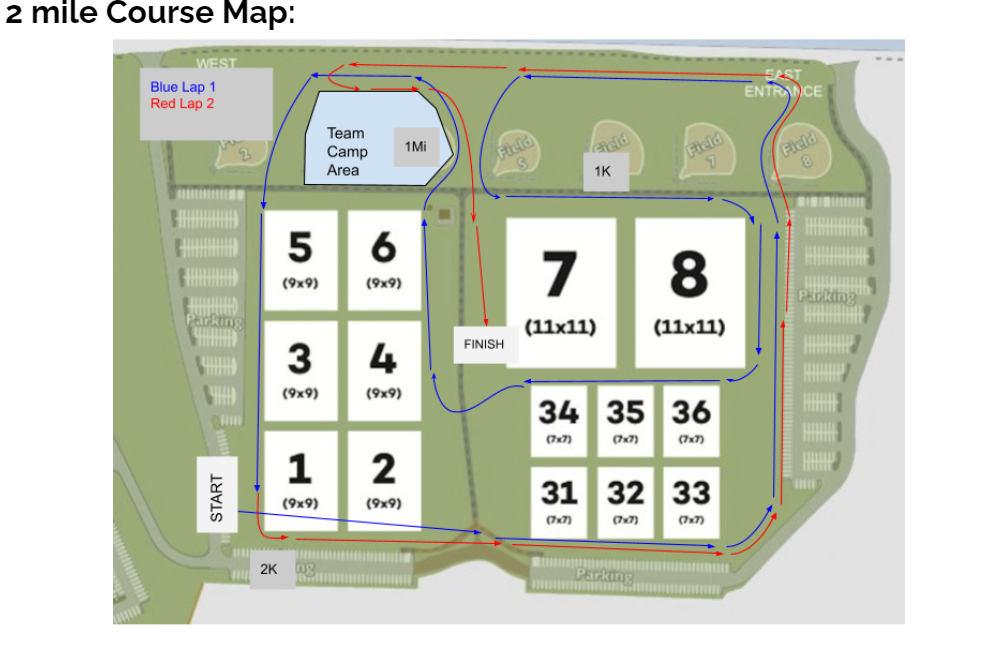 The girls JV top spot went to Greta Long from the joint team of Eagle Ridge Academy and the International School of Minnesota. Also on that team was eighth place finisher, Ava Kletti.
JV boys first and second place went to George Hansen and Nathaniel Thomas from EPHS. Finishing in the top ten were EP's Jacob Holje, Tate Wilker, Tristan Lampe, Anders Holland, and Mark Derouin.
The varsity girls 20th place finisher was EP sophomore Katrina Metzger; junior Elijah Donaldson from Eden Prairie took third place in the varsity boys race.
Rosemount Irish Invitational
Brandon said EPXC has made a strong start to the season, with some great performances at its first two meets. At the Rosemount Irish Invitational on Sept. 1, EP teams raced two miles, which is different from the typical 5k race distance.
Boys JV: The team placed third in a competitive field. Juniors Tavin Koenig and Varun Ashwin Kumar placed 10th and 11th in 11:25.4, and senior Jackson Butikofer placed fifth in 11:33. Blake Chester placed 16th in 11:34.
Girls JV: The team placed second overall. Freshmen Kensley McQuillan, Audrey Schulze, and Haarika Vegunta led the way with their seventh, ninth, and tenth place finishes.
Boys freshman race: George Hansen placed fifth overall in 11:21.
Girls varsity: Fourth place overall in the team results. Sophomore Katie Metzger placed 18th in 12:45, and sophomore Sydney Bond placed 22nd in 12:52.
Boys varsity: Third place overall in the team results. Junior Elijah Donaldson placed fifth in 10:11, and junior Elijah Magare placed 22nd in 10:46.
Gale Woods Farm 5K
The first 5k of the season was the Hopkins Bauman-Rovn Invitational at Gale Woods Farm in Minnetrista, on Sept. 7.
Boys JV: First place in the team standings. Junior Blake Chester had a breakthrough performance and won the JV boys race in 18:00. Jackson Butikofer, Nathaniel Thomas, and Mark Derouin finished closely behind in 18:19, 18:21, and 18:29, respectively.
Girls JV: Third place in the team standings. Junior Mandy Trnka had a solid race and placed fourth overall in 22:16. Junior Leah Lobsinger placed 14th in 22:57, freshman Lauren Santy placed 15th in 23:07, and sophomore Emma Stiele placed eighth in 23:14.
Boys varsity: The boys team won a competitive race with 57 points over Minneapolis Southwest (69), and Marshall (97). Junior Elijah Donaldson placed fourth overall in 15:49, followed by a big pack of Jameson Drieslein, Pallav Chawla, Jake Heimkes, Tyler Doolittle, and Matthew Berge.
Girls varsity: Fifth place in the team standings. EP's top finisher was Katie Metzger, who placed tenth in 19:54.
Go to GSE Timing for full results.