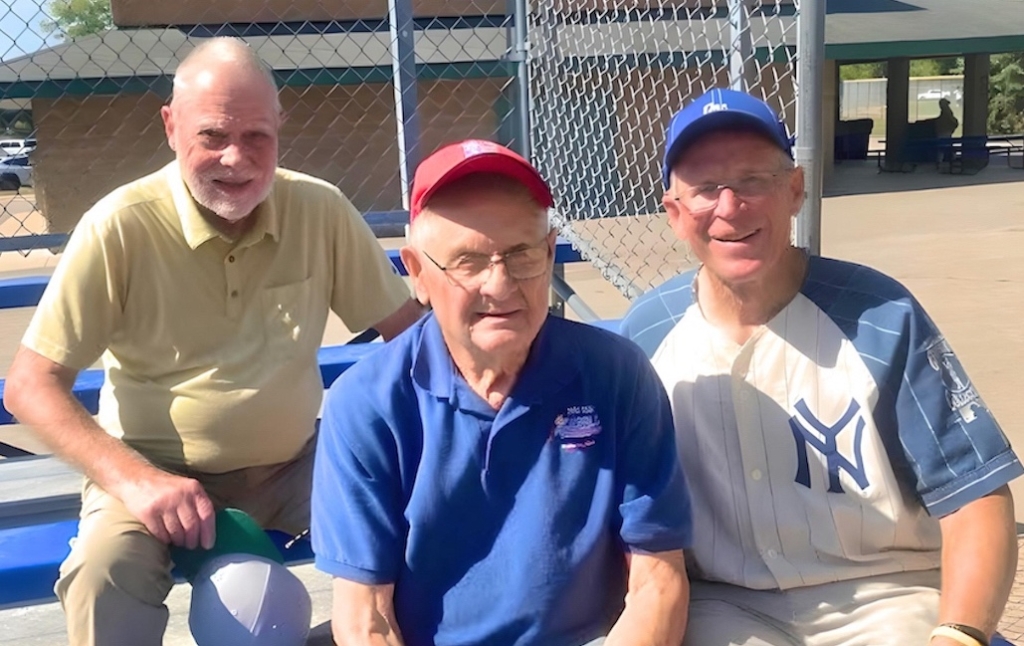 The familiar sounds of the ballfield were in the air on a late August morning.
Ping! The metal bat meets the ball.
Smack! The ball hits the back of the leather glove.
"One out," one of the players says.
The rhythms of the game were instantly recognizable to the players on the field. After all, most of them have been playing some form of it for decades.
The two teams on the field were the Yankees and the Red Sox. But this wasn't Yankee Stadium — this was Eden Prairie's Miller Park, playing host to West Metro Senior Softball (WMSS).
WMSS now has more than 150 players on 10 teams. There are four teams in the more competitive National Division and six in the more recreational Northwoods Division.
The two main rules to play? You have to be over 50. And you have to like fun.
It's good that the group emphasizes the latter, as there's certainly no shortage of fun.
"Is softball a little bit of a passion? Or are we all crazy?" player Paul Palmer said with a laugh.
Growth and change
WMSS began in 1991 when a team from Richfield played against players from Edina, according to Bob "Doc" Hartshorn, who has been the commissioner since 2005. Hartshorn's nickname isn't just for fun — he was an OBGYN.
"The Richfield guys would be in their red shirts and the Edina guys in green," he said. "They played at (Richfield's) Taft Park."
The group grew, adding more players over the decades. It transitioned to playing its outdoor games in Edina, and, about 20 years ago, began playing indoor games at the Academy of Holy Angels StarDome in Richfield during the colder months.
WMSS plays outdoors from May to October, then moves indoors for "Domeball" in November.
About five years ago, WMSS moved its outdoor season to Eden Prairie, playing at Round Lake Park and Hidden Ponds Park.
That recent August morning was the first time WMSS had played at Miller Park, and Hartshorn praised the city for getting the fields ready.
"They were out here early this morning to drag the fields and put the bases out," he said.
Palmer was also pleased with how the move to Eden Prairie went.
"Eden Prairie has been really good to us," he said.
Hartshorn said there is a possibility they will use Miller Park next season.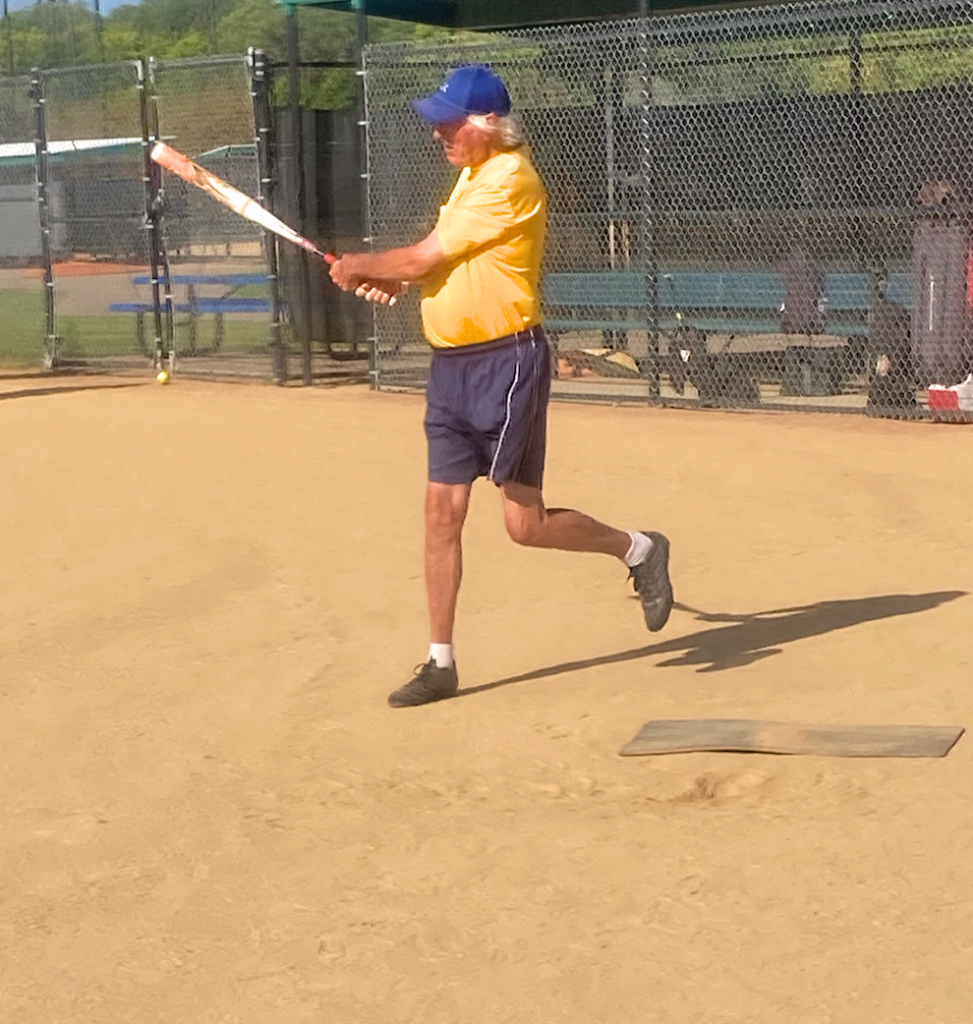 'That goofy ball'
At 89, John Carlson is WMSS's oldest player. He has a smooth lefty swing that has been honed over more than three decades of playing senior softball.
"I started playing with (Bloomington's) Born Again Jocks," he said.
While the Northwoods Division players are certainly competitive, and the outcomes matter, the group agrees that there is less competitive fire than in the National Division. As more players joined, Hartshorn found it necessary to split into the two divisions to strike a better competitive balance, he said.
To keep things moving, games are seven innings and two innings are played at a time. Instead of the regular four balls and three strikes, WMSS shortens things by using three balls and two strikes in its rules.
On Aug. 31, things moved even faster. That's because WMSS held its annual one-pitch tournament that day. In what was otherwise a game played with WMSS rules, each batter only got one pitch.
"You get one pitch, so you better swing," Hartshorn said.
There were a lot of hits, a few misses, and plenty of laughs.
"I get dizzy just looking at him," Hartshorn said about a player wearing a Hawaiian shirt.
The jovial nature is what keeps people coming back, according to Palmer.
"It's a great atmosphere, and you get to do it with lifelong friends," he said.
A bonus? There's a picnic lunch every game day.
And yes, there are fans in the stands. Family, friends, and WMSS alumni also come out to enjoy the games and camaraderie.
One alumnus, Gene Bartz, was at Miller Park taking in the one-pitch tournament.
"Some of the best people I've met in my life are out on that field chasing that goofy ball around," he said with a smile.
Comments
We offer several ways for our readers to provide feedback. Your comments are welcome on our social media posts (Facebook, X, Instagram, Threads, and LinkedIn). We also encourage Letters to the Editor; submission guidelines can be found on our Contact Us page. If you believe this story has an error or you would like to get in touch with the author, please connect with us.