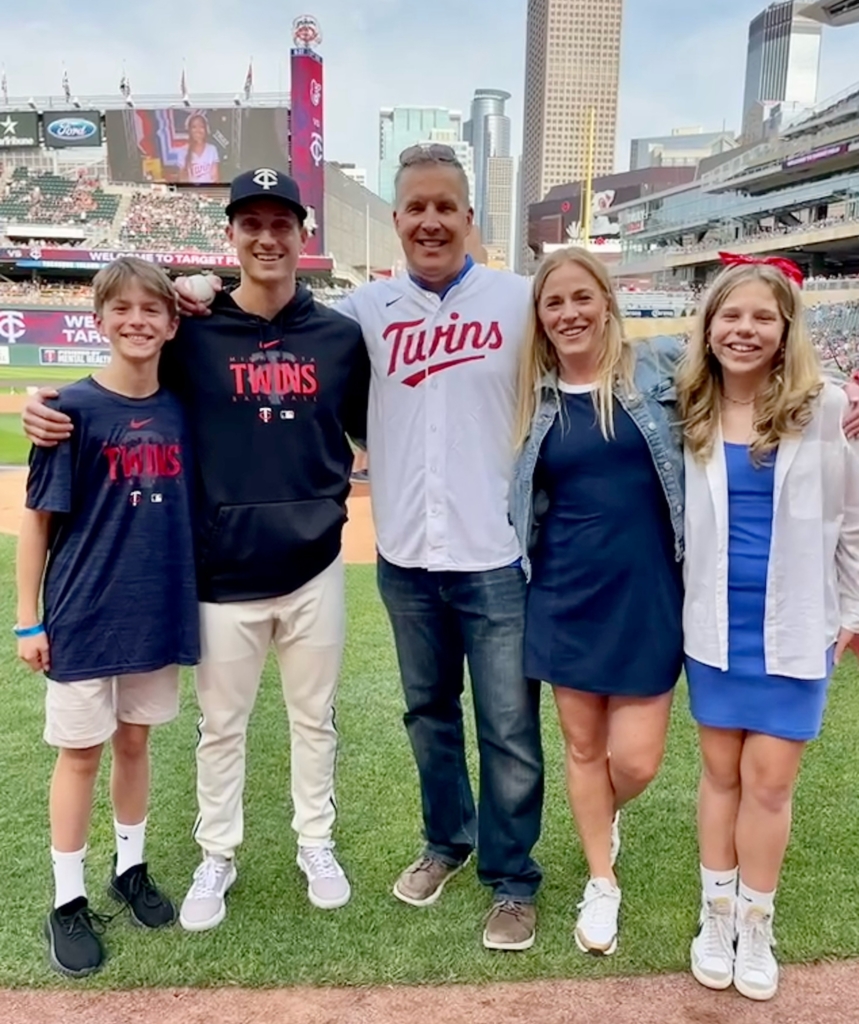 It was the night of Sept. 11, 2001.
Following the attacks on the twin towers at the World Trade Center, the Pentagon and United Flight 93 in western Pennsylvania, U.S. Air Force pilot Rob Evert was in the air, high above the Twin Cities.
"My first duty station was Grand Forks, North Dakota," he recalled. "I was flying refueling missions over Minneapolis that night. They didn't really know if there's gonna be another attack and so they had fighters patrolling over every major city in America, trying to prepare for the next suicide mission, if there was gonna be one."
Before Evert entered the Air Force, he was a 1994 graduate of Eden Prairie High School and a standout tight end and defensive end for the Eagles. As a junior, Evert was a member of head coach Mike Grant's inaugural team at Eden Prairie.
Evert's performance on the high school gridiron earned him a scholarship to the United States Air Force Academy in Colorado Springs.
After four years of playing football for the Falcons and getting his undergraduate education, Evert spent the next decade serving as a pilot on international tanker and airlift missions, including over 100 combat missions. In addition to Operation Noble Eagle following 9/11, Evert served in multiple campaigns including Operation Iraqi Freedom and Operation Enduring Freedom.
Following 25 years of service, Evert retired from the Air Force in April. And with countless missions and a lifetime of adventures during his tenure, the lieutenant colonel learned more than his share of life lessons throughout his career.
But one takeaway comes to mind when asked which stands out the most.
"Don't ever say no to an opportunity," he said without hesitation. "That's the biggest one and why do I say that? The military is good at putting opportunities in front of you that, at first glance, look like 'Oh gosh, do I really want to do that?'"
Evert points back to his first assignment in Grand Forks, North Dakota. That experience introduced him to a rule he learned to live by: Don't judge a place before you get there.
"Everyone's saying, 'Oh, man, sorry, you drew a short straw. You have to go up there in the dead of winter," he recalled. "'The warriors of the north' they called themselves at the time, but it was the best assignment I had in the military. Lifelong buddies."
Honored at Target Field
Evert lives in Colorado Springs with his wife, Kristin, and 12-year old twins, Connor and Kendall. While the next adventure is yet to be determined, Evert and his family were in the Twin Cities this month, where he was honored by the Minnesota Twins as the "Vet of the Day." As is customary, Evert was invited to throw out the first pitch at Target Field before the Twins game with the Orioles.
"You definitely feel like you're on an island," he said when asked if he was nervous for the ceremonial throw. "Home plate (at Target Field) definitely looks farther away than it does on a high school ball field in Colorado as you're practicing. You're out there alone."
It helped that on the receiving end of the pitch was a fellow Air Force Academy graduate, Twins relief pitcher Griffin Jax.
"He said, 'Hey, man, I'll definitely want to catch that first pitch.' So it was Academy grad to Academy grad, and it was fun," Evert said. "Academy grads rarely make it to the big leagues in anything, NFL or otherwise. So, he's made a name for himself, which is great."
After the pitch, Evert was ushered to the flagpole, where he raised the flag in right field.
"My kids were there and we got to hold the flag, and then they raised it and it was a nice, patriotic moment," he said. "That actually meant more to me than the first pitch. Being able to do that was just good closure on a career."
Evert says he will miss the camaraderie with his fellow airmen the most, citing the bonds and connections of being part of a team.
"It's the unit cohesion and moving towards a common mission which, of course, was defensive of the nation," he said. "I always remember retirees saying that 'Ah, you're never going to have that connection in your life again, at least in a workplace environment.' And even in the few short months I've been out, I've learned that. And so I will miss that for sure."
But the military life separated Evert from his family on and off for the past 25 years. While he had more stability in the latter half of his career, he was still "fair game to be sent to faraway places." And he was.
"I'm not going to miss that," he said. "At least now, you can write the rest of your life story. You can write your own script and decide what you want to do day to day."
You won't find a retiring military officer better prepared for civilian life.
Evert earned his MBA at the University of Minnesota's Carlson School of Management and has a Ph.D. in Strategic Management at Texas Tech University. He spent the last half of his 25-year career at the U.S. Air Force Academy as a professor of management and entrepreneurship.
While the next chapter awaits, Evert remains patient on his next move, but hopes to blend academics with opportunities in the business world.
"I am just going to be very intentional on what I do next," he said. "I tell everyone I'm blissfully retired at the moment. Being a full-time dad, a full-time husband and investigating, not to be vague because it is vague. I'm just looking at options right now."
Whatever he chooses to do next, you can be certain Evert will be open to new opportunities.
"And at the end of the day, the Air Force puts you in a position to succeed and I pursued some of those things on my own," he said. "But don't say 'no' right away. Don't judge a book by its cover, right? Every opportunity might be better than you think."
Comments
We offer several ways for our readers to provide feedback. Your comments are welcome on our social media posts (Facebook, X, Instagram, Threads, and LinkedIn). We also encourage Letters to the Editor; submission guidelines can be found on our Contact Us page. If you believe this story has an error or you would like to get in touch with the author, please connect with us.