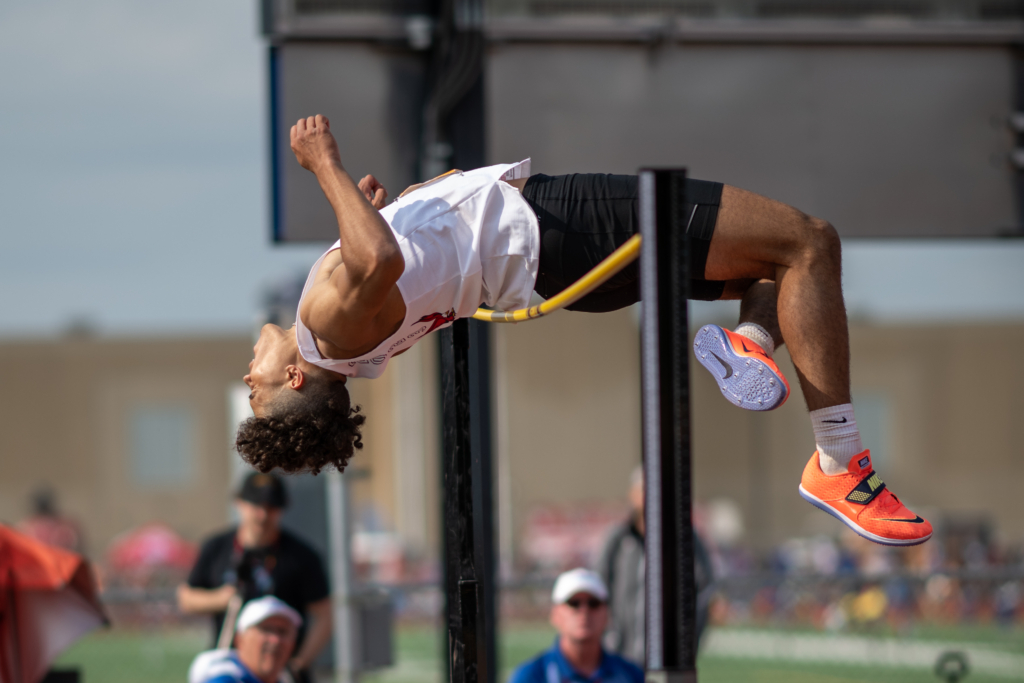 The Jordan family household in Eden Prairie is about to get a bit quieter.
After a year highlighted by trips to both the football and girls basketball state semifinals, and more recently, six top-ten finishes in the boys and girls state track and field meet – which included a first, second and two fourth-place finishes – the Jordans are anticipating a brief but unusual break in the hectic pace they've been keeping for more than a decade.
"It will be a little bit more calm and serene around our house, yes," Crawford Jordan said, looking ahead to the coming year. "But we're not looking forward to that."
Crawford and his wife, Sarah Jordan, will be taking their son, Devin, to the Air Force Academy later this month, where the straight-A, National Honor Society student-athlete and recent graduate of Eden Prairie High School will be attending college this fall and playing football for the Falcons.
"We'll try to get out to Colorado as much as we can and support," Sarah said. "We'll try to get to games whether they're at the Air Force Academy or any other states that they're playing in."
The Jordans are accustomed to traveling from venue to venue, not only to watch Devin play football and compete in track and field for Eden Prairie; they're also kept busy by their daughter, Vanessa. The soon-to-be junior at Eden Prairie also runs track for the Eagles, and will be a co-captain on the girls basketball team next season.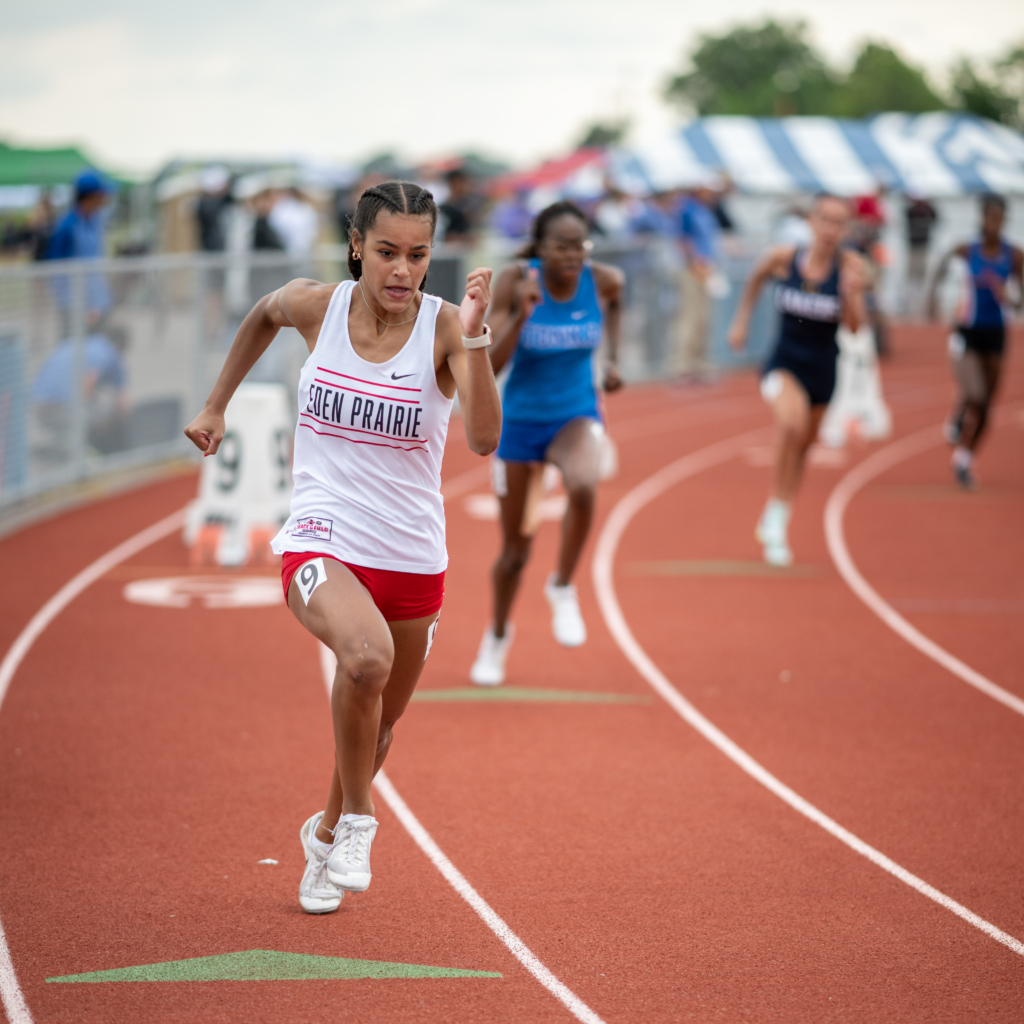 "It's always coming and going on the move and we wouldn't want it any other way," Sarah said during a phone call from her car where, along with Crawford, she was traveling from Vanessa's Metro Stars summer league basketball game on Saturday.
"We're an athletic family," she added. "And we are there to support any and all things that they're a part of, and we thrive off it. This is what we've lived and this is what we know."
Athletics brought Sarah and Crawford together while attending the University of Minnesota. Sarah played basketball for the Golden Gophers, and Crawford was a four-year starting safety and captain of the Gopher football team.
Fast-forward 25 years and sports participation continues to shape their lives as they support the efforts of Devin and Vanessa across all seasons.
"We've been fortunate not to have to 'divide and conquer,'" Crawford said. "With their schedules, we've been able to be with both of them in all of their endeavors and all their events and all their games."
Devin and Vanessa have run track together for the past three years at Eden Prairie, placing them in the same meets at the same time – a welcome arrangement for their parents in the stands.
"That was just rare to have male and female siblings be in the same place during an athletic event," Crawford said gratefully. "That was the biggest treat of all."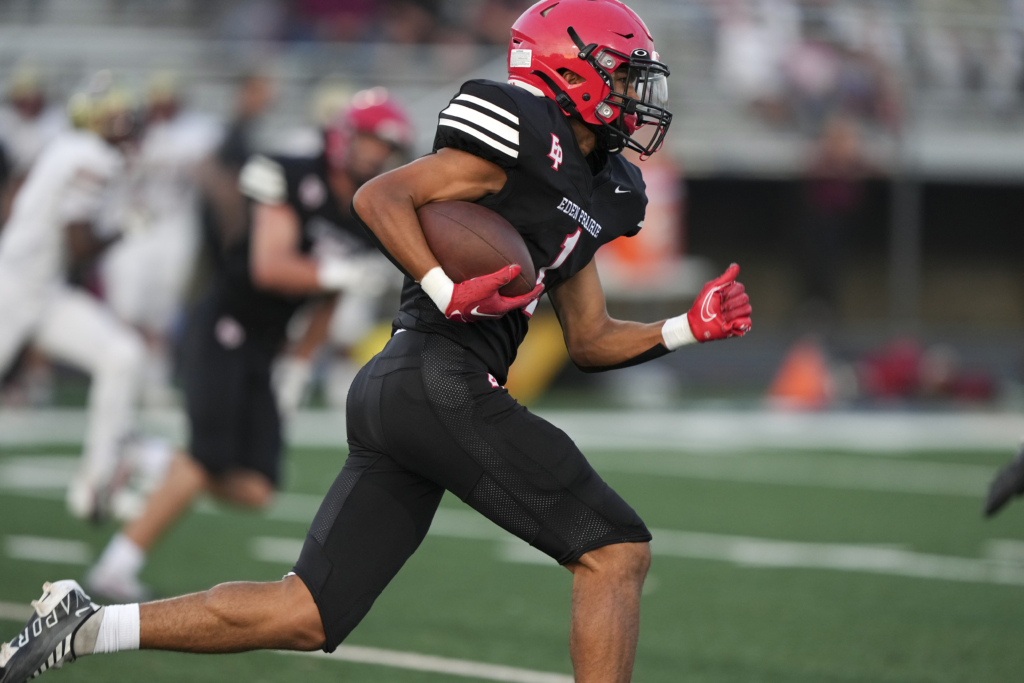 The Air Force Academy will be getting a 6-foot-2, 190-pound safety in Devin, who also saw time at running back for the Eagles, scoring seven touchdowns his senior season on his way to first-team all-state honors. He posted 46 tackles and three interceptions for Mike Grant's team, which reached the state semifinals last November.
Meanwhile, Vanessa was a key role-playing guard off the bench for Ellen Wiese's girls basketball squad, which also reached the state semifinals in March. As a captain next season, she and her junior teammates will lead a squad with no returning seniors.
To put an exclamation point on the past year, both Devin and Vanessa spent the spring shattering records in track and field on their way to the state meet, where Devin captured the state title in the triple jump, took second in the high jump and fourth in the long jump.
But that performance, which earned state track meet MVP honors, may not have been the highlight of the weekend for Devin, who also went through commencement ceremonies as a graduating EPHS senior.
"It was fun," he said. "I was spirits high after winning the triple jump and then I got to go and have another huge moment in my life graduating. It was a great day overall."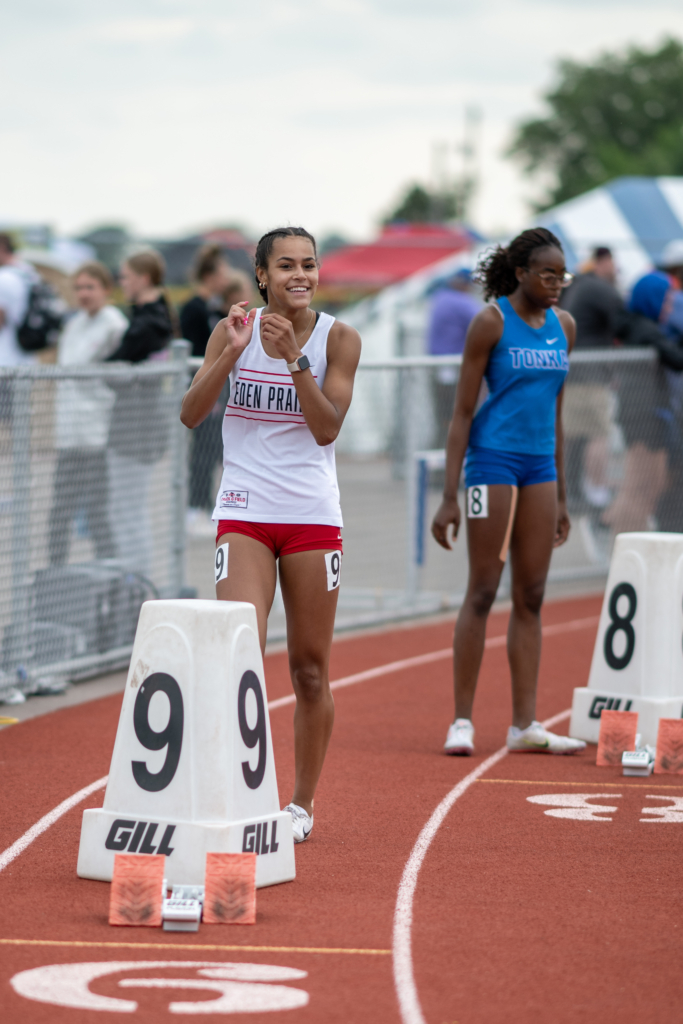 Having just finished her sophomore year, Vanessa will have to wait a few years before her graduation. But like her brother, she's been excelling on the oval for the Eagles since eighth grade. At the state meet, she placed sixth in the 400 meters and was a member of the 4×200 and 4×400 meter relay teams, which finished fourth and ninth, respectively.
As a ninth seed in the 400 meters, Vanessa wasn't sure she'd make the final heat, so her sixth-place finish came as a surprise.
"It was a really competitive group of girls. And a lot of our times were really similar," she said. "And then when I did make it to the finals, I was just like, 'I've got one more race. So I might as well just try to go out as hard as I can.' And yeah, I ended up getting sixth. So that was pretty cool."
On their way to the podium at state, both Vanessa and Devin broke a number of records over the course of the spring, with Devin eclipsing the school mark in both the high jump as well as breaking his own school record set earlier this season in the long jump. He also came within an inch of the school record in the triple jump, which also stands as the state record.
Vanessa set the EPHS record in the 400 meters and, along with her teammates, set the school record in the 4×200 meter relay, breaking a mark they had set last season.
Vanessa's biggest fan, besides her parents, might be her older brother, who was thrilled to see his sister excel at the state meet.
"During the track season, I watch all of her races," Devin said. "I'm pretty invested in watching her as well. I might have been more excited when she made it to state in the 400 this year than she was."
Devin's achievements have provided motivation for Vanessa. Both were named 2023 EPHS boys and girls track most valuable teammates; and both rise above sibling rivalries to support one another on the field of play.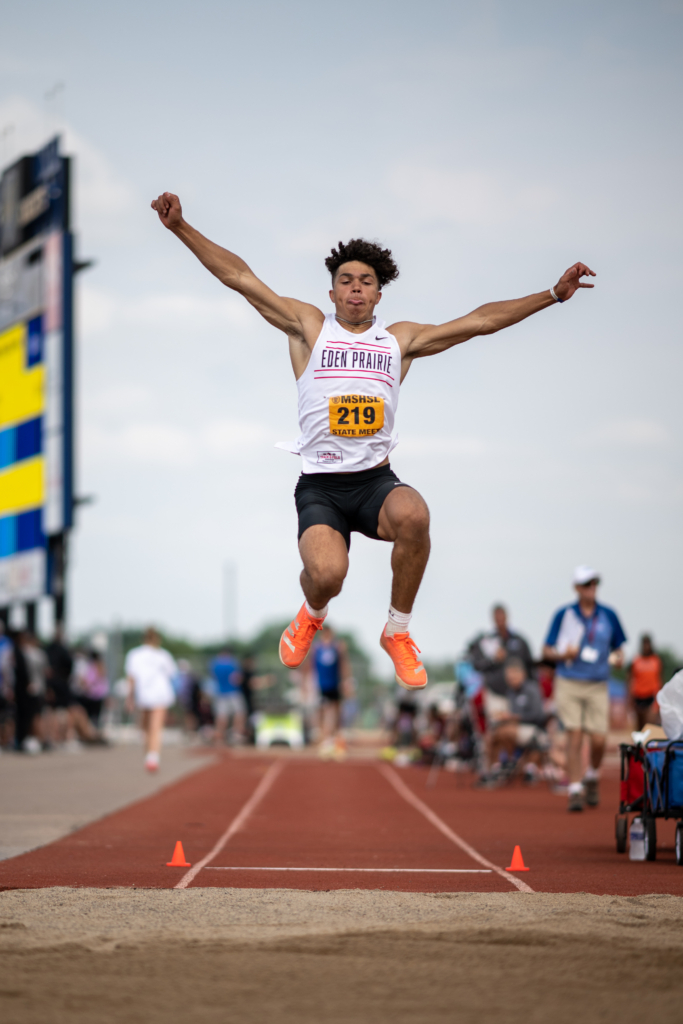 "I definitely do look up to him," Vanessa said. "He just motivates me to be better in all my sports and yeah, he's just a great person to look up to, especially with all the things that he's done. And I know that I can do them too."
When Vanessa was participating in the long jump this season, Devin stepped in to provide advice and guidance. The gesture gave their mom a sense of pride, not to be equaled by any number of state titles.
"Devin was looking at a film with her," Sarah said. "Crawford would take little pictures of her approach and her jump and then show it to her afterwards. And Devin was looking at it too and was able to give her feedback on what she needed to do with her feet and her arms.
"That was kind of a cool moment as a mom to see those two coming together."
Devin might have gotten his coaching instincts from his parents. Sarah is an assistant coach on the Eden Prairie varsity girls basketball team and coached youth basketball when both Devin and Vanessa were younger.
"I like her being on the coaching staff," Vanessa said. "She's been our travel coach for a few years before I started playing in high school. She was the head coach all those seasons, so I think it's cool having her be one of the coaches again for high school.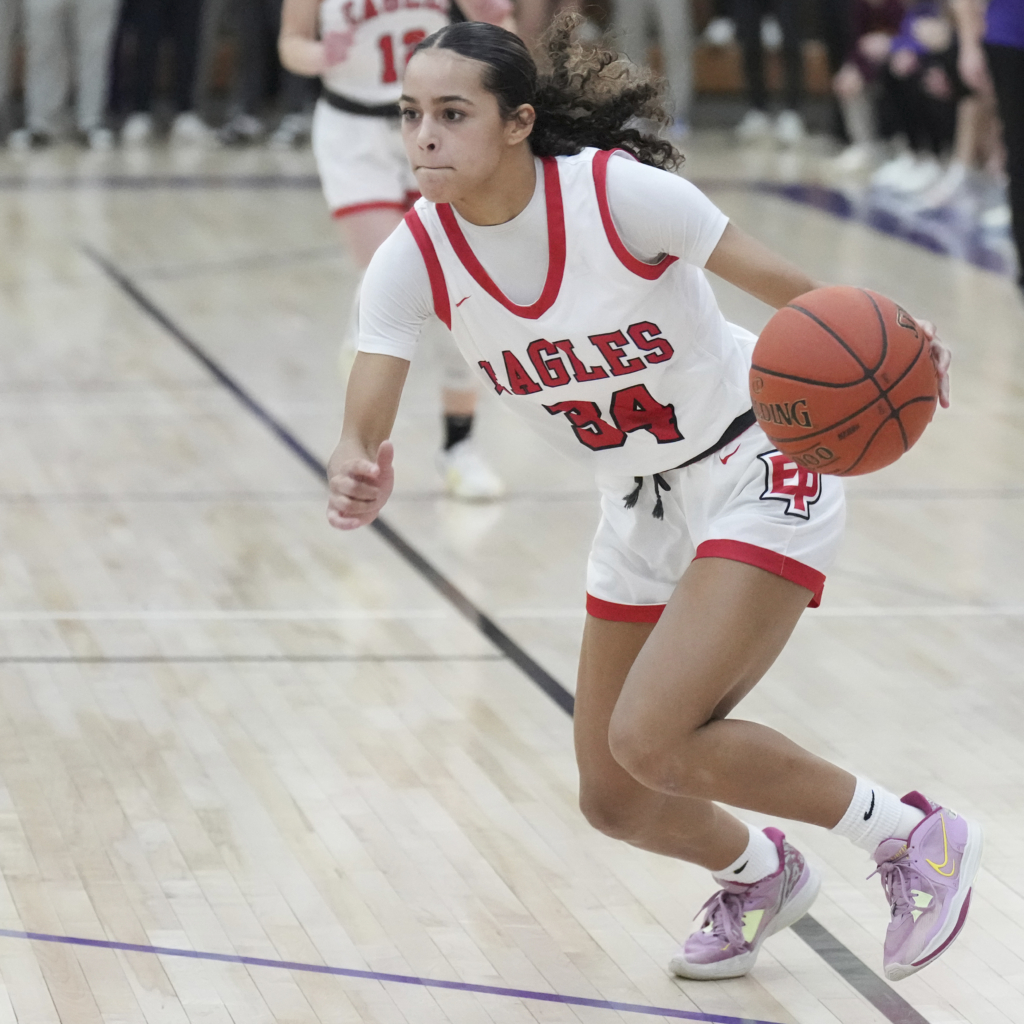 "It's nice having my mom being on the team and getting to experience everything with me."
Crawford coached track for both Devin and Vanessa until middle school. He also coached Devin's youth league football teams in the Eden Prairie Athletic Association through eighth grade.
That experience with Devin and his teammates, season after season, made Eden Prairie's run to the state semifinals last fall all the more satisfying.
"I've watched that class come up all the way through, since they were five, six years-old," Crawford said. "And just seeing them developing and having been a part of their journey, continuing to play football and seeing them graduate and a lot of them going to play at the next level is really rewarding."
Devin's journey now takes him to the shadows of the Rocky Mountains, where he's considering running track as well as playing football at the Air Force Academy. And while he hasn't settled on a major, he's leaning toward studying engineering.
"I talked to two of the coaches that really informed me what I should expect if I went to the Air Force Academy," Devin recalls. "But when I actually went on my visit there, just the campus itself, everything was top tier."
Devin said he is feeling "a little bit nervous, a little bit anxious, but excited" about making the move to Colorado Springs.
"I think it'll be a really good time," he said. "I know a few other people that are going there right now. So I'm excited for sure."
The Air Force Academy opens its season at home on Sept. 2, and has road games in Houston, San Jose, Annapolis, even Hawaii. The Falcons will also face Army at Empower Field at Mile High in Denver and travel to Boise State to battle the Broncos on their unmistakable blue turf.
And don't be surprised to see the Jordans in any or all of those destinations. Their relatively lighter schedule at home in Eden Prairie means a bit more time for travel.
"It definitely will be more quiet, but I'm excited for him," Vanessa said of her brother's next chapter. "And it'll be fun to hopefully go to his games. It'll be a cool experience.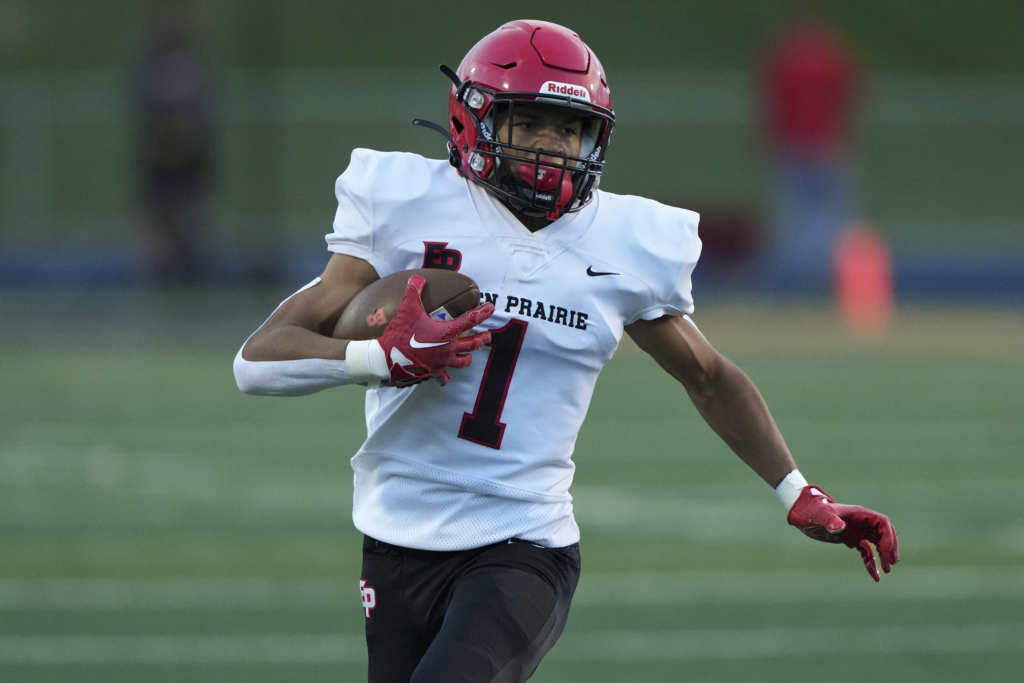 Comments
We offer several ways for our readers to provide feedback. Your comments are welcome on our social media posts (Facebook, X, Instagram, Threads, and LinkedIn). We also encourage Letters to the Editor; submission guidelines can be found on our Contact Us page. If you believe this story has an error or you would like to get in touch with the author, please connect with us.