Elizabeth Liu's dream of becoming an Eden Prairie High School varsity pitcher began at age 11. Her dad, Lou – like all parents of new pitchers – sat on a bucket for hours catching thousands of pitches, bruised legs a constant reminder.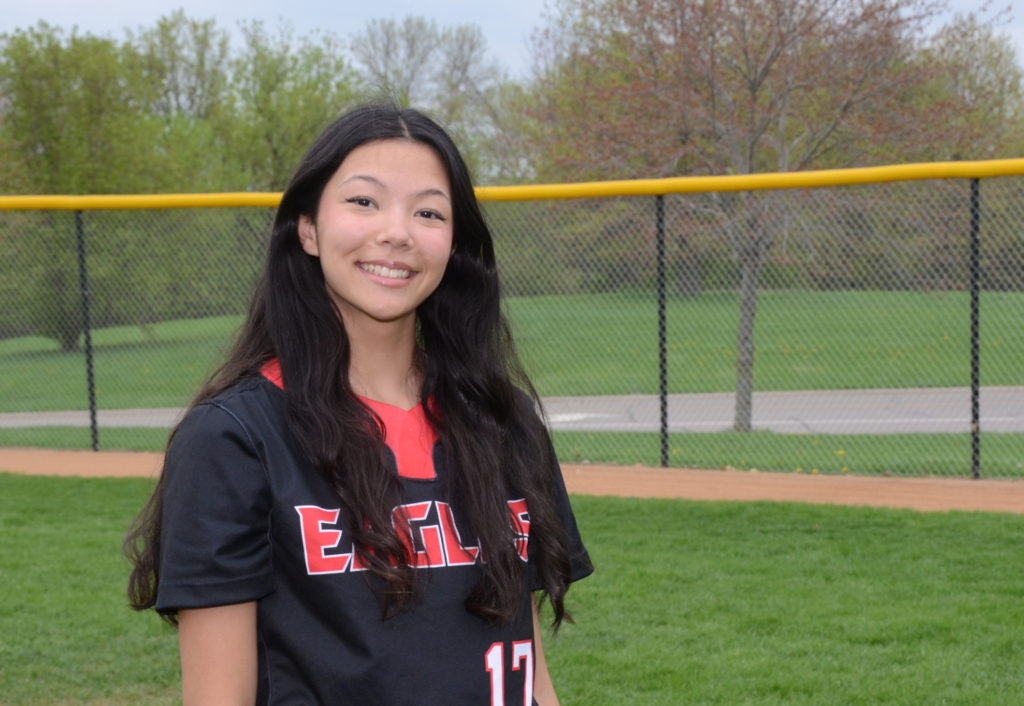 That dream was alive and well at the beginning of her junior year in 2022. There were going to be opportunities to back up fellow junior, and starting pitcher, Kari Welter.
On April 11 – Elizabeth's number was called to finish up a game against Chaska.
"I pitched the last inning," she said. "It was the first game of the year. I pitched the last inning on varsity, and that was it."
The injury
The next day at practice in the Prairie Dome, Elizabeth was one of the fielders in a "hot box" drill where a runner is caught between two bases and defenders work together to tag her out.
The runner faked a move, and Elizabeth wheeled around to change directions. Instead, her foot caught in the turf and her knee snapped. "I was close to passing out," she said. "I don't really remember it that much. I was in a lot of pain. I saw a bunch of stars. That's kind of all I remember about the incident. It was not a fun moment."
Elizabeth had suffered damage to four major structures of her left knee, including the medial collateral ligament (MCL), the lateral collateral ligament (LCL), the meniscus, and shredded her anterior cruciate ligament (ACL).
She underwent surgery a month after her injury and began rehab.
Rehabilitation got off to a good start, Elizabeth said. "But it was just a really long and slow process."
Doctors initially told her to expect a nine-month recovery, but problems quickly popped up. "One of the patella ligaments in my knee is really prone to getting tendinitis and it's been an on-and-off thing throughout my whole recovery," she said.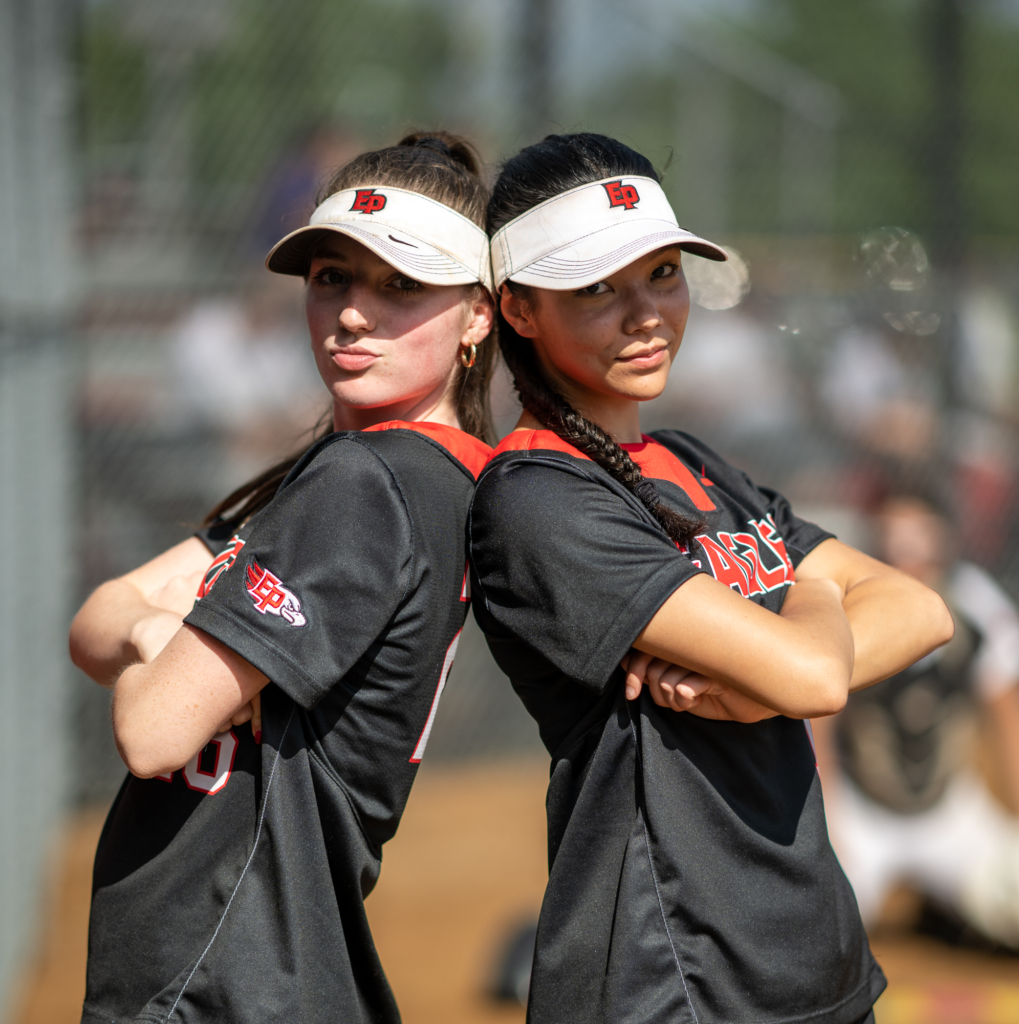 The goal of rehabilitation is to build strength in her quadriceps. After surgery, her thigh was temporarily paralyzed to take pressure off the knee, her doctor told her.
"I couldn't flex or move my thigh at all for a month," she said. Because of that, her muscles atrophied and she lost 15 pounds.
Physical therapy has helped, she said. She's gained the 15 pounds back – plus an additional five pounds, she added proudly.
"So, I'm doing good," she said. "It's just been a long journey."
'I made it back'
Part of that journey has included her presence in the varsity dugout last season and this season – her senior year, interrupted only by physical therapy sessions.
She admits it's been a struggle at times.
At first, she felt isolated. "It's just hard being separated from the team," she said. "That's one thing that I struggled with, even though I feel like my teammates made an effort to make sure I never felt that way. I feel like that's just a natural way to feel when you're injured."
She credits her family, friends, and especially those teammates for getting her as far as she has, she said. "I feel like I had a really good support system and it really meant the world to me, because it was difficult," she said.
Her teammate, senior Grace Streed, admired Elizabeth's efforts to get back on the field.
"Elizabeth's patience and diligence throughout her recovery has been so inspiring," she said. "She never lost heart, and she worked hard toward the goal of pitching a game again. I want to be a teammate like Elizabeth. During her recovery time, she loudly cheered us on while quietly waiting her turn."
Fellow senior Kari Welter praised Elizabeth for her team-first attitude.
"Even after her injury, she thought about the team more than she thought about herself," she said. "Elizabeth pretty much lost three out of her four years playing high school softball; freshman year due to COVID, and then junior and senior (year) due to injury.
"She stayed positive in the dugout and helped our team by videotaping our swings. Elizabeth is a caring person that any team would be very lucky to have!"
Senior Jenna Fryar called Elizabeth "an amazing teammate and friend."
"I couldn't have imagined my softball career without her in it," she said. "And her strength to persevere through such a difficult injury … I am incredibly proud of her."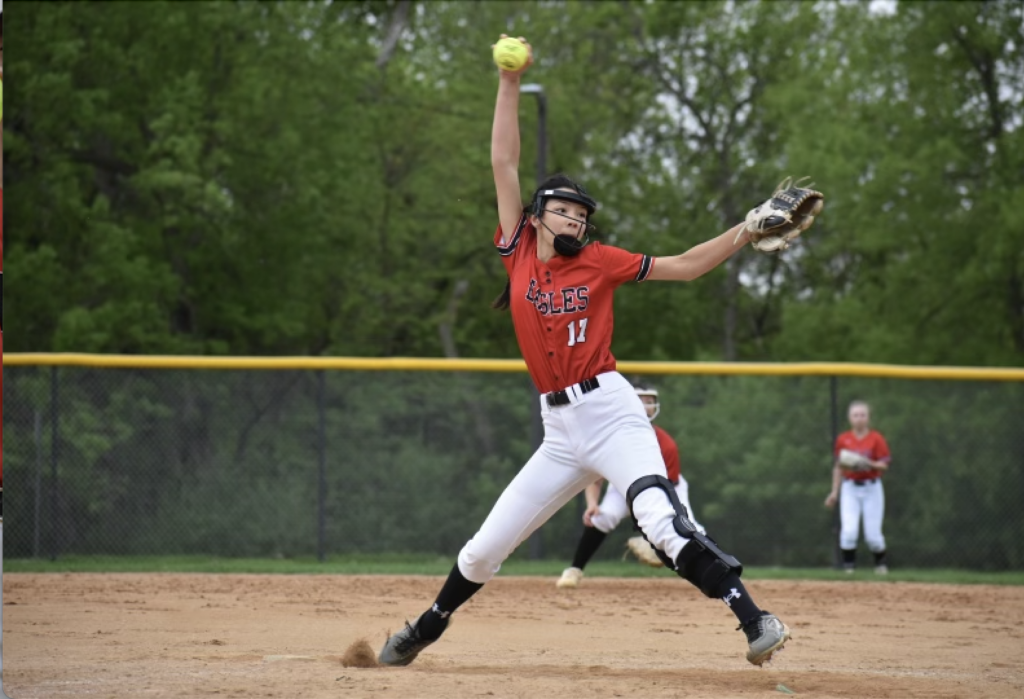 Elizabeth traveled with the team in March for the traditional spring break trip to Cocoa Beach, Florida. While she was limited physically, being with her teammates made a positive difference, she said.
As the season progressed and her knee continued to improve, coaches began discussing ways to get her on the mound one more time during her final high school season.
Her physical therapist and doctor gave her the thumbs up to test her knee by pitching a few innings in a May 12 junior varsity home game against Buffalo.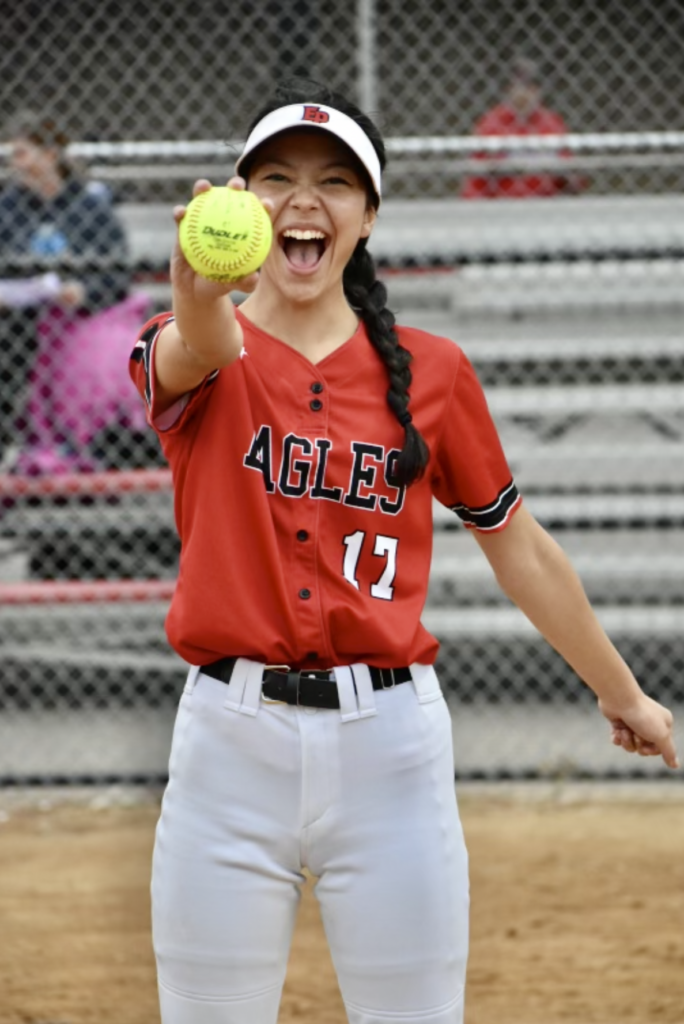 "That really made my whole day," she said. "I couldn't fall asleep that night because I just I felt like I didn't want the day to end. It made me so happy and I just felt like I got there. Like I made it back."
The team won 10-0, and Elizabeth pitched four innings in a shortened run-rule game to earn the win and a game ball.
One more time?
Her coaches also wanted to get Elizabeth into a varsity game at the end of the season. Head Coach Dan Rubischko asked her what she thought about going in for the last inning of the varsity's final regular season game against powerhouse Maple Grove. She liked the idea.
That May 19 game was also Youth Night and garnered one of the biggest crowds of the season. The Eagles played the No. 2 ranked team in Minnesota to a 1-1 tie through five innings. Senior Cierra Creager led off the sixth, getting on base on an error. Junior Ayana Lombardy moved her over with a sacrifice bunt, sophomore Maya Miller beat out a bunt attempt for a hit, and sophomore Rose Weber walked.
With the bases loaded, the Maple Grove pitcher walked two batters in a row, scoring Creager and Miller, giving the Eagles a 3-1 lead going into the top of the seventh.
When Welter struggled at the start of the seventh, Rubischko brought in Lily Liu, a sophomore and Elizabeth's younger sister.
Lily gave up a hit to the first batter she faced, then struck out the next one for the second out of the inning. Elizabeth stood behind her coaches watching her sister, who was now one out away from closing out an impressive victory over a highly-ranked team.
Rubischko turned to her. "Are you ready?" Rubischko asked.
With tears running down her face, Elizabeth looked at her coach and said, "My sister deserves to be out there."
The game didn't end in the Eagles' favor. But Elizabeth's decision resonated with her teammates and her coaches. In the post-game huddle, Rubischko told the team about her decision and what she had said in the dugout. Lily leaned into Elizabeth and buried her face into her sister's shoulder, crying. Lily hadn't known until that moment what had transpired in the dugout.
"Words cannot describe Elizabeth's true character and leadership during her recovery from knee surgery," Rubischko said. "Elizabeth's injury allowed her younger sister, Lily, to play ahead of her. It demonstrated selflessness and sacrifices to her own playing time. They both shared Lily's accomplishments as if they were their own, creating a bond that goes beyond sibling rivalry, or competition."
In retrospect, Elizabeth is comfortable with her decision.
"My sister has been super supportive of me this whole time, " she said. "I feel like I kind of look up to her in a way. I didn't get my last season here playing softball. I want her to have all the success that I would have had.
"When she was on the mound pitching (against Maple Grove) I felt like the team had momentum. And there's no way I could take that away from her. It was Senior Night. It's not just my night, so I wanted the team … " She paused. "I really thought we could have won that game and that's kind of my thought process."
The future
Elizabeth will attend Grand Canyon University in Phoenix, Arizona, this fall. She plans to study exercise science. "That's what I'm going to major in, and I'm on the pre-physical therapy track," she said.
She has no plans to play softball after high school. "Grand Canyon has a Division I team and they did really well this year," she said. "So, I plan to go to their games."
Coaching? "I might help my dad coach a team someday," she said.
Editor's Note: Jim Bayer is a reporter for EPLN and assistant varsity coach of the Eden Prairie High School softball team.
Comments
We offer several ways for our readers to provide feedback. Your comments are welcome on our social media posts (Facebook, X, Instagram, Threads, and LinkedIn). We also encourage Letters to the Editor; submission guidelines can be found on our Contact Us page. If you believe this story has an error or you would like to get in touch with the author, please connect with us.