When Caroline Larsen was 8½, her mom sat her down and told her it was time to start swimming lessons.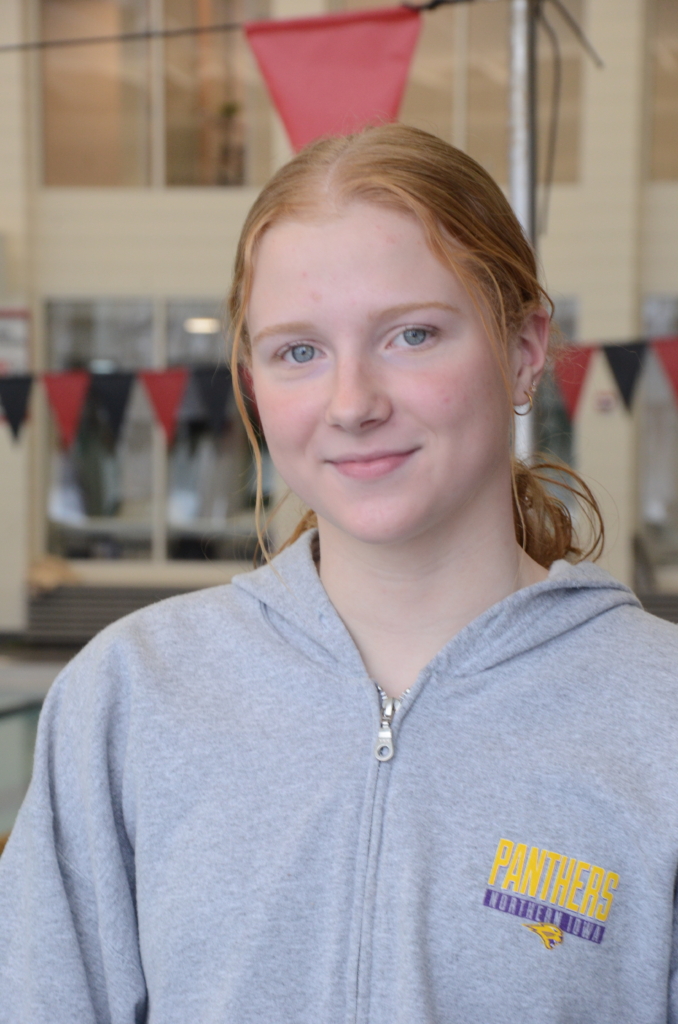 Now 16 and an Eden Prairie High School (EPHS) junior, Caroline said she loved the water even then, but spent most of her time floating rather than swimming. She agreed to join the Foxjets, a local swim club, joining her older sister and her father, Lloyd, who is the club's head coach.
At the end of the first week at Foxjets, the new swimmers raced one another. "Obviously, you just tried to get away," Caroline recalled. "And that kind of turned on a switch of competitiveness in the water that has yet to get turned off."
Caroline is older and stronger now, as are her competitors, but one thing that hasn't changed: they are still chasing her in the pool.
Qualifies for Olympic Trials
Swimming, as in all sports, has its own method of selecting athletes to be on their Olympic teams. But the bottom line in swimming is simple: swim fast.
Race times are what make or break a swimmer's chances of winning a race as well as making an Olympic team. The difference between winners and losers is measured in hundredths of a second.
Winning the 100 breaststroke and placing second in the 100 freestyle at the Minnesota 2AA State Championships in her freshman year at EPHS were just a warmup for things to come.
Caroline recently posted a time in the 50-meter freestyle that put her into the U.S. Olympic Trials in June 2024 for the XXXIII Olympics in Paris.
The USA Olympic Team Trials cut time in the 50 free is 25.69 seconds. Caroline's best time before the recent Fort Lauderdale TYR Pro Series meet was 25.70. During the meet, she swam a 25.56, qualifying her for the Olympic Trials. That was good for 9th place in the race and an 8th-place U.S. ranking in that specialty.
She also placed 19th in the 100 free with a personal best time of 56.06; 9th place in the 50 breaststroke with a 32.27; and 11th in the 50 fly with a best time of 27.17.
Caroline went on to record even more personal bests at the National Club Swimming Association (NCSA) Spring Championships in Orlando, Florida, in mid-March: 50 free, 100 free, 50 breaststroke,100 breaststroke, and 100 butterfly.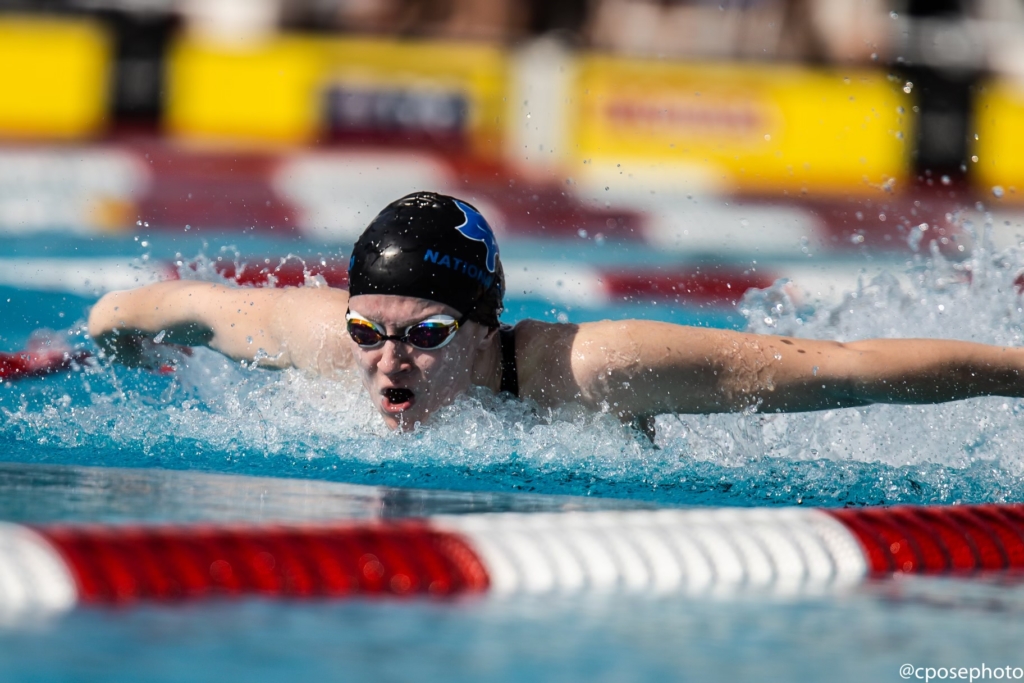 (Swimming competitions are held in two different length pools – long course, at 50 meters long – the Olympic pool length – or short course, which is 25 yards long – the length of the pool at the Eden Prairie Community Center).
Only the top two times in a given swimming category are invited to be a part of the U.S. National Swim team. The national team is officially selected in August of each year leading up to Olympic competition.
Decisions about swimmers selected for the U.S. Olympic Swim Team are made only three months before the Olympics Games, which are from July 26 to Aug. 11, 2024.
The USA Olympic Team Trials are June 15-22, 2024, in Indianapolis, Indiana.
COVID-19 and training
Caroline trains year-round with the Foxjets. She loved swimming for her high school. "We raced a lot and I liked that," she said. But she needed more advanced training available at a club like Foxjets, she said.
Caroline was 13 in March 2020, and her first national swim meet was scheduled that month in Florida. COVID-19 canceled the meet along with nearly everything in the country.
"COVID was a catalyst for me," she says now. Had she not loved the sport so much by then, things might have taken a different turn. Instead, she and her teammates committed to meet on video calls and keep each other on track with training.
Training post-COVID includes an hour in the morning four days a week and then another two hours-plus after school.
"You can leave your house for morning practice and not get a rest until, you know, six or so," she said. She swims up to 7,000 yards a day – about four miles.
"Our morning swims are our power work," she said. "Then at night, we'll (do) the bigger sets." In between, she works with a strength trainer and does dry land training.
She says she enjoys rare, but valuable time away from the pool.
"Obviously, swimming and school take up the most time in my life," she said. "(But) as you get older I found it increasingly important to find time away from everything."
She especially enjoys daily lunches with her mom. "Pretty much every lunch she picks me up and we leave the school and I get like 30 minutes away," she said.
Caroline burns thousands of calories each week in the pool, and it's important that her diet helps her recover. "Chocolate milk is my best friend," she said.
After evening practices, it's time for studying, watching a little TV, taking care of her skin, and sleep.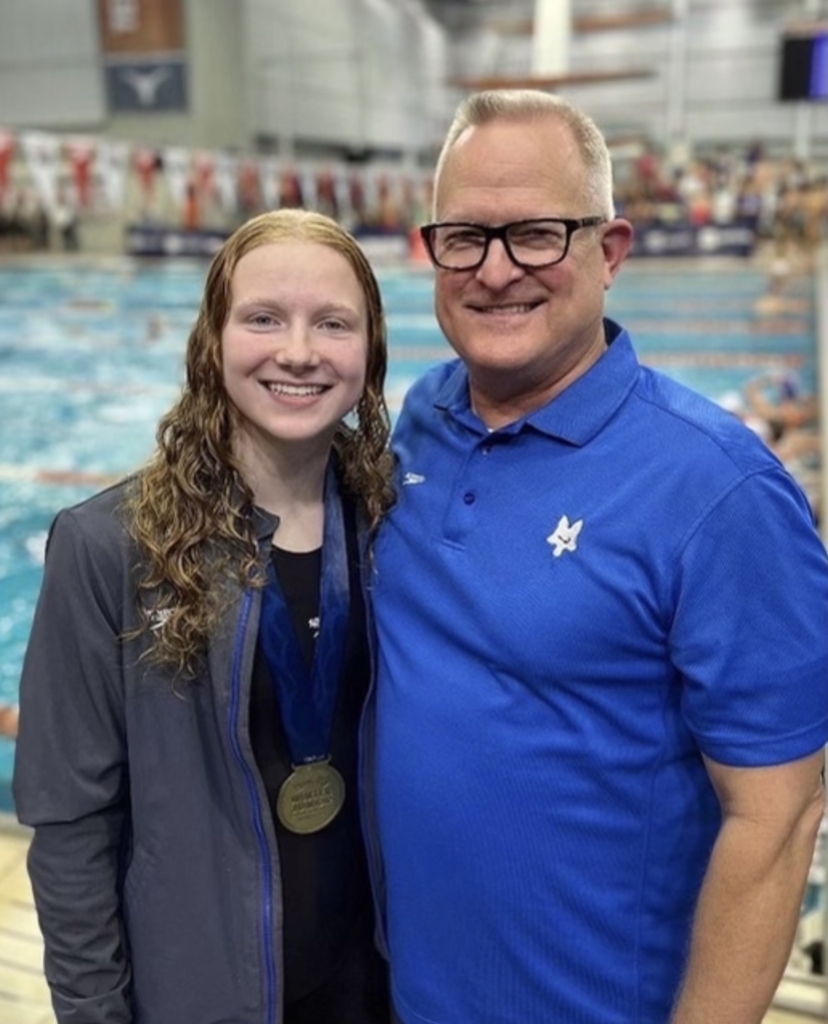 A family affair
Swimming is a family activity for the Larsen family.
Lloyd Larsen is the Foxjets' head coach, and he has worked there for more than 21 years.
Both Caroline and her sister, Faith, have been swimming for Foxjets since they were young, and Lloyd has enjoyed the opportunity to spend that time with his daughters.
"It's 'bring your kid to work day' every day," Lloyd said. "Which is really fun and a privilege."
"How fun it is to coach your own athlete, your own child, and make it fun for them?" he said. "What has kept it light and contributed to her success is that she really enjoys it. I really enjoy it. And that's been everything for us: how much fun it is."
Caroline's mom, Cari, embraces the role of swim mom.
"I think our circumstances are unique since (Caroline's) dad is a coach," she said. "He ends up doing a fair amount of the meet travel. He's going anyway since he's coaching her.
"I've tried to be the non-swimming person in the house," she said. "Because they spend so much time related to swimming, I try to remind them to do other things once in a while and keep some balance."
Older sister, Faith, is a sophomore at the University of Northern Iowa (UNI) and is on the swim team there.
Faith has been a positive influence on Caroline from the beginning. "You want to do everything like your sister," Caroline said. "That's why I (joined) the club team … she's always been someone I've looked up to in swimming because she worked so hard. Even as we've gotten older and our (swim) times have gotten closer, we both still push each other."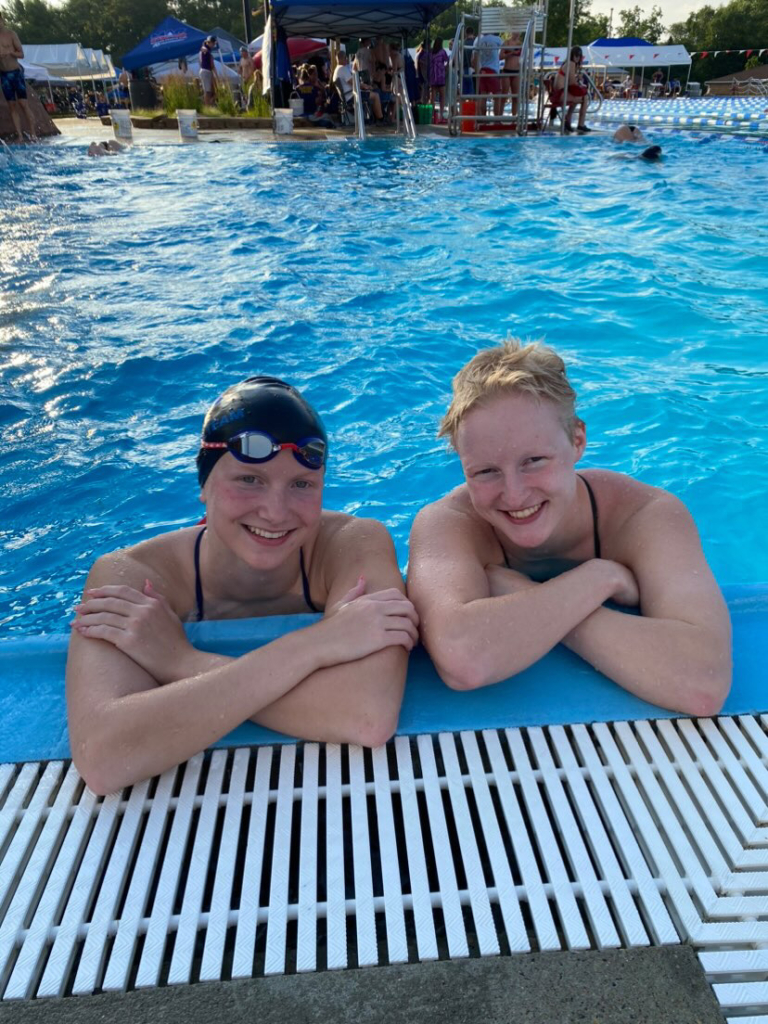 Caroline and Faith swam for EPHS for one season when Faith was a senior and Caroline a freshman.
"Caroline and I spent a lot of time at the pool together," Faith said via email from the UNI campus. "Going through every hard practice together really strengthens the bond between yourself and any teammate, but especially between people in the same training group."
She knows all of Caroline's times, splits, and goals, she said. "And she knows all of mine."
On to college
While attending a swim meet in Kentucky last year, Caroline visited the University of Louisville Cardinals swim team and their coach, Arthur Albiero, and walked away with a special feeling for the place.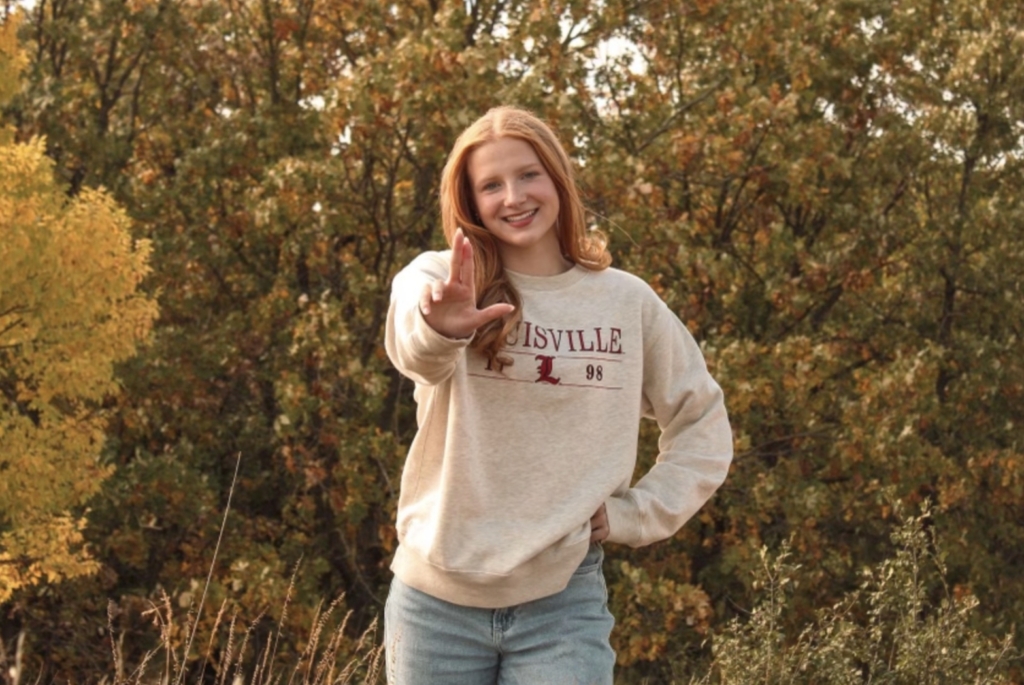 After visits to Wisconsin and Minnesota, she has verbally committed to attend and swim for the Louisville Cardinals and will sign an official letter of intent this fall.
"Larsen is a great pickup for the Cardinals, both individually and for relays," according to Swimming World Magazine. "Her top time in the 50 free would've ranked fourth in their lineup a season ago."
Caroline is confident she has made the right choice. "I really had positive experiences at all the schools I talked to," she said. "I think that recruiting … just comes down to finding the place that's the best fit for you."
Caroline plans to major in exercise science with a minor in business or psychology. Her goal is to go into pediatric physical therapy.
Comments
We offer several ways for our readers to provide feedback. Your comments are welcome on our social media posts (Facebook, X, Instagram, Threads, and LinkedIn). We also encourage Letters to the Editor; submission guidelines can be found on our Contact Us page. If you believe this story has an error or you would like to get in touch with the author, please connect with us.