Eden Prairie High School's boys and girls Nordic ski teams had strong performances at the state tournament on Feb. 15-16 at Giant's Ridge in Biwabik, Minnesota, with the boys placing fifth and the girls ninth.
Capping off the achievement was senior Benon Brattebo's first-place finish to become state champion in the boys event.
"It was awesome," he said. "It's something I thought about a lot and worked hard for, so it was really fun to see it all come together on the day."
Brattebo beat his closest opponent, Blaine's Ben Lewis, in a tight finish by less than 1/100th of a second — both had an official time of 26:00.9. "Benon out-booted him by 6 inches," said head coach Doug Boonstra.
Brattebo said, "Me and Ben and Andrew [Defor, from Edina] skied the whole race together. At the end, we obviously sped up towards the finish line. Andrew fell off the pace just a tiny bit, and then I came down that finishing hill right behind Ben.
"And then it was just a sprint to the finish there, and I was able to get him in the sprint. It was definitely a close one," he added.
Brattebo said he's good friends with Defor and Lewis, and they ski together on a club team. "We train together all summer, go to camps together, and stuff like that," he said.
"It was definitely one of the most fun races I've ever raced, to go head to head with those guys," Brattebo said. "I've been racing with them for five or six years now. And then to win was awesome. I would have been happy for Andrew or Ben if one of them won, but obviously, I'd rather win."
Although he was first, Brattebo's finish only gained the Eagles one point over the second-place individual finisher, so it was due to the strength of the whole team that the team placed so high overall, Boonstra said.
"The boys were in 9th going into skate, and moved up to 5th with Nolan [Bakken] and Colton [Warner] especially having great races and the biggest upward movement," Boonstra said.
Co-captain Bakken said, "We had some good sprint races on Wednesday but overall as both a boys and a girls team that is not our strong suit. After the sprints the boys team was sitting in 9th place." The EP boys team of Will Ross and Dylan Little finished in 12th place.
"Going into the Thursday pursuit race the team was nervous but also very excited about the prospect of Benon taking first place," Bakken said. "We also wanted to perform well and improve our team score standing."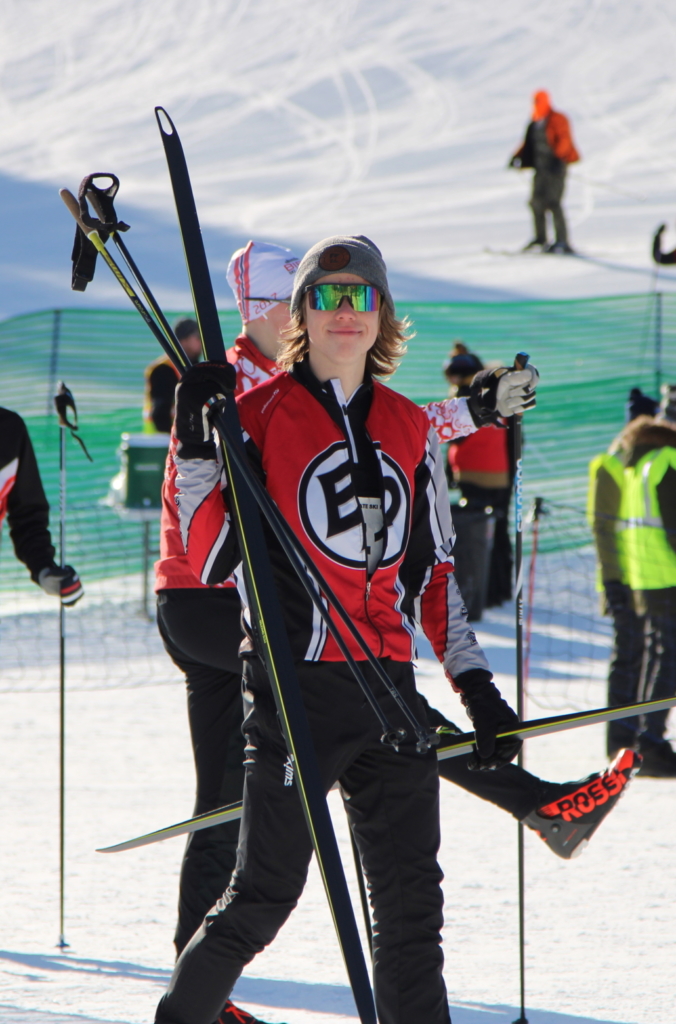 He added, "The skate race on Thursday afternoon was just about everything we could have hoped for. Benon had an absolute battle for the finish line and became state champ by less than a 100th of a second!
"My race went well as I picked up two positions moving from 41st to 39th and Colton moved up from 67th to 56th! Our fourth and fifth skiers, Matthew Berge and Kyle Kolberg, also had great races and moved up positions in the skate race. We finished with an overall team result of fifth place."
The Eagles girls team tied for 8th place but, in the end, got bumped down one place to 9th overall. The sprint relay team of Alyssa Ehler and Nadia Al-Masri snagged 16th place in the finals. In pursuit, Courtney Fussy was EP's top finisher in 19th place, Mila Finch was 27th, Eleanor Thomas was 53rd, Sydney Bond was 83rd, and Lilia Roberts was 90th.
Full results can be found here.
Brattebo said it was great to see the team do so well.
"We're not just a sports team, we're really good friends," he said. "We've all pretty much been skiing together since middle school, so it was kind of a last hurrah to see people do well and be happy with the result, and have the team do well."
Comments
We offer several ways for our readers to provide feedback. Your comments are welcome on our social media posts (Facebook, X, Instagram, Threads, and LinkedIn). We also encourage Letters to the Editor; submission guidelines can be found on our Contact Us page. If you believe this story has an error or you would like to get in touch with the author, please connect with us.