Eden Prairie High School's (EPHS) Nordic ski team is headed to state after dominating at the Section 2A tournament this week.
EP boys were crowned section champions with a score of 375, beating rival Minnetonka High School by 8 points. The girls claimed second with 379 points, 8 points behind Washburn High School.
The EP Nordic Sections team and coaches. All photos by Nabil Al-Masri

EP Nordic coaches (back row, L-R) Melissa Bergman, Dan Little, Doug Boonstra; (front row, L-R) Eric Wurst and Andy Malone.

EP boys Nordic placed first overall at the Section 2A meet.

EP girls Nordic placed 2nd overall in the Section 2A meet.
"You know how much work everyone on the team has put in, so to see it pan out for both the girls and the boys teams is just so cool," said Will Ross, one of the Nordic boys team captains who is also a cross country and track athlete.
"Especially to win first — it's not something a lot of student athletes get to do in their life."
Senior Courtney Fussy, who was EP's top girls finisher and also placed second overall, said, "It was a great experience being able to qualify for state again as a team. The team has qualified for the past four years, and I am very grateful to be able to finish my high school season with my team."
The day before the Feb. 7 meet at Theodore Wirth Park, the team's head coach, Doug Boonstra, had predicted the team would do well.
"If we ski up to our ability, I think both boys and girls teams have a realistic chance to make it to the state meet," he said. "The top two teams qualify, and to me it's down to a three-school race: us, Minnetonka, and Washburn, for the boys and the girls."
The team lived up to Boonstra's expectations. "It came down to pretty much the way I anticipated it," he said after the meet. "We just focused on the teams we knew."
The team competed in both pursuit and sprint relay.
In the pursuit format, skiers competed in two parts: first in a classic race, then a skate race. In the skate race, which was the pursuit portion, the skier to finish first in classic was allowed to start the race first.
Everyone else lined up behind and was allowed to leave however many seconds behind the first skier they were in the previous classic race. Skiers then pursued the racers ahead of them to try to catch up and pass.
After the initial classic race and going into the pursuit race, EP senior Benon Brattebo was in position 2, senior Nolan Bakken was in eighth, senior Colton Warner was 10th, junior Mathew Berge was 22nd, and sophomore Kyle Kolberg was 30th.
By the time the second race was over, Brattebo had out-skied Edina's Andrew Defor in an exciting fight to claim first.
Bakken moved up a spot to seventh, Warner held firm at 10th, Berge moved up five spots to 17th, and sophomore Kyle Kolberg moved up two spots to 28th.
For the girls, Fussy held her classic position to finish in second behind Washburn's Chloe Angerman. Senior Mila Finch fought off tough opponents to claim fifth, senior Eleanor Thomas moved up a spot to 10th, freshman Sydney Bond was 14th, and freshman Lilia Roberts was 15th.
In the 4K sprint relays, two skiers take turns skiing a 1K loop twice. In sprint relay, after completing the first loop, the first skier has to tap the second skier on the shoulder. After completing their first loop, the second skier taps the first skier, who completes a third loop, then the second skier does the final loop.
To make it to the relay final, EP teams had to win their heat or have one of the next four fastest times, regardless of which heat they were in.
In the boys relay, freshman Dylan Little and Ross won first in their heat, then placed fourth overall.
In the girls relay, Alyssa Ehler and Nadia Al-Masri were second in a fast heat and placed third in the final.
Fussy said of the experience, "It was exciting and stressful all at the same time. Going into it, we knew it would be a fight for second between us and Minnetonka. I know a lot of the senior girls were very stressed about this race in the weeks leading up to it."
Fussy said the amount of hard work the team has put in this season is impressive and inspiring.
"I am so incredibly proud of this team, they have been consistent all season long, and each one of them has performed extremely well," she said.
Full results for both girls and boys can be found here.
EP excelled in challenging races
Boonstra said he was happy with how the team performed, especially given some tense situations that arose during the races.
"Some of our girls were in really tough spots," he said. "Mila Finch had really good skiers right behind her. If we were going to catch Washburn or not get caught by Minnetonka, she had to hold her position.
"That's a tough spot when there's skiers 2 or 3 seconds right behind you — literally right behind you. So she did a great job.
"On the boys side, Colton Warner had the same thing. He had four or five guys behind him within 3 seconds. It's unnerving, really. He held his spot, and he didn't get passed, so he held his point value.
"Those two really stood out to me as doing a great job for the team, because they were in a spot where it's easy to give in to the pressure," Boonstra said. "They're both seniors and they've been through big races before, so they rose to the occasion."
Boonstra also called out Brattebo for his nerve, commitment, and speed. "Benon won the whole thing," Boonstra said. "That was awesome. It doesn't happen every year that you have an individual champion on your team.
"He had two great races. Just to put it in perspective, he was 3 seconds behind [Edina's Andrew Defor] after the first race. So when they started the pursuit, [Defor] had a 3-second head start. Well, Benon caught him within the first 200 meters.
"I had asked Benon before the final race, 'So do you want to beat Andrew today, or do you want to beat him next week?' He kind of laughed and said, 'Well, both.' I said, 'That's awesome. It's hard to beat somebody really good twice, especially in one week. But let's do it.'"
The final kilometer of the course was mostly downhill into the stadium, which favored Brattebo. "Benon is a big guy, so I knew the downhill section of the course would be good for him," Boonstra said.
"He was literally right on the tails of Andrew's skis. They were probably touching, they were that close. And I just said, 'Hey, it's now or never.' So he just took off."
After a neck and neck race, Boonstra said, "Benon made his move on the inside, and ended up beating him by 3 seconds. He put the hammer down, and it was really cool."
State meet is Feb. 15-16 at Giant's Ridge
Both EP boys and girls Nordic will compete at the state meet on Feb 15-16 at Giant's Ridge Golf & Ski Resort in Biwabik, Minnesota. The sprint relay will compete on Feb. 15, and the pursuers will compete on Feb. 16.
The Minnesota State High School League website has full meet information, including a schedule and spectator guide.
Boonstra said that many of EP's skiers have never been to state before and are looking forward to it. "It's a challenging course. It's hilly but it's fun. It's just a great experience," he said.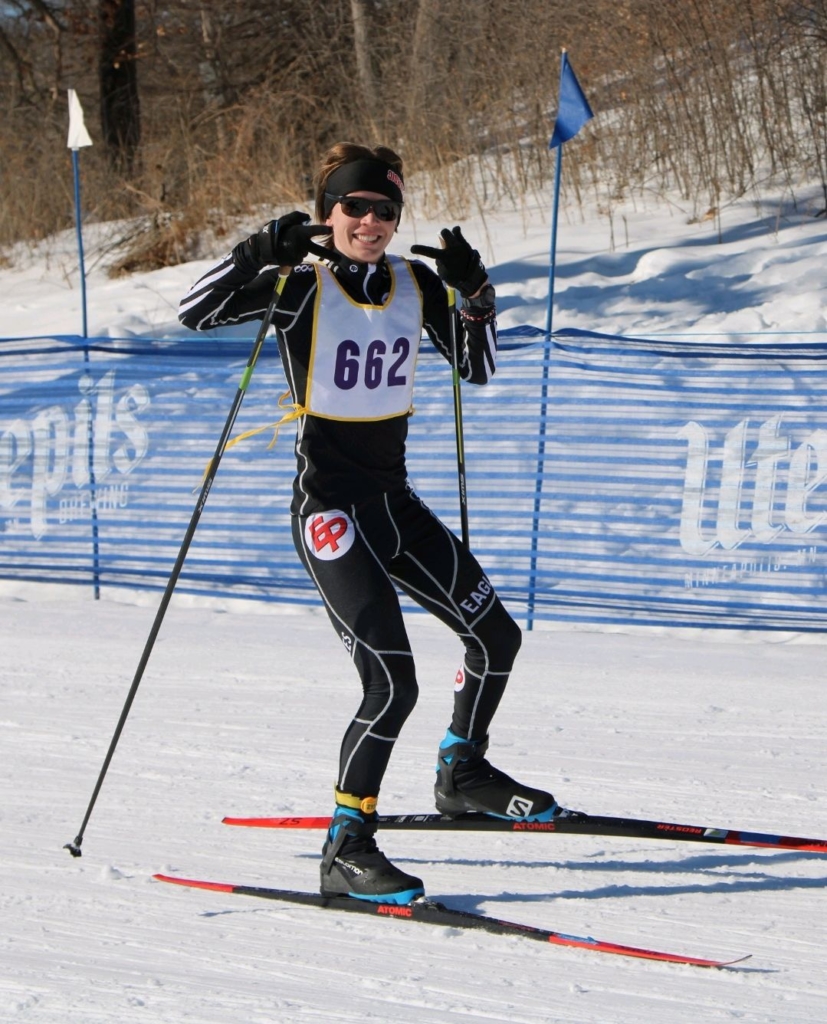 Although Ross has been skiing Nordic since eighth grade, he said this will be his first time at state.
"Just the idea of going to state is exciting," he said. "We have a pretty good mentality. We know what we have to do.
"As a sections team, it will be a lot of fun — one last hurrah where you can go out as high as possible."
Fussy admitted to feeling some jitters. "I am nervous about next week," she said. "With this being my last state meet, I want to perform as well as I can. But I am very confident in my team's ability to perform well."
Fussy said that despite her second-place finish at sections, "I am disappointed with my performance at this race, it was not my best skiing. I am hoping to turn it around for one more race."
Skiers say Nordic team is a 'family,' praise coaches
As seniors, Ross and Fussy said they feel a bit sentimental about their final EP Nordic season drawing to a close.
"I am sad that this is my final season with EP, but I am excited for what's to come," Fussy said. "Nordic has been a big part of my life for the past five years. It will be hard for me to continue without this amazing team there to support me."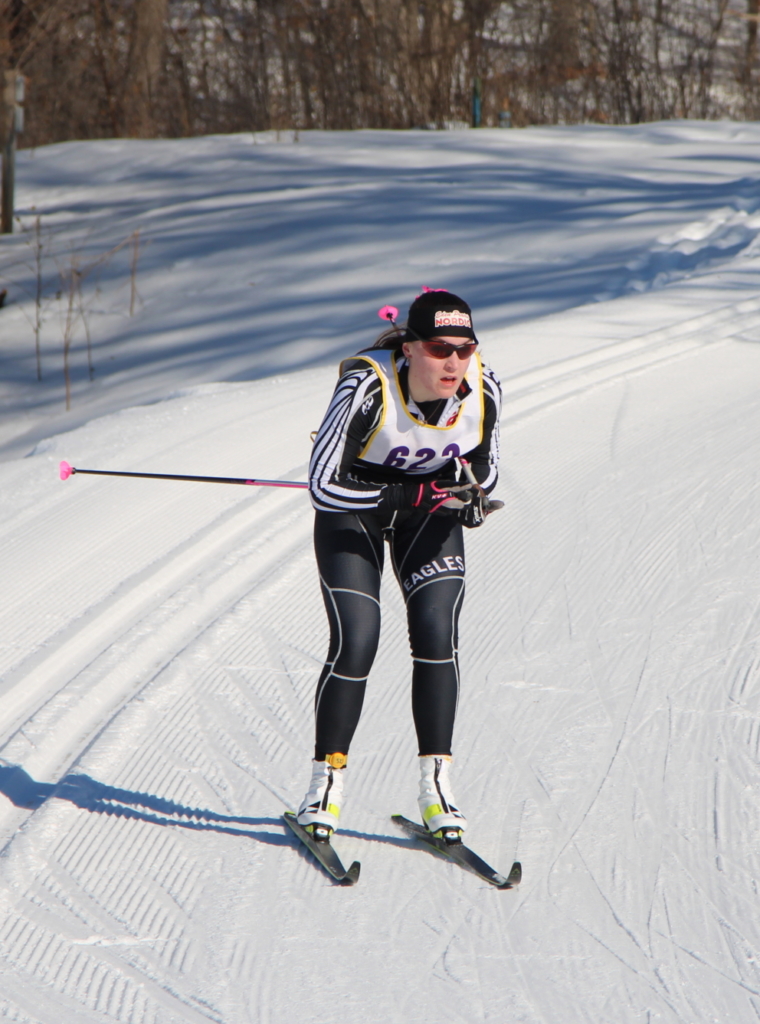 Ross compared the team to a family where he has met what he expects will be lifelong friends.
"You just grow so close with everyone else, and it's so much fun," he said. "You can't really get that experience anywhere else. That's what I'll probably miss the most about the team."
Ross also had high praise for Boonstra. "Boonie's an awesome guy. He's really knowledgeable about the sport. He knows what he's doing tactically, and he tells us how to take the race. He's a great coach."
Boys claimed 2nd for Lake Conference, girls tied for 2nd
EP's Nordic team was already on a high before sections. On Feb. 3, the varsity boys clinched second place and the girls third place in the Lake Conference championship meet at Hyland Park Reserve, led by strong performances from the team's seniors.
The results meant the boys secured second place overall in the Lake Conference, while the girls tied for second with Minnetonka.
"On the boys side, the meet went pretty much as expected," Boonstra said. "Our top boy, Benon Brattebo, finished second, and our team finished second collectively."
In addition to Brattebo's second, Warner was 10th, and Bakken was 12th. The results are here.
Boonstra said, "We had three boys earn All-Conference — you have to finish in the top 14 to do that. Benon, Colton Warner, and Nolan Bakken all earned that, which was nice."
Girls were third overall behind Wayzata and Minnetonka. "We skied about normal for us," Boonstra said. "We had four girls earn All-Conference (Fussy, Finch, Thomas, and Al-Masri). Minnetonka girls skied really well and they beat us in the standings of this race, which means we tied for second in the Lake Conference overall."
Fussy finished third, Finch fourth, Thomas seventh, and Al-Masri 13th. The results are here.
Comments
We offer several ways for our readers to provide feedback. Your comments are welcome on our social media posts (Facebook, X, Instagram, Threads, and LinkedIn). We also encourage Letters to the Editor; submission guidelines can be found on our Contact Us page. If you believe this story has an error or you would like to get in touch with the author, please connect with us.