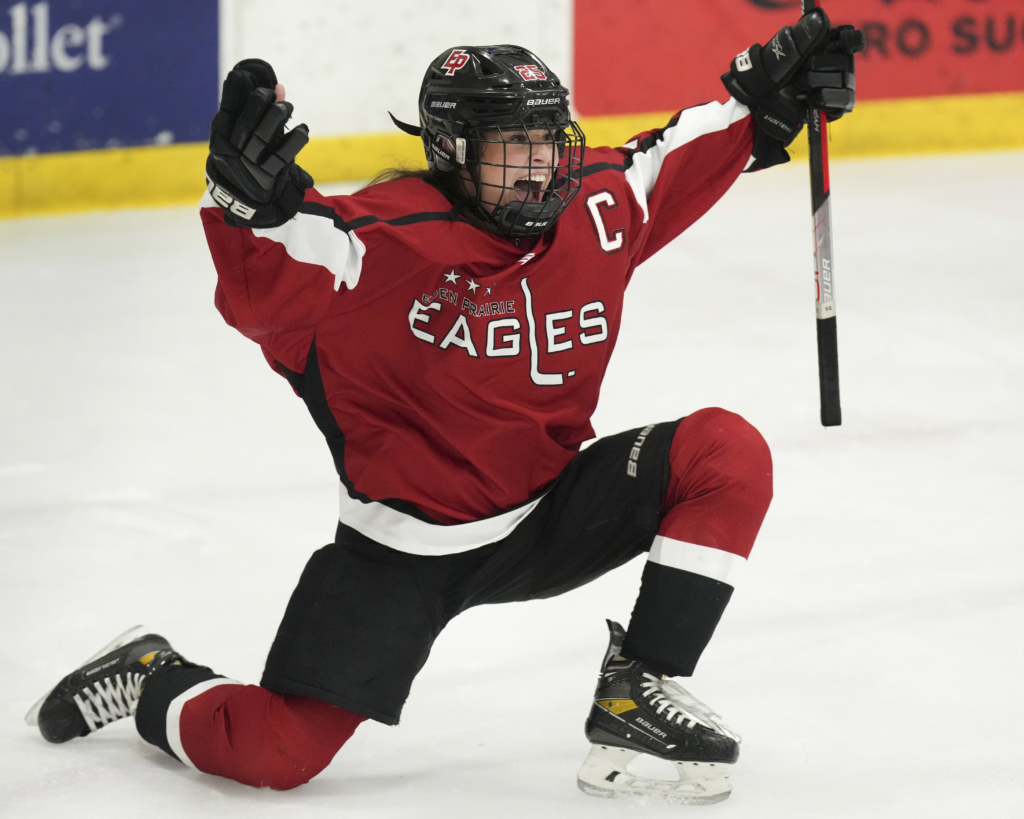 Head coach Steve Persian sat alone on the Eagles' bench at Eden Prairie Community Center Friday night, after his girls hockey team had defeated Holy Angels in overtime.
It was senior night for the Eagles, marking their last game of the regular season. And they certainly rose to meet the moment, writing the perfect ending to an emotionally-charged and eventful night.
With the score tied at one, at 3:43 of the overtime period, senior captain Jordan Hirsch buried the rebound off a shot from fellow senior captain Paige Holt, giving the Eagles a 2-1 victory over the state's second-ranked team in Class A.
The dramatic win, coupled with the significance of the occasion, left Persian feeling reflective as he brought down the curtain on his first regular season with the Eden Prairie girls' hockey program.
"I was thinking nine months ago, 10 months ago, I was not a coach anywhere," he said. "I was able to come into a program not knowing any of the kids, and it doesn't take long before you start to get to know the personalities and get to know the kids.
"And for me, it's been just a lucky journey. And so that was really what I was thinking about; what a great way to cap a senior night for the kids."
Persian came to Eden Prairie after leading the Breck girls hockey program to back-to-back state titles. His first Eagles' team completes the regular season with a record of 10-15 – winning five of their last eight games – as they head into the section playoffs with hopes held high.
"I'm super excited with how we're playing," Holt said. "So much is going on and it's just so fun. Everybody's having fun again and it's just so enjoyable. Every day I look forward to being here."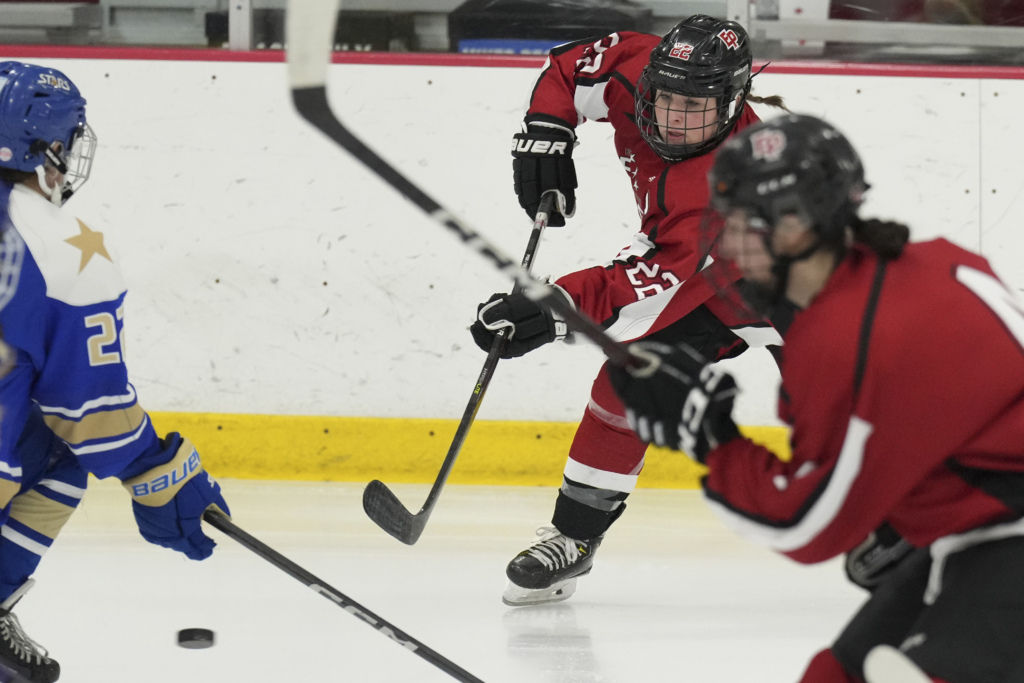 Just one minute into the second period on Friday, Holt broke open a scoreless game with a blast from the right hash marks past Stars goaltender Eva Bentley. Assists went to Hirsch and sophomore Natalie McNeil for a 1-0 Eden Prairie lead.
Holy Angels evened the score on a game-tying goal by Masyn Mullin with just 19.8 seconds remaining in the second period. At the second intermission, the game was even at one goal apiece.
Mechanical issues with the Zamboni delayed the start of the third period. But once play commenced, both teams traded shots and chances, with no goals to show for it.
Eden Prairie freshman goaltender Rylee Lorton had 25 saves, with nine coming in the third period. At the end of three, the game went into overtime.
The Eagles had three overtime finishes in their first six games to start the season, going 1-2 in those contests. Friday marked their first overtime since a 3-2 win over Farmington on Dec. 6.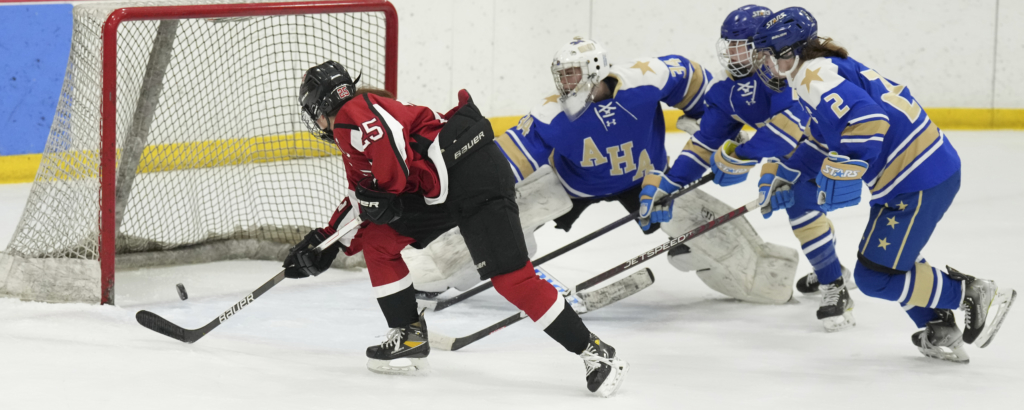 "I really give a lot of credit to what took place tonight to our teal line," Persian said. "We had them matched up with a (Holy Angels) line that's gotten 50 or 60 goals on the year."
The Eagles' "teal line" Friday included senior captain Jenna Fryar, senior Taylor Gabrik and junior Lizzie Swartout.
"That's a very well-coached, hard-working hockey team." Persian said. "But the teal line did a really good job."
The Eagles line of all senior captains – Hirsch, Holt and Annabel Mehta – also made the most of the final regular season game of their high school careers.
The three came together in the overtime period, with Hirsch putting away the game-winner to bring senior night to its crescendo.
"We executed tonight," Hirsch said. "Oh my gosh, it's a great feeling. I feel so good right now just to share that moment with Annabel and Paige."
Mehta turned in one of her best performances of the season, displaying skill, focus and an unyielding work ethic to lead her teammates.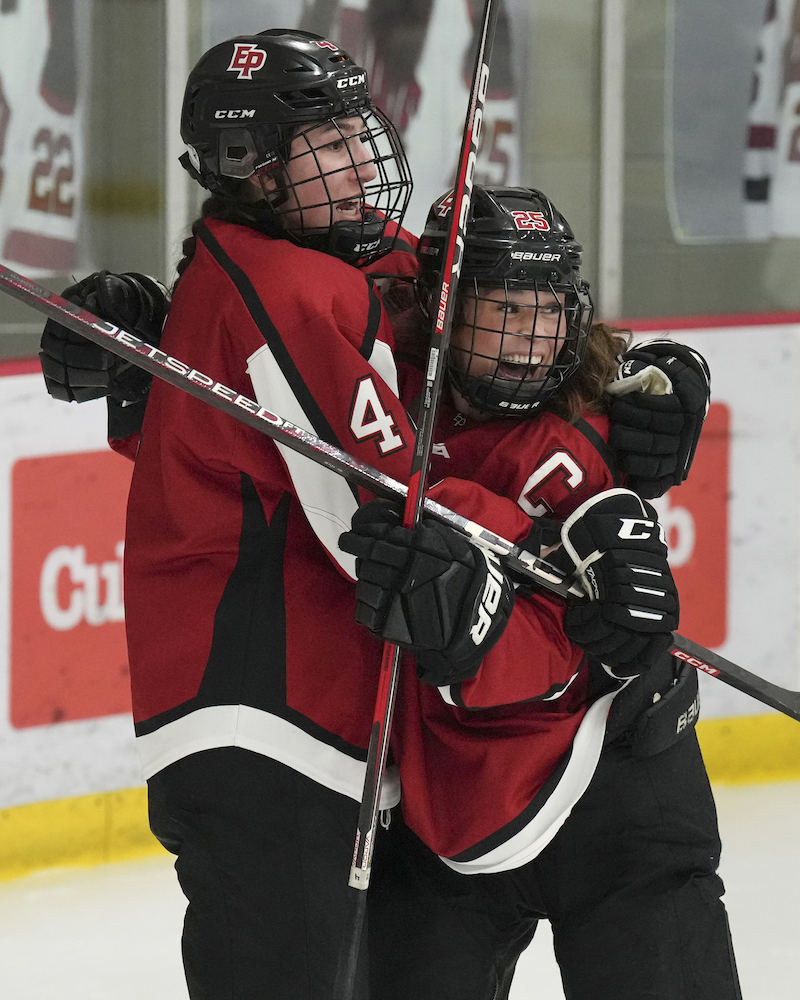 "I'm really proud of our team," she said afterward. "We were able to just come together and just persevere on senior night."
After Hirsch scored the game-winning goal, she was mobbed by her teammates. Standing locked in the middle of the pile, she made note of the time on the arena clock.
"I did see the time, it was 9:33," Hirsch said. "That's for one of my old teammates, Kate Fronek. She was with me tonight."
Kate Fronek, a teammate and friend of many in the Eden Prairie Hockey Association, passed away in 2017 after her battle with Acute Myeloid Leukemia. She was 13.
"That's the time she passed away, 9:33 p.m.," Hirsch explained. "So whenever it says 9:33 anywhere, she's with me. I saw that tonight and I knew exactly what was going to go on. So I had that feeling deep, down inside me that she was there. It was a really, really special feeling."
After the memorable finish, Persian spoke with his seniors at the bench area, before dispatching them to the opposite side of the rink, where they exited the ice and made their way toward the near side of the stands.
"I told them this is a good time to go talk to your parents," Persian said. "I've been a parent, and they're the ones that have dedicated so much of their time, so much of their emotional support, so much of their resources to allow these kids to go out and play hockey year-round.
"And so, for me, it's a moment you don't want to pass up. You want to take the time to thank them for all that they've done.
The six seniors returned after some time with their families, happy to have had the opportunity to show their gratitude.
"It honestly means so much to me. I've been playing hockey for like 14 years. My dad had me on skates at 4," Holt said. "I really did appreciate that moment. And we took a little picture and I just gave him a hug and it was really nice to have."
The night also marked the final regular season game for Persian with his first class of Eden Prairie seniors. Despite having only one season together, the impact was certainly felt by both coach and players.
"It was just very special," Mehta said. "This year, our whole coaching staff is really put together, and they really care about us as people and not just as athletes on the team.
"It really means a lot and I'm just super glad that Steve and Mike, Allison and Paige were able to step in this year."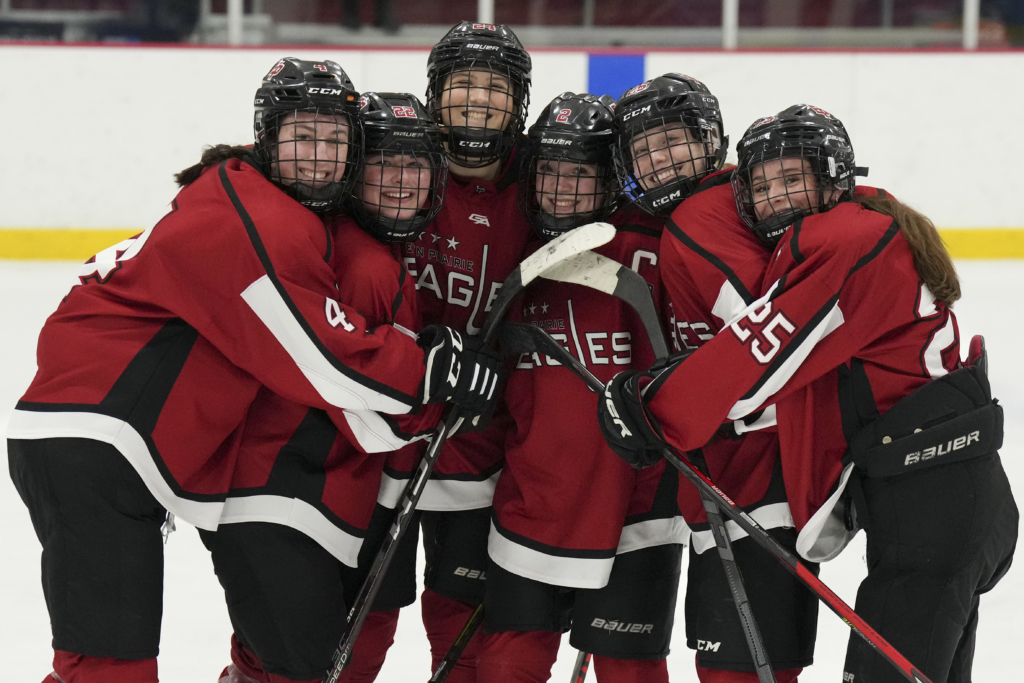 Comments
We offer several ways for our readers to provide feedback. Your comments are welcome on our social media posts (Facebook, X, Instagram, Threads, and LinkedIn). We also encourage Letters to the Editor; submission guidelines can be found on our Contact Us page. If you believe this story has an error or you would like to get in touch with the author, please connect with us.