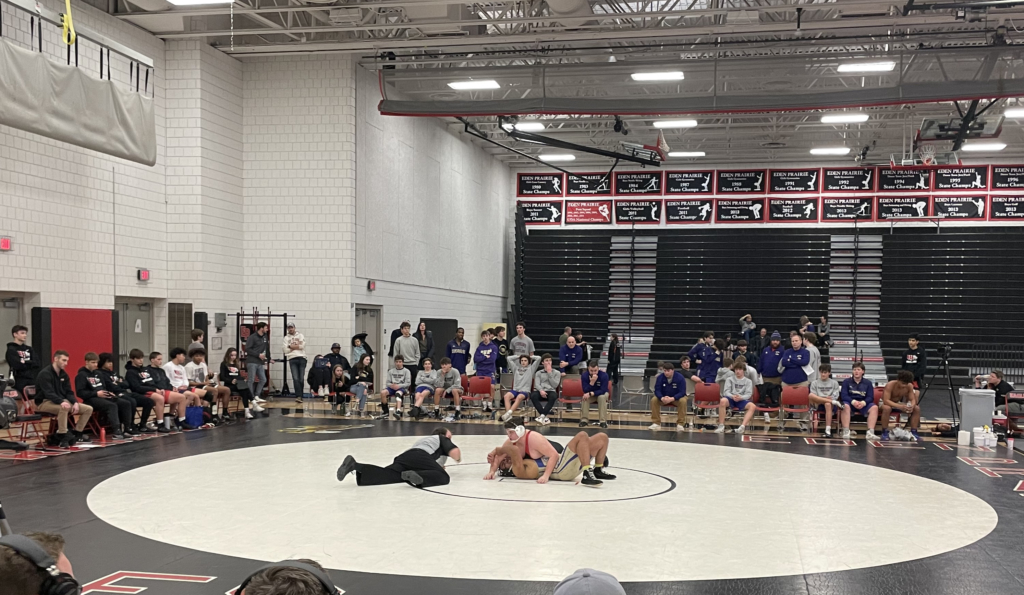 The Eden Prairie Eagles wrestling team, ranked fourth in the state by wrestling website The Guillotine, went two-for-three on Thursday, while hosting a quad meet in the main gymnasium at Eden Prairie High School.
The Eagles defeated Chaska-Chanhassen 59-6 in their first dual, yielding their only points on a forfeit in the 170-pound class.
Eden Prairie fell to Hudson 32-38 in the second dual, having been forced to forfeit in both the 170 and 195-pound classes.
The Eagles closed out the quad by cruising to a 48-21 win over Osseo in the third dual meet of the night.
The Eagles tallied five falls in their meeting with the Chaska-Chanhassen, including pins by Anthony Heim (106 pounds), Maxwell Moorhead (126 pounds), Jacory Bates (160 pounds), Julian Berg (220 pounds) and Will Sather (285 pounds).
Eagles junior Terae Dunn is ranked fourth in the state in the 145-pound class. He won both of his matches on Thursday, with the first coming on a 14-5 major decision over Michael Gillette of Chaska-Chanhassen. Dunn won his next bout over Hudson's Andy Eilertson on a technical fall, 26-11.
"The season has been going well," Dunn said after his first match. "There's definitely some things we need to work on, our work ethic in the room and cardio for sure, but other than that, it's been good."
With sectionals around the corner and the state tournament just a month away, Dunn is ready to handle the best that the state's top wrestlers have to offer.
"When it gets to sections and stuff, yeah, you get people coming at you," he said. "We just need to keep in the mentality of our goal."
Thursday's quad meet marked a long-awaited return to the mat for senior Jacory Bates.
Following his Class 3A state tournament appearance in the 160-pound class last March, Bates wrestled in his first meet of the season on Thursday, after suffering a lateral collateral ligament (LCL) injury before he was able to participate in competition this year.
"I had a rough start with my injury," Bates said. "I did a lot of strength training to stabilize my knee to get back."
Bates, who signed his national letter of intent on Wednesday to play football at Minnesota State University, Mankato, this fall, was ranked eighth in the state in the 170-pound class before his LCL injury.
The senior didn't miss a beat in three bouts on Thursday, registering three falls. Bates captured his first two pins wrestling at 160 pounds against Aidan Henson of Chaska-Chanhassen and then Grant Draveling of Hudson. His third fall victory was in the 170-pound class against Osseo's Nick Vang.
"It feels good to be back with the team," he said.
The Eagles' Anthony Heim, a seventh grader, also registered three falls on the evening. The first against Jaden Neunsinger of Chaska-Chanhassen came at 3:58 of the bout. His second against Austin Schmidkunz of Hudson was at 3:19, and his final fall came just 14 seconds into his match with Symon Salinas of Osseo.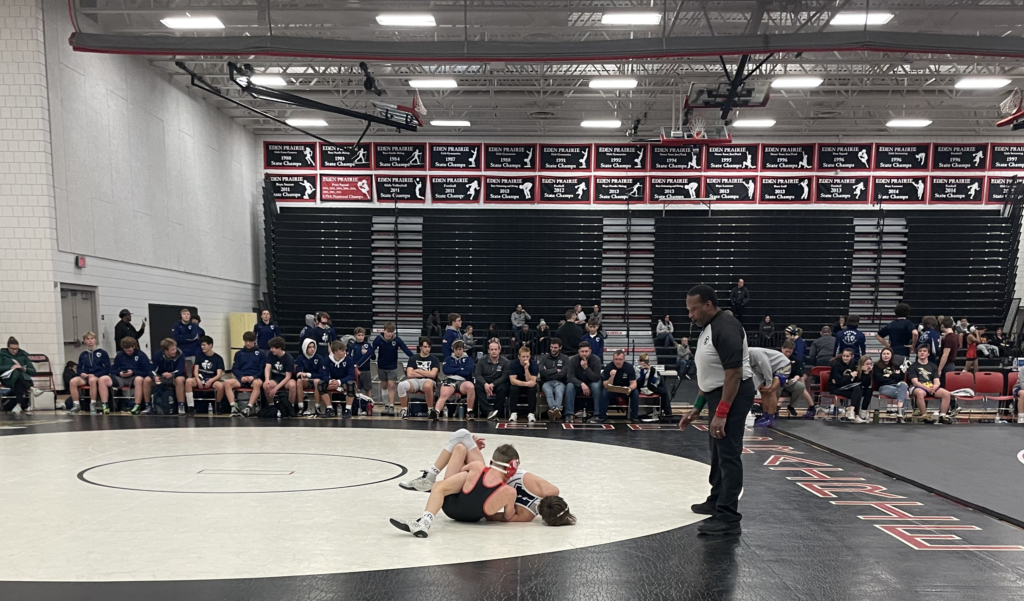 Eden Prairie's Will Sather is the defending state champion in the 285-pound class. Last March, the junior became the first sophomore in MSHSL history to win a state wrestling title in the 285-pound class.
At Thursday's meet, Sather won all of his bouts by fall and currently ranks second in the state behind Vincent Mueller of St. Thomas Academy, who handed Sather his only loss this season.
Sather referred to Mueller as "a good opponent that hopefully I'll get to see again at state."
As the defending state champ, Sather is aware his opponents are familiar with his record. And with nothing to lose, they are willing to take chances that might not be attempted against other wrestlers.
"I definitely think when guys wrestle me, they just go out and wrestle free," he said. "When they get to do that it's dangerous, because they'll try anything and so I have to be aware of that for sure."
Sather reached a milestone in Thursday's quad, picking up his 100th career pin. At this stage in the season, he and his teammates are amplifying their intensity, both in practice and in competition, with postseason on the horizon.
"It's time to start picking things up in terms of how hard you're going," he said. "It's the time you want to start peaking and go on that upward trajectory. I feel like guys on the team overall are all starting to do that.
"We're starting to hit our strides and be where we want to be."
News and notes
Eden Prairie's Dominic Heim, who is currently ranked fourth in the state in the 220-pound class, suffered what is being called a "minor injury" in the multiple-school invitational meet at Orono on Jan. 28. Heim did not participate in the quad meet on Thursday, but is expected to be back on the mat by next week.
The Eagles have no time to rest after Thursday's meet. They travel to Rochester for a multiple school meet at Rochester Century High School on Friday, with the first bout at 5:30 p.m.
Comments
We offer several ways for our readers to provide feedback. Your comments are welcome on our social media posts (Facebook, X, Instagram, Threads, and LinkedIn). We also encourage Letters to the Editor; submission guidelines can be found on our Contact Us page. If you believe this story has an error or you would like to get in touch with the author, please connect with us.