It was a night of personal bests for Eden Prairie High School's (EPHS) boys swim and dive team on Friday, Jan. 20, as they outperformed Hopkins High School 96-80 at the EP Aquatic Center.
The Eagles went into the home meet with solid expectations for a great result. Head coach Kelly Boston said the team rose to the occasion — and then some.
"I was a little surprised with the number of lifetime/season best times/scores the boys posted against Hopkins," she said. "We mixed the lineup up a bit giving different guys the opportunity to step up for the team in a varsity position. Each of those guys delivered."
Boston said, "I was positioned in front of the 'bench' and heard over and over that their recent swim was a season best or lifetime best."
Senior Brian Hu starting off the varsity 200 medley relay with the 50 back. Photos by Juliana Allen

Junior Abhi Madireddy.

Senior Erik Peterson swam breaststroke in the 200 medley relay.

Junior Yash Dagade executing a dive.

Eighth grader Charlie Strehl swam 100 back.

(L-R) Punya Pavuluri, Drew Ploof, and Zach McBeth prepare to start the 500 free.

Freshman Punya Pavuluri swam fly in the JV 200 Medley relay.

Seniors (L-R) Luke Logue, Eric Howard, and Matthew Lillejord diving in during the varsity 200 free relay.
Boston said the team is working extremely hard in practice right now.
"We are at the point of the season in which we are training really hard as we prepare to come down in a few short weeks," she said. "I am encouraged that they are still competing so well tired."
Boston called out several notable performances:
Lucas Johnson: 200 IM
Abdijabar Guled: 50 and 500 free
Eric Howard: 50 free /200/ 400 free relay
Brian Shi: 50 and 100 free
Drew Ploof: 200 free/400 free relay
Matthew Lillejord: 50 free
Luc Merks: 12 second drop in 100 free
Zach McBeth: 500 free
Alex Oestreich: diving — lifetime best score
Nico Allen: 100 backstroke
Luke Anderson: 100 free
Ben Ploof: 100 free
Caleb Singewald: 200 free and 100 backstroke
Zak Ouachani: 100 backstroke
The Eagles will face Edina High School at 5:30 p.m. Friday, Jan. 27, at the Eden Prairie Aquatic Center in what should be an exciting match-up. The team will also be celebrating its seniors after the meet.
Eagles boys swim and dive doesn't charge for meet admission, but they will collect donations for Eden Prairie's PROP Food Shelf at the meet. Attendees are encouraged to bring items from PROP's most-needed items list to help people experiencing need in our community.
Close meet saw Breck/Blake pass Eagles 50-52
The previous week, the Eagles traveled to Blake School on Jan. 12 for diving and to Breck School on Jan. 13 in an extremely close meet that saw the joint Breck/Blake team top EPHS by just two points.
Drew Ploof, Brian Shi, and Ben Ploof on the blocks for the 200 IM.

Freshman Ayush Kumar and sophomore Huijae Kim on the blocks for the 200 medley relay with Nico Allen and Lucas Johnson swimming backstroke.

Freshman Punya Pavuluri swimming freestyle.

Junior Mark Derouin and senior Matthew Lillejord on the blocks during the 400 free relay.

Senior John McMahon on the blocks during the 200 medley relay, with sophomore Drew Ploof diving in after junior Brian Shi touches the wall.

Senior Charlie Folks, senior Erik Peterson, and sophomore Caleb Singewald in the 500 free.
While EP's divers dominated 1-2 at Blake, the older and smaller facility at the Breck campus presented some unique challenges to the Eagles swimmers. These included slippery starting blocks that made it more difficult to get a grip before diving in, no cool-down pool, and diving and swimming on different days and locations.
Boston said, "It's an older facility that is getting an upgrade this spring — they are at least getting new blocks."
Another challenge was that Breck's smaller pool has only five lanes versus the normal six or eight. This limited the opportunities the Eagles had to score.
"They only scored three in varsity as compared to five in a traditional 6-8 lane scoring situation," Boston said. "I personally found that a fun challenge for me putting together the lineup as well as for the boys! Nice to mix it up a little!"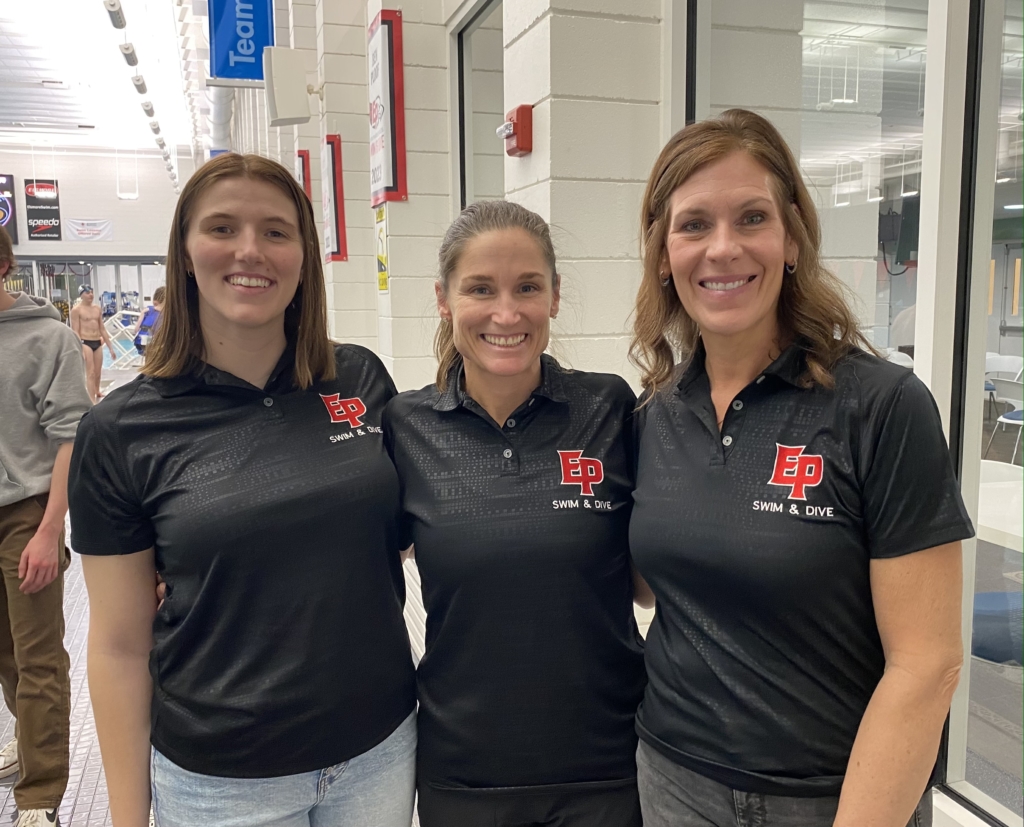 Boston gave "a big shout-out to our athletes who had significant in season time drops against Breck/Blake."
Ben Ploof: 200 IM and 500 free
Ayush Kumar: 50 free
Luc Merks: 50 free
Punya Pavuluri: 100 free
Huijae Kim: 100 breaststroke
Zach McBeth: 100 back
Charlie Strehl: 100 breaststroke
EP divers scored high at True Team Sections meet on Jan. 14
On Jan. 14, EP divers Yash Dagade and Alex Oestreich traveled with EP's dive coach, Kelly Derouin, to Pioneer Ridge Middle School in Chaska for the True Team Sections meet.
Senior Oestreich earned first place overall, and junior Dagade scored ninth. Boston said, "We are happy to report that both of our divers got their lifetime best score. Way to go divers and Coach Kelly Derouin!"
Oestreich and Dagade competed against divers from teams from public high schools in Minnetonka, Chanhassen/Chaska, Burnsville, Prior Lake, Waconia, and Shakopee. EP's swimmers did not compete in this meet.
Comments
Comments aren't allowed on our site, but we do offer several ways to provide feedback, and have your voice heard. If you believe the story has an error, or would like to get in touch with the author, please contact us. If you would like to respond directly to this article, we welcome and encourage Letters To the Editor. You can find details on how to submit a letter on our contact page.