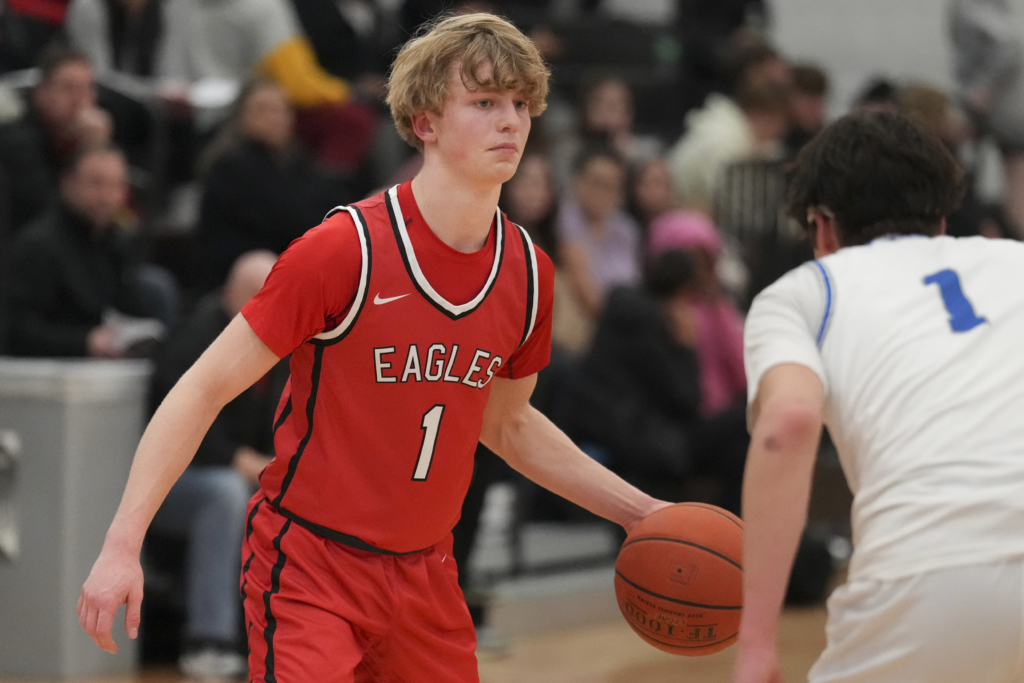 Eden Prairie boys basketball interim head coach Trevor Mbakwe stood on the floor of the nearly empty gymnasium at Eden Prairie High School on Friday night, shortly after his team's hard-fought battle with third-ranked Hopkins.
Moments before, the arena was near capacity with EP faithful, who cheered the fifth-ranked Eagles as they traded blows with one of the state's perennial powers.
"That was a big game and we had a big crowd," Mbakwe said.
Eden Prairie entered the contest as winners of five straight games, most recently the 90-81 victors over out-state power Brainerd on Tuesday night.
Hopkins, 9-1 heading into Friday's matchup, features a formidable starting five, led by freshman sensation, point guard Jayden Moore.
The meeting of the two metro titans certainly lived up to its billing, with both teams lighting up the scoreboard from the opening tip to the final buzzer.
Hopkins jumped out to an early lead, making good on four three-point shots enroute to a 22-7 advantage in the opening minutes.
Senior Vincent Hillesheim dominated the paint for the Royals, picking up 12 first-half points and finishing the night with 24.
Freshman Moore was right behind the senior, adding 22 for the game.
"We wanted to make [Moore] take tough shots," Mbakwe said after the game. "We wanted to make the game more difficult for him than we did."
Eden Prairie kept pace in the waning minutes before halftime. Cameron Riggins-Brown's two-hand slam dunk put the explanation point on an 8-0 Eagles run.
Senior guard Luke Rapp led the Eagles with 12 first-half points; sophomore wing Max Lorenson added eight, including a heavily-contested layup, helping Eden Prairie chip away at Hopkins' lead.
At the intermission, the Royals held an 48-37 edge.
In the second half, Eden Prairie struggled to take command of the boards, while Hillesheim continued his dominance in the paint.
"Stopping [Hillesheim] from getting the ball was our issue," senior wing Adam Mertens said. "We needed to do a better job of denying post-entry passes. Once he got the ball, he would just shoot a hook shot and it would go in."
The Royals received top production from sophomore Anthony Smith, who, along with Eden Prairie's Rapp, led all scorers with 25 points.
"We just need to be better," Rapp said. "Letting the other team score 90 points can't keep happening."
Lorentson totaled 14 points for the Eagles, while sophomore JJ Sullivan posted 12. But the high-octane Royals owned the paint with seemingly every possession down the stretch, powering their way to a 94-84 win.
Saturday results
Eden Prairie dropped an 86-75 decision to No. 2 Lakeville North on Saturday. Senior Luke Rapp led the Eagles with 27 points in the loss. North's Hudson Vaith led all scorers with 32 for the Panthers.
Eden Prairie will host Buffalo on Tuesday, Jan. 17 at 7 p.m.
Editor's note: EPHS student Arian Karimi contributed to this story.
Comments
We offer several ways for our readers to provide feedback. Your comments are welcome on our social media posts (Facebook, X, Instagram, Threads, and LinkedIn). We also encourage Letters to the Editor; submission guidelines can be found on our Contact Us page. If you believe this story has an error or you would like to get in touch with the author, please connect with us.