Behind the closed door of an auxiliary classroom, just steps away from the gymnasium at Hopkins High School on Friday night, Eden Prairie head coach Ellen Wiese addressed her team.
The sixth-ranked Eagles had just finished battling the No. 1 ranked team in the state and the undefeated Royals looked as good as advertised in an 86-51 victory.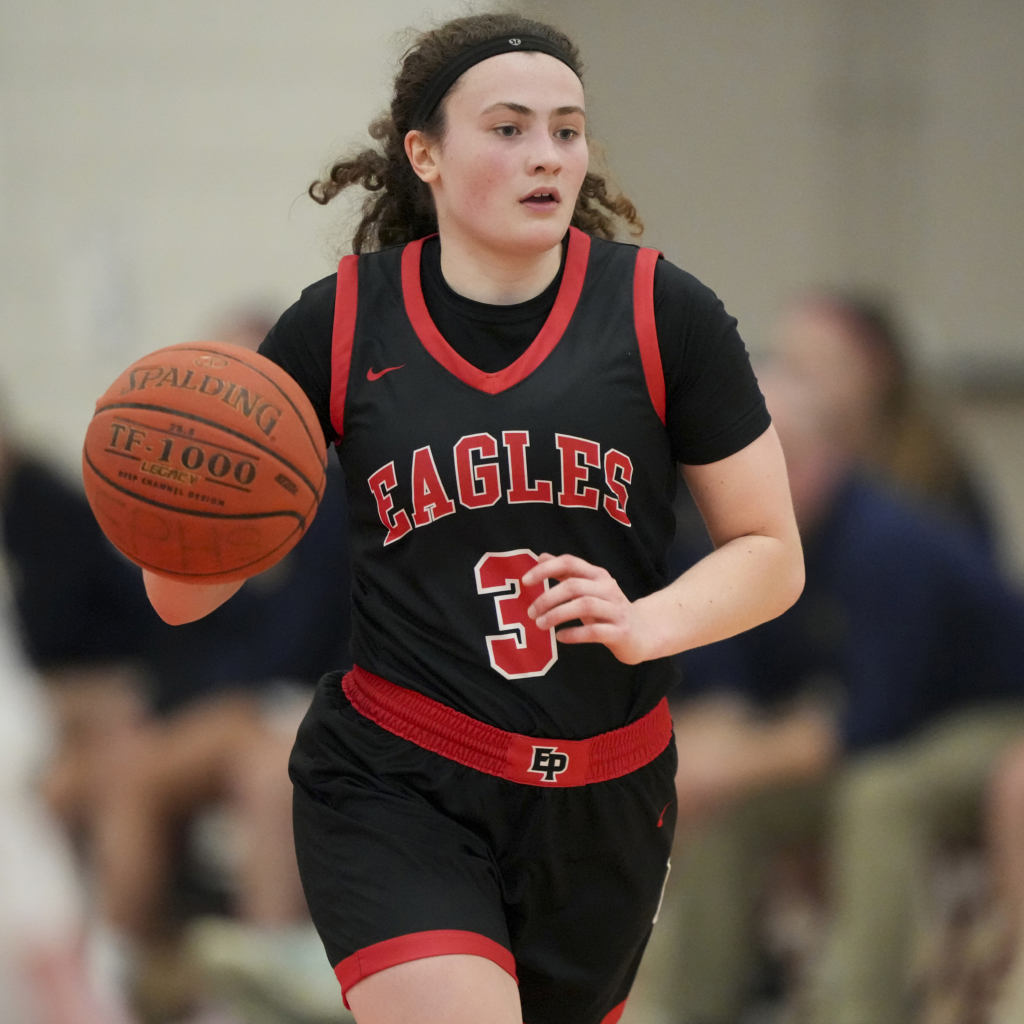 It didn't help the cause to have senior captain Kylie Bamlett, the Eagles' rebound leader and primary defensive force, out with an ankle injury.
But the coach wanted to make sure her players understood the effort they put forth –against the perennially elite girls basketball program – was something upon which to build.
"She told us she's proud of us for not giving up and we have nothing to really hang our heads about," senior point guard and captain Molly Lenz said.
Up and down the Royals' roster are players flirting with six-foot height – and some already beyond. Their strength and physicality transcend what one would typically see in high school gyms anywhere in the state.
"We just got completely manhandled physically," Wiese said after the game. "We don't have that stature. We're not 6-4, but we can still be 5-8 and strong. We don't have that yet."
Missing Bamlett
Bamlett's absence, coupled with the loss of Savanna Jones – the Eagles 6-foot-2-inch power forward who has been out the entire season with a torn ACL – creates a gaping hole leaving one to wonder what might have been with a healthy lineup.
"It really hurt to not have Kylie." Wiese said. "She gets double digit boards a game and that just killed us not to have her in there. But you've got to play who you have; deal with injuries and move on."
As it stood on Friday, the players on the floor didn't back down from their towering opponents.
"It's pretty frustrating to put up with that the whole game, but it's also fun," Lenz said of going toe-to-toe with the likes of Nu Nu Agara, the Royals' 6-foot-1-inch senior guard.
Lenz, who is 5-8 – and led the Eagles in scoring along with sophomore Rea Ehrman, both of whom had 11 points in the game – welcomes a battle with the biggest and the best.
"I know it makes me better and it makes all of us better," she said. "In the long run, it's a good thing, especially I think it will help get us ready for sections."
Hopkins stormed out to a 13-point, first-half lead, punctuated by a dazzling, alley-oop layup to take a 29-16 advantage.
The Eagles promptly went on a seven point run to narrow Hopkins' lead to 29-23, behind sophomore guard Ella Hardwick's determined inside play, which generated four points from under the basket.
"I would say it's a little intimidating, but you can't really let it get to your head," Hardwick said of banging for rebounds with the Royals.
Hardwick finished with eight points on the night and didn't seem phased by the evening's opponent.
"You just kind of got to play the game and just let it flow," she said. "You're always gonna play against people that are taller than you. You've just gotta do what you can and try your best and your hardest."
Hopkins held a 38-25 lead at intermission, only to go on an 11-0 run to start the second half.
Agara led all scorers with 23 points in the game. Taylor Woodson, the Royals 6-foot senior guard/forward, added 18.
While shooting well below their average, hitting just 34% from the field, the Eagles got a lift from Ehrman, who came off the bench to hit three straight three-pointers.
Her third three with 8:15 remaining cut the lead to 64-43.
"We put a lot of effort into that game. We kept pushing. We kept working hard. We didn't get down," Hardwick said. "They might have had a run on us, but we kept working our hardest and that's all you can really do."
The Royals, who also hit three second-half field goals from beyond the arc, spent much of the remaining time at the free-throw line and came away with their 11th win of the season.
Busy week ahead
The Eagles' calendar is full in the coming week. They'll face Mahtomedi in the MLK Classic at St. Catherine University on Monday night.
It's the first of four games in five days.
"The schedule is messed up," Hardwick said with a laugh. "They need to change it!"
Eden Prairie will travel to Buffalo on Tuesday and to Lakeville North on Wednesday before finally coming home to play St. Michael-Albertville on Friday night.
The Eagles have been road warriors for more than a month. Friday marks the first time they will have played on their home court since Dec. 14.
"It's definitely going to be hard.," Lenz said of the hectic week to come. "But we like playing more than practice.
"Everyone likes playing more than practice. So it should be fun."