Eden Prairie High School's (EPHS) dance team (EPDT) hosted several other schools at a home meet on Thursday, Jan. 5. EPDT's B squad, junior varsity (JV), and varsity jazz teams each placed third in their category.
"We had great performances from all three teams (B squad, JV and varsity) at our home conference meet," said Caitlin O'Leary, EPDT's co-head coach. "We [are]in a very competitive conference that continues to challenge and push us to be the best athletes and team we can be."
Meet results for B squad were: Edina High School first, Wayzata High School second, and EPDT third. In JV, a tie breaker saw Wayzata finish first, Edina second, and EPDT third. For varsity, Wayzata and Edina were 1-2 with EPDT in third. Minnetonka, Hopkins, and St. Michael-Albertville high schools also competed.
EPDT's B Squad performed to "Cosmic Love", JV to "If I Ain't Got You", and varsity to "Don't Let the Sun Go Down."
"The team this year is very hardworking and motivated in both jazz and kick on all levels, B squad, JV and varsity," O'Leary said. "We have strong leadership from our 17 seniors and 15 juniors."
"Last week's performance was such an amazing night for our team. All of our routines did amazing and we were all so proud of what we put on the floor," said Ava Rotsch, one of the team's senior co-captains.
She added, "My favorite part of the performances was crushing our turn sets and walking off the floor feeling so confident."
Kahlen Ruzek, another senior co-captain, said, "There was a certain energy in the air that made the night feel so special. I love hitting the ending pose, hearing the music fade, and anticipating the audience's reaction. I've never experienced an audience that loud and supportive."
Senior Recognition Night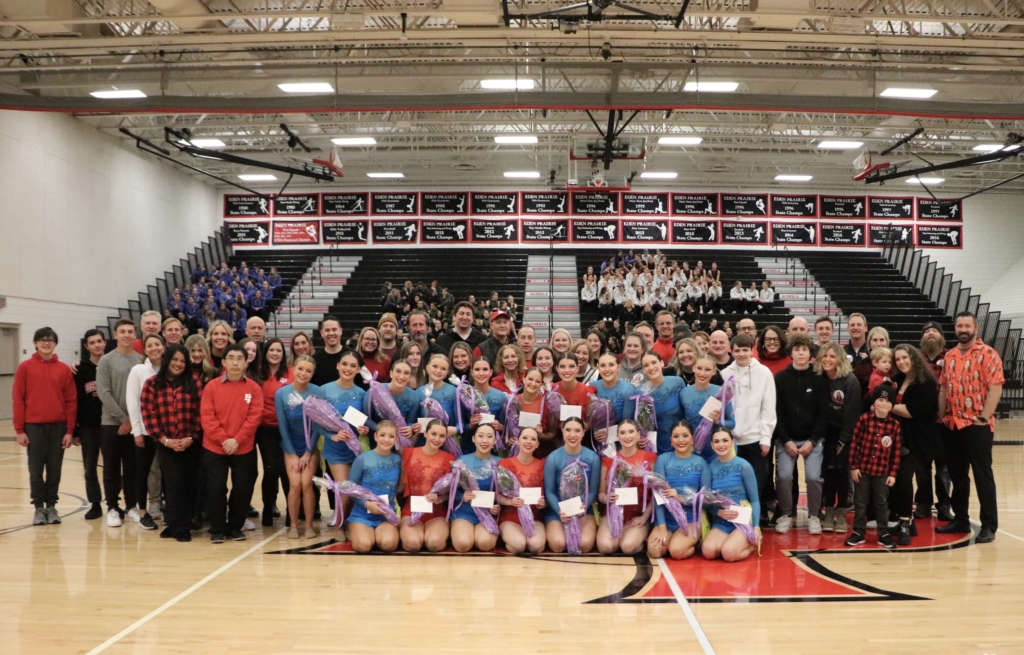 Families and teammates celebrated the team's seniors at a reception following the meet.
"To our 17 seniors, your dedication and love for the program and the team will continue way beyond your time on the team," O'Leary said. "Your coaches and teammates are so incredibly proud of you. We love you all. Once an Eagle always an Eagle."
"Senior night was a feeling of accomplishment for making it to this point with the best team," Senior co-captain Faith Black said. "This team is so special and you won't find anything like it anywhere else.
"All of us have become best friends, and the thing I will miss most is the friendships I have created on this team," she said. "These girls are my everything!"
Ruzek said, "Senior night was so special and an emotional night for me. I am so grateful to know that I have so many of my family and friends supporting me in what I do. My hope is to soak in every last moment with the team and appreciate these last few weeks."
She added, "I have created life long friendships on this team, and it warms my heart to see the younger girls forming the same connections. It has been amazing being able to give my all into this team knowing that my teammates are right there with me."
Varsity performed at Best of the Best Showcase on Jan. 6
EPDT's varsity jazz team also performed at the Best of Best Showcase at the University of Minnesota on Jan. 6.
"This is always a highlight of the season for many of our athletes as they get to perform for and support the Minnesota dance community," O'Leary said. "Many local colleges and high school dance teams attend and perform at this event. It is an incredibly talented showcase and is very inspiring to our athletes as we head into our last month of the season."
STMA meet Jan. 12, then JV championships, varsity sections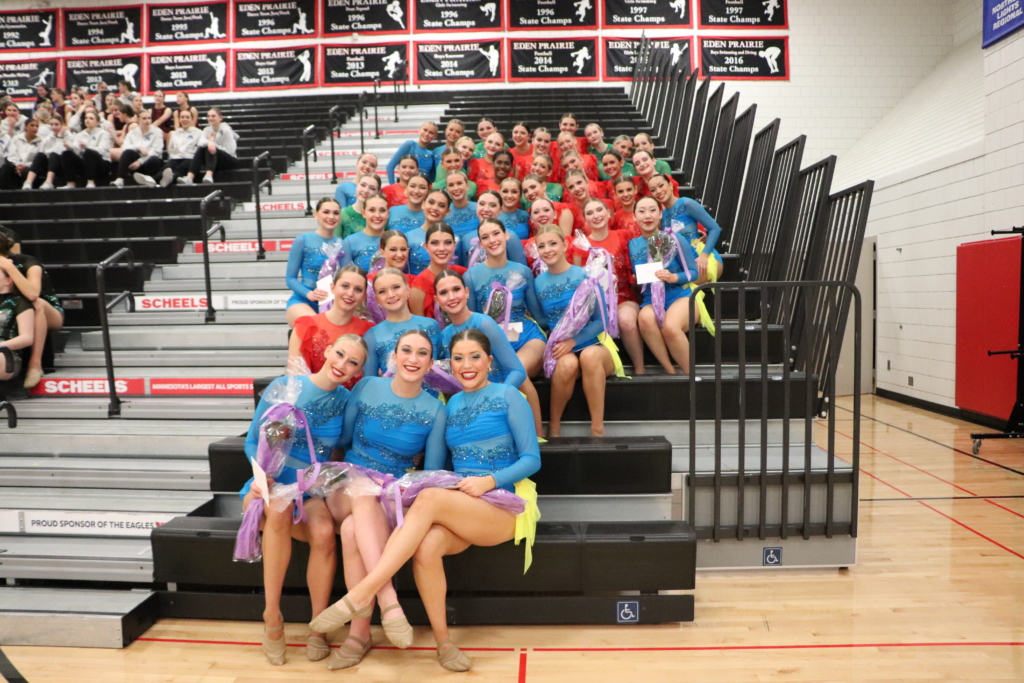 EPDT's final Lake Conference meet of the season will be a kick meet held Thursday, Jan. 12 at St. Michael-Albertville.
Rotsch said, "The audience can look forward to seeing our team improve and grow each time we perform on the floor."
O'Leary said the team is excited for the rest of the season, which includes a couple of big competitions. "Our JV and B squad compete at JV championships on Jan. 28 at Mounds View High School. It's a great end to our JV and B season."
Varsity athletes will compete at the 2AAA section tournament on Feb. 4. The top three teams in jazz and top three teams in kick at sections will advance to the state tournament.
"Our athletes are vying for a top three spot to advance and compete at the state tournament on Feb. 17 (jazz) and Feb. 18 (kick). We are excited to continue working towards our individual and team goals as our season comes to a close," O'Leary said.
"The audience can look forward to seeing some killer performances from our team," Ruzek said. "We have worked so hard to improve, and give it our all in this last stretch of the season!"
Black agreed and said she's looking forward to the challenge. "Audiences should for sure look forward to seeing EPDT grow and put our best foot forward the rest of this season. We are hungry and ready to show how hard we have worked this season to achieve all of our goals.
"My hope for the rest of the season is to finish strong and take both of our jazz and kick routines to state."