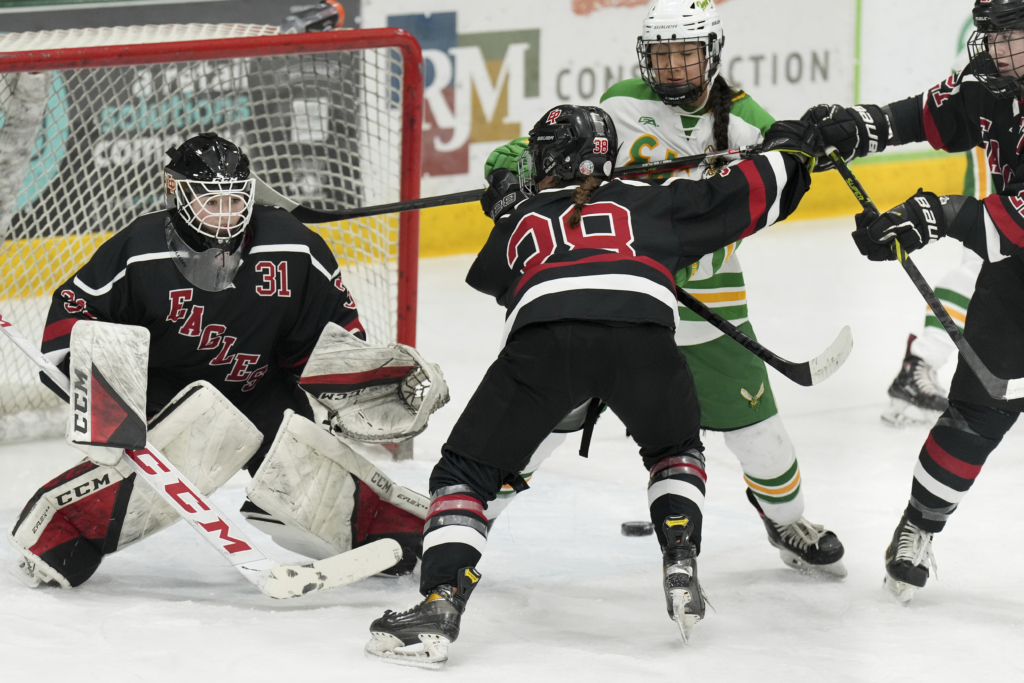 It's 86 miles from Dodge County Ice Arena in Kasson, Minnesota to Eden Prairie High School.
Following their 4-3 win over the Dodge County Wildcats Jan. 6, the Eden Prairie Eagles made the trip back up Highway 52, celebrating their victory but thinking ahead as well.
They were already preparing for their next game: a date with the Edina Hornets at Braemar Arena on Wednesday.
Soon forgotten was the Eagles' comeback from a 2-0 deficit against the Wildcats.
Addy Mitchell's two goals, including the game-winner with just 2:40 left to play? That was ancient history by the time the team bus reached the 494 corridor.
"We came off a nice win down in Dodge County," Eagles head coach Steve Perisan said. "They were really excited (to play Edina)."
Wednesday's contest with the Hornets had been rescheduled from Jan. 4, when a winter storm forced postponement of the originally scheduled meeting.
"Oh, we were so ready for this," defender Natalie McNeal said after Wednesday's game against Edina. "We had a good practice yesterday. We were so ready for this game and we've been waiting for it."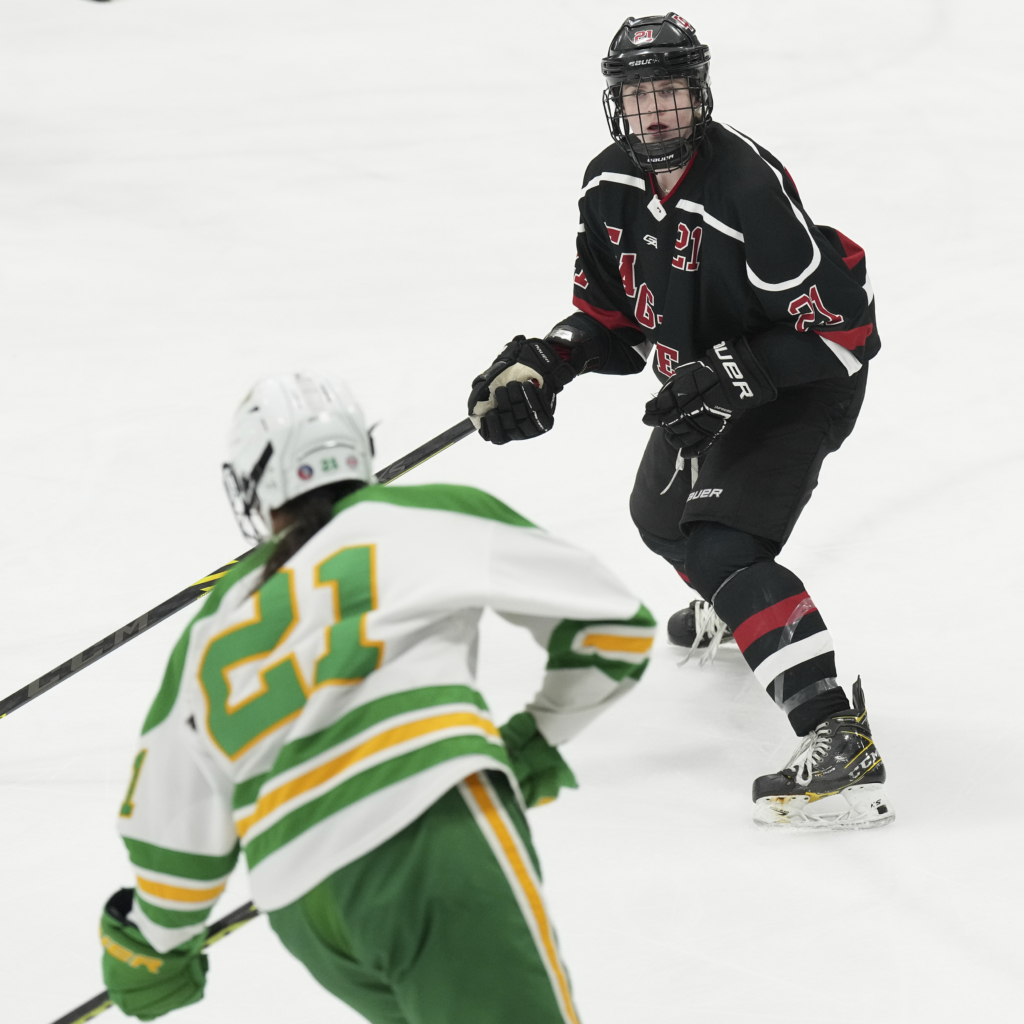 It's no secret that Edina is a hockey royalty in Minnesota. The Hornets have won four of the last six state championships and are ranked fourth in Class 2A this season.
"We knew coming into this game that it was gonna be a hard challenge," junior goaltender Tegan Swanson said. "And each girl got ready mentally how they needed to and I think it showed."
Eden Prairie kept pace with the high-powered Hornets, trailing 1-0 with under 1:30 to play in the second period.
The Eagles were poised to enter their locker room at the second intermission, down just one goal to one of the top teams in the state. For Persian, it was a good place to be.
"We were playing well," he said. "We thought if we could keep it one-zip after two, it was certainly going to be a battle in the third period."
But with 1:25 to play in the period, Edina's Hanna Halverson scored, giving the Hornets a 2-0 lead.
"Tough timing," Persian said.
The coach was encouraged by his team's play up to that point – and into the final period. Edina would score once more in the third to earn a 3-0 victory; but the Eagles met expectations Persian had set specifically for the game.
"Two really good periods of hockey to start the game and that's really what we talked about as a group," he said. "Starting fast, playing up to the capabilities that you have."
Persian also mapped out a strategy for the Eagles to follow in the defensive zone, neutralizing Edina's ability to penetrate the shooting lanes and create scoring chances.
"They try a lot of 'give-and-goes' using their defense," Persian said. "So we talked about how we can cover that in a really effective way to take away high-scoring opportunities. The defense and the centers did a really good job of managing that space in a really good way."
McNeil is among the defenders tasked with twarting the swarming Hornets and provided positive results. Eden Prairie held Edina to just seven shots in the first period and 13 in the second.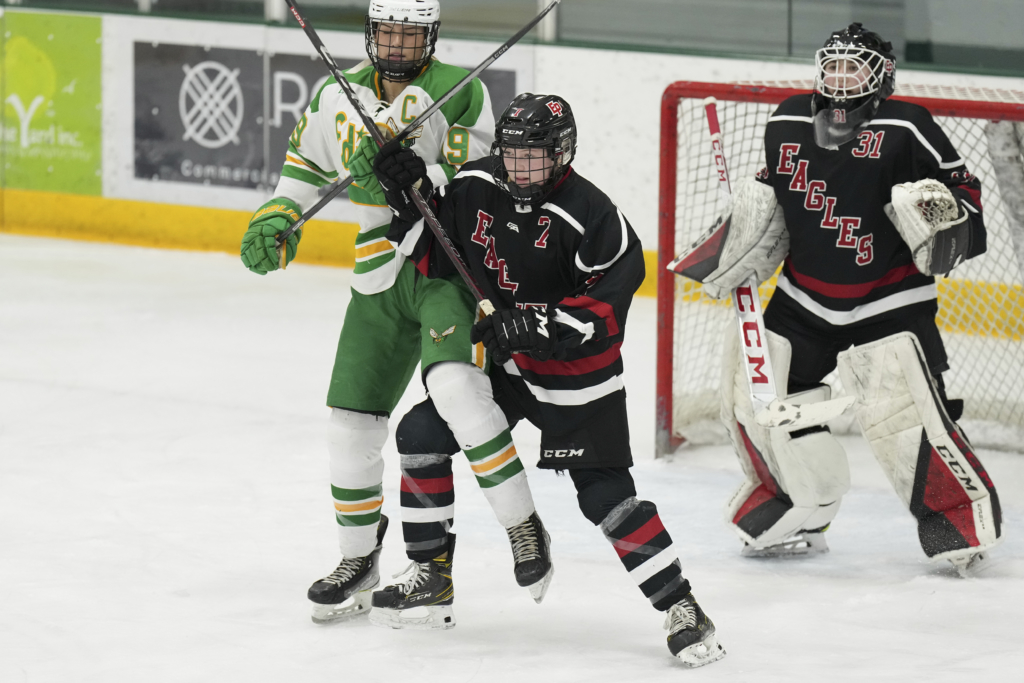 "Steve wants us to keep them outside the dots, which I think we all did really well as a team," she said. "We stayed in position in the D zone."
McNeil, along with fellow sophomore Ella Konrad, is part of the young defensive core – which includes freshman Genevieve Streed and eighth-grader Ella Pinnow – charged with keeping green jerseys away from the Eagles' net.
"We obviously need to clear bodies more but I think we played really well defensively," McNeil said.
Swanson had 29 saves for Eden Prairie, fending off some of the state's best goal-scorers.
"I have mixed feelings about tonight's game, just the goals that went in," Swanson said, somewhat frustrated. "But I'm happy with how we all played. We're looking really good as of right now; it's just the scoreboard never shows it."
Persian, in his first year as Eden Prairie head coach after leading Breck to back-to-back state titles, sees incremental progress in every game and uses each outing as an opportunity for his players to learn, grow and improve.
"To me, this is another step in the right direction," he said. "To say you're skating with a really well-coached team, that's got a high level of talent. And that's where you're at in games like this."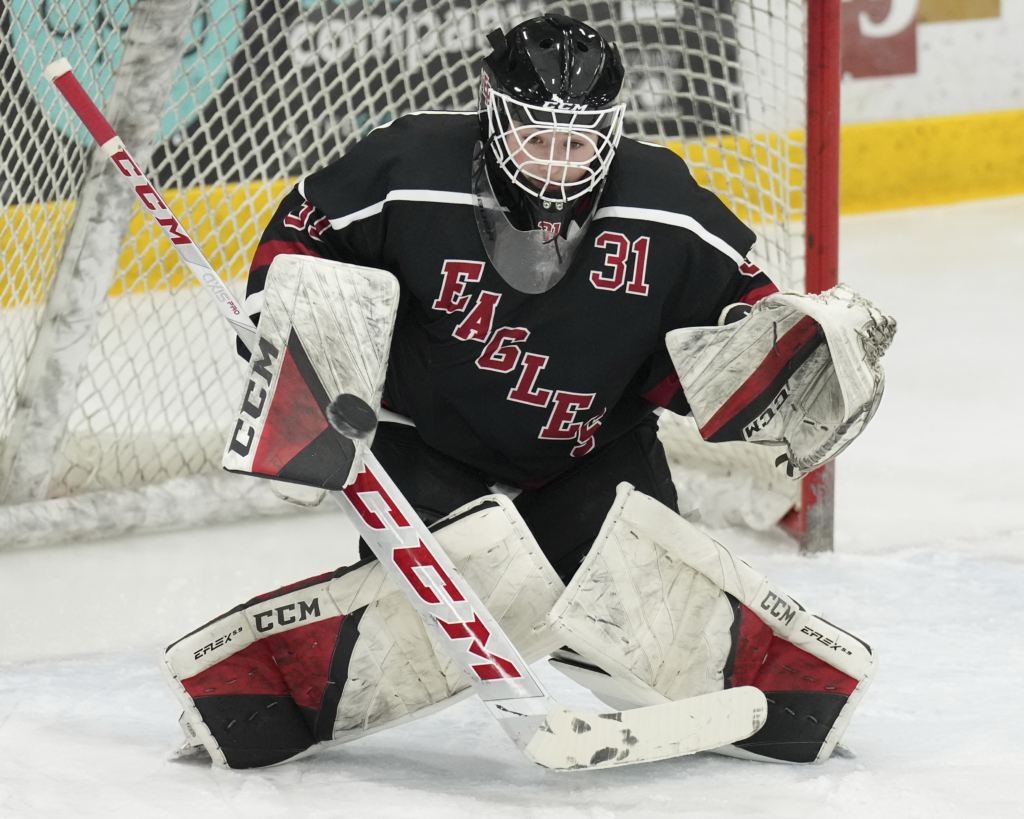 No rest required
The Eagles won't take a day off from competition. Instead, they'll faceoff with No. 10 Benilde-St. Margaret's on their home ice on Thursday.
The Red Knights blanked the Eagles 4-0 in the Mid-Winter Meltdown tournament at Eden Prairie in December. But after skating with Edina, the Eagles are ready for another challenge.
"I think this game (vs. Edina) is going to be really good to go on to the next one," McNeil said. "Because the way we played today, if we keep it going in the next one, it should be a really good game tomorrow.
"And I'm looking forward to it."
Puck drop for the Eagles and the Red Knights is slated for 5 p.m. at Eden Prairie Community Center.
The Eden Prairie boys varsity hockey team will face Holy Family immediately after the girls' game.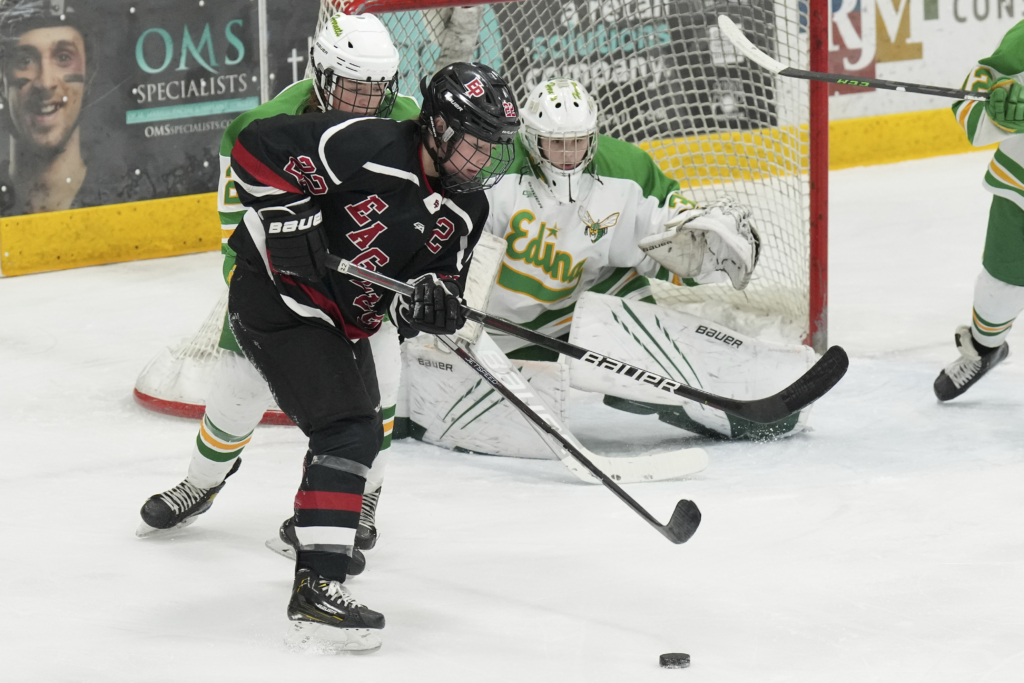 Comments
We offer several ways for our readers to provide feedback. Your comments are welcome on our social media posts (Facebook, X, Instagram, Threads, and LinkedIn). We also encourage Letters to the Editor; submission guidelines can be found on our Contact Us page. If you believe this story has an error or you would like to get in touch with the author, please connect with us.