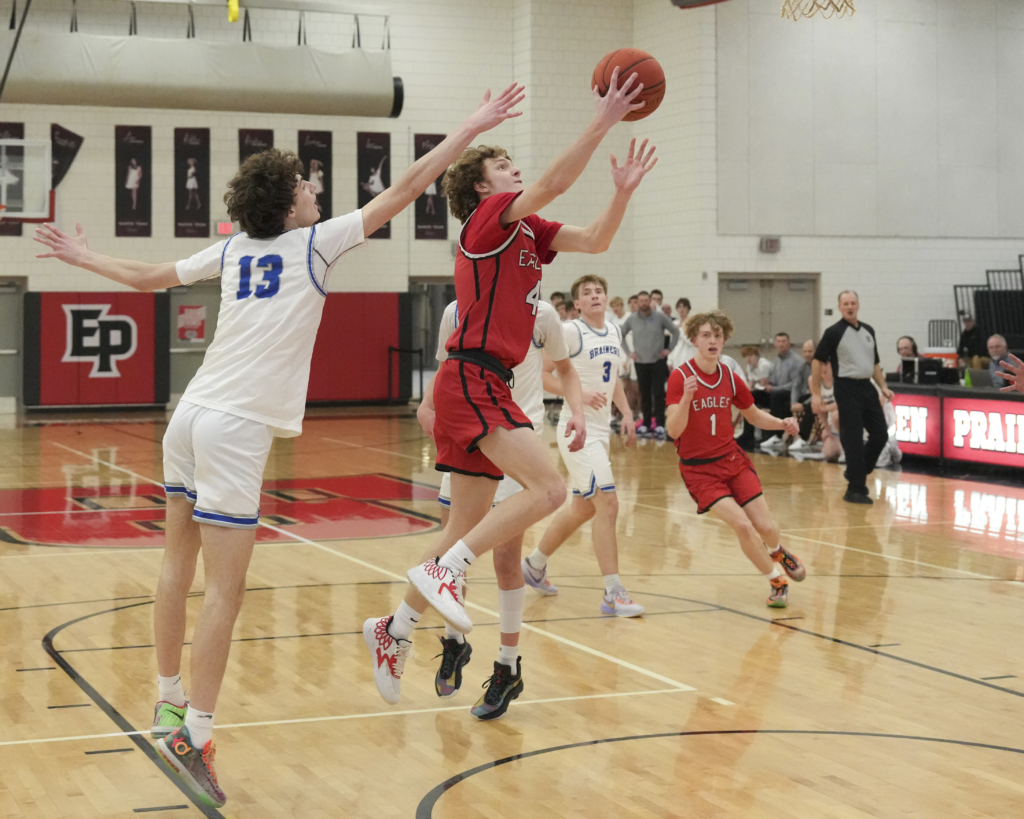 Interim head coach Trevor Mbakwe liked what he saw on the hardwood at Eden Prairie High School (EPHS) Tuesday night.
"I was excited," Mbakwe said. "Like I told the guys in the locker room. I don't think they know how good of a win that is out there."
The Eagles, ranked fourth in the Star Tribune Metro Poll and fifth in Class 4A, handed Brainerd their first loss of the season, a 90-82 decision, in a battle of north vs. south.
The Warriors were 7-0 coming into the game ranked seventh out of the 64 teams in the Class 4A QRF (Quality Results Formula), an analytics equation used to compare teams and determine rankings.
"They're a tough team as we saw. They shoot the ball really well and they're undefeated," Mbakwe said. "So it was a top 10 matchup, two good teams and I'm glad we were able to get the win."
Brainerd certainly made the Eagles earn their victory. Warriors senior guard John Pecarich was precise from everywhere along the perimeter, leading all scorers with 35 points.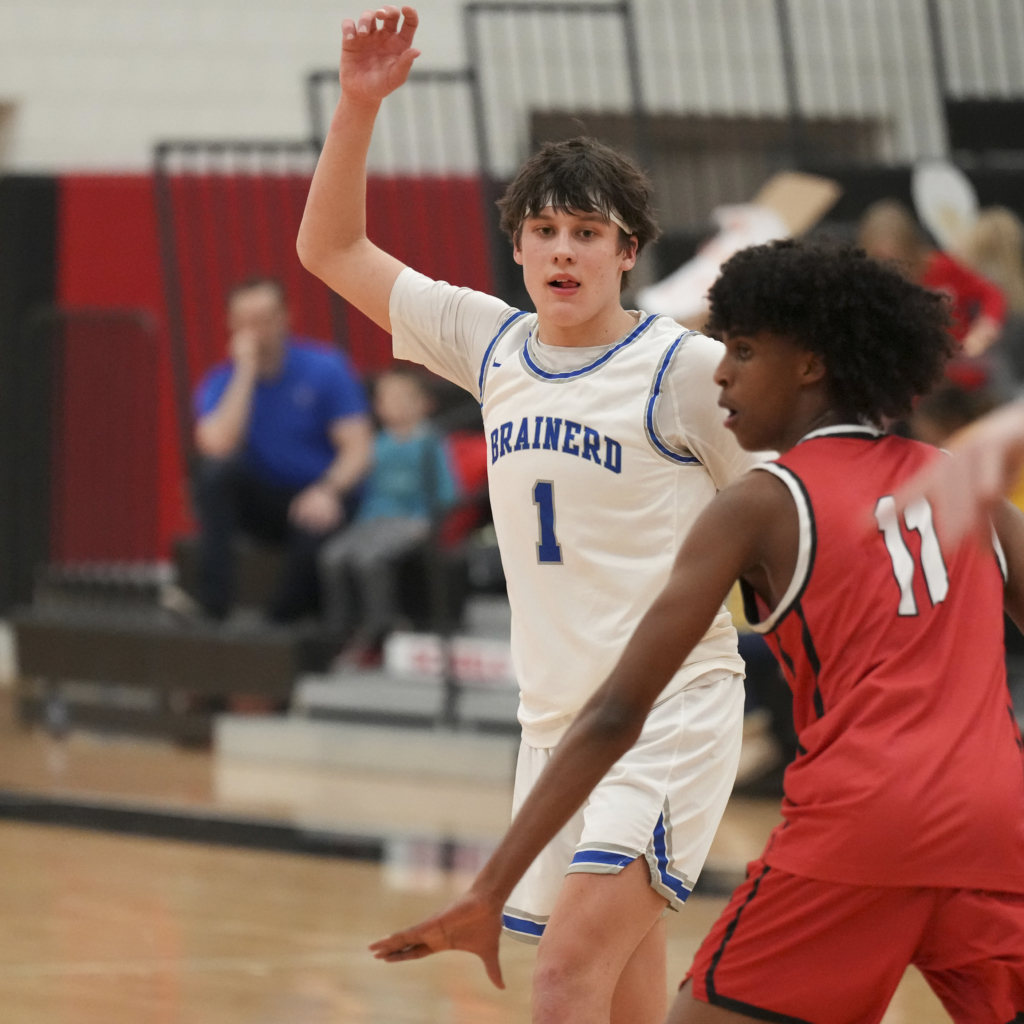 "That number-one kid, he had a good game," Eagles senior guard Luke Rapp said, referring to Pecarich's jersey number. "They're a good team. They shot the ball really well."
Rapp led the Eagles with 23 points of his own, 13 coming in a competitive second half.
"I feel pretty good," Rapp said about his performance. "It wasn't our best defensive effort but we scored the ball well tonight."
Eden Prairie led 48-47 at the half behind the scoring of sophomore Max Lorenson and senior Adam Mertens, both of whom scored 12 first-half points. Mertens finished with 20 points for the game, while Lorenson tallied 17.
"The key was to expose favorable matchups," Mertens said. "We had more depth than they did so we were able to go on runs when they subbed players out, especially (Pecarich)."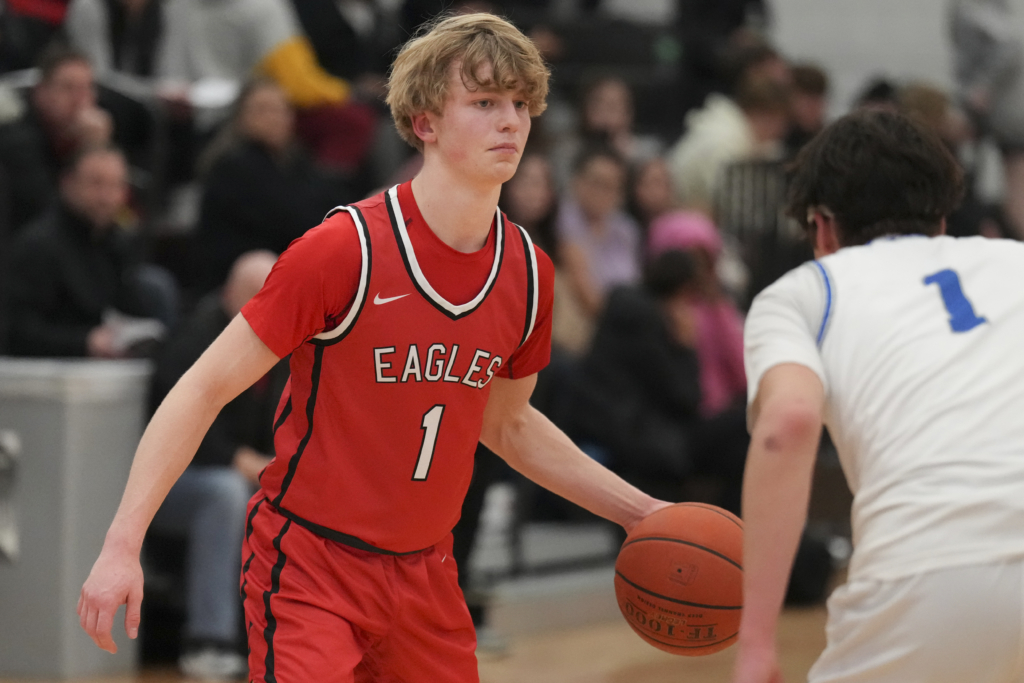 The Eagles led by as much as 13 after halftime. Rapp drained a three for a 66-53 advantage with 13 minutes remaining in the second half.
"They were hot," Rapp said. "But we just brought more defensive pressure, moved the ball as a team and got good shots."
Brainerd refused to back down, with Pecarich and junior Jake Merseth hitting back-to-back threes to narrow Eden Prairie's lead to 80-79 with 2:30 left in regulation.
When asked what he felt what was crucial to getting the win, Mbakwe joked, "That number-one slowed down a little bit," referring to the hot-handed Pecarich.
"I think we just stayed together," he was quick to add. "We were able to weather a lot of their runs, that slowed down. And we just competed. We kept our energy up, we had a lot of guys step up."
Mbakwe welcomes the opportunity for his players to be presented with a new challenge and knew that Brainerd would be a formidable test for the Eagles.
"They're a competitive team," he said. "They're 7-0 for a reason. But I think anytime the team gets a chance to play against another top team, especially when Brainerd comes to Eden Prairie, it's a big game. And we showed up and we're able to compete and come away with the win."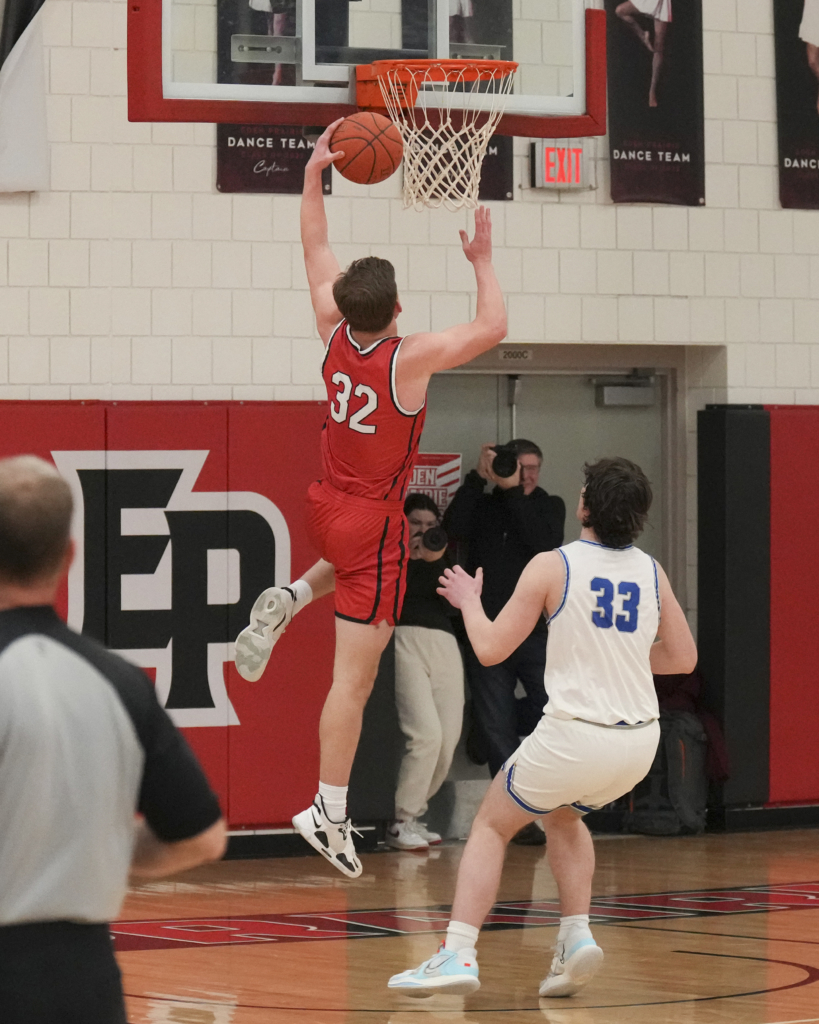 Player personnel
The Eagles roster looked a bit different against Brainerd than it had at the start of the season.
Senior forward Chiddi Obiazor, a significant presence at 6-foot-6 and 245 pounds, has left the team early to begin his college football career at Kansas State.
Joey Flom and Carter Arneson are no longer with the team; and Cameron Riggins-Brown was out for the game against Brainerd.
Those absences have opened to the door for new players – who've typically played a supporting role – to shine for the Eagles. Freshman Hamze Yusuf had seven points against the Warriors, while senior Quincy Jones posted six to go with the 20 from Mertens.
"I think our team is in a great spot," Mertens said. "We are playing great team basketball and we have shown we can win without Chiddi."
Mbakwe concurs, "Chiddi was a great player. Obviously, not having him changes the dynamics of the team a lot. So we've had a lot of guys step up like Adam Mertens today. Quincy has been great. Jermell Taylor joined and he's gonna be with us for a bit."
Coaching uncertainty
Mbakwe is the assistant activities director at EPHS as well as interim head coach for basketball. He stepped into the role as interim coach after head coach David Flom was suspended from coaching on Dec. 8.
Flom was suspended by the school district pending an investigation into a complaint about his use of inappropriate language during a classroom session with the team on Dec. 7.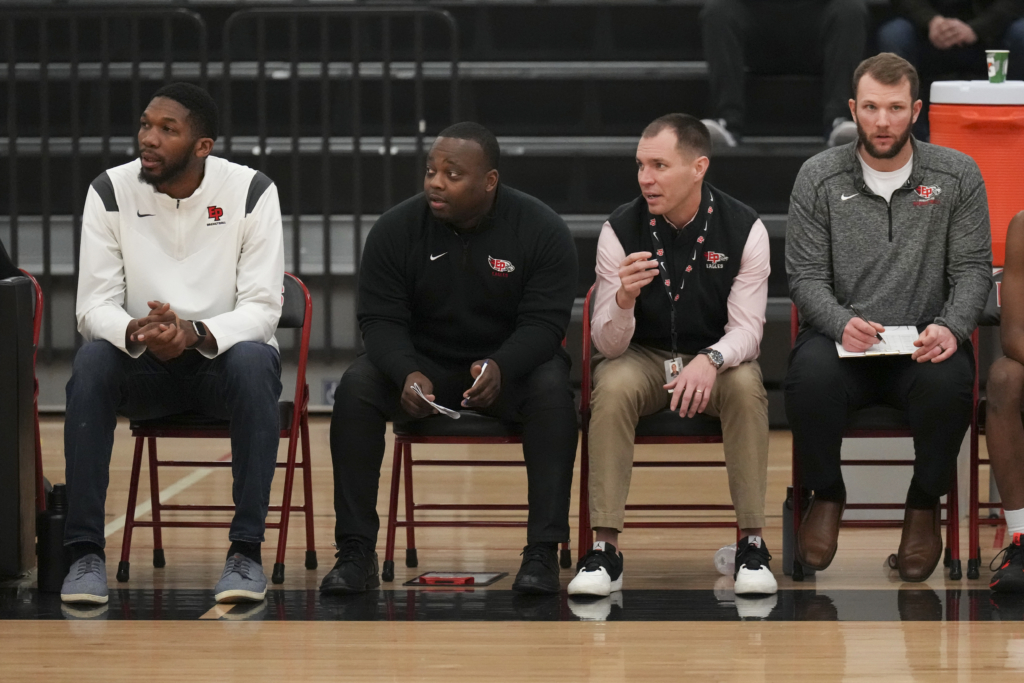 School officials, including Mbakwe and EPHS associate principal of student activities Russ Reetz, have declined to comment on the situation, as they continue to wait for a final decision to be made on the matter.
When asked to comment on the coaching uncertainty, Mbakwe said Tuesday, "I wish I could. We're still waiting to see what happens ourselves.
"So I'm gonna be here and keep trying to keep these guys together as much as possible. But hopefully we'll get some information soon. I think it'll make a lot of guys so happy either way."
Top 10 showdown
The Eagles are 7-1 with their only loss coming in a game with Farmington on Dec. 16. They will face a significant test this Friday when they host Hopkins, a team ranked third in Class 4A with an identical 7-1 record.
"Hopkins is a really big game," Mertens said. "We need to stop them from getting to the rim. Many of their guys like to drive a lot. We let up too many points (against Brainerd) and we have to play better defensively."
Opening tip for the Eagles clash with the Royals is set for 7 p.m. on Friday in the main gym at Eden Prairie High School.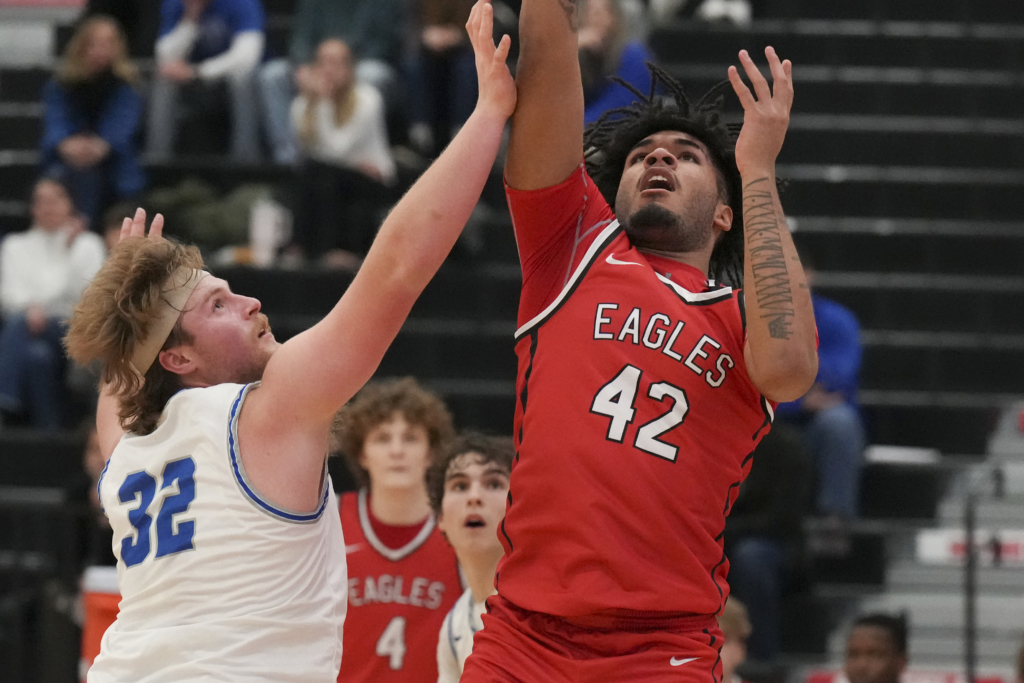 Comments
We offer several ways for our readers to provide feedback. Your comments are welcome on our social media posts (Facebook, X, Instagram, Threads, and LinkedIn). We also encourage Letters to the Editor; submission guidelines can be found on our Contact Us page. If you believe this story has an error or you would like to get in touch with the author, please connect with us.