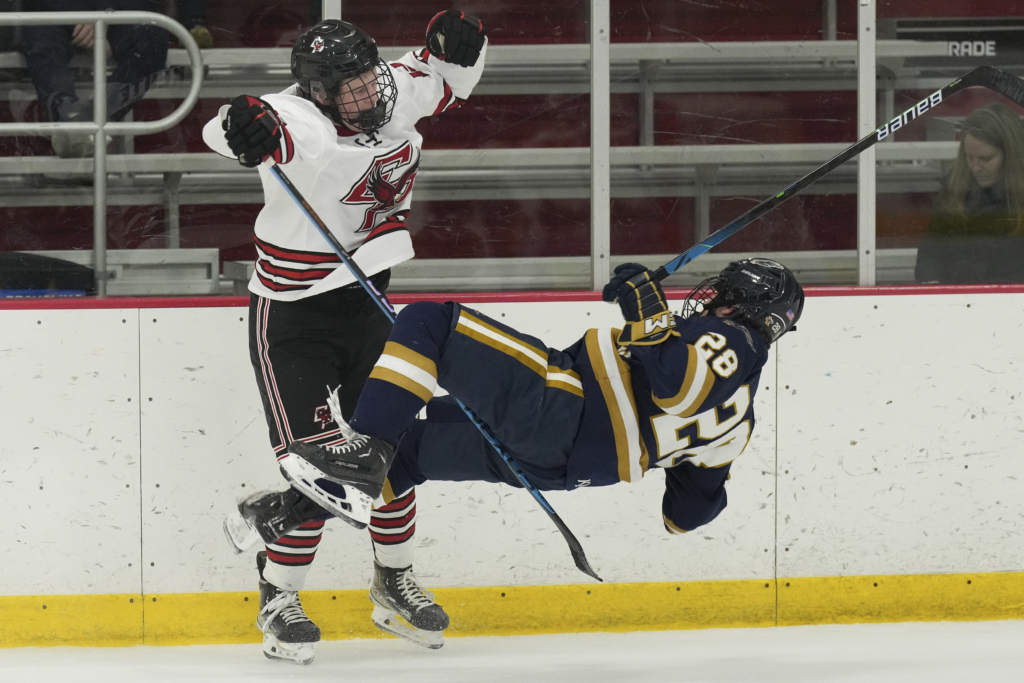 Comparable to a three-act play, a hockey game can take a number of dramatic turns over the course of three periods.
For the Eden Prairie Eagles, their Saturday afternoon matinee with Hermantown provided enough plot twists to light up a Broadway stage.
The Hawks, undefeated and ranked second in Class A, arrived in their coach bus at the Eden Prairie Community Center, having completed the trip down Interstate 35 in plenty of time before the opening curtain.
Hermantown took the stage with an Eden Prairie team which has had its share of first-act – or first-period – struggles.
The Eagles have been slow out of the gate in recent games. In Saturday's contest, they gave up two first-period goals after getting beat in their defensive zone. 
"We were just losing battles early and so we dug ourselves in a hole and it was tough to get out of it," senior captain Ryan Koering said. "It's a couple games here this season where we just have flat starts and then we show up in the second and third."
Eden Prairie's shortcomings in their own end are a departure from early-season games in which the Eagles effectively shut down opponents before they ever came close to goaltender Isaiah Paulnock.
"I just think we got to be a lot better defensively in our zone," Koering said. "We're getting just out worked in the corners and as a whole D core."
Hermantown widened its margin at 7:09 of the second period when the Hawks leading point-getter, Dallas Vieau, set up River Freeman, who tipped the puck past Paulnock from close range.
Amid the backdrop of a 3-0 deficit, the stage was set for Eden Prairie's Andy Earl to deliver a command performance.
The junior forward played his part to perfection. As a grinder for the Eagles, Earl was persistent in his battles for the puck, causing disruption in the offensive zone.
"I'm a bigger body. I'm a little bit more chunky, I guess," Earl said, when asked to define the role he has on the team. "So that's my job is to kind of 'lay body' and then to go score.
Cole Saterdalen grabbed a loose puck from the left-side boards and delivered a perfect pass to Earl in the slot in front of the Hermantown net. Earl made a move on Hermantown goalie Dane Callaway and lifted a backhand past for his sixth goal of the season.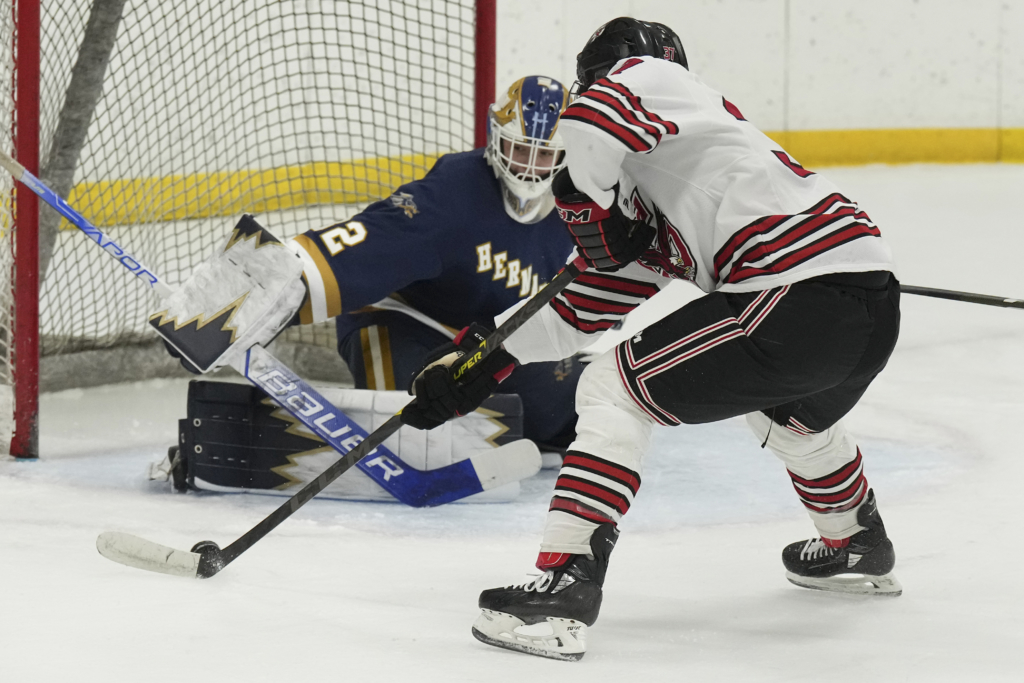 Two minutes later, sophomore defenseman Nick Koering took a shot from the left point, which made its way to Earl, who redirected the puck into the net.
The second assist went to Connor Crowley, and at 11:15 of the second period, the Eagles had quickly drawn within one.
"We had a good response," Ryan Koering said. "It's a tough hill to climb, but we didn't give up the whole time. So I think that's one positive but we shouldn't even be in that situation to begin with. It's tough to battle back when you're down three goals."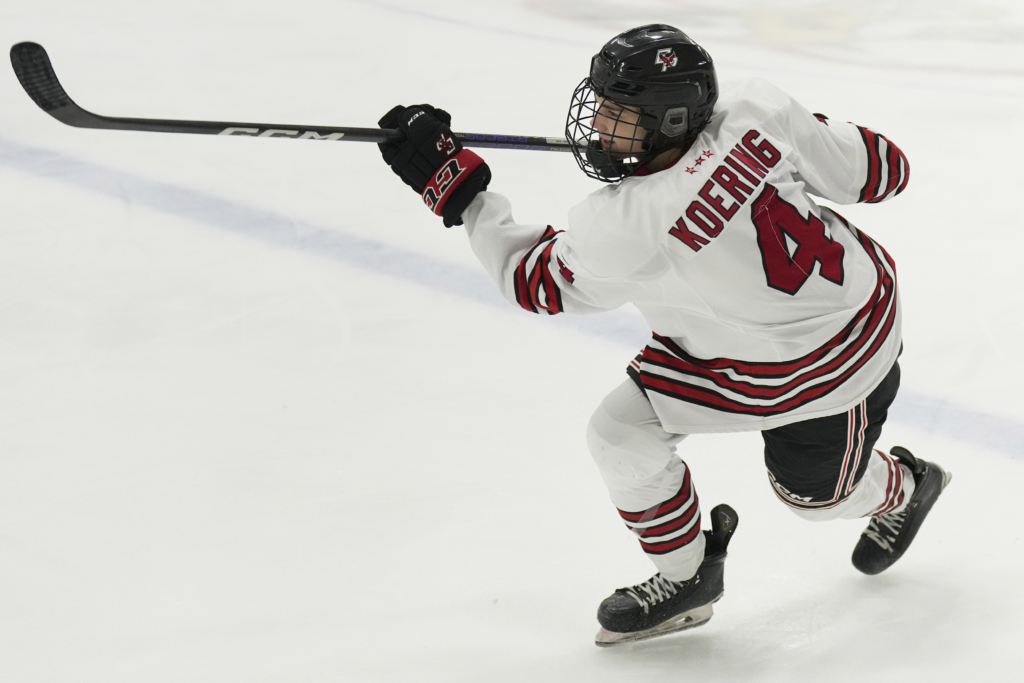 As has been their tendency in recent weeks, the Eagles outdueled their opponent after a slow start. For much of the second period, Eden Prairie had the momentum, winning puck battles and creating significant chances.
But with a half-minute remaining in the period, the Eagles faced off in the Hermantown zone. The Hawks gained possession and made their way up the ice, where Vieau launched a bullet from the left side past Paulnock just as the buzzer sounded to end the period.
"That just really set us back. That was just a heartbreaker," Earl said. "They turn around and go on a two-on-one and score at the buzzer and just took the life right out of us. It went from a one-goal game to a two-goal game."
If replay cameras were required for high school hockey, the goal would certainly have been reexamined. As it stood, Hermantown took a 4-2 lead into the second intermission.
"Oh, yeah, it definitely killed us," junior captain Teddy Townsend said. "I didn't really see if it beat the buzzer there or not, but I can't really do anything about it now. 
"But that was a good play by them. We kind of got caught being more offensive than focusing on the defensive."
Townsend played brilliantly for Eden Prairie, creating opportunities that kept pressure on Hermantown well into the third period.
Despite a quick goal by the Hawks just 18 seconds in, Eden Prairie dominated possession in the third. The Eagles outworked the Hawks and outshot them 12-7, but couldn't find the net in the final period.
The game was physical throughout, with sophomore forward Chase Klute delivering punishing open-ice hits to accompany Earl's disruptive forechecking.
In a tense moment in the third period, Billie Jacobson-Couch went crashing into the boards in the offensive zone. Fortunately, the junior forward was able to return to action.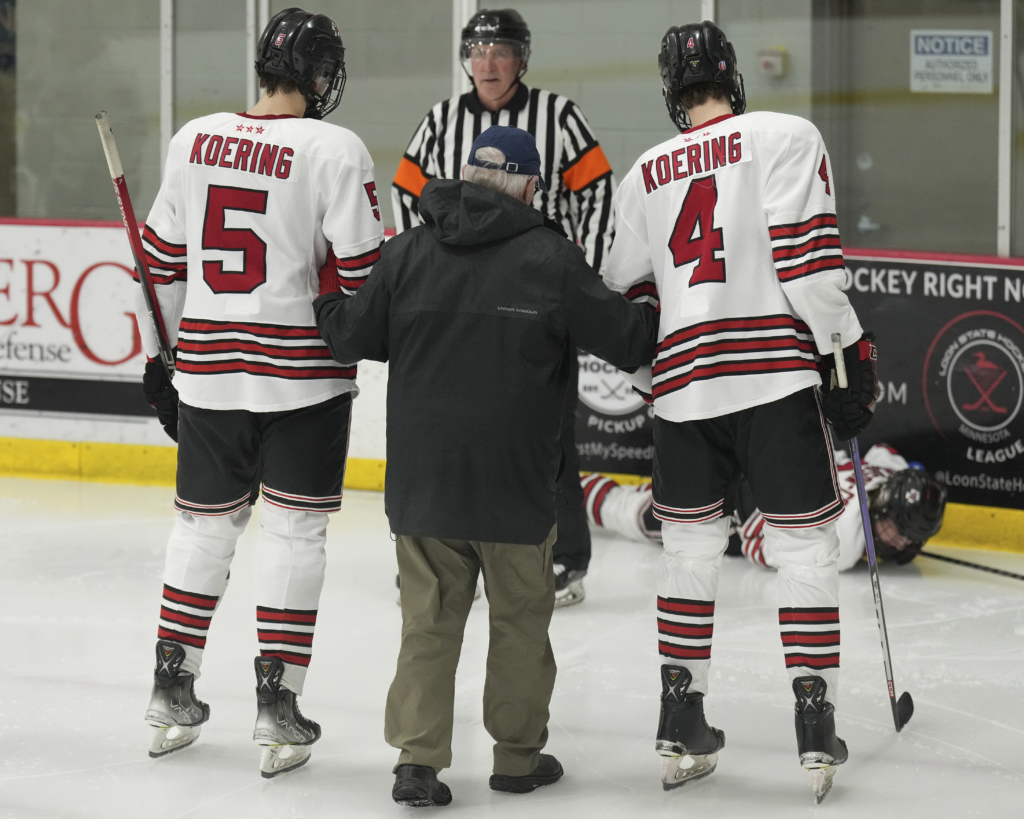 But perhaps the afternoon's most memorable moment came at 6:49 of the third period when Mason Moe made a rush on the Hermantown net. The freshman forward was nearly tackled by two Hawk defenders, leaving the puck to trickle away.
Enter Saterdalen stage left, who put the loose puck past Callaway.
But as Saterdalen's shot found the net, so too did Moe and the two Hawk defenders draped around him. The three players crashed into Callaway in the same instant as Saterdalen's presumed goal.
The officials ruled goalie interference on the play, and the goal was disallowed. 
"I don't have much of a comment on it. I wasn't there," Koering said. "But if you're not going to call a goal, you should at least call the penalty on it."
The two-goal swing – with the buzzer-beater to end the second period and the disallowed goal in the third – proved to be too much to overcome.
"That's a game changer, too," Koering said. "One of those bounces, one of those goals gets called, it's a different hockey game, but there's nothing you can do about that."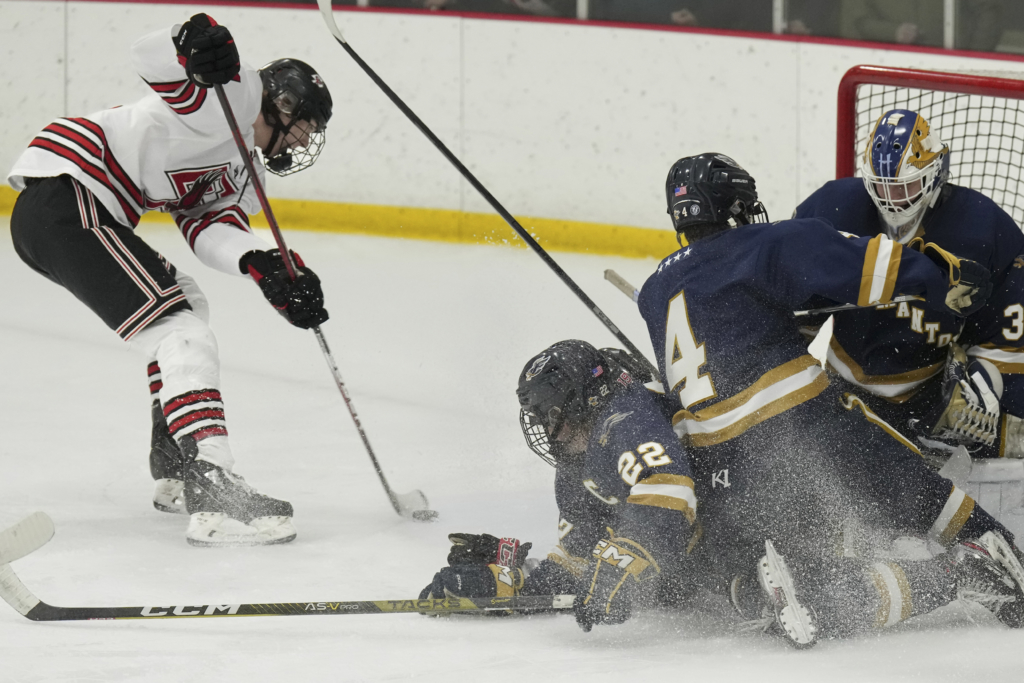 Hermantown scored an open-net goal late in the game to seal a 6-2 victory before heading back up north.
"They're a good team," Townsend said. "They played really hard. They play as a team and I think they're still undefeated right now. So yeah, they're a good squad."
The Hawks improve to 9-0-1 on the season, having defeated three metro opponents in the past seven days. The defending Class A state champions topped Shakopee 4-3 last Saturday and edged Rosemount by the same score on Tuesday.
"It's kind of like they're playing pond hockey on the outdoor rink." Earl said. "They're having fun out there. It looks like they look a little more relaxed than we do. So I think we've got to play a little more relaxed. Just have more fun with it."
Despite the frustrating loss, the Eagles (5-7-1) appear to be a team on the verge of a breakout performance – provided they hone their opening act.
They'll be back in the spotlight Thursday night on their home ice against Holy Family.
"We've just got to work on our starts," Koering said. "If we can just figure out how to start fast and then finish the game and play all three periods, all 51 minutes, we're gonna be a different hockey club. 
"We just got to figure that out."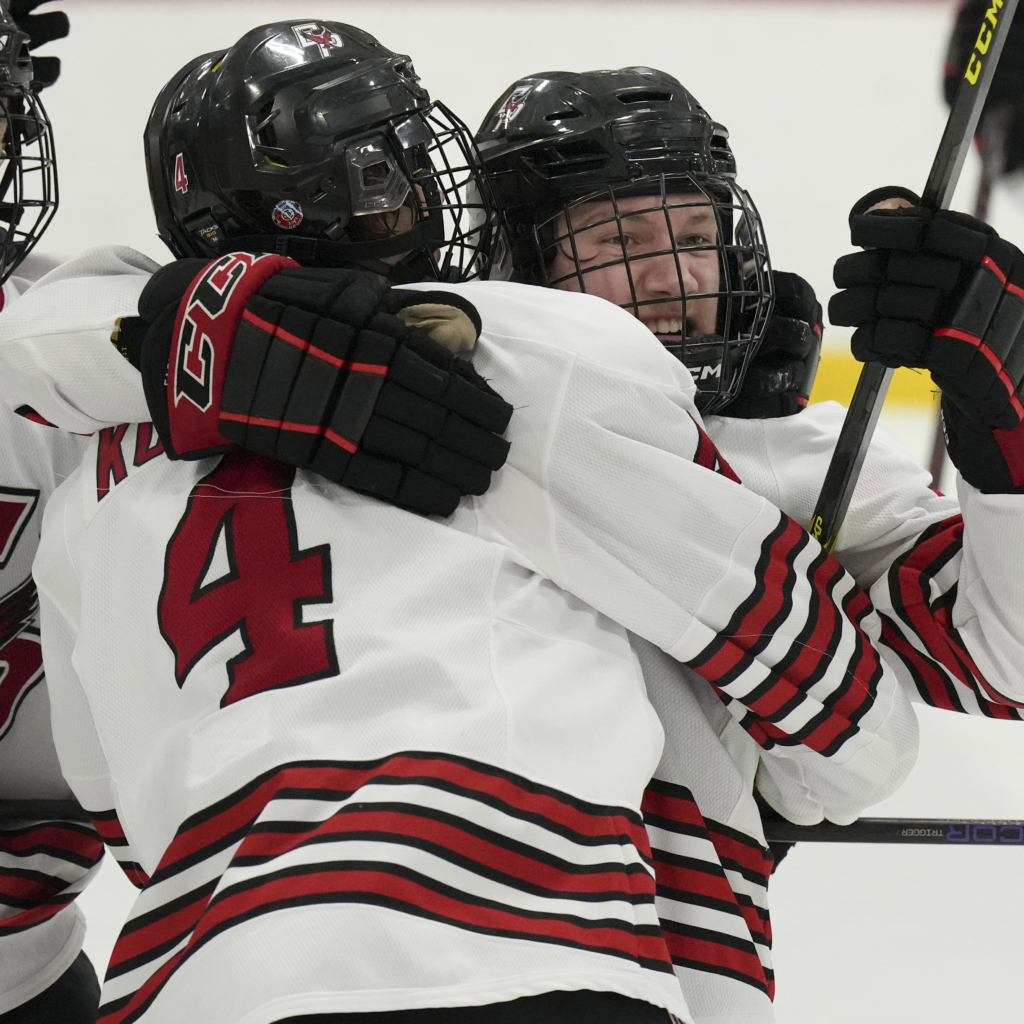 Comments
We offer several ways for our readers to provide feedback. Your comments are welcome on our social media posts (Facebook, X, Instagram, Threads, and LinkedIn). We also encourage Letters to the Editor; submission guidelines can be found on our Contact Us page. If you believe this story has an error or you would like to get in touch with the author, please connect with us.