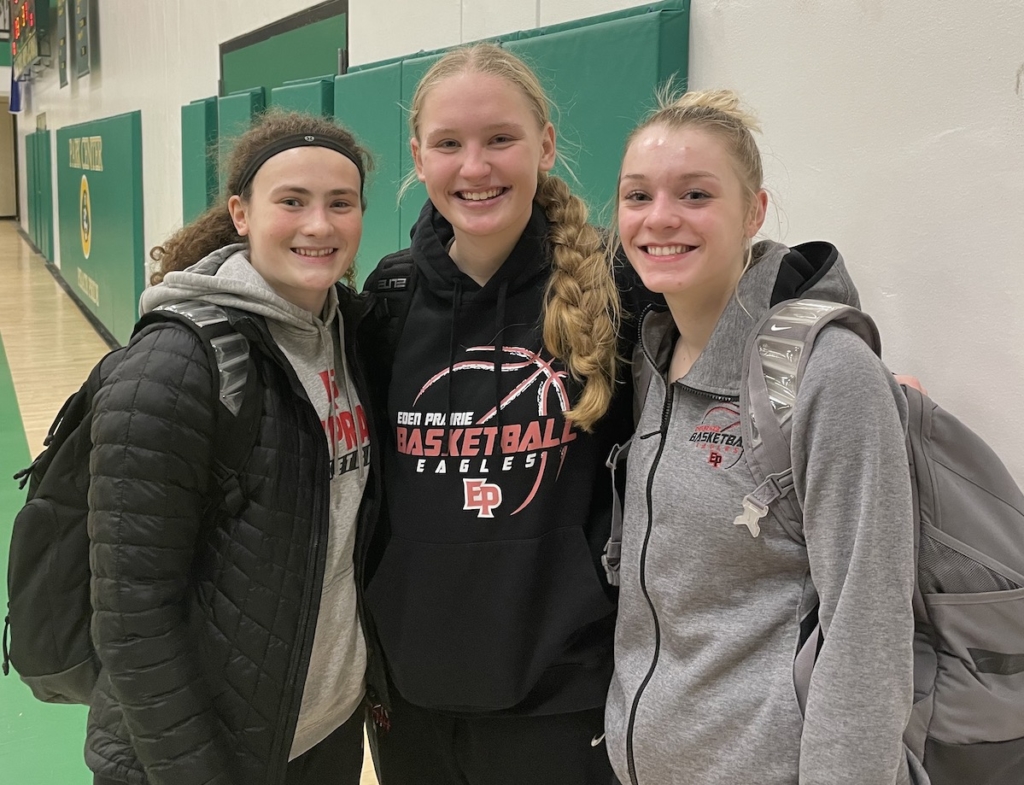 "Everybody looked like they'd been off for three weeks," an exasperated Ellen Wiese said on Wednesday afternoon. "We had three days off. So, no excuses!"
In the corridors adjacent to the Park Center High School gymnasium, the Eden Prairie head coach didn't sound like someone whose team had won a hard-fought, closely-contested girls basketball game.
Her third-ranked Eagles got off to a slow start against St. Louis Park at Park Center's 7th Annual Girls Basketball Showcase in Brooklyn Park, but eventually powered through to a 68-60 win.
The Eagles' previous game – a 61-51 win at Champlin Park on Dec. 20 – seemed like ancient history.
When the coach was reminded her team hadn't played a game in eight days thanks to winter storms and holiday breaks interrupting the schedule, she relented – a bit.
"Yeah, cuz that Maple Grove game was canceled. So, what is today? Wednesday?" she asked, as thrown off as the rest of us are during the week between Christmas and New Year's Day.
"So a week and a day? Yeah, I mean, I guess we can chalk it up to that," she conceded.
In the classic "rest vs. rust" dilemma, Wiese won't hesitate to point out that too much rest leads to sluggish play on the court.
"Every single solitary holiday tournament we have ever played, the first game is horrible every single time. So we might need to go someplace else just to clear it out of our system," she quipped.
The Eagles turned the ball over several times in the opening minutes of the game, missing on shots while not scoring in the first three and a half minutes of Wednesday's contest.
Eden Prairie's first points came on a free throw, while their first points from the field didn't occur until senior guard Annika Anderson's layup 5:12 into the first half.
"We're coming out of a good amount of rest days because we had winter break and everything," senior captain Kylie Bamlett said. "We haven't played the game in a while, because we had our last one postponed. So that was probably some reason for it.
"But I think once we got in our groove, especially in the second half and just played 'us,' we kind of got all the jitters out," she said.
The Eagles chased those jitters away late in the first half with point guard Molly Lenz leading the charge. With her team trailing 16-15, the senior captain took over the game with seven points – which included a three-pointer and a steal leading to an easy layup – in an 11-2 Eden Prairie run.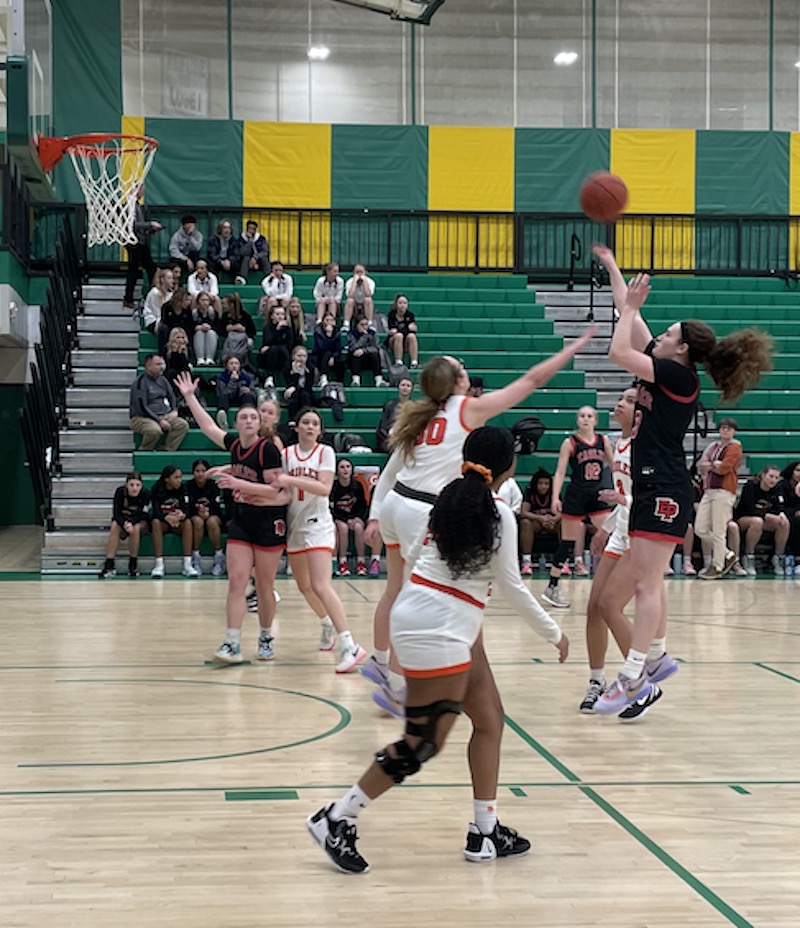 The Eagles held a 26-18 advantage at the end of the spree and never relinquished the lead for the rest of the game.
"I think we just kind of got on a roll," Lenz said. "We got a few stops. I think that really helped defense play into offense, and then our pick and roll was working well."
Wiese was pleased to see Lenz do what her team needed her to do: have the ball in her hands and make her own decisions on whether to shoot or find the right person to take the shot.
"Molly needs to completely control the game for us. There's no doubt about that," Wiese said. "She's our point guard. She's our leader. And she was the smartest basketball player on the court today."
Lenz, who led the Eagles with 21 points in the game, embraces her role as distributor as a way to create opportunities for not just herself but for her teammates as well.
"I try to be aggressive and create even if it's not for myself," she said. "If I can get into the lane and score a few times or open up shots for my teammates. I can dish out so I'm just trying to create for myself and for others."
If Lenz was the catalyst in the first half, guard Tori Schlagel was the spark after halftime.
The sophomore finished with 17 points – all in the second half – including a string of three consecutive three-point field goals.
"It felt really good," Schlagel said about breaking loose from beyond the arc. "They haven't really been hitting this season. So it felt really good to have them hit today."
The Orioles kept within reach of the Eagles for much of the second half in a game interrupted by a litany of foul calls for both teams.
"I would say it was a battle for sure," Bamlett said. "We hoped to maybe win by more and come out more aggressive.
"In terms of defense, just knowing our personnel and taking what they did in the first half and shutting them down in a lot of those points, and also offensively using things that were working well for us over and over again."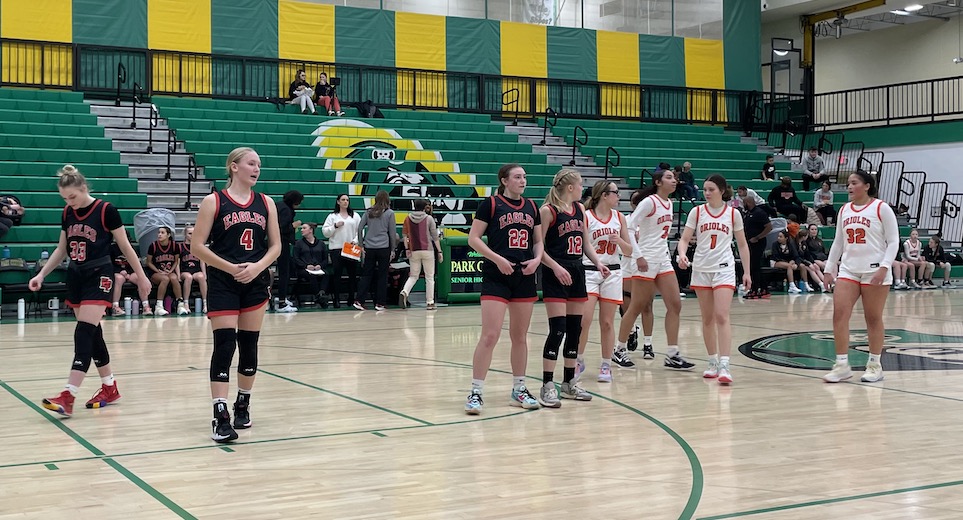 Bamlett led the Eagles with 10 rebounds, well above her average of 7.3 per game. The senior's selfless play at both ends of the court has certainly won over her coach.
"Kylie has 10 boards like she always does," Wiese said. "She takes the charge, makes those two free throws at the end. She's just my 'all everything.'"
St. Louis Park generated more than half of their scoring off foul calls. The telling statistic to characterize the contest: the Orioles notched 32 of their 60 points from the free-throw line.
Despite the flood of foul calls, Weise came away from the game feeling her team played excellent defense. And while quick to point out she's not complaining about the officiating, it became difficult for the Eagles to get in any kind of rhythm with so many stoppages.
"I wouldn't change the way I asked my kids to play based on that," she said. "I just thought there was no flow to the game because there were 162 fouls called on them as well. It was equally a lot of calls."
With their eighth win of the season behind them, the Eagles look ahead to Thursday's showdown with fourth-ranked Chaska in the final day of tournament play at Park Center.
"I'm super excited. It's a really big game," Lenz said. "We kind of need to win to get the No. 1 seed for our section. So it should be super fun. I like the big important games, they're a lot more fun."
The Hawks enter the game with a 7-1 record after trouncing Owatonna 73-34 in the tournament on Wednesday.
"We're definitely going to come hungry for that," Bamlett said. "I think we're all looking forward to it, and we're gonna play hard and aggressive."
And for the head coach, the timing couldn't be better after the extended holiday.
"Thank God we played them in this order," Wiese said. "We'll be better tomorrow. For sure."
Comments
We offer several ways for our readers to provide feedback. Your comments are welcome on our social media posts (Facebook, X, Instagram, Threads, and LinkedIn). We also encourage Letters to the Editor; submission guidelines can be found on our Contact Us page. If you believe this story has an error or you would like to get in touch with the author, please connect with us.