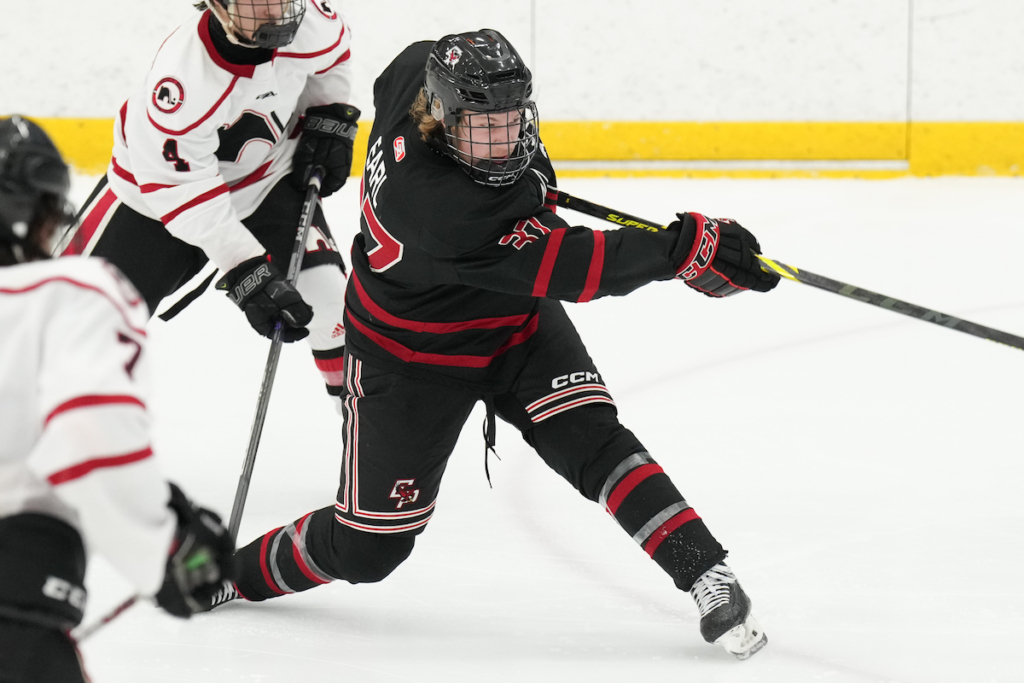 Back on the ice after the holiday break, the Eden Prairie boys hockey team kicked off the Tradition Holiday Invitational with a 7-5 victory over Lakeville North Tuesday afternoon at Dakotah! Ice Center in Prior Lake.
Along with the Eagles and the Panthers, the three-day, eight-team tournament, put on by Youth Hockey Hub, features Chaska, Edina, Moorhead, Prior Lake, Rogers and St. Thomas Academy.
The Eagles jumped out to a 2-0 lead in the first period of their opening game. Junior forward Connor Crowley found the net first. His goal, just 1:28 into the game on a one-timer from the slot, was assisted by Andy Earl and Billie Jacobson-Couch.
Junior forward and captain Teddy Townsend gave Eden Prairie a 2-goal lead with his blast from the top of the circle off a pass from Mason Moe.
The Eagles squeaked in one more goal just ahead of the buzzer to end the first period. Senior captain Ryan Koering scored with assists to Townsend and Moe.
The Eagles generated three more goals in the second period, with two from Earl. Junior defenseman Tommy Moen also scored for the Eagles, picking up his first varsity goal.
At the end of two periods, Eden Prairie led 6-3.
Lakeville North scored back-to-back goals in the third period to draw within one with three minutes remaining in regulation. Any threat was put to rest by sophomore forward Chase Klute. His open-net goal with just two seconds remaining not only sealed the win for Eden Prairie, but was also his first varsity goal.
The Eagles will play fourth-ranked Rogers tomorrow on the second day of tournament play at Dakotah! Ice Center. The puck drop is at 2:30 p.m.
Check back in with eplocalnews.org for complete coverage. EPLN will soon post an in-depth game story of Lakeville North vs. Eden Prairie.