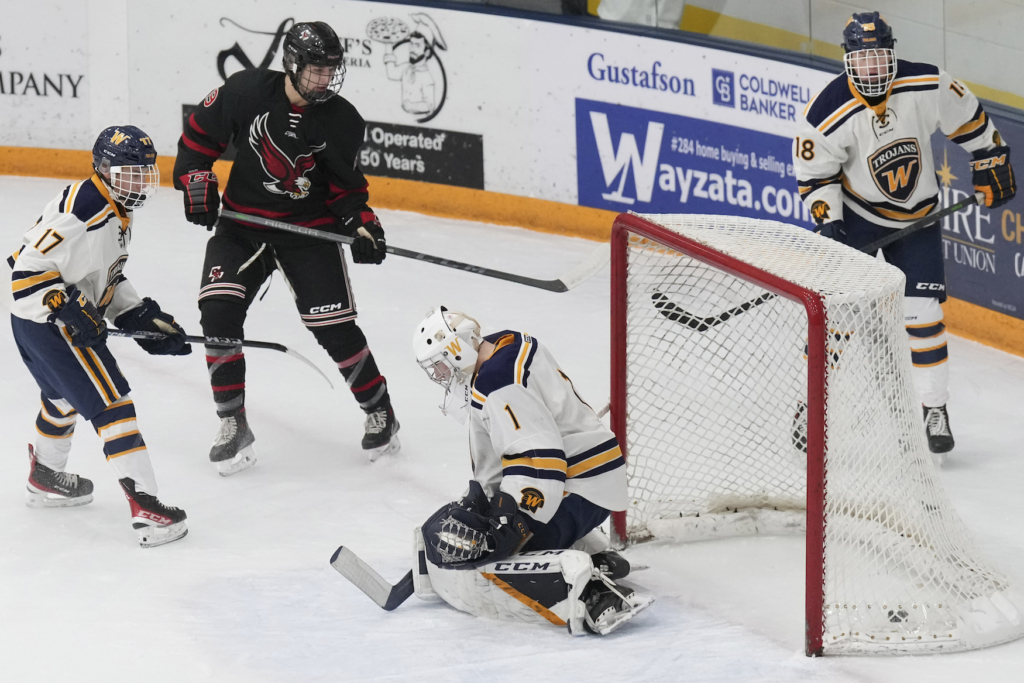 The ongoing winter storm was just a rumor at the Plymouth Ice Center Wednesday night, as a packed house watched the Eden Prairie Eagles duel the top-ranked team in the state, taking Wayzata to the end of regulation and beyond.
All Eden Prairie High School games had already been canceled from Wednesday's schedule of events, with the exception of the boys JV and varsity hockey against Wayzata.
Eden Prairie head coach Mike Terwilliger was relieved to get the game in despite the challenging weather conditions.
"We needed this game, especially after Edina. We needed to play another really good team," Terwilliger said afterwards, referring to Saturday's disappointing 5-1 loss to the Hornets at the Edina Holiday Classic.
"It wasn't our call," he continued. "It was (EPHS associate principal of student activities) Russ Reetz's call, and so we were happy when they said, 'Yeah, you guys are good to go.'
"We want to practice tomorrow really badly but they won't let us. So, a day of rest might be good for the kids but we're anxious for Friday's practice already."
In Wednesday night's matchup, the Eagles didn't waste the opportunity to test themselves against a top-ranked team. Eden Prairie had the undefeated Trojans on the ropes numerous times throughout the game.
Both teams scored first-period goals, but the game remained tied 1-1 for the remainder of regulation in what was an exhilarating back-and-forth contest. In the end, Wayzata scored at 4:16 in overtime to win it 2-1.
"Yeah, it was intense," Eagles senior captain and defenseman Ryan Koering said after the game. "Gutsy. We worked really hard. I feel like we out-played them and then we don't get the goal at the end but I'm proud of the guys. It's a step in the right direction and we're looking to build from it."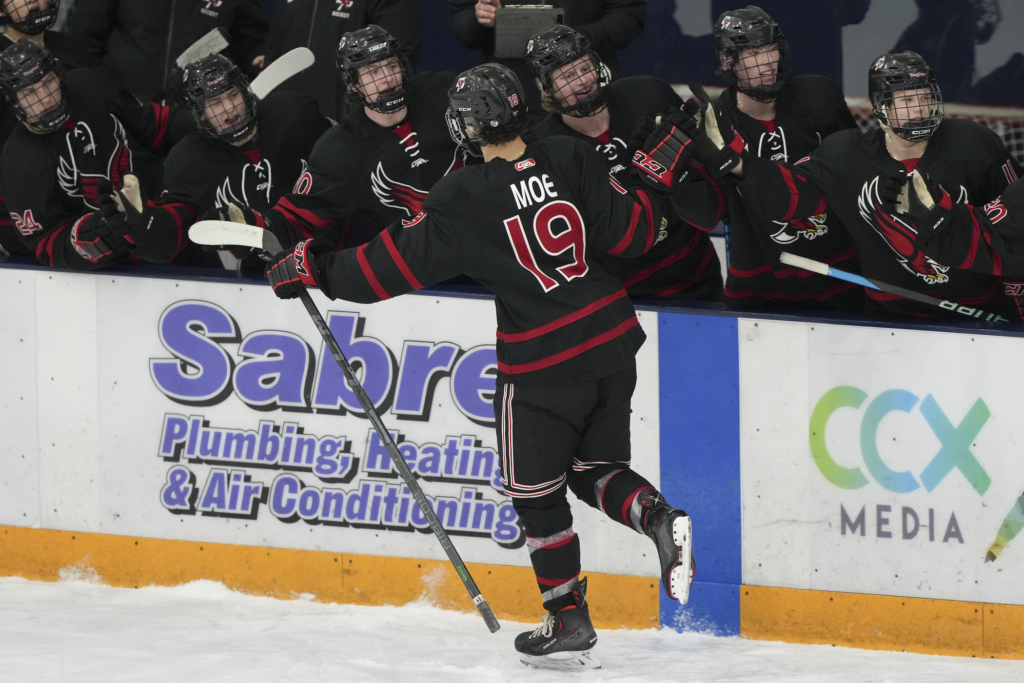 In a game loaded with fast transitions and scoring chances coming with greater flurries than the snow falling outside, an objective observer had to come away from watching the Eagles' performance and believe they were the better team – at least on this particular night.
Terwilliger liked the improvement he saw from their previous game, saying, "We probably won more puck battles in the first half of the game than we did all Saturday night (against Edina). The battle level was better."
"We've talked a lot about faceoffs," he continued. "And Dan Molenaar, our assistant, does video for us a time or two a week and so we focus a lot on faceoffs and what we need to do better. Again, there's still room for improvement, but there was a huge improvement. So that's encouraging. When you coach your kids and say do this, this and this, then they go and do it."
Video footage of Wednesday's contest will reveal an Eagles team a half-step ahead of Wayzata for much of the game. Shots on goal were dead-even with each team getting 23 shots.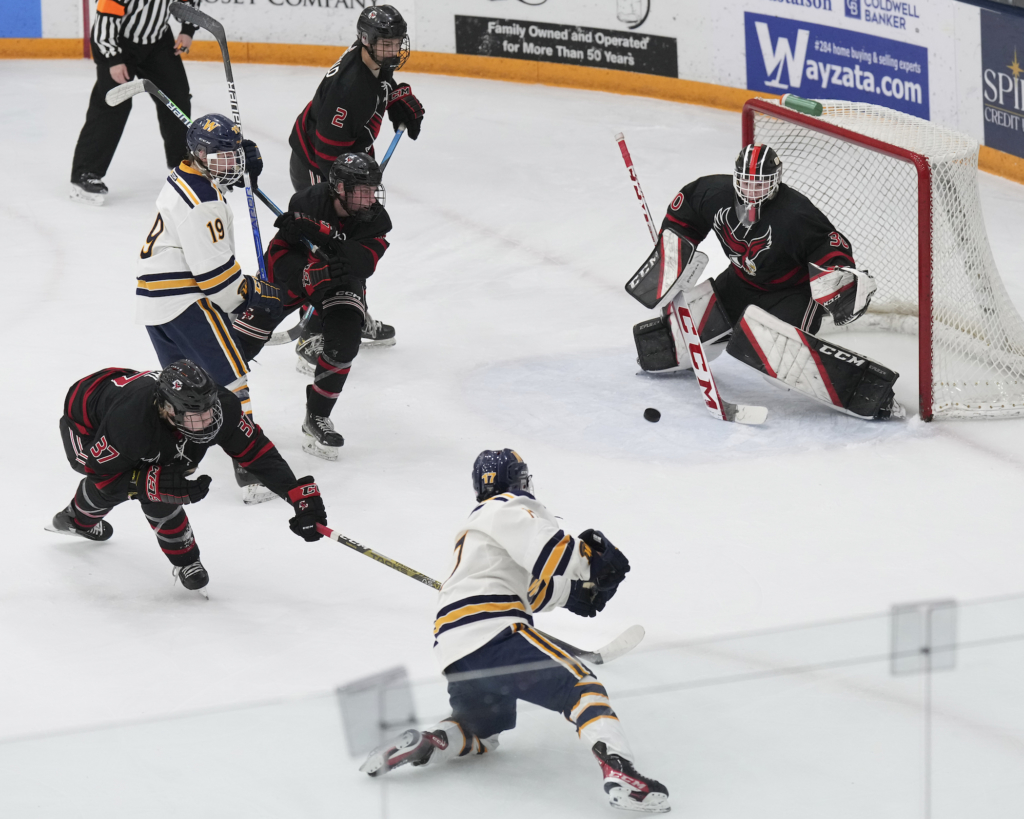 Goaltenders from both teams put on clinics at their respective ends of the ice. Eagles junior goalie Isaiah Paulnock faced multiple series of rapid-fire chances by Wayzata, while Trojans netminder Will Ingemann withstood a battery of shots from numerous surges by the Eagles.
"They're a good team. They pack it in tight," Paulnock said. 'There were a lot of rebounds that we just couldn't bury but good job by Ingemann, he played really well. He's a really good goalie. And also their team, they just pack it in, block shots. That's just how they do it."
The Trojans struck first with a power play goal at 9:32 of the first period. Wayzata's Hawke Huff launched a shot from the right point up high past Paulnock, who was screened on the play.
The Eagles evened the score four minutes later when freshman forward Mason Moe took a pass from Alex Hall and put the one-timer past Ingemann.
For the next 37 and a half minutes of regulation and 4:16 of overtime play, the game remained scoreless – but was punctuated by wave after wave of scoring chances for both sides. Paulnock withstood the Trojans best efforts with help from rock-solid play from the Eagles' defense.
"They're all great skaters. They can skate with any forward in the state, which helps us a lot," Paulnock said of the players in front of him. "They are all really skilled, they can get to the loose pucks, through the pucks. They're just really good all-around D."
Eden Prairie found scoring chances in the overtime period. But in a flash, Wayzata's Brooks Gengler unleashed a quick one-timer from close range past Paulnock for the game-winner.
The goal seemed particularly sudden amid the numerous scoring opportunities the Eagles had created throughout the game and the overtime period.
"It just happened so fast," Paulnock said. "A two-on-one and the player just brought it across and put it through my five-hole. I want that one back, every five-hole goal I want back, but it just happens fast."
It was the Eagles third overtime loss of the season and their fourth one-goal game loss. Despite their 3-5 record, Koering – the team's only senior – likes the way the youthful group is improving and gaining confidence with each closely-fought battle.
"It just shows that we're making progress," he said. "We're better than our record says. A couple bounces and I feel like we could be a much different hockey team record-wise, but it's a step in the right direction. We've just got to learn how to close out these games."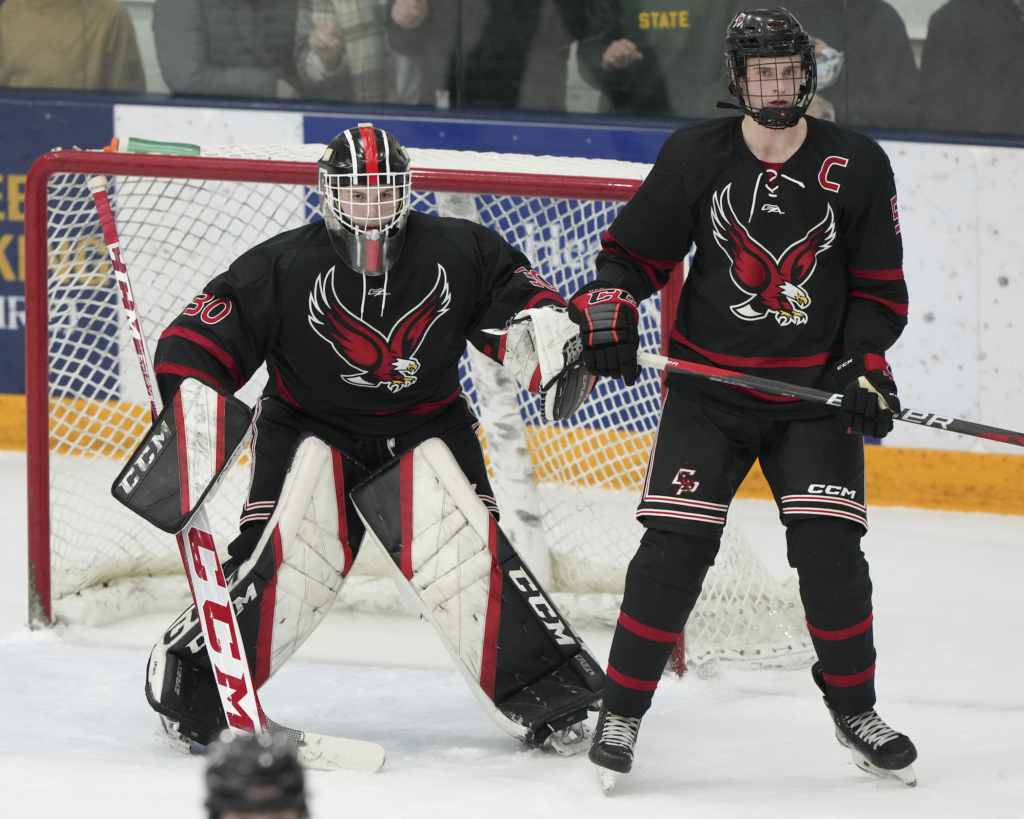 The Eagles will get one more practice in on Friday ahead of the holidays and look ahead to their next game on Tuesday against Lakeville North at Dakotah Ice Center.
After having pushed the state's No. 1 team to the brink, the head coach likes their chances moving forward, provided they continue to bring their best game to the ice.
"They showed a lot of pride," Terwilliger said. "It stinks losing, especially another OT, another close one. But it shows we can play with anybody if we just have that effort."
Comments
We offer several ways for our readers to provide feedback. Your comments are welcome on our social media posts (Facebook, X, Instagram, Threads, and LinkedIn). We also encourage Letters to the Editor; submission guidelines can be found on our Contact Us page. If you believe this story has an error or you would like to get in touch with the author, please connect with us.