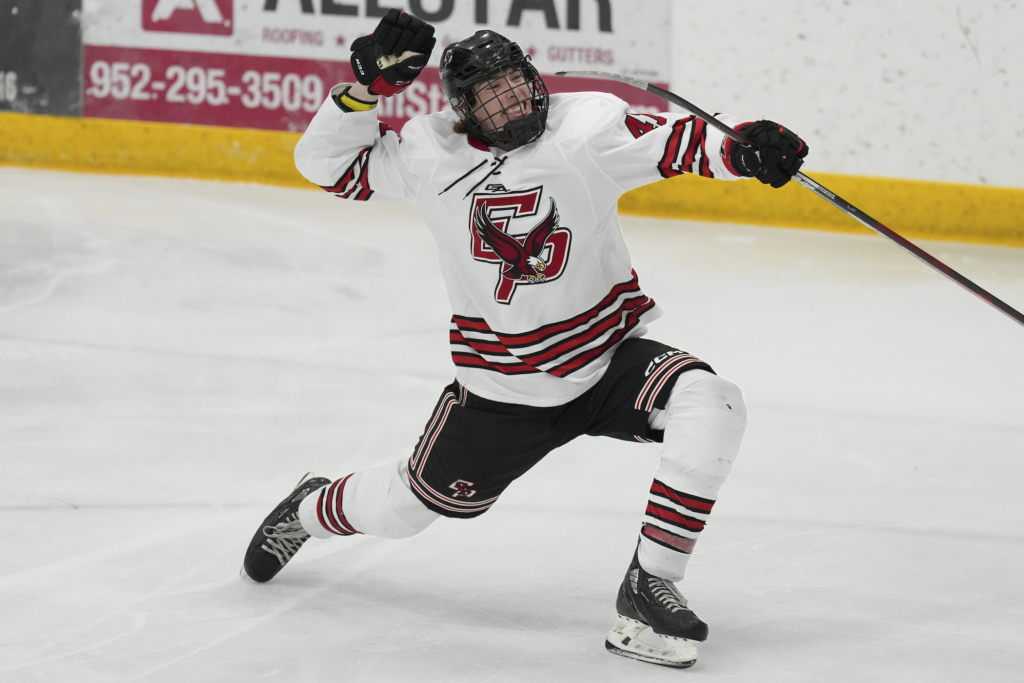 There was a loud roar coming from inside one of the auxiliary dressing rooms at Braemar Arena Friday night.
The Eden Prairie Eagles were in full celebration, having just dispatched a tough and rugged opponent in Grand Rapids at the Edina Holiday Classic. The annual boys hockey invitational has, for many, become as synonymous with the holiday season as eggnog and last-minute gift shopping.
The four-team tournament features host Edina, Eden Prairie, Elk River and Grand Rapids, which missed its opening night matchup with Edina after getting held up in the winter storm. St. Louis Park filled in for the Thunderhawks, playing the Hornets on Thursday night.
In their first game of the tournament Thursday evening, Eden Prairie allowed only seven shots to blank Elk River in a 6-0 victory. In their second night at the Classic on Friday, the Eagles would need that same stingy mentality to come away with a hard-fought 2-0 win over the Thunderhawks.
"There's no plan against Grand Rapids. It's always gonna be a grind," senior captain Ryan Koering said. "They play hard, we didn't get out with our best start but we kept with it. A couple of gritty goals at the end and we shut the door."
Teams from northern Minnesota are known to bring a hard-hitting, workman-like style of hockey with them when they travel south down Highway 169. Eagles head coach Mike Terwilliger liked how his team bounced back after a slow start in the first period.
"We thought we had a better second period," he said. "It was a little deceptive because we were short-handed in six of the minutes. But in the third, we thought we got stronger as the game went on, and we knew it'd be probably a one or two-goal game with the way Grand Rapids plays.
"They've got four really good D and their goalie is excellent," he added. "So they're hard to score on and they like to block shots and they work hard so we knew it was going to be a tough game. But it was a good gut check for the guys and to play so well in the third like that. We like that."
One constant through the first two games of the tournament has been the Eagles' reluctance to give up a goal. After holding Elk River to just a touchdown and extra point in shots on goal Thursday, Eden Prairie allowed Grand Rapids only 18 shots, with just one coming in the third period.
"I think it's a combined group effort of forwards coming back and back checking," Koering said. "And Isaiah. I mean, he's been outstanding. He's a brick wall back there. And then the D, you know, we got a lot of good D out here. Playing hard, finishing hits. Just having fun too."
"Outstanding" is a good adjective to describe Isaiah Paulnock's performance. The junior goaltender is riding a string of six straight shutout periods and has given up just two goals during the Eagles' current three-game winning streak.
"Team play," Paulnock said when asked what was key to his recent play. "Our defense have been unbelievable. Yesterday, just seven shots that's just unheard of against a team like Elk River. Then today was just super, super good team play."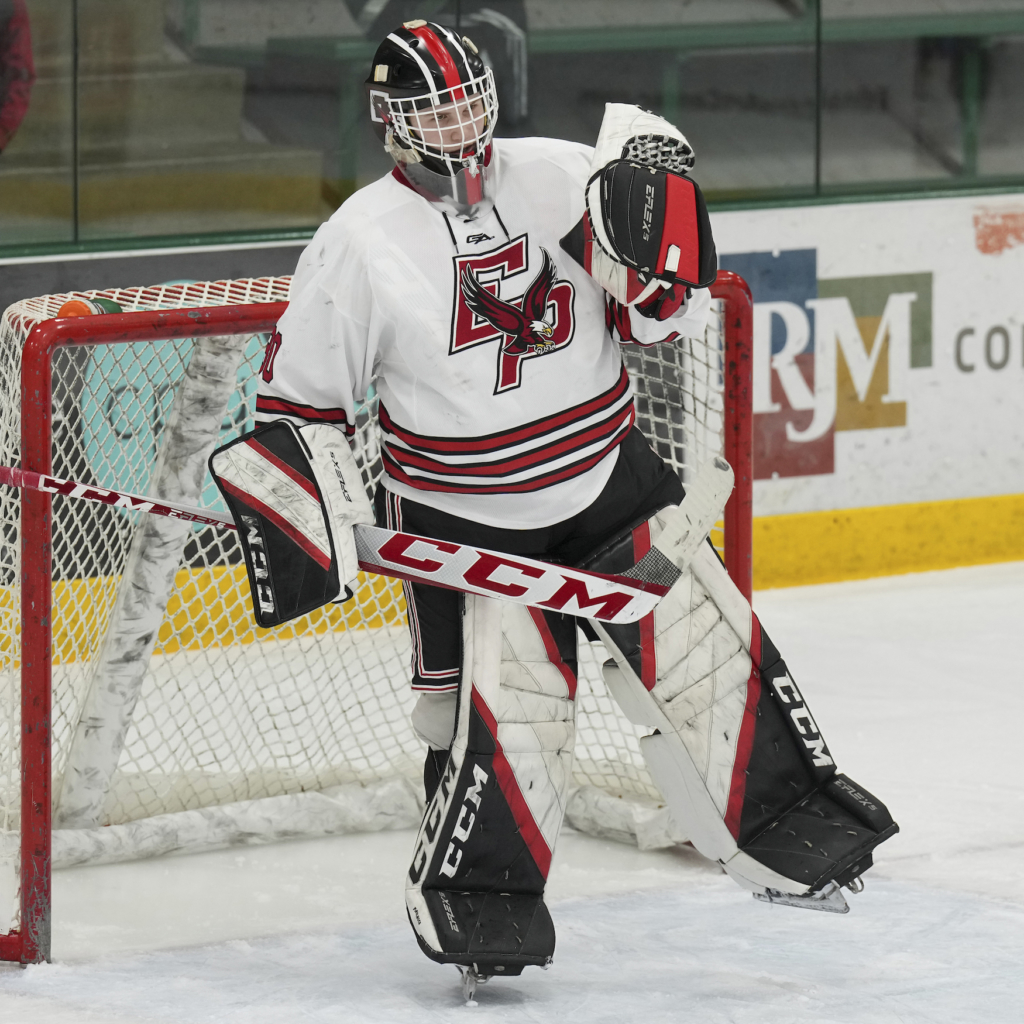 Against a physical team like Grand Rapids, Paulnock appreciates the work of the Eagles defensive core, keeping his end of the ice a "no parking zone."
"Our D does a good job clearing out, so I can see most of the time," he said. "Especially towards the end. It got pretty intense in front of the net.
"We were gritty all over the ice," he added. "Big hits. They gave hits back. We played gritty in front of their net. Like when Cole (Saterdalen) scored and Tate (Bloch) scored, they were both gritty goals in front of the net."
Gritty pretty much sums up this contest.
With so much physicality, the game remained scoreless through two periods. During the second intermission, Terwilliger's message was clear: remain focused and stay disciplined in what was certain to be a volatile third period.
"The couple of main points were just continuing to work hard and keep our composure regardless of what's going on in the game," he said afterward. "Just play together as a team. It's going to probably be a little play or two that will end up turning the game for us, and that's what happened."
The first play happened right out of the gate at 1:42 of the third period. Junior forward Tommy Moen's shot from the left point made its way toward Saterdalen in front of the Grand Rapids net. Saterdalen deflected the puck past Thunderhawks goalie Myles Gunderson for a 1-0 Eden Prairie lead.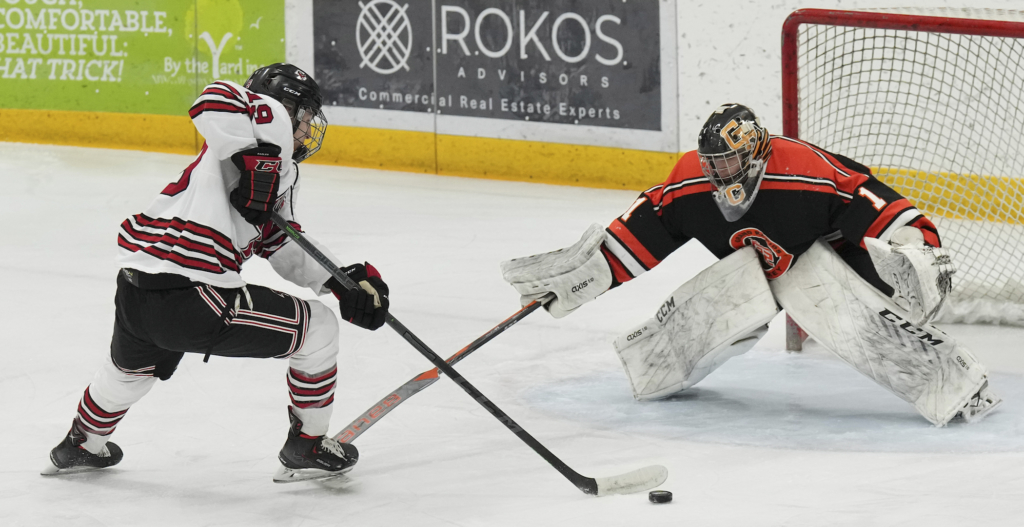 Saterdalen, a junior forward, shared a portion of the Eagles' lexicon for such a scoring play, which would prove to be the game-winner.
"We call them truck driver goals," he explained. "We get to the front of the net, bang them home, get deflections. So one of our biggest things was just hitting the net, getting the pucks, storming the goalie, throwing pucks on net."
The Eagles shifted into high gear as the game wore on, outshooting Grand Rapids 14-1 in the third period. Bloch's shot from the point was deflected off a player and made its way past Gunderson to give the Eagles a 2-0 lead at 6:06 in the third.
The Eagles played staunch defense the rest of the way to secure the 2-0 victory. Their third straight win improves their record to 3-3 on the season.
After cruising to an 8-2 win at Duluth East last weekend and Thursday's 6-0 outing against Elk River, Terwilliger liked his team's determination in the close battle Friday, particularly after three narrow losses in their first three games of the season.
"This time of year, especially after losing three one-goal games at the start, we were excited to see how our kids would respond when it's 0-0 in a tight game going into the third period," he said. "To see how we responded, we were pleased with how they did."
After two games in two nights, Eden Prairie will close out the Edina Holiday Classic against the host team on Saturday night.
"I like the tournaments; a lot of hockey, so it gets a little tiring," Koering said. "But we're all looking forward to tomorrow night playing Edina."
Perhaps no one more than the Eagles' man between the pipes, who will be facing the Hornets for the first time in his high school career.
"Looking forward to the atmosphere," Paulnock said. "Last year, I sat out both games, so I was the backup for both games against Edina. So it's just gonna be different playing the games than actually watching it.
"Yeah, just a good energy," he added.
The Eagles and the Hornets face off at 8:30 p.m. Saturday at Braemar Arena.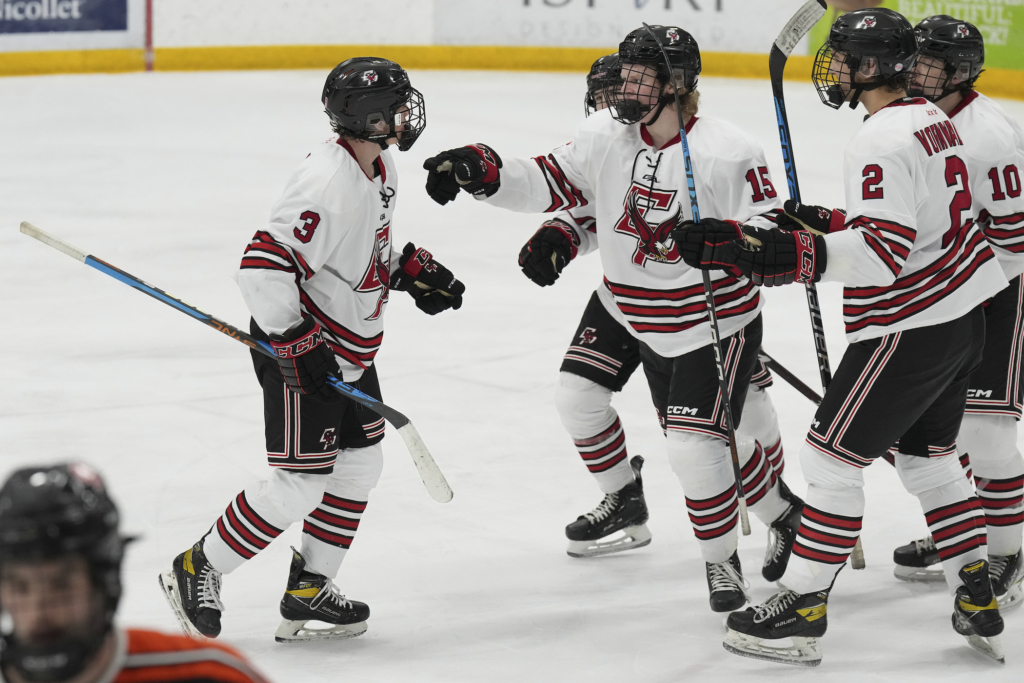 Comments
We offer several ways for our readers to provide feedback. Your comments are welcome on our social media posts (Facebook, X, Instagram, Threads, and LinkedIn). We also encourage Letters to the Editor; submission guidelines can be found on our Contact Us page. If you believe this story has an error or you would like to get in touch with the author, please connect with us.