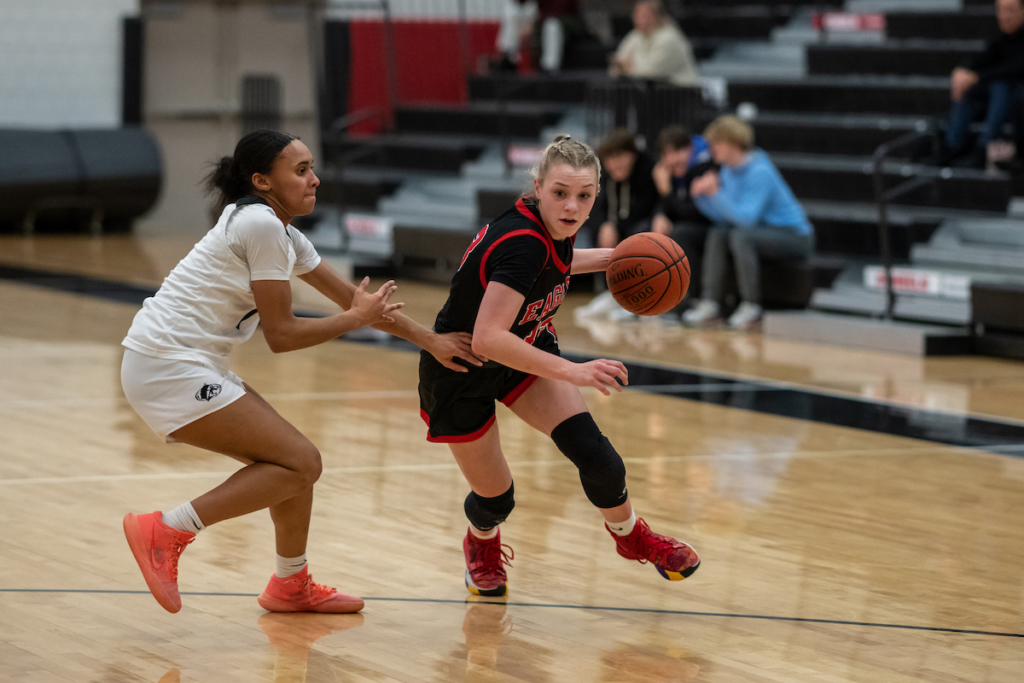 Before the opening tipoff against Roseville Wednesday night, Eden Prairie girls basketball head coach Ellen Wiese was anticipating some "sluggish" competition.
"They had a game last night, so we'll see how it goes tonight," she said. "Roseville played too."
The third-ranked Eagles were coming off an 87-48 victory over Waconia on Tuesday night and were hosting the Raiders, a team also playing on back-to-back nights after a win over Park of Cottage Grove, on their home court.
But when both teams hit the floor, physical fatigue was a rumor while a fast-paced, back-and-forth contest ensued. High energy and quick transitions were hallmarks of the game, but so were some mental miscues from the two sides.
"I thought it looked like both teams had played last night," Wiese said after the game. "When you're tired, a lot of times the decision making starts to be a little suspect and that happened to us. I think we had 15 turnovers. We should never ever have that many, but I think that's a consequence of playing two nights in a row."
What the Eagles lacked in cognitive response, they made up for with effort on the court. Eden Prairie never trailed in the game, but had to work to hold off the Raiders, who tied the score at two different points in the second half.
In the end, the Eagles held strong on their way to a 63-59 win to improve to 6-0 on the season.
"They proved to be tough mentally and physically at the end," Wiese said. "They did what we were telling them to do and finally came through."
Wiese admired her team's ability to prepare for multiple opponents in a compressed time frame. With an experienced roster, the Eagles know what it takes to win on back-to-back nights against very different opponents in Waconia and Roseville.
"Their ability to read the scouting report, to walk through stuff and put it in without having a practice which, against a team like Roseville, is hard," Wiese said. "That's a veteran team, it's a smart team that can come out and do your game plan while not actually physically walking through it."
Eden Prairie had to adjust to Roseville's game plan as well. The Raiders were determined to keep Eagles' top scorer Molly Lenz out of the point column.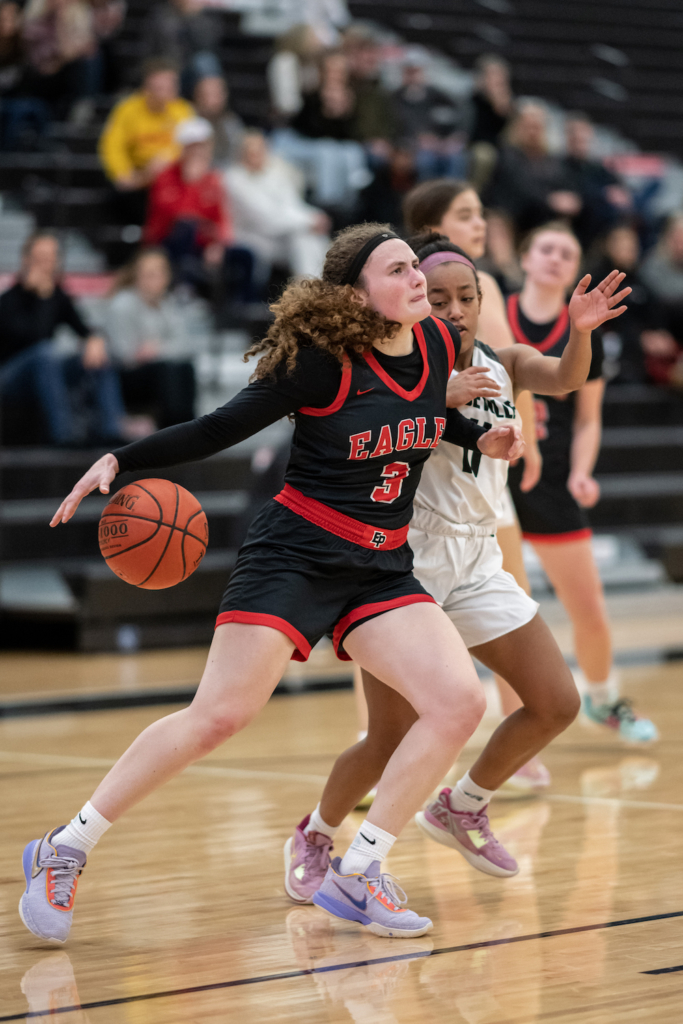 "They had a good game plan," Wiese said. "They were face-guarding Molly, they didn't want Molly to go off and it took us a minute to realize, 'OK, if they're going to take one thing away, we got to go elsewhere.'"
Elsewhere was senior guard Ashley Fritz, who stepped up with 13 points in the second half and led all scorers with 20 points in the game.
"I think we played really well," Fritz said. "We just trusted each other. And know that everyone is there to help and we have each other's backs."
Sophomore guard Tori Schlagel had 11 points for the Eagles. Senior guard Annika Anderson, another top scorer who was recently named one of the Star Tribune's prep athletes of the week, added 10. Lenz finished with nine points.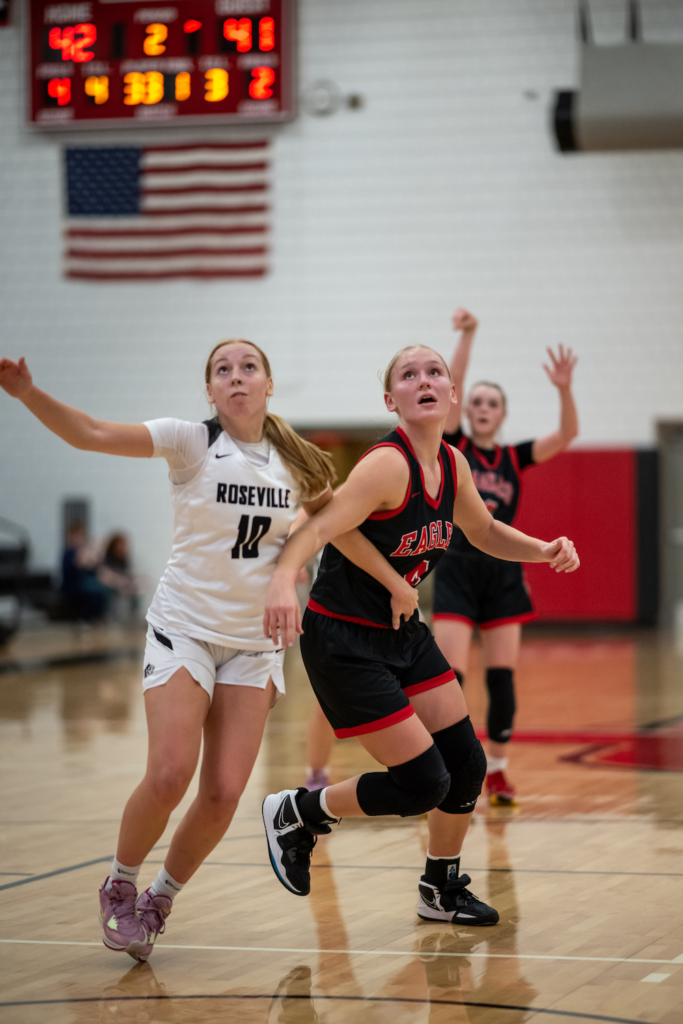 Leading by nine at halftime, the Eagles held off numerous surges by the Raiders in the second half. Roseville tied the game at 44 with under seven minutes to play. They evened the score again at 59-apiece with 1:05 left on the clock.
"They are good. They're young," said Wiese, who was impressed by Roseville junior guard Kendall Barnes who finished with 17 points. "Number one (Barnes) is the coach's daughter. She's a stud, right?"
The Eagles pulled away in the final minute, holding off three Roseville possessions and hitting on three of four free throws. Senior forward Kylie Bamlett rose to the occasion to shut down the Raiders, finishing the night with 10 rebounds and six blocks.
"Kylie was just unbelievable defensively. And then Ashley was obviously really good offensively," Wiese said. "I thought it was a gutty victory."
Roseville drops to 3-3 on the season. The Eagles (6-0) will have one night off from game competition before traveling to Becker Friday night to take on the 3-0 Bulldogs.
Comments
We offer several ways for our readers to provide feedback. Your comments are welcome on our social media posts (Facebook, X, Instagram, Threads, and LinkedIn). We also encourage Letters to the Editor; submission guidelines can be found on our Contact Us page. If you believe this story has an error or you would like to get in touch with the author, please connect with us.