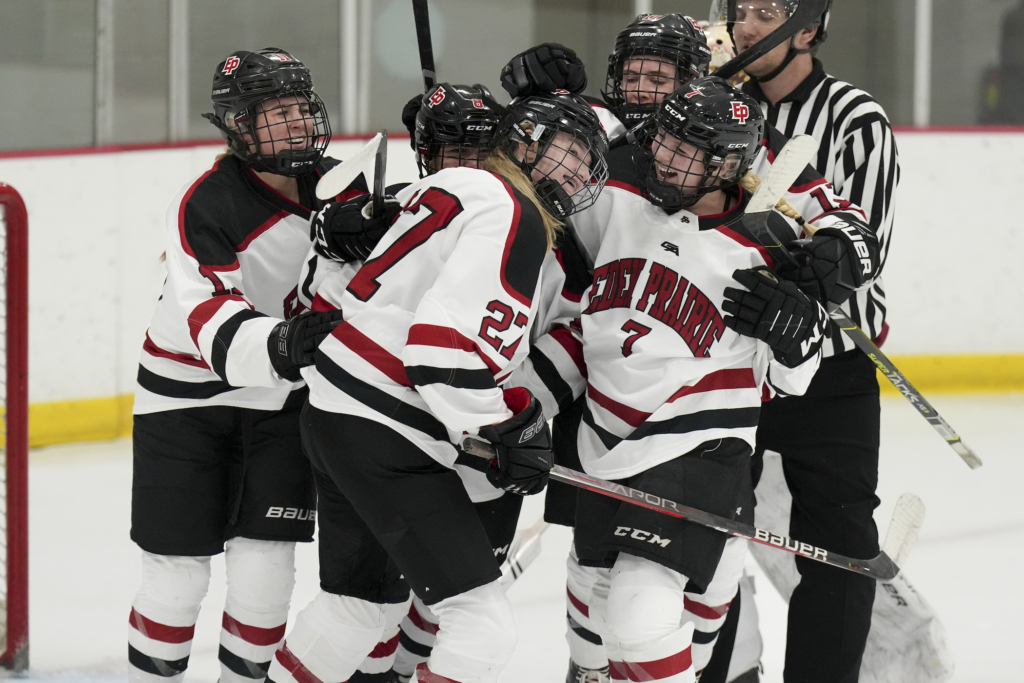 Forget about the scoreboard for just a moment.
"We talked about character tonight, because we knew Maple Grove was really good," Steve Persian said.
The head coach of the Eden Prairie girls hockey team wanted to measure the progress of his players. What better test than going toe-to-toe with one of the top teams in the state?
"I wanted to see what character this team had at this point in the year," he said. "And frankly, that was probably the best game we've played this year."
The Eagles took to their home ice to face the fifth-ranked team in the state Thursday night. Maple Grove was undefeated coming into the game and had to get through seven minutes and 10 seconds of overtime before they could escape with a 3-2 win over the Eagles.
But the details of the night are what tell the story of the Eagles' second venture into overtime in as many games.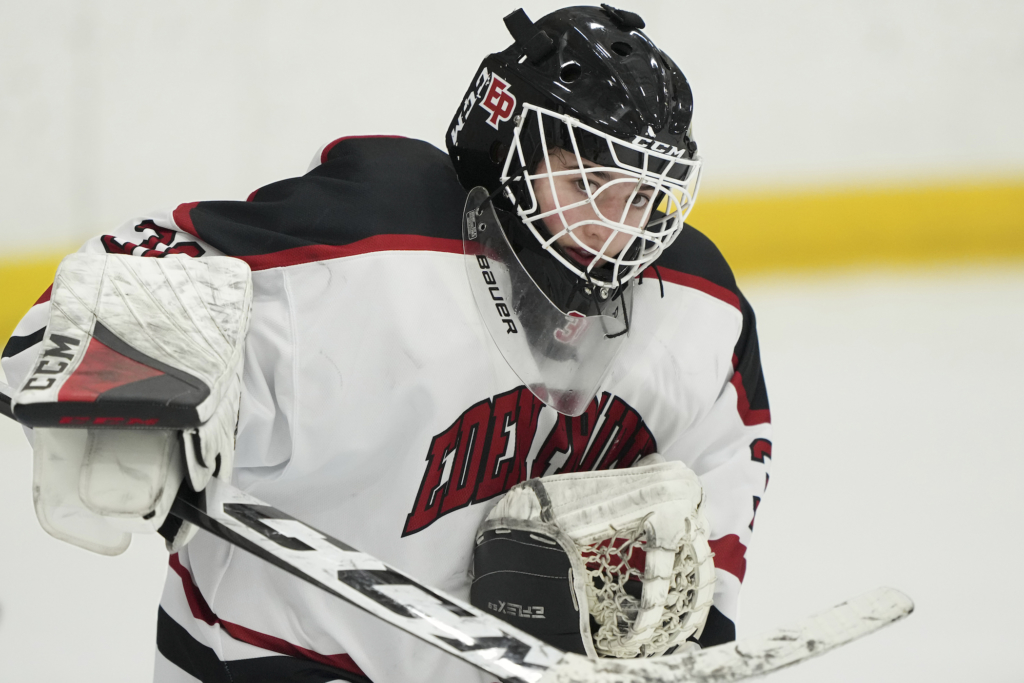 "I'm really happy," goalie Tegan Swanson said. "My game, my team's game; everyone is playing their absolute best and where we're going to come back this year and have a good season."
A casual observer may wonder how Swanson would be happy after a loss. The junior goaltender faced 48 shots in the game, making 45 saves in a performance that lifted the Eagles within a few inches of tying – or perhaps defeating – one of the best high school teams in the state.
"Tegan and (fellow goalie) Rylee (Lorton) have both in the last couple games, proven to their teammates what they bring to the team," Persian said. "I'm not surprised by it because I get to see it every day in practice."
Lorton, a freshman, had 51 saves in Tuesday's 3-2 overtime victory over Farmington. Persian is encouraged by the level of play from both goalies – and how that has elevated the entire team.
"What they've started to demonstrate, and people are going to pick up on, is that our goaltenders are for real," he said. "The team is for real. And when you play Eden Prairie, you're going to be in for a competitive game."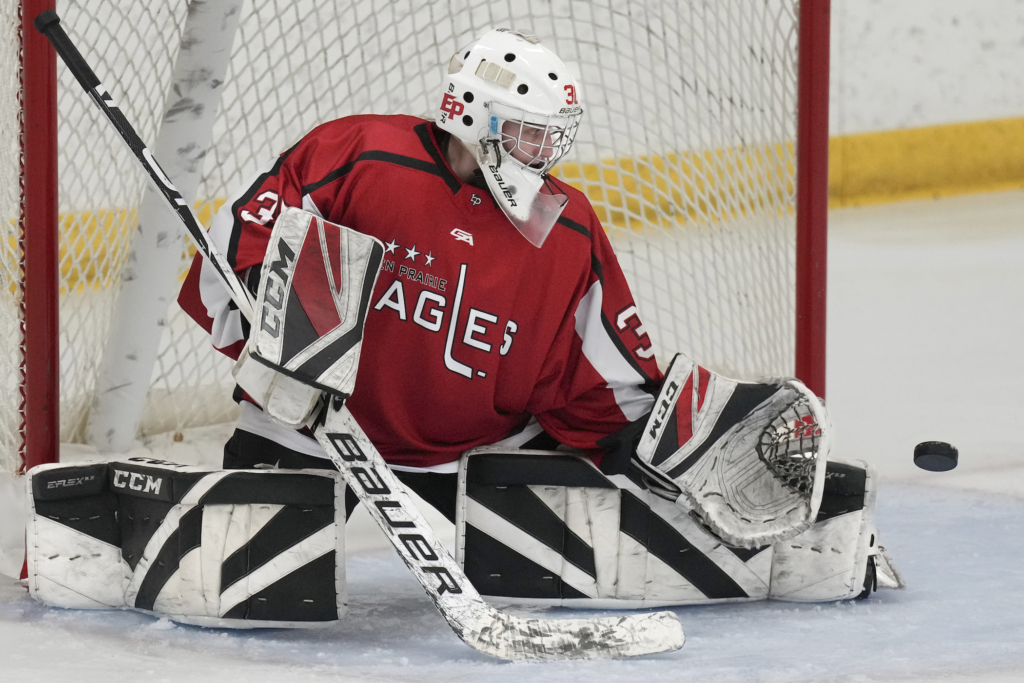 This contest had its share of competition. After a scoreless first period, the Eagles struck first with freshman forward Sara David's goal at 10:44 of the second period, with assists to sophomores Macey Haase and Addy Mitchell.
"Our team really pulled it together and we just took it to them," Mitchell said. "I don't think they were expecting us to come out that hard."
Despite an exceptional effort, the Eagles did have one Achilles heel in the game – staying out of the penalty box. Eden Prairie spent much of the night killing off penalties – committing eight in the game – while both of Maple Grove's goals in regulation came on the power play.
"It definitely changes the tempo of a game," senior captain Paige Holt said. "That can be frustrating for sure."
Holt believes the penalties not only signal a need for the team to eliminate its mistakes, but to change the way they handle adversity during games.
"It's just kind of knowing that the game's not gonna go your way," she said. "And it's how you go from there. Just stay in that positive attitude and control what we can control."
The Crimson took their first lead of the game on a power play goal from Bella Shipley at 5:59 of the third period.
Two more Eden Prairie penalties prevented the Eagles from generating quality scoring chances to tie the game. But exceptional play from Swanson held off further damage from the Maple Grove attack.
As the clock ticked away in the third period, the Eagles, playing at full strength, applied pressure.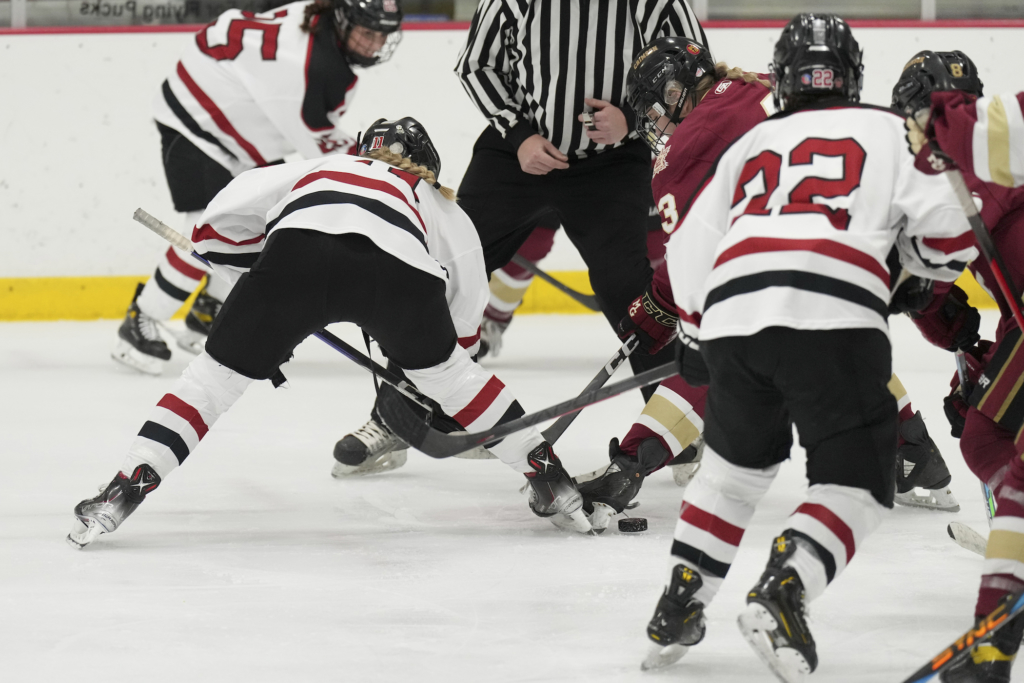 "You give it your all," sophomore defenseman Ella Konrad said. "Honestly, you've got nothing to lose. So just go out there and work your hardest."
Hard work paid off with 44.5 seconds left in regulation when Mitchell won the face-off in the offensive zone and got the puck to Holt.
"I don't know what happened," recalled Mitchell. "I tied (the Maple Grove center) up and then I just kind of shot it. Good thing Holt was there."
Holt gained control of the puck off Mitchell's draw and buried it for the game-tying goal.
"I just escaped the defense trying to tie me up," Holt said. "And I just took a shot right through the five hole and it was a quick, fast shot."
Holt's goal in the final minute sent the contest into overtime for the second game in a row.
"The main thing is just keeping a positive attitude," Holt said about trailing late. "Because the game's not over and so much can happen in just a couple seconds like shown in that goal. You've got to stay positive."
The Eagles were dominant in the first six minutes of the eight-minute overtime period, finding numerous chances for a potential game-winner.
The tide shifted in the final two minutes when Maple Grove's leading scorer Stella Retrum found the net with just 50.5 seconds remaining in overtime to give the Crimson a 3-2 victory.
"The energy that they put forth, they should be very proud of what we did tonight." Persian said. "And it's really inspiring, very uplifting."
When it was over, players from both teams shook hands and remained on the ice for several minutes to talk about the game. And as Eden Prairie players left the rink, there were more smiles than grimaces after a well-fought competition.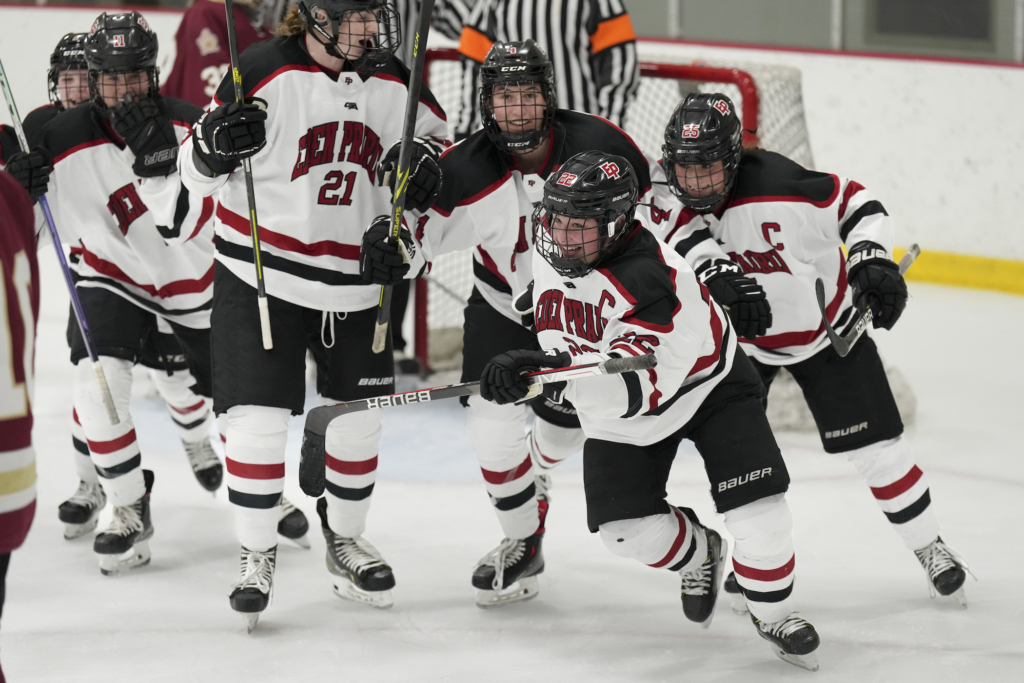 "For me, it's kind of neat that after a game when you see kids on both teams getting together," Persian said. "I've coached against (Maple Grove head coach) Jim (Koltes) for a long time, and I know that he's going to have a well-prepared team. So it was everything I expected and it was just a great hockey game."
The Eagles next game is Tuesday night on their home ice against Minnetonka to open Lake Conference play.