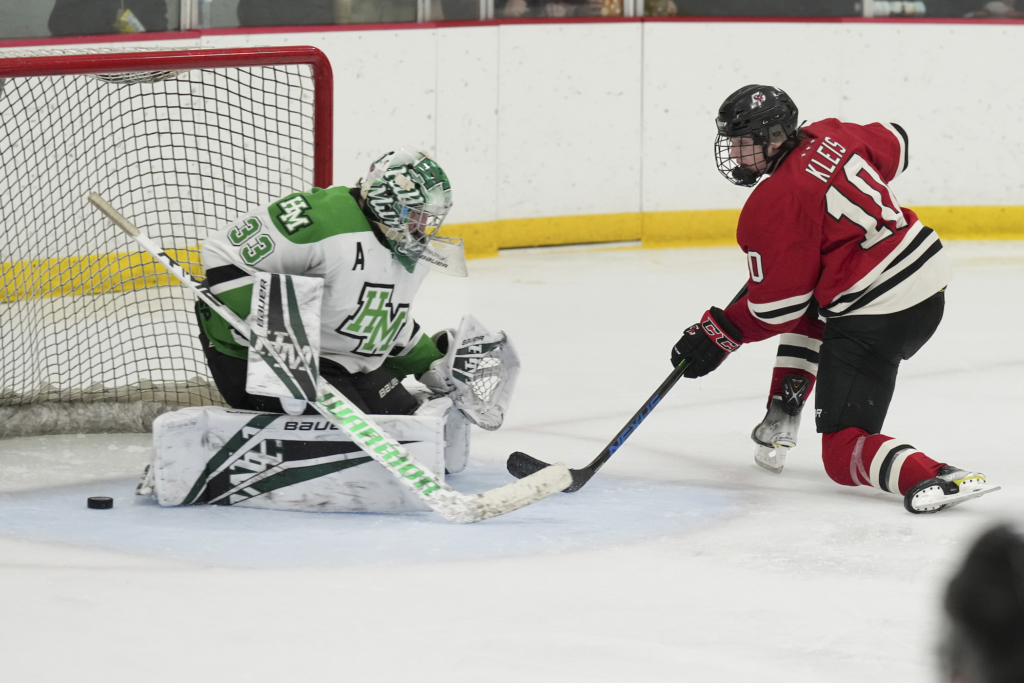 The Eden Prairie Eagles began their 2022-23 campaign with a lineup of young players facing a formidable test against one of the state's top teams Friday night at the Eden Prairie Community Center.
"A lot of guys were getting their first taste of varsity tonight," Eagles head coach Mike Terwilliger said.
In his first game as Eden Prairie head coach, Terwilliger liked what he saw from his players against Hill-Murray, a team that reached the semifinals of the state tournament in March and entered this season rated sixth in the Star Tribune's preseason rankings.
The Pioneers raced out to a 2-0 lead in the first period and held on to win 2-1 in a fast and physical contest.
"It's getting used to that intensity and speed," Terwilliger said. "And how the game is a lot different than if you played maybe JV last year, or if you're in a little more of a prominent role this year on varsity."
The Eagles roster includes 13 juniors, five sophomores, one freshman and only one senior in captain Ryan Koering.
"It's good to get a good test like this at the start," Koering said. "That's a good team. I think we're right there with them. A lucky bounce in the first period and it's a whole different hockey game."
Hill-Murray opened the scoring by way of a deflected puck. Pioneers defenseman Graham Greeder was credited with the goal at 5:51 of the first period.
"It went off a skate and then it hit somewhere down below the net," Eagles co-captain Teddy Townsend said. "There's really nothing Isaiah could have done about that."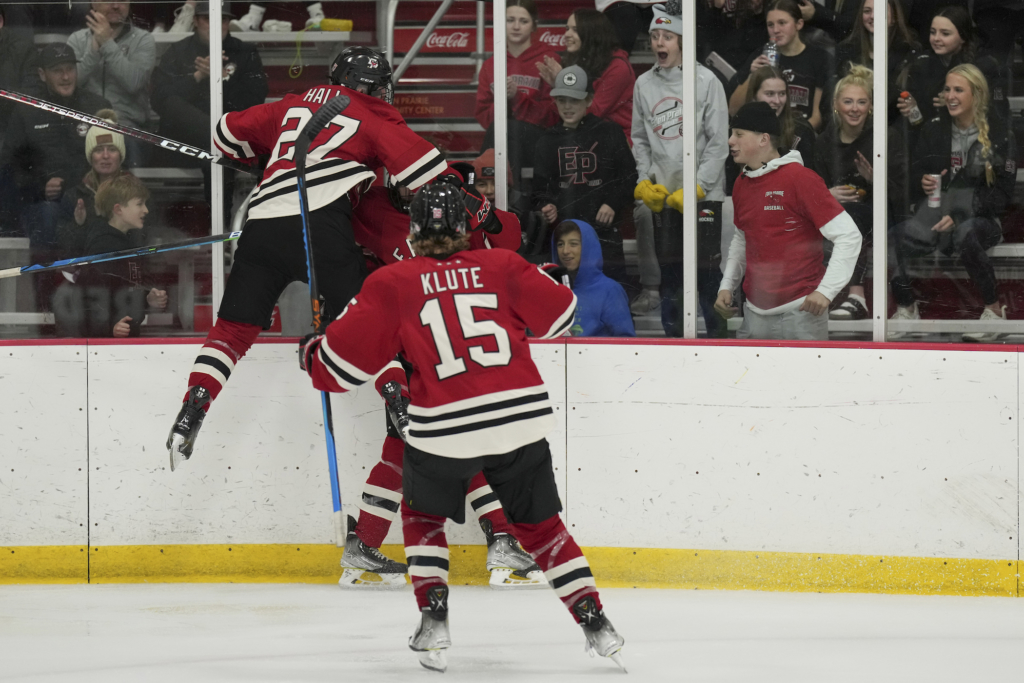 Eagles junior goaltender Isaiah Paulnock was sharp in the net with 22 saves on 24 shots.
"He was amazing," Townsend said. "He kept us in the game there for a while. So he played really good."
Eden Prairie's all-sophomore line of John Kleis, Alex Hall and Chase Klute generated the lone goal for the Eagles.
At 6:19 of the second period, Hall made a perfect pass to Kleis on a break up the ice. Kleis put the puck past Pioneers goalie Jack Erickson from close range to narrow the score to 2-1. Klute also had an assist on the play.
"They don't doesn't seem like they're sophomores," Terwilliger said. "They're probably our line that communicates and talks the most, sometimes the best, which is unusual for sophomores. Usually they're too quiet and you want to get them to talk more, but they're very, very mature."
The third period was scoreless for both teams in an even battle. The Eagles and Pioneers each had ten shots on goal in the final period, and both teams finished with 24 shots in the game.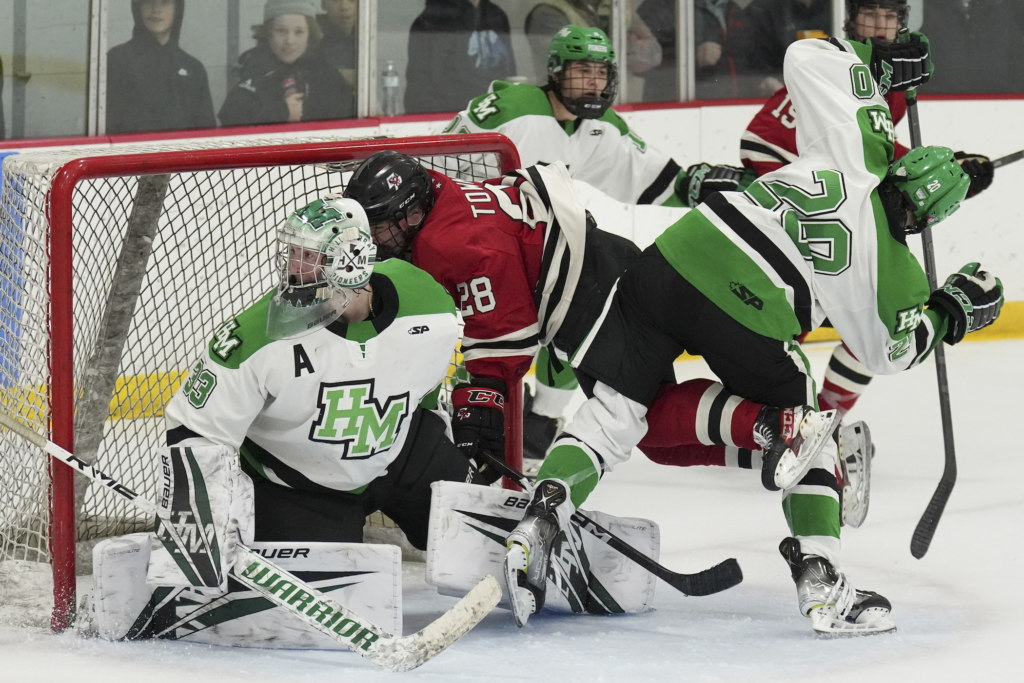 Eden Prairie made a late surge when Hill-Murray was called for a major facemask penalty. The Eagles pulled Paulnock and skated with a 6-on-4 advantage for the final two minutes – but couldn't convert.
"We came out a little tentative in the first period," Koering said. "But then in the second and third period, we were on and we just couldn't bury our chances. Some positive signs but it's one you want to win."
The Eagles won't have to wait long to find their first victory. They have another challenge when they face ninth-ranked Cretin-Derham Hall Saturday at noon at the community center.
"We still have a lot of stuff to correct but the effort was honest," Terwilliger said. "The kids were positive on the bench. They have good energy and are doing a lot of things that we're asking of them."
The team – and the season – are young.
Both look promising.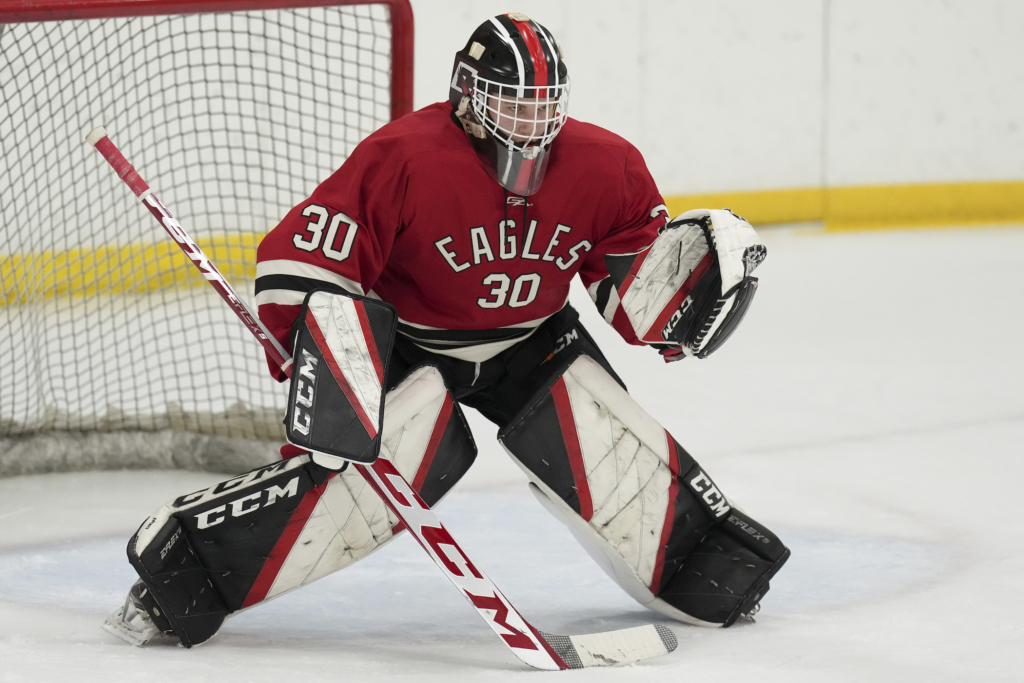 Comments
We offer several ways for our readers to provide feedback. Your comments are welcome on our social media posts (Facebook, X, Instagram, Threads, and LinkedIn). We also encourage Letters to the Editor; submission guidelines can be found on our Contact Us page. If you believe this story has an error or you would like to get in touch with the author, please connect with us.