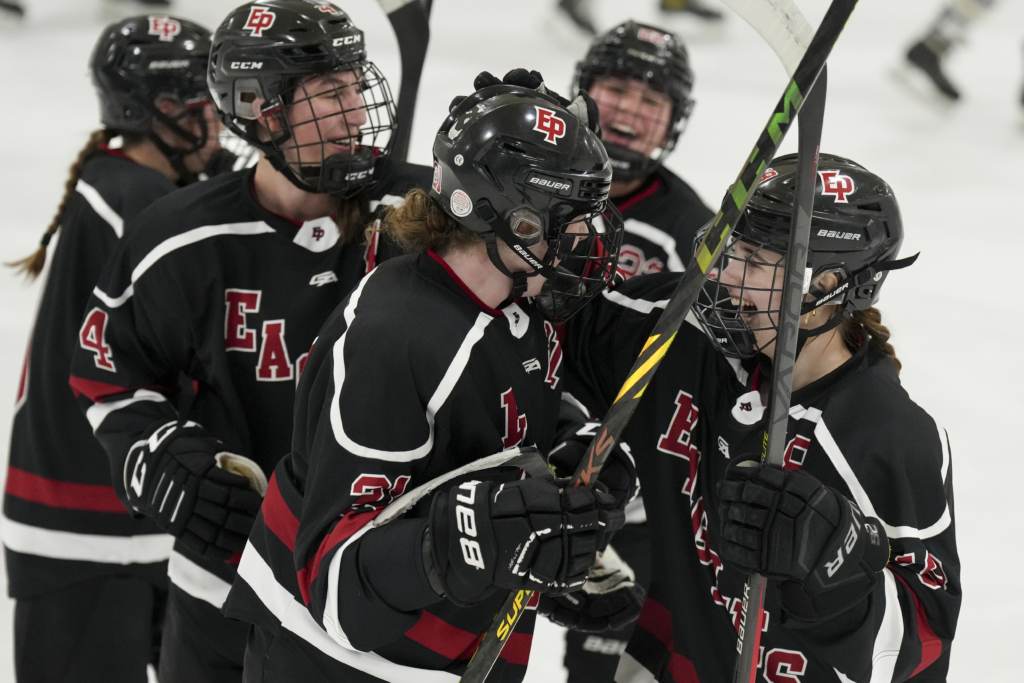 It was the end of the second period.
That's when the Eden Prairie Eagles girls hockey team took their final shot against Chaska/Chanhassen Tuesday night at the Chaska Community Center.
They weren't shut out. Quite the contrary – they employed a moratorium on sending the puck toward their opponent's net.
The Eagles had built a 9-1 lead in the first two periods, sending the third period into running time. Eagles head coach Steve Persian, in his first season at Eden Prairie after leading Breck to back-to-back state championships, had special instructions for his team during the second intermission.
"What we talked about was demonstrating respect for our opponent," Persian said. "And tonight, we just kind of overmatched Chaska/Chan. And at some point that could be flip-flopped. And we believe that demonstrating that level of respect for our opponent speaks to the character that's in that locker room."
His players responded, transforming the third period into a self-imposed skills clinic. It was a chance to focus on the fundamentals of passing and maintaining possession in the offensive zone.
"What we also learned was moving the puck, working the perimeter, creates opportunities," he said. "Even though you don't jump on them and take advantage of them, you learn from that kind of puck movement."
The Eagles certainly made the puck move in the first two periods. Seven players came away with goals in the game, with two players scoring multiple goals.
Senior forward Annabel Mehta opened the scoring with an unassisted goal at 7:28 of the first period. Mehta, one of four Eagles' captains, was a playmaker on the night as well, posting three assists for the Eden Prairie scoring machine.
"I think we definitely came out strong," Mehta said. "I know that in the past we've had struggles just keeping our intensity up. So I think that was a huge game changer for us, as well as sharing the puck."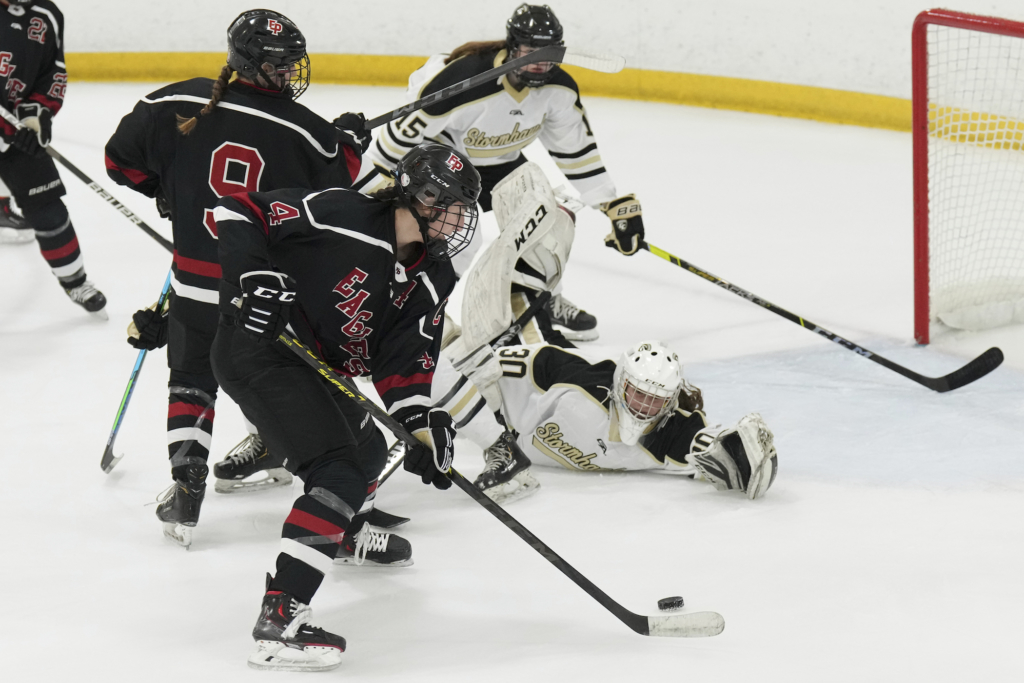 Sophomore forward Lauren Pottinger followed Mehta, scoring the first of her two goals with under a minute to play in the first period. Mehta picked up the first of her three assists on the play.
Pottinger had two assists to go with her two goals in the game.
The line of Pottinger, Mehta and senior captain Paige Holt, who also had two goals in the contest, collectively picked up ten points on the night.
"Oh my gosh, it's insane the amount of progress we've made," Pottinger said after the game. "It's so much fun just being on the team and it's just such a different environment than in past years and I just think we're a whole different team this year."
The Eagles took 11 seconds to notch their third goal of the opening period. Junior forward Lizzie Swartout, recently brought up from the junior varsity squad, scored her first varsity goal to give the Eagles a 3-0 lead at the first intermission.
"It was really exciting, especially because this was my second game getting moved up," Swartout said. "I hadn't had many shifts on the ice and it was really nice to see everybody excited for me."
With just 45 seconds elapsed in the second period, a bouncing puck slipped by junior goaltender Tegan Swanson, who was otherwise flawless in the game, facing 13 shots from the Stormhawks.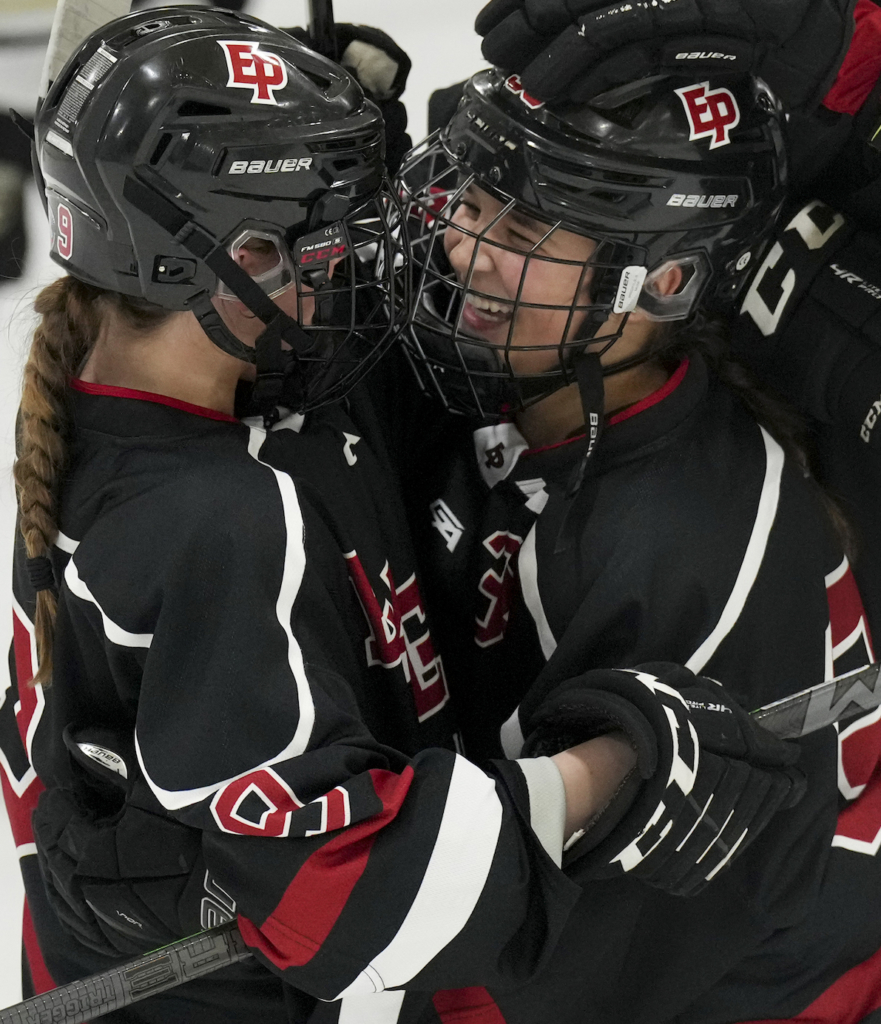 Meanwhile, the Eagles continued to light up the scoreboard with second-period goals from Natalie McNeil and Haley Schiel.
Holt scored her two goals in the period, while Pottinger picked up her second of the night as well.
There was another "first" at the 10:26 mark of the second period when eighth-grader Ella Pinnow scored her first varsity goal with a blast from the point.
"It was special because my team is all really nice," Pinnow said. "And they were all cheering so it's kind of cool."
Pinnow, who played Choice Hockey at Minnesota Made last season, is enjoying the considerable step up to varsity hockey – while still attending middle school.
"It's a lot faster. The girls are really big, but it's a lot more fun," she said.
With running time, the third period went quickly and was scoreless by design. The Eagles took the direction of the head coach, worked on their game and provided a show of good sportsmanship in the process.
"Steve thinks a lot about the character of the team and he's a classy guy," Pottinger said. "So we just went into that period and we're like, 'we're not gonna take any shots; enough's enough.' So we just worked on our passing, our cycles and that's how we spent our third period."
Not surprisingly, members of the team were upbeat after the game – not just about their victory, but for the season ahead.
"It's already so much better," Mehta said. "I think the main thing was just getting a new head coach and an all-new coaching staff. I feel like we have a lot more confidence and we're able to kick into another gear that we didn't know that we had."
The Eagles will get a break from games over the Thanksgiving weekend, but will take part in the unveiling ceremony of brand new locker rooms for both the girls and boys varsity teams at the Eden Prairie Community Center on Friday.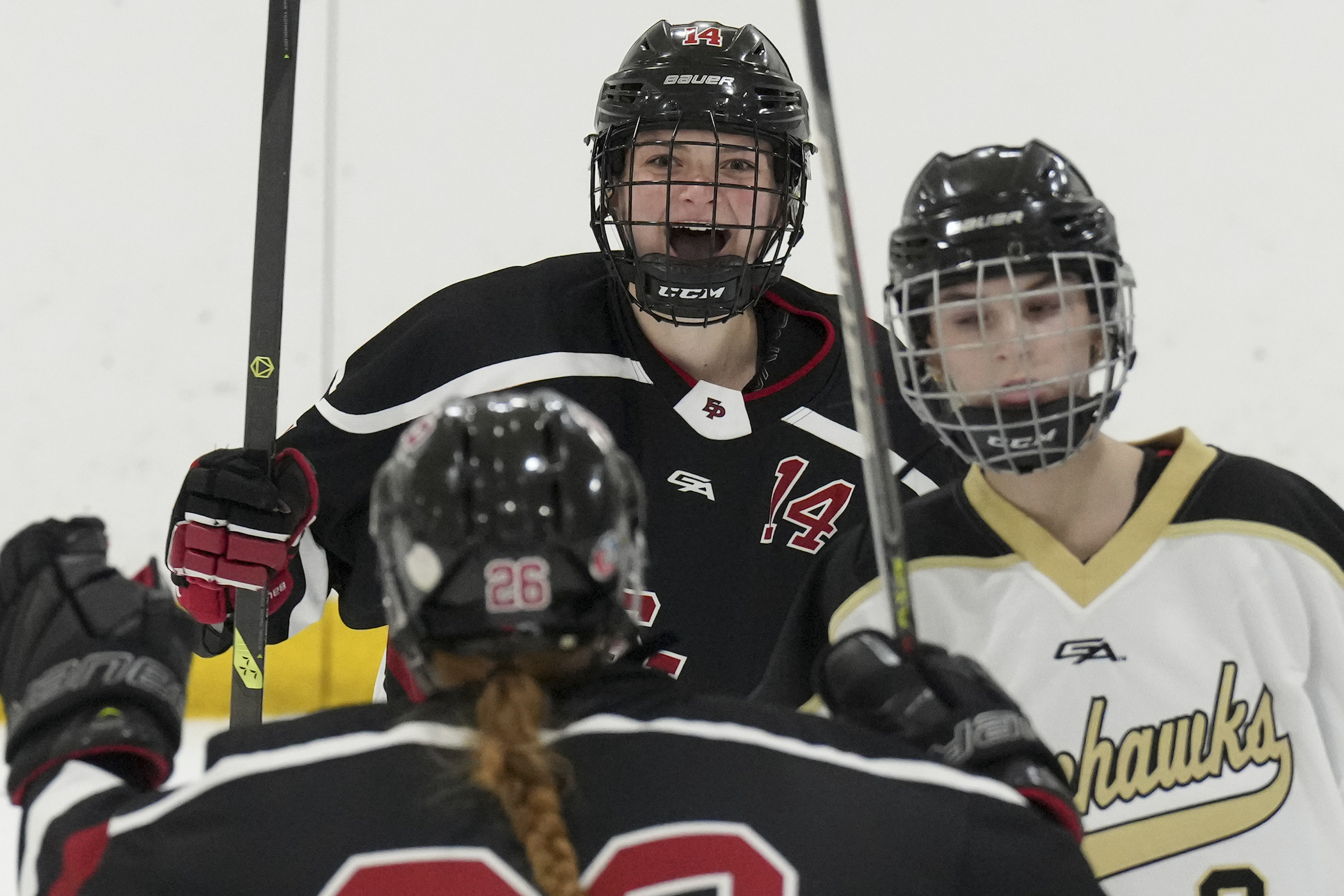 They'll put their brand-new digs to use for the first time when they host Blake in their next game on Tuesday night.
Another opportunity to build on their success and learn more valuable lessons from their coach.
"We really had high energy," Persian said. "To see where we were when we scrimmaged (Chaska/Chanhassen) just a few weeks ago to what we were doing tonight, you can just see continued improvement in all three areas of the ice. So it was really fun to watch."
Comments
Comments aren't allowed on our site, but we do offer several ways to provide feedback, and have your voice heard. If you believe the story has an error, or would like to get in touch with the author, please contact us. If you would like to respond directly to this article, we welcome and encourage Letters To the Editor. You can find details on how to submit a letter on our contact page.