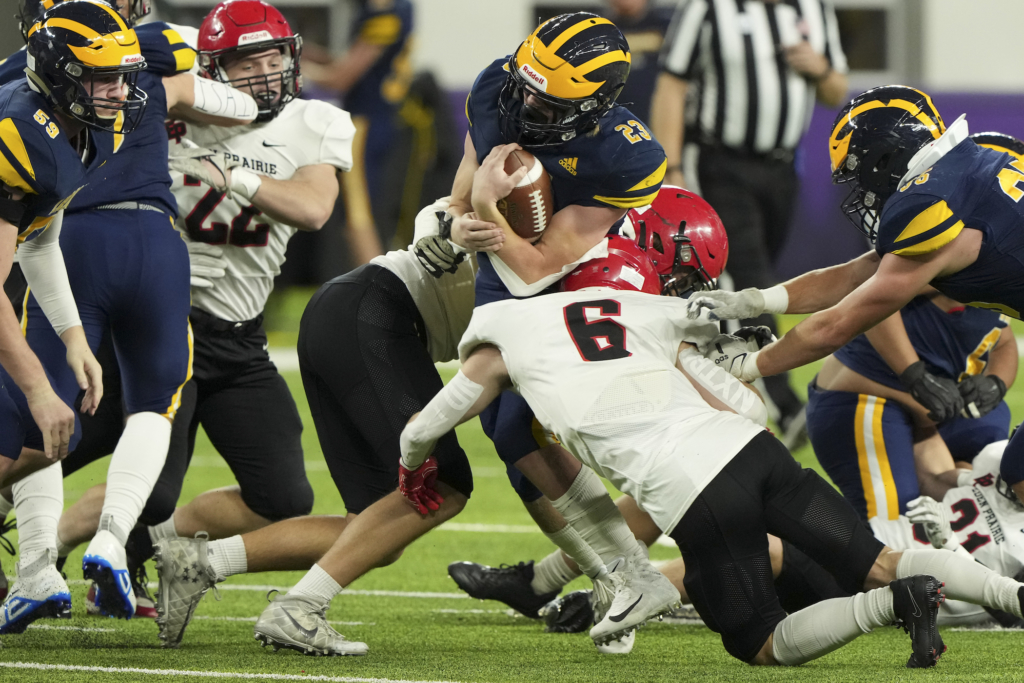 The underbelly of U.S. Bank Stadium is in stark contrast to the bright lights and giant jumbotrons that adorn the vast arena.
Beneath the seats and the luxury suites, down in the stadium infrastructure, members of the Eden Prairie Eagles filtered out of their locker room and mingled in the darkened corridor. The disappointment in the outcome of a well-fought battle was evident on their faces.
As assistant coaches shook hands and hugged players, head coach Mike Grant sat in a folding chair and waited for all of his players to clear the locker room, occasionally prodding them to hurry up and get moving. The team needed to board the buses for the trip back to Eden Prairie.
"It was a great football game," Grant said matter of factly. "If you were watching it just to watch a game, it was a great football game. I thought our kids played really well. Certainly could have won the game."
The game – or more specifically – Friday's Class 6A state semifinal and rematch against Rosemount, was certainly winnable. It was close enough that one or two plays could have swung the outcome in favor of Eden Prairie.
But Rosemount, committed to an all-out running attack, held on to advance to the state title game with a 14-10 victory over Eden Prairie.
"It was a dogfight. We've got to tip our caps to them," junior center Will Sather said on the field after the game. "They're a great team man and they've got some big guys and they played hard."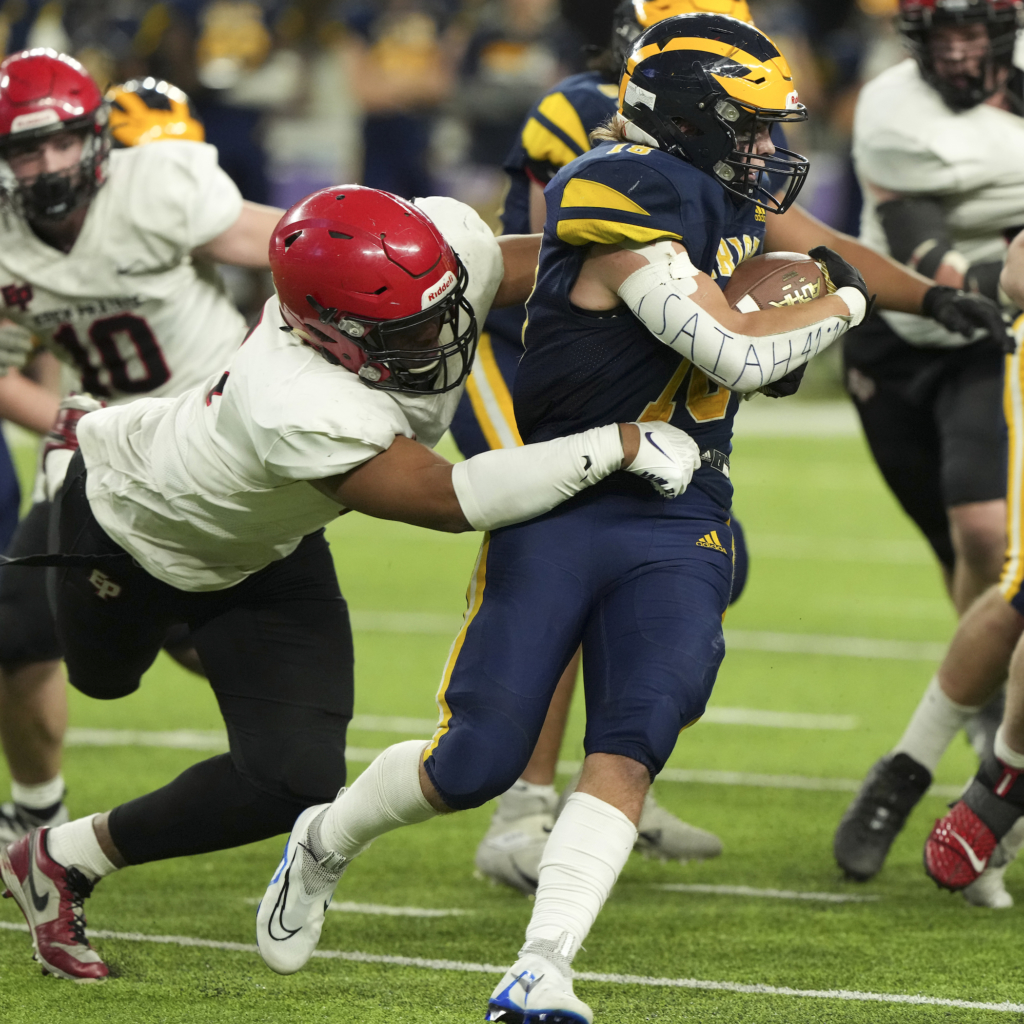 Sather barely left the field all evening. He played both ways at center and on the defensive line, which was a busy place. Rosemount didn't attempt a pass the entire game and ran the ball 52 times for 240 yards.
"Even when the situation was right for a pass, they did a QB run or something, and honestly, I kind of admire that," said senior defensive back Devin Jordan, who had five tackles. "It's pretty impressive that they could do that, but I didn't expect them to not pass it all. So it was a surprise."
The Eagles defense played heroically, taking down wave after wave of Rosemount's lead blockers and ball carriers coming out of the "T" formation, an offense rarely seen in today's game.
"I feel that we played great on the run," said senior defensive end Chiddi Obiazor. "Our defensive line played great upfront. We lost to them last time. We knew we were gonna come in and play a little bit harder and we just couldn't quite get it done."
Both Rosemount touchdowns came on short fields. Their first score followed an Eagles fumble on the opening kickoff, giving the Irish the ball on the Eden Prairie 29-yard line. The second touchdown was right before halftime when Rosemount recovered the Eagles kickoff near midfield.
"We came into it knowing that it would be a battle," Sather said. "Lineup across from them and just battle."
Linebacker Adam Mertens led the Eagles with seven total tackles, Obiazor had six and sophomore linebacker Vaugn Feely had five. Overall, 15 Eagles defenders posted tackles in the game.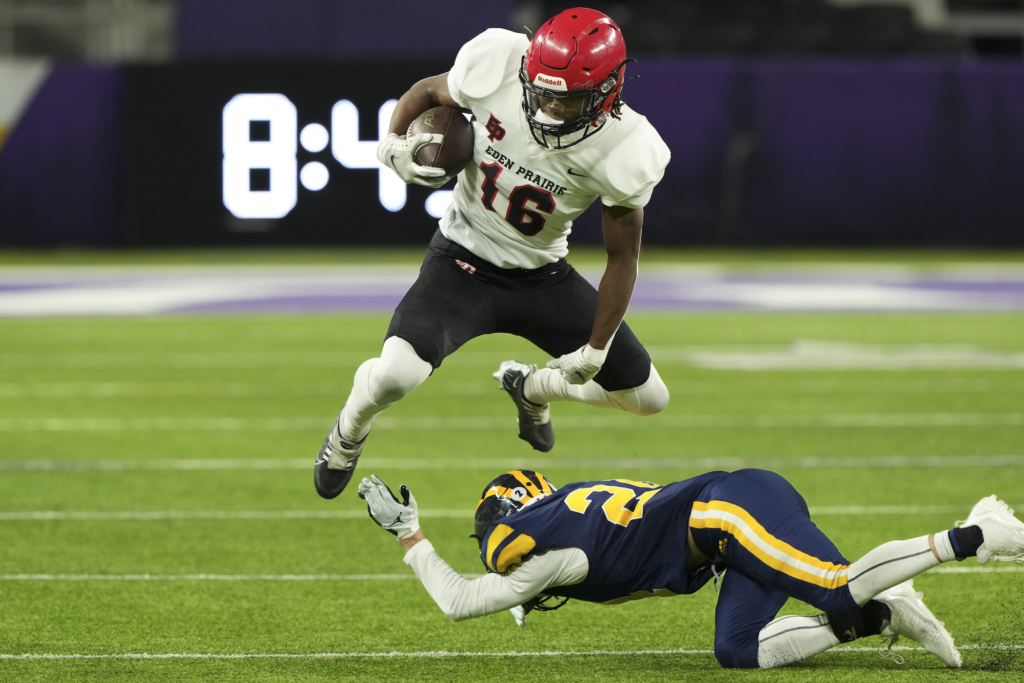 Offensively, Eden Prairie found rhythm late in the first quarter with a balanced approach. Quarterback Nick Fazi made connections with tight end Jermell Taylor and wide receiver Michael Gross, while running backs Liam Berndt, Tyler Walden and Terae Dunn generated yards on the ground.
Berndt led Eagles rushers with 82 yards on 12 carries; Walden had 53 yards on 9 carries.
"We started to throw the ball a lot," Fazi said. "We started to work where we were moving the ball the whole game. Things just didn't go our way down near the goal line."
The Eagles found the end zone in the second quarter. Berndt broke free from 17 yards out for a touchdown to tie the game at 7 with 2:11 remaining in the first half.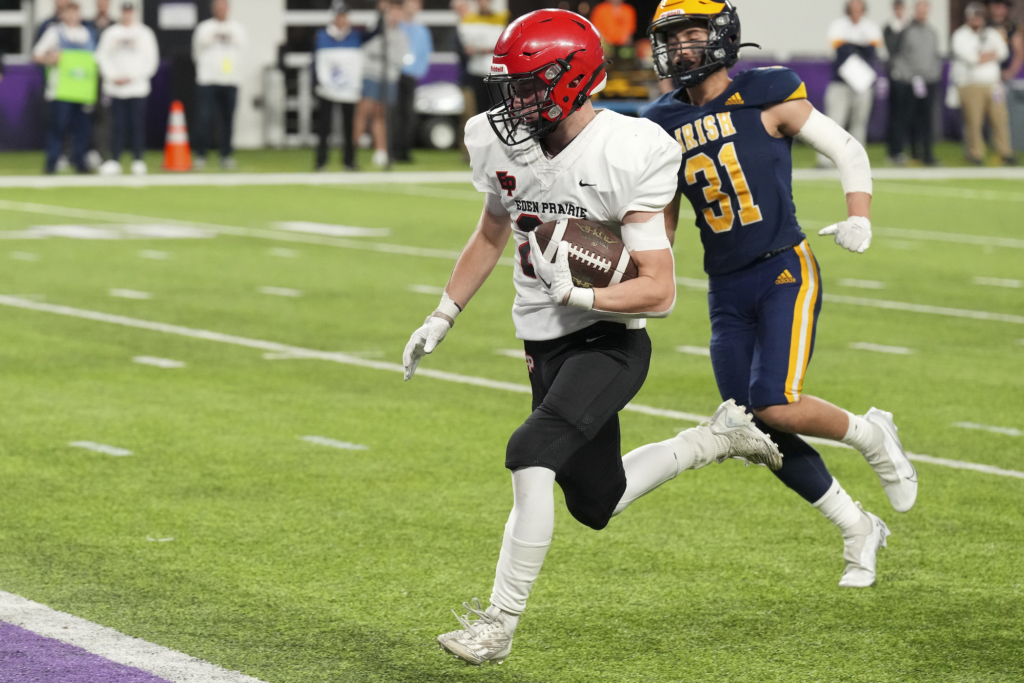 Rosemount recovered the Eagles' squib kick on the ensuing kickoff at their own 43-yard line. Irish quarterback Landon Danner broke free for a big gain to the Eagles 17. Rosemount scored just before halftime on Jermaine Richardson's run from three yards out to take a 14-7 lead at the intermission.
The game came out fairly even down the stat line. The Eagles generated 305 yards of total offense to Rosemount's 240 yards. Eden Prairie had 17 first downs, while Rosemount had 12.
In the end, the difference was created upon missed opportunities by Eden Prairie as Rosemount minimized their mistakes.
"I think we out-gained on offense," Sather said. "It's just little little things. That's what it comes down to, the little things."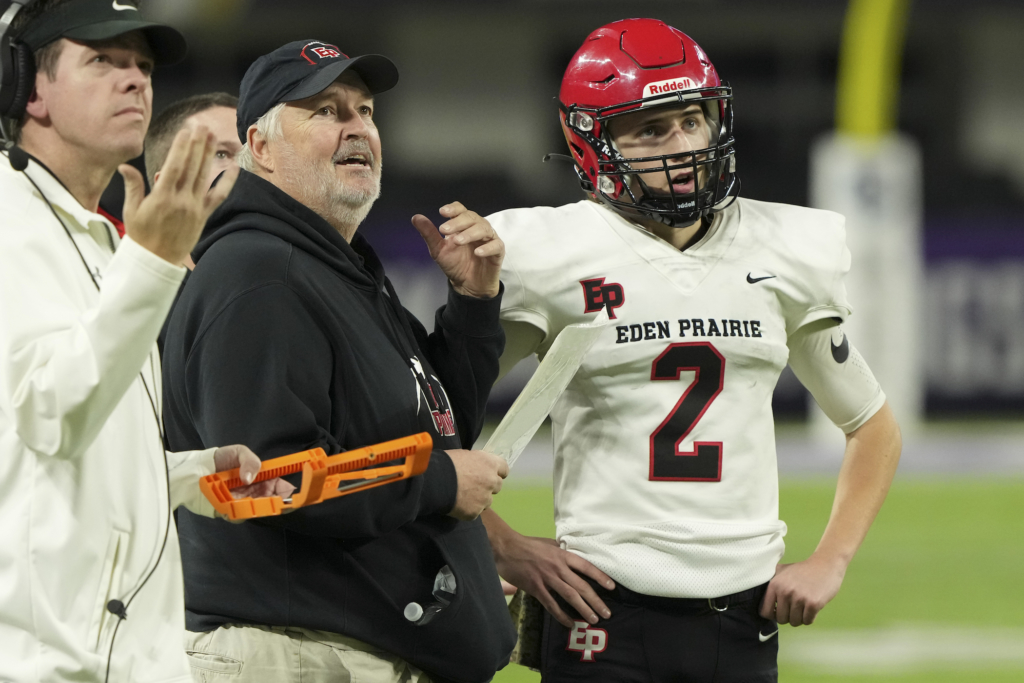 The Eagles kept their offense moving in the third quarter, but failed to generate points. With 1:35 remaining in the third quarter, Eden Prairie took possession at their own 36-yard line. The offense drove to the Rosemount 22, but couldn't convert on third at 12.
Placekicker Luca Ratkovich, who kicked a 37-yard field goal in the freezing wind against Shakopee last week, lined up for a 39-yard attempt indoors.
"It was just so much nicer," Ratkovich said about kicking inside U.S. Bank Stadium. "I try not to be nervous, I try to stay calm so (the kick) just flows."
Ratkovich's attempt split the uprights and brought the Eagles within four. It was a 14-10 game with 10:33 remaining in the fourth quarter.
The Eagles big opportunity came on their next offensive series with 5:39 left in the game. Fazi connected with wide receiver Michael Gross for a 66-yard gain to the Rosemount 26-yard line.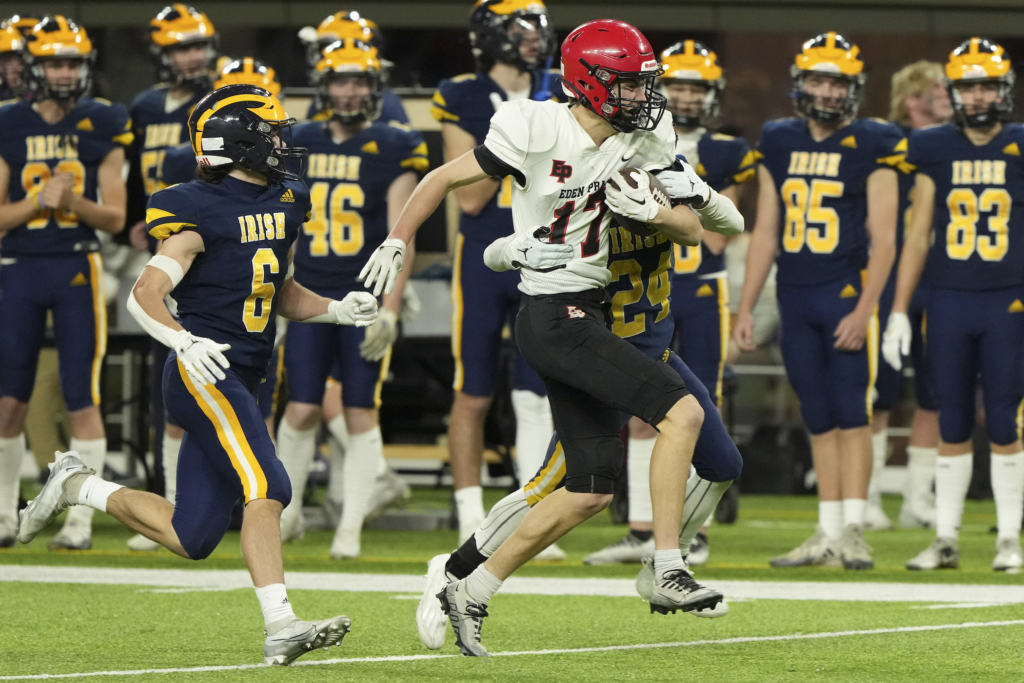 Five plays later, Berndt broke free for nine yards, but the ball came loose as he was brought to the ground. Rosemount recovered on their own 14.
"We just had mistakes throughout the game that we work on in practice all the time," said Fazi, who finished the game completing 8 of 19 passes for 145 yards. "It's a team game. It's a team loss. And that's all I really have to say about that."
The offense got the ball back on their own 30-yard line with 1:22 remaining. They reached the Rosemount 40, but couldn't convert on fourth down with 10 seconds remaining in the game.
Rosemount took over on downs. The game – and the season for Eden Prairie – was over.
With the loss, the Eagles finish with a record of 9-3. Rosemount (12-0), who beat the Eagles 14-7 in their first meeting on Oct. 8, moves on to the state championship game to face Maple Grove (12-0) on Dec. 2.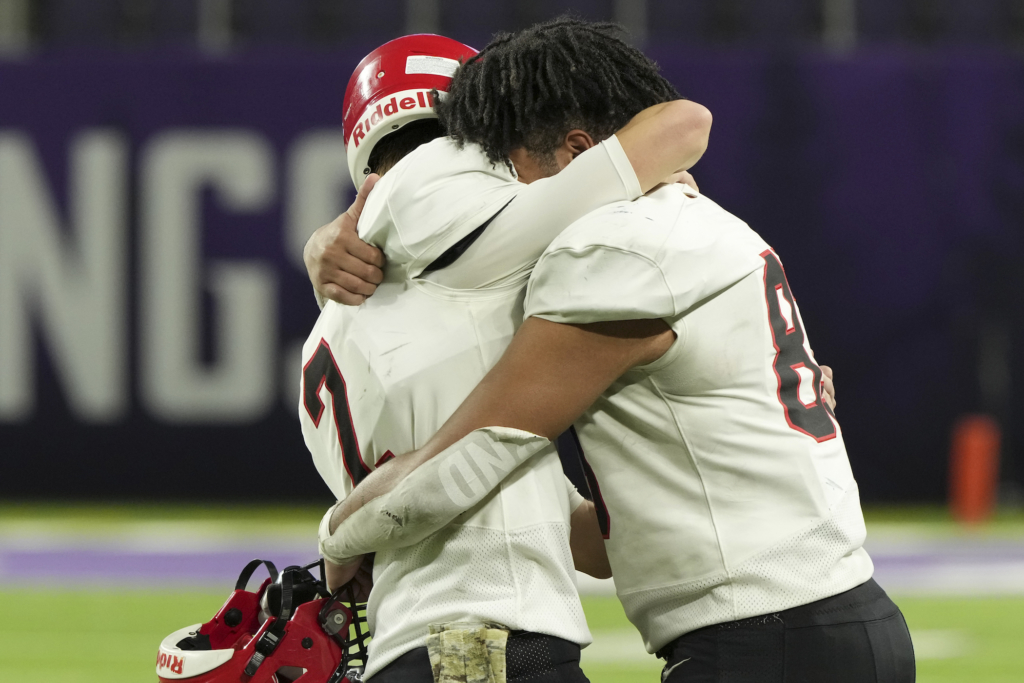 "We lost to them last time," Obiazor said. "And we knew we were gonna come and play a little bit harder, and we just couldn't quite get it done."
Obiazor, who will be playing football at Kansas State in 2023, was dejected after the game and had a wish for his younger teammates as they embark on next season.
"We're in the same place two years in a row; semifinals losing it back to back," he said. "It is a big disappointment. Hopefully, the juniors can come out here next year and get it done for us."
Grant, whose teams have reached the state playoffs 15 times and won 11 state titles over 30 seasons, has seen his share of victory and defeat. With that kind of experience, he is able to put the loss in perspective for his players.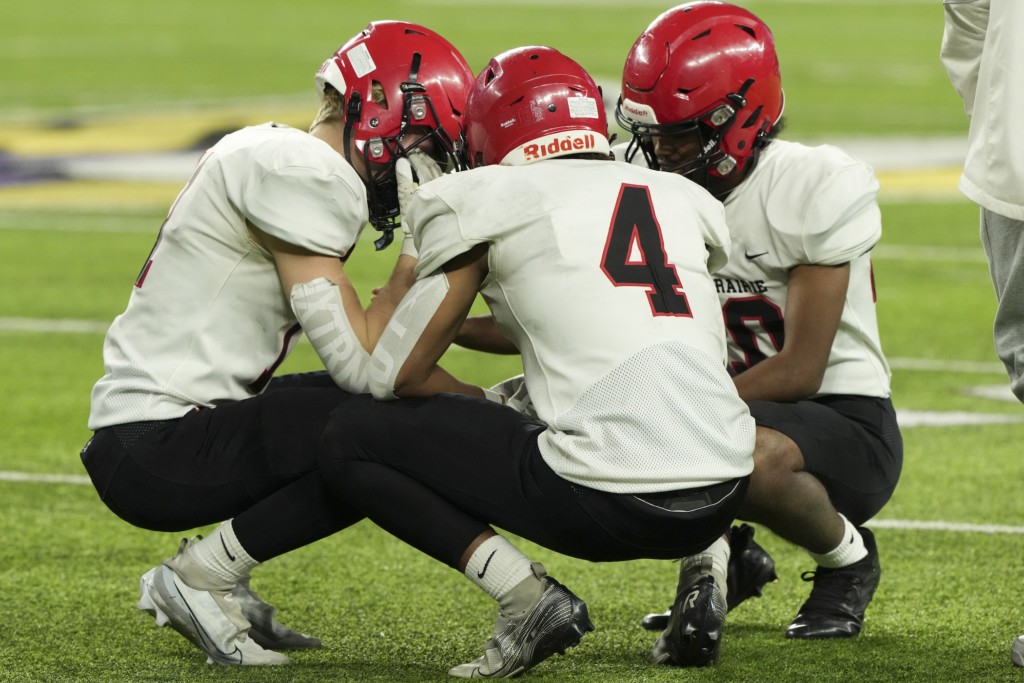 "I have the history of winning big games, and I have a history of losing these games," he said. "I tell them if that's the worst thing that ever happens to you in your life – to lose in the state semis in a great football game – you're gonna have a great life."
As the team continued the walk down the dark corridor toward the buses that would bring them home, the lights still shone brightly on the field at U.S. Bank Stadium – and slowly, a few smiles began to surface.

It was a good season.
"We're awfully proud of our kids; really proud," Grant said. "Our kids gave everything they had. The ball bounces the wrong way sometimes. It's just the way it goes in football."
Player reflections
"Lifelong friendships, man. Brothers. Brothers for life. Yeah, that's what I'll take from it."

Will Sather, junior center
"I love playing with each of them, especially my seniors, my D line, my closest friends that I just enjoyed every moment playing with them."

Chiddi Obiazor, senior defensive end
"It was great. I came back here and we got to the semis. That's a great year."

Terae Dunn, junior running back
"I love playing with all my brothers. I've been playing with a lot of these guys for like eight years now. So every moment, even the bad ones, I love them and can't wait to see what they do in the future."

Devin Jordan, senior defensive back
"It's a brotherhood. We've been playing with each other since freshman year. We've come up all the way and to make it this far. I couldn't have asked for a better group of seniors and just a team in general to have played 12 games with this season and make it to U.S. Bank."

Nick Fazi, senior quarterback
Comments
We offer several ways for our readers to provide feedback. Your comments are welcome on our social media posts (Facebook, X, Instagram, Threads, and LinkedIn). We also encourage Letters to the Editor; submission guidelines can be found on our Contact Us page. If you believe this story has an error or you would like to get in touch with the author, please connect with us.